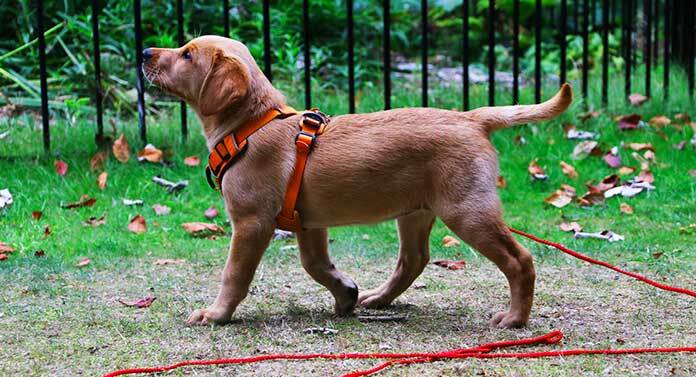 Long leash dog training is a great way to teach your dog important cues, without giving them the chance to self reward.
Self rewarding is when your dog has their behavior reinforced by something outside of your control.
Like when they ignore the recall whistle to go chase the wildlife.
A long line prevents the dog from chasing after something, or picking up something, you don't want them to.
Something which would reward them for ignoring you, and not doing what they were meant to be doing at the point they got distracted.
What is long leash dog training?
In long leash dog training we are following our usual modern, positive reinforcement principles.
But we are doing so with a safety net.
At the start of the session we quietly attach a long line to our dog's harness, and leave it trailing on the floor.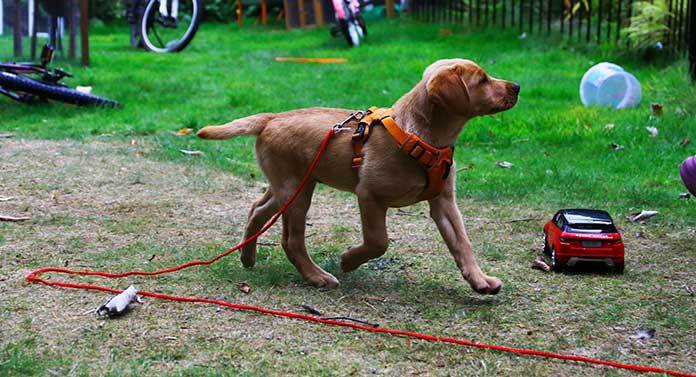 We don't pull on it, or use it to control the dog in any way.
It's simply left to drag around after them as they go about their business.
The idea is that the dog is barely aware that it's there at all.
It's not doing anything as a reaction to it, it's a silent safety net.
Long leash vs retractable leash
You can't do long leash dog training with a retractable leash.
The sort that has a handle and a button that winds it back in or stops them if they get too far.
There are a few reasons for this.
The first is that these leashes don't run loose, they are tight.
Therefore the dog knows they are wearing it as it creates pressure.
They encourage pulling as every pull is rewarded with an extension of their distance from you.
There are safety concerns with retractable leashes that mean we are not fans of them at all!
And they can't fulfil the primary purpose of a long line, which is to be a silent backup.
A long leash is a backup
Puppies don't realise that they are faster than us, or that we can't stop them doing as they please if they are far from us.
But it doesn't take an untrained adult dog long to learn that the wide world of smells and wildlife is a brilliant place to be.
And that if they want to go off on a jolly, there isn't a lot you can do to stop them.
By using long leash dog training from the very start, you can have a dog that never discovers this secret.
One that thinks that the most fun in the world is to be had with you.
And that's true, for the most part!
The short lived adrenalin dump of a critter chase is surely not as much fun in the long run.
It's no competition for all the bonding training activities you will do together when you've got his attention.
Self rewarding
You pip your whistle to get your dog to come, but as you do so a squirrel shoots out of a nearby tree and darts across his path.
It doesn't matter that you have a pocket full of roast chicken chunks, the rush your dog gets from running after a cute critter is enough to keep their focus far from you.
Even if they didn't catch the squirrel, the chase was great fun.
And they learned that if they ignore your cue, they get to have that rewarding experience.
But with a long leash secured to their harness at their back, you are able to quickly pick it up or put your foot on it.
It allows you to prevent that chase from taking place.
No reward for ignoring your cue, so they are less likely to try the same thing later on.
They might as well just go for the sure thing, the tasty treats in your pocket.
Long leash dog training outdoors
Dog training starts at home. It starts simple and in an environment that has few distractions.
Our mat games, for example, are all designed to be carried out alone, in a room your dog is familiar with.
Because dogs like us, learn best if you add distractions in one at a time. This is something known as proofing.
So your dog might sit and stay beautifully indoors, but if you go into a field full of sheep you won't expect the same result.
With a long line you can build up the distractions, and distance.
And you can do so knowing that your dog will never be in danger of self rewarding when they make the wrong choice.
You still need to build up gradually, but you can do so without worrying that if you go too far too fast that they'll take off and find treats elsewhere.
Long leash dog training doesn't last forever
The long line is a tool that is used for a temporary period of time. You don't need to keep one on once your dog is trained.
Most modern trainers use a long line while they are teaching their dog to follow established cues in a new and more distracting location.
For example, teaching 'stay' in a big field instead of in their enclosed backyard.
Once the cue has been proofed, so the dog has learned that they need to stay put whatever else happens, the long line is no longer needed.
It has done its job.
Long leash dog training has enabled you to build a long and valuable reinforcement history of the correct responses to your cues.
Get Pippa's free dog training tips delivered to your inbox