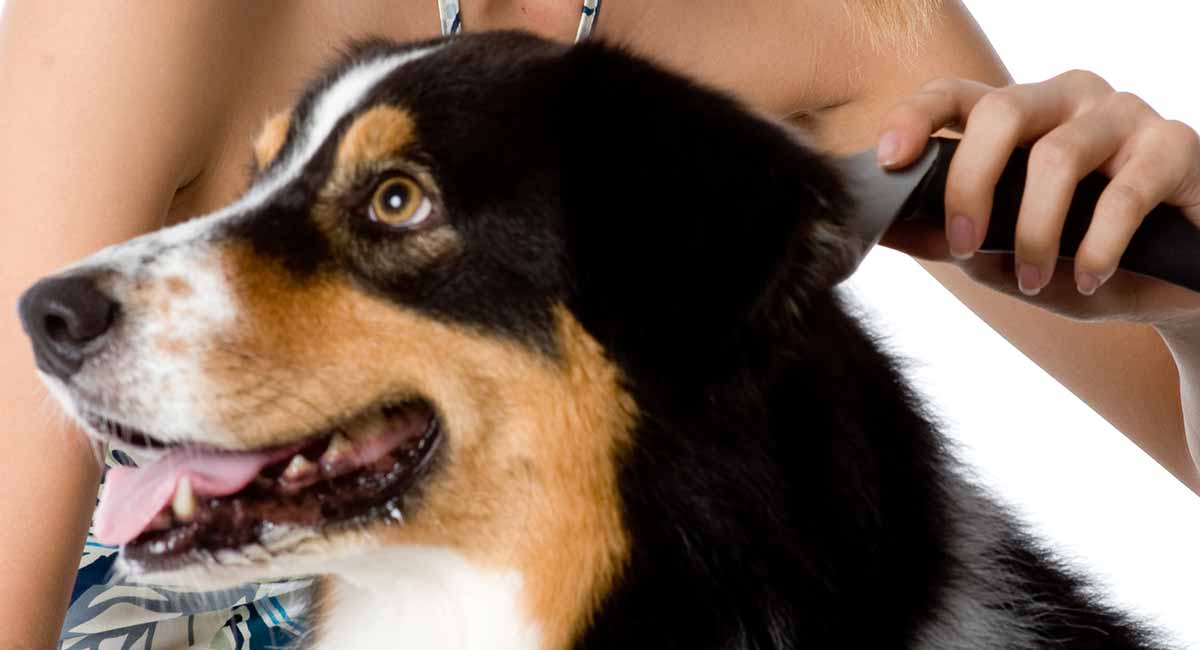 The best brush for Australian Shepherds needs to be suited for their thick, double coat.
The outside layer is thick and water resistant. But the under layer is soft and wooly. So these layers have different grooming needs.
Their coat is designed to keep them warm in the winter, and cool in the summer. But it needs regular grooming to avoid matting.
So what is the best brush for Australian Shepherds? And what else should we know about grooming them?
All of these products were carefully and independently selected by the Dogsnet team. If you decide to make a purchase from one of the links marked by an asterisk, we may earn a small commission on that sale. This is at no extra cost to you.
Quick Links
Perhaps there's something specific you're looking to find out.
Take a look at some of the quick links below to jump to each section.

If you have any other questions that this article doesn't answer, make sure to leave it in the comments so we can add it to this list!
Do Australian Shepherds Need Brushing?
Australian Shepherds require regular brushing to keep their thick, double-layer coats healthy and thriving.
Regular brushing also helps you assess their skin for anything unusual. For example, bumps, scrapes or cuts that you may not have noticed during regular petting or play.
Australian Shepherds need regular brushing. But you can't just go into your cabinet at home and use any old human brush on his unique fur.

Keep reading to learn why.
What Types of Fur Do Australian Shepherds Have?
The Aussie dog is a beautiful combination of looks, brains and work ethic.
His gorgeous coat consists of two layers. These help to provide insulation from extreme climates and protection from water and debris.
Outer Layer
The outer layer of an Australian Shepherd's coat is typically moderate in length. It can be straight, wavy or even have a slight curl.
His outer coat is not as harsh as some other double-layer breeds, such as the Husky. But it's not soft to the touch.
Coolest of all, this outer coat is water resistant.
Undercoat
The undercoat of the Aussie is dense and woolly.
It provides insulation and helps protect the Aussie from extreme heat and frigid cold weather.
A number of sites and even some groomers boast certain "Aussie haircuts,". But Aussies don't need haircuts.
Their coats are perfectly suited to keep them warm in the winter and cool in the summer.

The only real maintenance this breed needs is occasional bathing and regular brushing. This is to keep excess hair under control and stop matting in their moderately long fur.
How Often Should You Brush an Australian Shepherds?
Brushing your Aussie regularly is an important part of keeping his coat and skin healthy.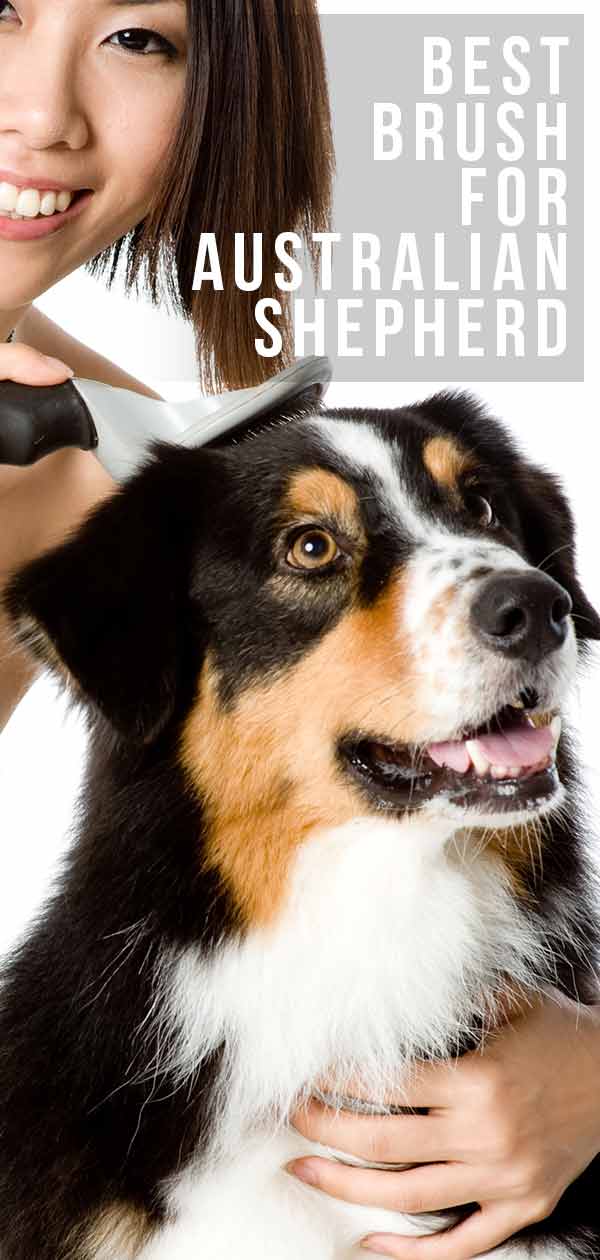 Some owners opt to brush their Aussies once a day. Giving them a quick once-over with a pin or slicker brush to ensure their coats are tangle free.
They may help to get rid of loose hairs that would normally end up on furniture and clothing.
Others feel that their Aussies only need to be brushed once a week.
The amount of brushing you will give your Aussie depends on a few things. These include his coat, how often he sheds, and shedding season during the spring and fall.
Changes in Grooming Requirements
During shedding season, your Aussie sheds heavier than usual. He requires more regular brushing to keep all that dead hair under control.
It is important to note that an Australian Shepherd's hair is prone to breaking if brushed too often while dry.
Many groomers recommend using a high-quality, dog-friendly, leave-in conditioning spray that can be brushed out.
This spray keeps your Australian Shepherd's coat healthy. It helps stop any breakage during the brushing process.
It should also leave him smelling fresh and clean between bath time.

Now, let's go over some of our favorite brushes for the Australian Shepherd.
Dog Brushes for Australian Shepherds
The best tools for brushing an Australian Shepherd at home are:
Pin brush
Slicker brush
Undercoat rake
Steel comb
Pin Brush
A pin brush is one of the brushes you might be utilizing daily for your Australian Shepherd's unique, double-layer coat. We suggest the Safari Pin & Bristle Brush for Dogs*.

This brush is excellent for medium-size breeds such as the Aussie.
It's also great for helping to promote natural oil production in the skin. This helps keep your Australian Shepherd's fur healthy and shiny.
The brush also helps to remove debris, dirt and dead hair.
Slicker Brush
Another brush you need to use quite often is a slicker brush. Such as the Self Cleaning Slicker Brush by Hertzko*.

We love this brush because it's great for the Australian Shepherd, who is prone to matting.
This particular grooming utensil reduces loose hair. It relieves tangles painlessly and easily.
The fine, bent wires of the slicker brush are designed to reduce pulling or scratching during the brushing process.
The easy eject button makes cleanup a breeze. The slicker brush helps remove dead hair, dirt and debris.
And since Australian Shepherds are active breeds, they can be prone to matting.
Undercoat Rake
The Aussie is especially prone to coming home with tangles in his beautiful fur. So we recommend the RUBOLD Dematting Tool for Dogs*.

The RUBOLD Dematting tool is a rake comb that is best suited for penetrating your Australian Shepherd's outer layer to get into his undercoat. This is where sneaky dead hairs hide and cause tangles, matting, and odor.
This brush's uniquely shaped prongs reduce scratching and pulling. Making the raking process painless and even enjoyable for your Aussie.
Another Option
Another dematting tool we love for Aussies is this Double-Sided Professional Grooming Rake by GoPets*.

This choice is great for a number of different levels of mats and tangles. This is your go-to rake brush for reducing knots and getting rid of dead hair.
The double-sided brush means it can be used for a number of purposes. It offers different sizes of teeth on each side for any mat you may encounter on your Australian Shepherd.
This is also an excellent de-shedding tool to use during shedding season as well.
Steel Comb
And last but not least we can't leave out Andis Pet Steel Comb*.

This is a favorite tool amongst groomers and Aussie lovers.
It helps to gently remove mats, tangles and debris while also leaving a beautiful shine and fullness to your Australian Shepherd's coat.
The comb also helps to stimulate the skin and hair follicles for optimum growth, shine and health.
How to Brush an Australian Shepherd
Now that we know which brushes to use on your Australian Shepherd dog and why, let's talk about how to go about using them.
Most experts recommend acclimating your Aussie to brushing at an early age.
Utilize lots of treats and praise to help him associate the process with something positive and build a bond.
Using a leave-in conditioning spray for your Aussie during regular brushing is important to reduce damaged hair and breakage.
Detangling Spray
We suggest investing in a high-quality dog detangling spray such as the FURminator detangling Waterless Spray*.

For the most part, as long as you maintain your Australian Shepherd's coat and brush him consistently each week. His coat should take no more than five to 10 minutes to brush out.
Suggested Routine
Here's the suggested grooming routine:
A pin brush and slicker brush can be used for everyday use.
The rake brush can be used during shedding season.
Routine de-shedding maintenance can be completed once a week or even more if necessary.
Pay special attention to your Australian Shepherd's hindquarters, lower legs, tail and under his belly.
This is where his hair grows longest. This area can be most prone to collecting debris, forming painful mats and tangles.
Regular brushing can help maintain your Australian Shepherd's beautiful coat. But neglecting regular brushing can lead to seriously damaged fur and skin.
If left unattended, a damaged Aussie coat can take up to a year to repair so stay on top of it.
Australian Shepherd Brushing Video
If you are interested in watching a video on the upkeep of an Australian Shepherd, click here.
Best Brush for Australian Shepherds
Between professional grooming sessions and bath time, you should prepare to brush your Aussie at a minimum once a week.
However, many owners opt to brush their Australian Shepherd everyday.
Brushing regularly should take somewhere between five to ten minutes. So long as your Aussie's coat is healthy and maintained.
Keep in mind that, aside from routine trimming around your Australian Shepherd's legs, he does not typically need a haircut.
His double-layer coat is perfectly capable of keeping him warm in the winter and cool in the summer.
Use a high-quality, leave-in spray during brushing sessions. As well as utilizing the proper brushing tools. This will help to maintain your Australian Shepherd's beautiful coat for years to come.
If you've loved this article, make sure you also check out our guide to the blue merle Australian Shepherd coat!
Other Accessories
If this guide has been helpful, there are plenty of others you can check out.
These can help you find the best products for your new or old dog!
Affiliate link disclosure: Links in this article marked with an * are affiliate links, and we may receive a small commission if you purchase these products. However, we selected them for inclusion independently, and all of the views expressed in this article are our own.
References and Further Reading:
Cadieu, E., et al., "Coat Variation in the Domestic Dog Is Governed by Variants in Three Genes," Science Magazine, Vol. 326, Issue 5949, pgs. 150-153
"Grooming," The Australian Shepherd Club of America
McGreevy, P.D., et al., 2015, "The Reinforcing Value of Physical Contact and the Effect on Canine Heart Rate of Grooming in Different Anatomical Areas," Anthrozoos, Vol. 18, 2005, Issue 3, pgs. 236-244
Get Pippa's free dog training tips delivered to your inbox