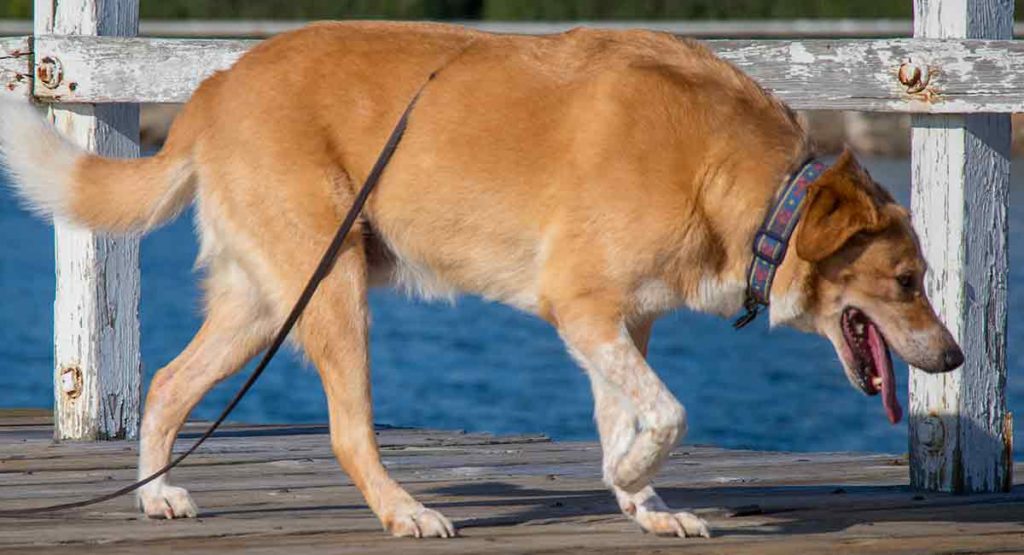 Today when you go shopping for dog collars, you have a great selection of the best wide dog collars to fit your large or powerful pooch.
But which wide dog collars are the best, safest and comfiest collars for your dog?
This is the real question you may be wrestling with, and that is what we hope this article can help you decide.
The best wide dog collars for big dogs can depend on your dog's height, neck width, chest girth, walking habits, and even age.
So now read on to learn about some of the best wide dog collars of different widths and designs to pick the perfect new collar for your dog!
Purpose for using wide dog collars
Outfitting your pup with some type of collar or harness system is vital for a number of reasons.
The most obvious reason is safety, in that having your dog wear a dog collar gives you a visible place to attach your contact information and your dog's vaccination data.
So in case you and your dog ever become separated, whoever finds your pup will have a quick way to help you get reunited.
You can also attach other safety equipment to your dog's collar, including a nightlight for walking safety, and a GPS tracker to locate your dog if the need arises.
Collars also play a very important role in dog training.
When your dog is wearing a collar, you have a place to attach the leash!
With a comfy, well-fitting collar, your dog can concentrate fully on learning new skills and commands.
Choosing the best wide dog collars for your dog
Some dog breeds have specific health concerns to keep in mind, such as narrow necks, deep chests, or fragile backs.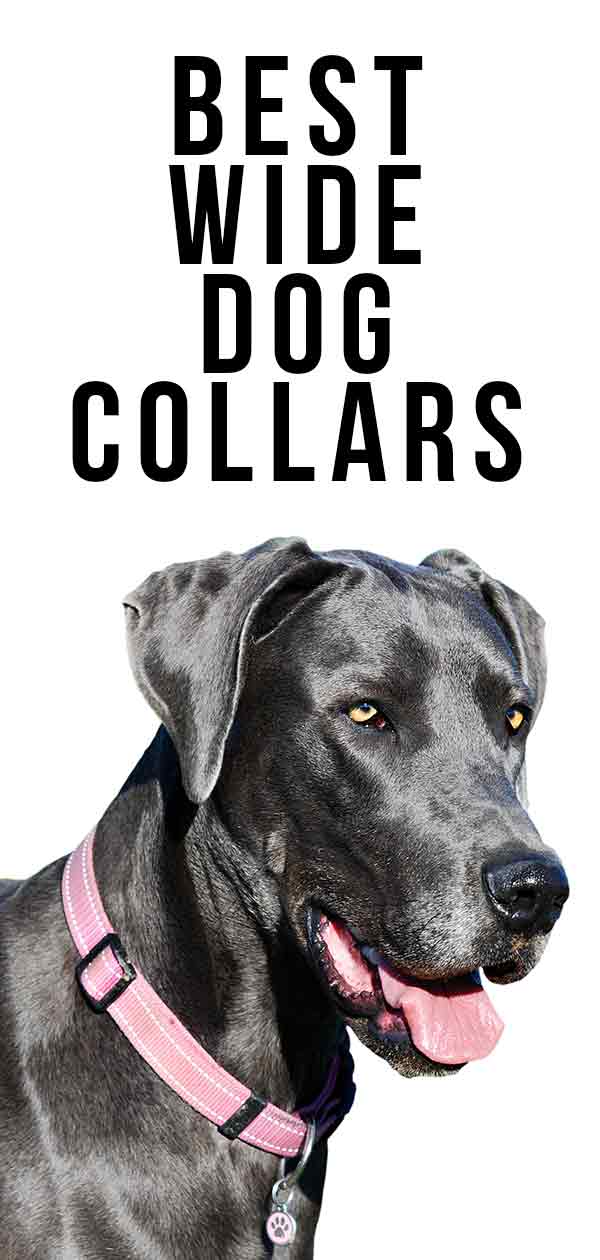 This means the best wide dog collars may look quite different depending on your dog's breed, age, and overall health.
For example, some research studies have shown that canine ocular (eye) issues or back issues can be worsened with use of the wrong type of collar.
In toy and teacup breeds, it is tracheal collapse that is of most concern when using a collar.
For all of these health reasons and more, it is always wise to talk with your veterinarian or your dog's breeder if you have concerns about how a new collar may impact your dog's health or comfort.
Getting the right dog collar – fit
You should always be able to easily insert two fingers between the collar and your dog's neck.
Always take the collar off every few days at first to make sure there is no abrasion showing on your dog's skin or coat.
If your dog has a thick neck and a small head, also be sure the collar can't slip right over your dog's head!
For dogs who love to swim, a nylon collar is a better pick than a traditional leather collar because it is more flexible, naturally water and stain-resistant, and easier to clean.
Best wide dog collars – 2 inch
Choosing 2-inch-wide dog collars can be a good choice if you have a stronger dog that sometimes likes to pull on the leash.
The wider, flat collar material is less likely to cause injury and abrasion and will give you more leverage during training.
This sturdy and durable nylon dog collar by Meikai has six holes so you can get a customized fit.
These two-inch-wide dog collars come in four colors (red, black, green, blue) and feature a stainless-steel buckle.
This durable, soft and flexible two-inch-wide nylon collar by pesp features a double buckle and reinforced double adjustment holes for a customized fit.
It comes in large or XL in three colors (army green, blue, black).
This 2.5-inch wide high-quality leather collar by Bestia features silver-plated studs against soft leather interior cushion.
Choose from three outer colors (white, red, brown) against a black leather padded inner layer.
It comes in three sizes (M, L, XL).
This collar is handmade in Europe and is designed for big, strong breeds like the Cane Corso, pitbull, bulldog and Rottweiler.
There is also a plain padded leather version from the same maker.
Best wide dog collars – 3 inch
Finding 3-inch-wide dog collars is not an easy task, but these collars deliver if you need an extra wide dog collar!
This collar is tapered with the wide end sitting under the neck for extra protection.
It comes in two-inch, 2.5-inch and 3-inch widths in seven colors.
It is perfect for sighthounds, Dachshunds, and other slender-necked breeds.
This tapered wide collar by collar direct is one of the best wide dog collars for dogs with slim or fragile necks.
It comes in four sizes (sized by neck measurements).
The smaller sizes range from 2.3 to 2.5 inches wide and the larger sizes are three inches wide at the widest end.
These collars are handmade of supple, durable leather for small, medium and large dogs.
Best wide dog collars – fancy
As these fancy collars show, large wide dog collars don't have to look utilitarian as long as they can hold their weight!
Meet some fancy wide dog collars that are fit for the show ring or the portrait studio!
This adorable two-inch dog collar by Beirui is studded with tiny sparkling CZ rhinestones.
The rhinestones are inlaid with alloy to guard against falling off. The material is sturdy PU leather.
This precious dog collar comes in 9 fashion colors and fits necks from 14" to 17".
There is another two-inch-wide collar by the same maker that features colorful flowers which you might also like.
For the very masculine and manly pup in your life (or your tough canine lady), you don't get any showier than a spiked wide collar!
This two-inch-wide dog collar comes in four sizes (XS, S, M, L) and six collar colors with black spikes.
The collar material is soft and flexible, durable PU leather.
If you are looking for a happy medium between bling and spikes, you might love this studded leather dog collar that features flat shiny silver nickel-plated studs interspersed with raised rounded studs (some colors also have spiked silver studs) on a colorful background.
The buckle matches the studs and comes with five adjustment holds.
Choose from medium, large or X-Large sizes. Silver studs come on a black, red, or brown collar.
Silver spikes come on a black, purple, or red collar.
Best wide dog collars for Pitbulls
Finding the best wide dog collars for large dogs sometimes means finding a collar that is durable and strong enough to keep up with your pooch!
In this section, learn about a selection of the best wide dog collars for large breeds and working K-9s that are very strong, like Pitbulls.
This heavy duty nylon collar is designed to be sturdy and durable.
The extra-wide band provides extra comfort and protection against chafing.
The buckle is rust-resistant stainless steel.
This washable two-inch collar comes in medium, large, XL, XXL, and XXXL and six colors.
This two-inch police and military-grade K-9 leather collar comes in two styles: basic and with collar handle.
It can be adjusted from 16" to 24" to fit dogs of different neck sizes.
The collar design helps to spread the impact of stress evenly around the neck to avoid injury.
It comes in basic black.
This thick, sturdy, smooth leather collar is professional and military-grade and is designed for the working K-9.
It comes in several adjustable lengths and widths up to two inches wide.
You can add free personalization from 7 characters (large font size) to 12 characters (small font size).
Best wide dog collars – which one will you choose?
We hope reading through this curated selection of some of the best wide dog collars for very strong dogs, large dogs and giant breed dogs has helped you find a collar that is perfect for your pup!
We'd love to hear which wide dog collar you select and how it is working out – please drop us a comment to share your experiences!
References
Block, K., et al, "Dog Collars," The Humane Society of the United States, 2018.
Pauli, A.M., et al, "Effects of the application of neck pressure by a collar or harness on intraocular pressure in dogs," Journal of the American Animal Hospital Association, 2006.
Gellman, K., DVM, PhD, et al, "Oh That Flexible Neck," The American Kennel Club Foundation, 2012.
Roley, J., et al, "Choosing the Right Type of Collar for Your Dog," Purdue University Extension Animal Sciences, 2004.
Adams, J., BVSc, DVM, "Choosing a Collar and Lead for Your Dog," Qurindi Vet Clinic, 2018.
Elliot, D., et al, "The Best Leashes for Big Dogs," Canine Adoption and Rescue League, 2017.