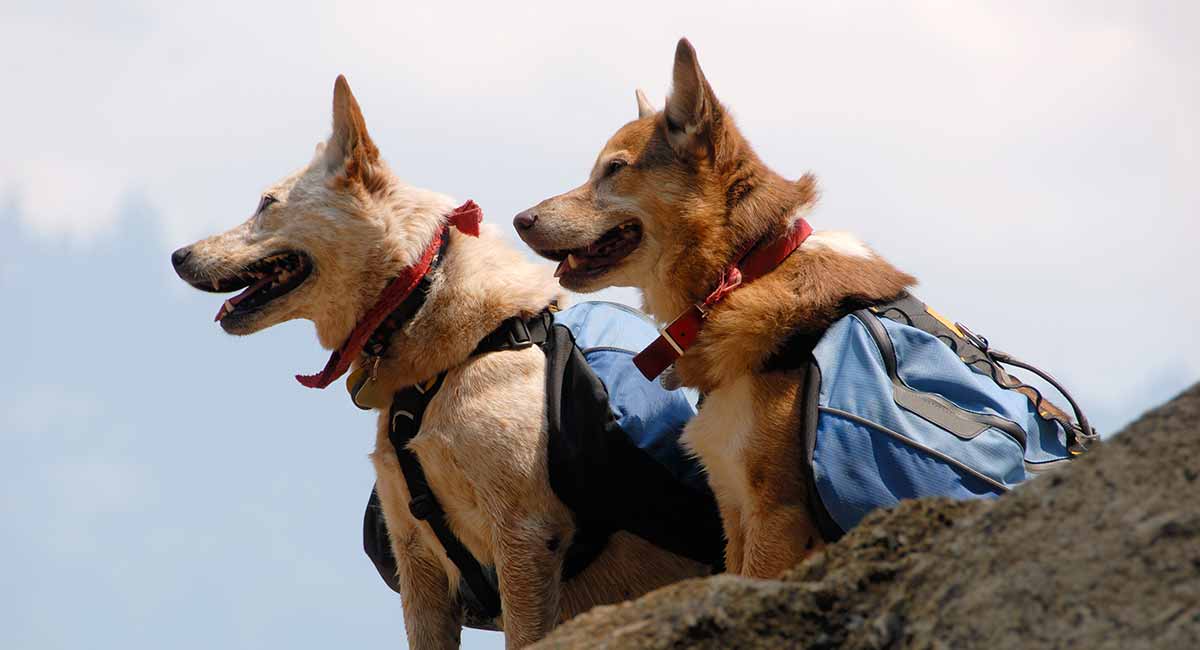 Are you searching online for information about the best dog backpacks for your pup?
If so, you probably have several questions!
Are backpacks safe for dogs?
Where can you look to read through reviews about most highly rated options?
Should your dog be a certain age or breed to safely wear a dog backpack?
In this article, we'll address these and other important questions and offer up our curated picks for the top dog backpacks!
All of these products were carefully and independently selected by the Dogsnet team. If you decide to make a purchase from one of the links marked by an asterisk, we may earn a small commission on that sale. This is at no extra cost to you.
Are Dog Backpacks Safe?
Even the best backpacks may not be safe for your dog if they're not used properly or are overloaded.
Safe use guidelines, including maximum carrying weight, may differ from pack to pack as well as from one dog to the next.
A dog breed with known back issues, such as a Dachshund, may not be a suitable candidate for wearing a backpack.
Or large and giant dog breeds that are susceptible to canine panosteitis or "growing pains."
Therefore, you'll want to take care and avoid adding weight until your veterinarian gives you the all-clear.
No dog should ever be forced to wear even a backpack if they seems fearful, resistant, or uncomfortable.
In addition, it's important to train your dog slowly and positively to accept a dog backpack.
Otherwise, you could inadvertently create a lifelong aversion to what can be a useful tool.
Why Use a Dog Backpack?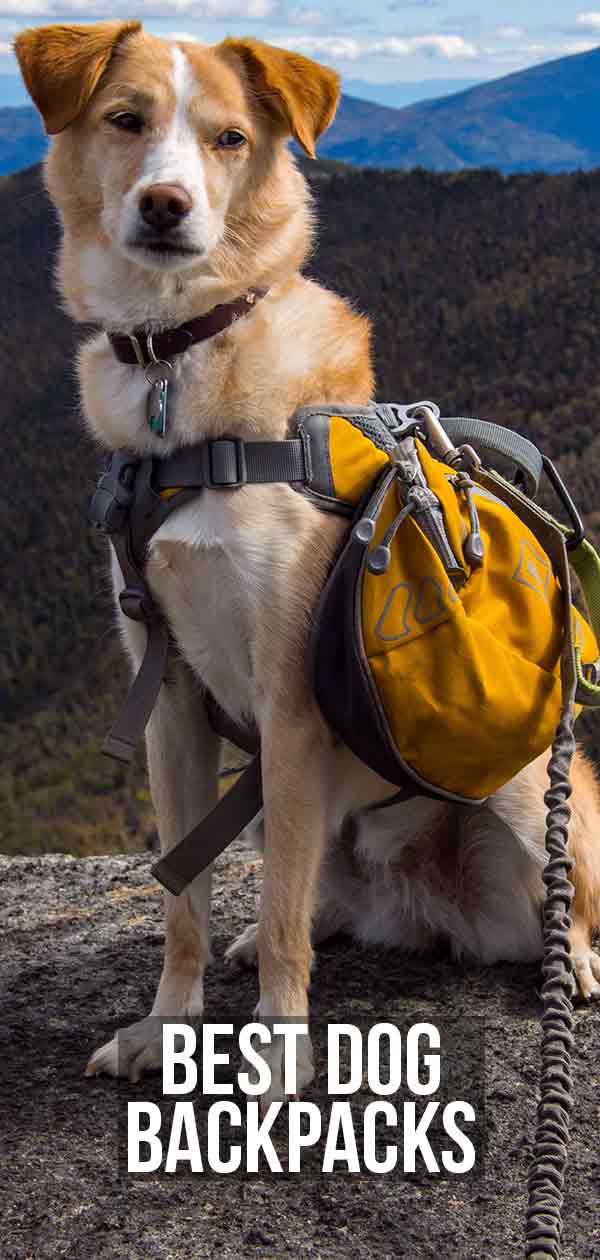 If this is your first time researching backpacks for your dog, you may be pleasantly surprised to learn about some of the existing functions of these unique products!
Working K-9s
Service dogs, military and law enforcement dogs, and other working K-9s frequently wear dog backpacks.
This allows them to transport the supplies needed to do their jobs or to help their human counterparts do theirs.
Canine rehabilitative therapy
Like people, dogs can sometimes have an injury, accident, or medical procedure that requires physical therapy.
In this case, backpacks can assist by strategically adding weight to strengthen any under-developed or injured muscles.
Intensifying activity
For extremely high-energy dogs, certain seasons can make it particularly challenging to burn off some of that steam.
Adding weight—up to 10 percent of your dog's body weight—using a backpack can create more of a workout over shorter sessions during inclement weather.
And can also be good for building more muscle.
Easing your load
Not only can dog backpacks benefit your pup, but they can also lend you a hand! You can stash extra supplies and personal items in your dog's backpack during long walks.
This perk can be especially useful if you decide to go camping or hiking with your dog.
Comfort
Emotional support is one unusual use for dog backpacks that seems to be catching on.
Dogs with separation anxiety can find comfort in a lightly weighted pack that "hugs" their body.
Arms-free transport
There is another style of dog backpacks that is quite different in design and purpose. Dog backpacks that are instead worn by dog owners to carry their small pups.
Dog Backpacks for Dogs
The following big and small dog backpacks for girl or boy dogs are popular and highly rated!
Best Dog Backpacks for Big Dogs
Large active dogs—especially working K-9s—need the best dog backpacks on the market.
Durability, safety, functionality, and design all get high ratings.
The Mountainsmith K-9 Dog Pack* is a highly functional and popular K-9 backpack comes in three sizes (S, M, L) and two colors.
The pack features two pockets with a central lift handle and adjustable chest and back straps.
The OneTigris Dog Pack Hound Saddle Bag Rucksack* is a sturdy, serviceable, and weight-balanced saddle bag style.
A number of reviewers have highlighted its many features, including three different straps for a customized fit.
The GrayCell Dog Backpack Saddlebacks for Service Dogs*, both tactical and K-9s, is durable and professional breathable mesh/oxford backpack.
This option is designed for working K-9s and comes with a collapsible silicone dog bowl, two Velcro service patches, and four reflective safety strips.
The pack is large in size and comes in a wide variety of colors and patterns.
Best Dog Backpacks for Small Dogs
These are our top picks for small dogs.
The Outward Hound Daypak Dog Backpack* is lightweight.
The design makes it perfect for dogs that tend to overheat since it's made of breathable mesh and weighs just 0.62 pounds.
The pack comes in two colors and three sizes—small, medium, and large. In addition, the side pockets are expandable.
The Ruffwear Approach Pack* is a sleek, lightweight, and functional backpack that comes in XS, S, M, and L/XL sizes as well as four colors.
This well-designed option offers two leash attachment points, non-slip straps, a padded carry handle, and five adjustment points.
The colorful Welliver Dog Backpack Saddle Bag* is lightweight and breathable, washing machine-safe, and comes in S, M, L, XL as well as five colors/patterns.
It also has adjustable straps.
Dog Backpacks for Humans
If you need to carry your small pup with you, here is a curated selection of backpacks specifically made for humans that you can use around town or for air travel.
The Pawaboo Adjustable Front Carrier Backpack* comes in four sizes (S, M, L, XL) and a variety of colors and patterns.
The closures include both a zipper and velcro for extra security and the pack has adjustable straps.
PetAmi Deluxe Pet Carrier Backpack* for small dogs can be worn on the front or back and is fully enclosed with reinforced polyester fabric and breathable mesh for ventilation plus safety.
This small carrier comes in one size (12.5″L x 10.2″W x 16.3″H) and several colors.
The Moboko Airline-Approved Dog Backpack Front Carry* is a stylish airline-approved option.
This carrier features a peephole so your dog can look out but keeps their arms and legs safely enclosed.
Sizes include M, L, and XL and you can choose from five colors.
Best Dog Backpacks
We hope reading information about top-rated choices has given you the confidence to select the best option for you and your pooch for either local use and when traveling!
Do you have a favorite dog backpack or have you discovered the perfect one on this list? Let us know in the comments below.
Affiliate link disclosure: Links in this article marked with an * are affiliate links, and we may receive a small commission if you purchase these products. However, we selected them for inclusion independently, and all of the views expressed in this article are our own.
References and Further Reading
Sargisson R. 2014. Canine separation anxiety: strategies for treatment and management. Veterinary Medicine: Research and Reports.
Coppinger R, Coppinger L, and Skillings E. 2010. Observations on Assistance Dog Training and Use. Journal of Applied Animal Welfare Science.
Krol W. 2012. Training the Combat and Operational Stress Control Dog: An Innovative Modality for Behavioral Health. U.S. Army Medical Department Journal.
Get Pippa's free dog training tips delivered to your inbox