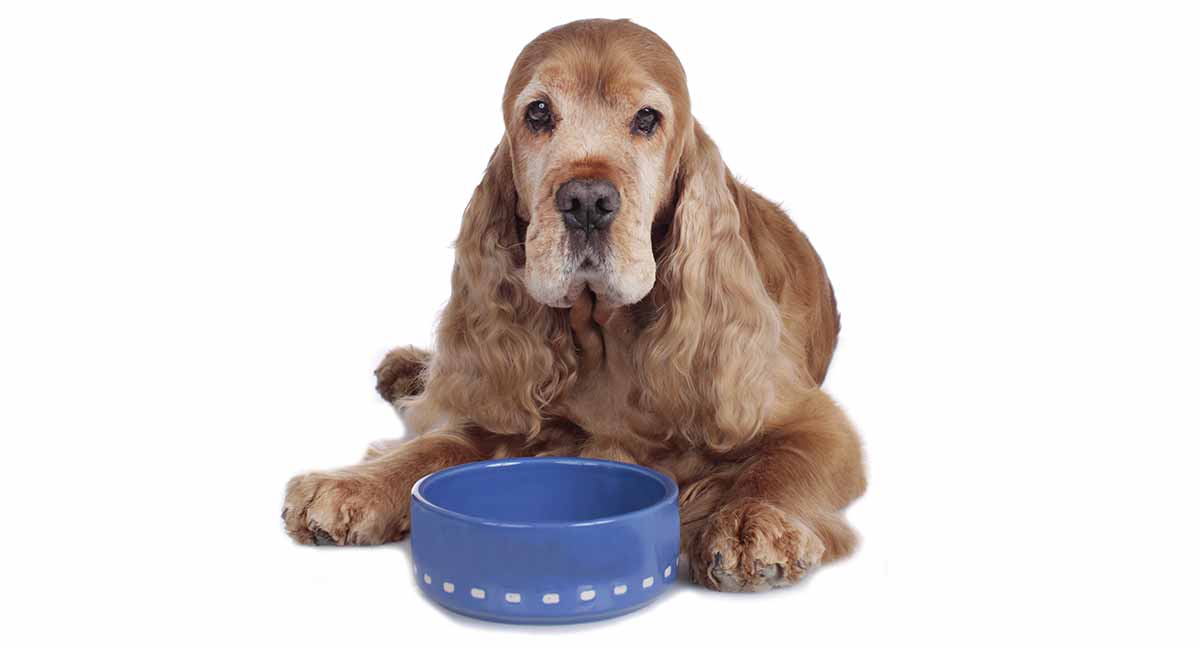 Finding the best dog food for seniors with sensitive stomachs can feel like a bit of an uphill battle.
It can be hard to know what the best food is for your dog. Your dog's nutritional needs will change as he gets older, which means his food may need to change too.
Sometimes some brands may lead to your dog being physically sick, or even refusing to eat.
Also, some brands can come with pretty big price tags.
That means you spend a lot on food which doesn't even seem that beneficial for your senior dog.
This article will look into the reasons your senior dog might be experiencing a sensitive stomach.
We'll also provide some great suggestions of the best dog food out there for seniors with sensitive stomachs.
All of these products were carefully and independently selected by the Dogsnet team. If you decide to make a purchase from one of the links marked by an asterisk, we may earn a small commission on that sale. This is at no extra cost to you.
Why might senior dogs need specialist food?
The food we give to our dogs is important no matter how old they are. Especially if they have sensitive stomachs!
It helps our pets to stay healthy, but it's also always enjoyable – as you can probably tell when your pup sits at your feet waiting to be fed each day!
But food has an even more important use!
It also helps to manage diseases and illnesses which senior dogs can be especially prone to.
How Does This Work?
Similar to humans, studies have shown that senior dogs generally have a lower energy maintenance requirement. That means lower amounts of food required to maintain weight as it is without any additional nutrients for weight gain.
This shows just one way that a dog's nutritional needs can change as they grow older.
So what else should we consider when finding the best food for seniors with sensitive stomachs?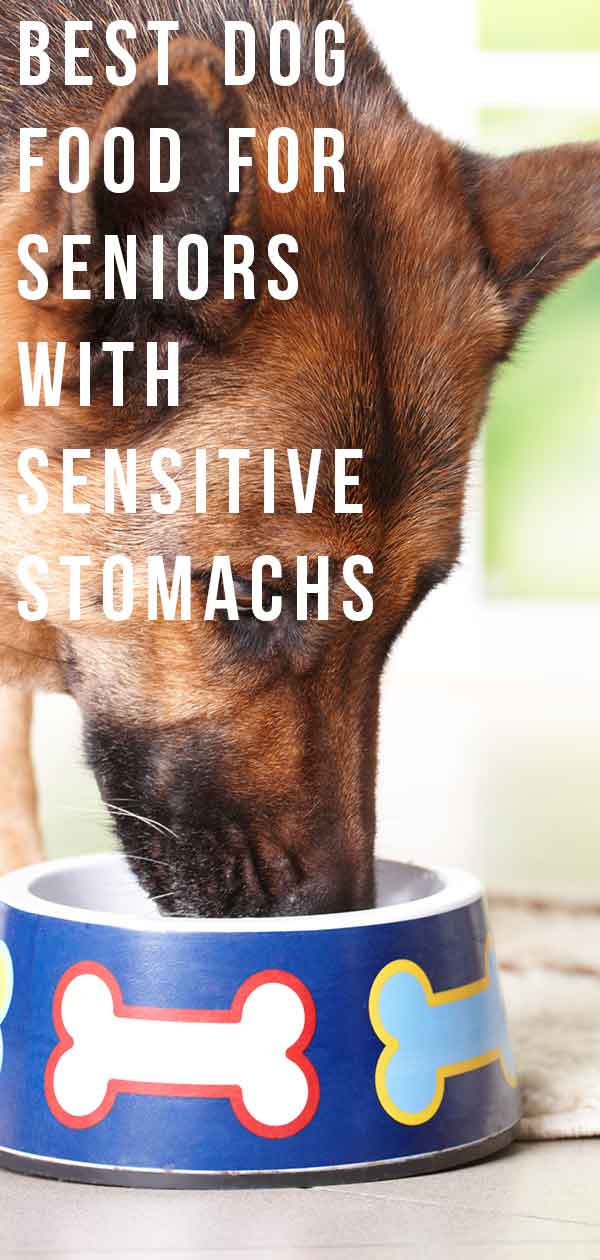 Other considerations
No matter the breed, at some point in life, your pup may develop a sensitive stomach. This makes planning a balanced diet a lot harder.
Many people find this happens as their dogs get older.
There are several reasons your senior dog may be experiencing a sensitive stomach.
What Are Some of the Reasons?
It could range from something like a minor allergy, to a more serious disease or sickness that is causing your pet to have a hard time eating.
It's possible that the food you're currently using lacks a vital nutrient, or even provides too much of one thing, such as fat!
This is often an issue because high fat diets can be harder to digest than high protein or carbohydrate diets.
Perhaps switching to a high protein or carbohydrate diet will show a positive change in your senior dog.
Why does my dog have a sensitive stomach?
It is important to find out what is causing your dog's sensitive stomach before simply changing his or her food.
You might find that it isn't even the food causing the problem.
Perhaps, as your dog gets older, it gets smarter about sneaking food it shouldn't!
If you often give your dog bits of what you're eating, or your senior dog has easy access to the trash, you should stop access to these first, to see if your dog's sensitive stomach continues.
It is also important to remember that every single dog is different from the next.
The best way to find the best dog food for your senior dog is to ask your vet for advice, as they will tailor their answer to your dog's nutritional needs!
How can I tell if my dog has a sensitive stomach?
There are a few easy ways to tell if your senior dog has a sensitive stomach.
If you're noticing loose stools, flatulence, or even vomiting, consult your vet.
Not only are these symptoms of a sensitive stomach, but they can be a sign of another, more serious problem.
Another common symptom is restlessness. If your senior regularly seems to be in discomfort and is constantly getting up and moving around, this could be a sign that it is struggling with digestive issues.
If these symptoms occur when you change something in your dog's diet, you can easily pinpoint what has caused your dog's sensitive stomach!
But if you have made no changes and start noticing these problems, consult your vet immediately. She might recommend finding the best dog food for seniors with sensitive stomachs!
Dog food for seniors with sensitive stomachs
There are lots of important factors when buying sensitive stomach dog food for seniors.
Although ingredients, vet recommendations and label statements are important, price and convenience are also usually big factors in choosing a food.
Buying dog food from Amazon is a good way to make this job easier as you can get it delivered straight to your door.
If you find your dog likes the brand, you can also subscribe and save to many of the dog foods available, meaning you save money in the long run!
Popular sensitive stomach dog foods
One popular option is Iams Proactive Health Sensitive Skin and Stomach dog food*.
Although this choice doesn't specifically target senior dogs, it does aim to help dogs with sensitive stomachs.
This is a protein-based recipe, which comes in either salmon or chicken flavors.
Some people find that their dog's sensitive stomach reacts to certain types of protein.
If this is the case with your dog, Iams Proactive brand gives a selection of proteins to choose from.
What About Price?
This is also slightly cheaper when compared with other brands.
Many reviews of this brand are by people who moved away from more expensive foods for dogs with sensitive stomachs.
However, this is a food designed for larger dogs, and many with smaller dogs have found that they haven't been able to eat the large pieces of food.
Hill's Sensitive Stomach Dog Food
If you're looking for something a dog of any size can eat, another very highly rated choice is Hill's Science Sensitive Stomach and Skin dog food*.

This only comes in chicken flavor, but does have options for larger, smaller, or toy dogs.
It's another protein based diet with some very complimentary reviews, boasting an impressive 4.5 stars on Amazon from over 1000 reviews!
This also isn't one of the most expensive foods out there, at just under $15 for a 4 pound bag.
Is Your Dog Used to Wet Food?
It is a dry food, but if you're uncertain about giving your dog dry food, they also have a wet option*.

This comes in cans rather than bags, and is made from high quality, easily digestible ingredients
Both dry and wet versions of this food contain natural fiber to assist digestion, which can help if your vet thinks a lack of fiber might be the cause of your dog's sensitive stomach!
Many people in the reviews have chosen to mix the dry and wet foods together.
This food also comes in only one flavor, salmon and vegetable, giving you a little variation from the dry food.
This is another option on the cheaper end of the spectrum.
Dehydrated foods and other options
However, if you're happy to pay slightly more when looking for the best dog food for seniors with sensitive stomachs, another option is Honest Kitchen Dehydrated dog food*.

This food comes in an impressive five different flavors, giving you a huge choice if your dog doesn't like particular proteins.
These include beef and chickpea, chicken and quinoa, turkey and parsnip, duck and sweet potato, and fish and coconut.
This food brand only includes ingredients made and processed in the USA.
How Do You Use Dehydrated Food?
If you've never used dehydrated food before, it's pretty simple to work out!
All you need to do is measure out the food, then add warm water.
Mix the two together and leave for a few minutes before giving it to your dog!
The back of the box comes with a helpful guide showing the amount you should feed your dog depending on its size.
If You're Low on Space
This is a great option if you find storing large, bulky bags of dog food annoying, as a 10 pound box makes 40 pounds of food!
And if you prefer to prepare things in advance, this food can be left in the fridge for 2-3 days once it's been prepared!
The 6 ingredients found in this food are finely diced to aid digestion and nutrient absorption, which can help your dog's sensitive stomach!
The reviews for this brand have found it really helps dogs that suffer from allergies.
Middle price range
Another good option that falls somewhere in the middle for price is Purina Pro Plan Focus food* that targets sensitive skin and stomachs.

This is a dry formula that only comes in one flavor of protein – salmon and rice.
Many of the reviews for this brand describe dogs whose sensitive stomachs have dramatically improved.
Some people who have reviewed this food were actually recommended to switch to it by their vet, which demonstrates what a good choice it is!
Because each of these options are available from Amazon, it makes getting dog food super convenient, as it can be shipped right to your home!
But Remember!
An important thing to remember when switching to any of these foods, is that you shouldn't make the change straight from one food to another.
This can aggravate your senior's stomach even more.
The best way to switch to a new food is to introduce it gradually.
This gives your dog's stomach time to adjust to the new food!
Sensitive stomach dog food – other options
If you've tried these brands and find nothing is helping your senior dog with sensitive stomach issues, speak to your vet to see if you can get a prescription diet.
This will be tailored specifically to the needs of your dog, to give him or her the perfect nutritional balance to ease its stomach.
Your vet may even suggest you try homemade diets like those on the American Kennel Club website.
These involve simple, bland meals made from ingredients like cooked chicken and rice.
However, these ingredients alone won't give your dog all the nutrients it needs, so speak to your vet about how you can achieve this if you decide to go down this route.
Best dog food for seniors with sensitive stomachs – summary
So, remember when trying new foods to ease your senior dog's stomach, you must introduce them gradually.
Be sure to let us know if you try one of these brands and it helps improve your dog's situation!
If you've tried any of these foods for your senior dog, let us know how they were in the comments.
Or let us know if there are any brands you've tried that we missed.
It can be hard to find the best dog food for seniors with sensitive stomachs, but hopefully one of these options will be the cure you're looking for.
Want to Find Out More?
If you love learning more about your dog, we've got plenty more you can read!
Check out some of the articles below.
Affiliate link disclosure: Links in this article marked with an * are affiliate links, and we may receive a small commission if you purchase these products. However, we selected them for inclusion independently, and all of the views expressed in this article are our own.
Sources
Dana Hutchinson (et al), 'Survey of Opinions about Nutritional Requirements of Senior Dogs and Analysis of Nutrient Profiles of Commercially Available Diets for Senior Dogs', International Journal of Applied Research in Veterinary Medicine, 9:1 (2011)
Jean E. Harper, 'Changing Perspectives on Aging and Energy Requirements: Aging and Energy Intakes in Humans, Dogs and Cats', The Journal of Nutrition, 128:12 (1998)
Dorothy P. Laflamme, 'Nutrition for Aging Cats and Dogs and the Importance of Body Condition', Veterinary Clinics: Small Animal Practice, 35 (2005)
Xavier Manteca, 'Nutrition and Behavior in Senior Dogs', Topics in Companion Animal Medicine, 26:1 (2011)
Dorothy P. Laflamme, 'Nutritional Care for Aging Cats and Dogs', Veterinary Clinics: Small Animal Practice, 42:4 (2012)
Jan Bellows (et al), 'Common Physical and Functional Changes Associated with Aging Dogs', Journal of the American Veterinary Medical Association, 246:1 (2015)
Get Pippa's free dog training tips delivered to your inbox