Some dog colors stand out more than most, and the Blue Merle Australian Shepherd is a perfect example of this.
The Blue Merle gene is dominant. So if an Australian Shepherd inherits this from a parent, it will be Blue Merle. 
However, issues arrive when dogs inherit this gene from both parents, giving them a double Merle. Double Merles are more prone to health problems like deafness and eye issues.
But does this coat pattern affect any other traits, like personality or general appearance? Read on to find out. 
What's in This Article
In this article, we'll cover the specific details of the Blue Merle Australian Shepherd, and find out whether there's anything that sets this coat color apart from other shades of Australian Shepherd.
We'll also examine if the genetics that result in Australian Shepherd colors Blue Merle have the potential to affect the temperament or health of these dogs.
Head over to our general breed review for Shepherd Dogs, too, which contains plenty of information about this charming and intelligent breed.
History and Origins of the Blue Merle Australian Shepherd
If you want to delve into the background of your Blue Merle puppy, start with the history of the Australian Shepherd in general.
This coloration has the same history as all other colors of Australian Shepherds.
Also known simply as Aussies, the Australian Shepherd's roots lie in the Basque region of Europe.
The Aussie can trace its lineage back to the Pyrenean Shepherd. This was a favorite of sheep herders in the area.
When residents of the Basque region emigrated to Australia in the 17th century, they brought their dogs with them.
Further Developments
Subsequent breeding with Border Collies left the Australian Shepherd appearing more like the dog we recognize today.
This breed is certainly a well-traveled one, and their history next takes us to the ranches of California.
Many ranchers who made the move from Australia to California brought their faithful dogs to the United States.
It's here that they gained their name of Australian Shepherd. Californians assumed these clever herding dogs were a true Australian breed.
Since then, Aussie Shepherds have been popular ranch dogs and rodeo dogs, as well as showing their suitability as service dogs.
Australian Shepherd Colors
The American Kennel Club Breed Standard for the Australian Shepherd accepts four colors:
Black
Blue Merle
Red
Red Merle
Within these colors, three categories of markings are allowed:
Tan points
White markings
White markings, with tan points
Other Markings
While Blue Merle Aussie dogs should have black pigmentation around their eyes, and on their nose and lips, a degree of pink spotting is allowed.
The breed standard notes that for dogs over one year of age, the amount of pink spotting should not exceed 25 percent on the nose.
Any more than this is considered a serious fault.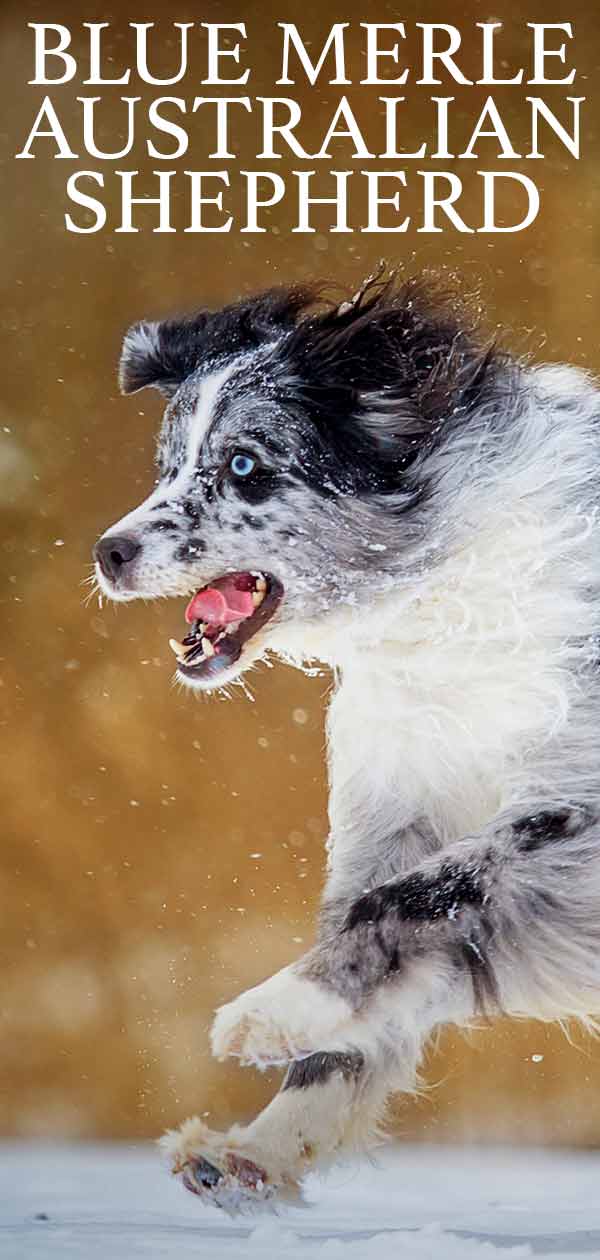 The Genetics of the Blue Merle Australian Shepherd
The genetics of the Blue Merle Australian Shepherd do have the possibility of affecting the health of these dogs.
In this section, we'll take a look at why it's important to take account of genetics when looking at Blue Merle Aussies.
In Aussies, the blue merle coloration is a dominant gene. That means if a dog possesses this gene, it will always be expressed in her coat color.
Puppies receive one set of genes from their father and one from their mother.
Dogs with one copy of the blue merle gene (from one parent) and another copy of a different color gene (from the other parent) are known as heterozygous merles.
These dogs are usually healthy, although they can suffer from some problems that we'll look at in detail later.
Double Merles
Dogs with two copies of the blue merle gene are known as double merles, or homozygous merles.
Double merles have a higher risk of developing a range of health problems.
Read more about how scientists have identified the merle locus in the Australian Shepherd here.
Blue Merle Australian Shepherd Appearance
Because Blue Australian Shepherds look very similar to any other color variation, their appearance will follow the breed standard.
Males weigh between 50 to 65 pounds, and stand at a height of 20 to 23 inches.
Females are slightly smaller, weighing from 40 to 55 pounds and standing 18 to 21 inches tall.
Australian Shepherds are slightly longer than they are tall, and give off an impression of alertness and intelligence combined.
Some Aussies, including Blue Merle Australian Shepherd puppies, are born with bobbed tails.
While you might see an Aussie with a docked tail, this is becoming less common.
Blue Merle Australian Shepherd Grooming
A Blue Merle Aussie dog has a medium-length double coat.
The fur can be wavy or straight. They will usually have shorter hair on their heads.
Generally, they have a mane of thicker fur around their necks and feathering on their legs.
Due to their double coats, its best to brush your Blue Merle Aussie at least once a week.
They tend to shed seasonally. At this point you'll have to up your grooming regime to include raking out their undercoats two or three times a week.
Check out the best brush for Australian Shepherds here.
Blue Merle Australian Shepherd Temperament
An Australian Blue Shepherd combines a strong herding instinct with a seemingly insatiable source of energy.
With their owners, they are loyal and dedicated.
But their extreme intelligence does mean they can be standoffish with strangers. Early training is essential with this breed.
Some Blue Merle Aussies, particularly double merles, can be deaf.
This is due to depigmentation around the ears. Deafness can affect the temperament of dogs, making them easier to startle.
It's been suggested that dogs with a lot of de-pigmentation can be more prone to nervousness.
Bear in mind that this is anecdotal, and we can't find any scientific studies that have examined this in more detail.
Training Your Blue Merle Australian Shepherd
As a herding dog, Blue Merle Aussie puppies have a natural desire to protect their families.
While this might seem cute when they're puppies, if you neglect to train them well while they're young, this trait has the potential to turn into a level of aggression as they get older.
And that's no laughing matter.
To ensure this doesn't happen, puppy training and socialization at a young age is vital for this breed.
As we've mentioned, deafness can occur in a Blue Merle Aussie.
We'll look at the reasons why in our health section, but be aware that it may impact your training.
Blue Merle Australian Shepherd Activity
It should come as no surprise that Aussies are active dogs—due to their history as a herding dog.
Dedicate time for regular, daily exercise sessions.
Aussies also don't enjoy being left alone for long periods of time, so you definitely need to take this into account if you work away from home.
Bored or lonely Australian Shepherds can decide to make their own fun.
Be aware that this could include destructive behavior as a way to release anxiety or pent up energy.
As an extremely intelligent breed, Aussie Shepherds will relish any form of mental stimulation, as well as physical exercise.
They excel at herding, agility and search-and-rescue tasks.
Breed Popularity
Aussie Shepherds are a popular breed. The American Kennel Club ranks them 16 of the 193 breeds they recognize.
Health of the Blue Merle Australian Shepherd
As we touched upon briefly earlier in this article, Blue Merle Australian Shepherds can be prone to a variety of health issues that set them apart from other Aussie Shepherds.
Deafness
Deafness in merle dogs is more common than in dogs of other colors.
Double merle Aussie Shepherds are more likely to be deaf either in one or both ears. This is due to the lack of pigment in the inner ear cells.
Despite suggestions that blue eyes in merle Aussie dogs can be used as an indicator of deafness, a study in 2009 found no link.
Eye Problems
Merle dogs can also suffer from eye problems, which are again more common in double merles.
These can include microphthalmia, where the eyes are unusually small. The irises can be defective, or the lens can be off-center.
It can also affect the retina, an optic nerve.
This combination of deafness and eye problems is sometimes known as merle ocular dysgenesis.
You can read more about the general health conditions that can affect all Aussie Shepherds here.
Breeding Blue Merle Australian Shepherds
Unlike other colors of Aussie Shepherds, there are some precautions that any breeder using a blue merle parent dog should take.
Responsible Blue Merle Australian Shepherd Breeders will not breed two merle dogs together.
Doing so would mean that the puppies would be at risk of inheriting two copies of the merle gene and the health risks that this entails.
Similar Breeds
If you've enjoyed finding out more about the Blue Merle Australian Shepherd, we've got plenty of other informative articles about dog breeds and dog facts that you'll enjoy! 
Take a look at some of them below.
Blue Merle Australian Shepherd Puppies
You may have seen an advert for Miniature Australian Shepherd Blue Merle puppies, or a Blue Merle Toy Australian Shepherd, and be tempted to find out more.
A Blue Merle Mini Australian Shepherd is considered a separate breed to the larger Aussie Shepherd.
But their coloration and linked history can mean they will be susceptible to the same potential health problems as their larger namesakes.
Are you unsure about encouraging the breeding of Blue Merle Aussies by purchasing a puppy?
Look at finding a home for an older dog from a Blue Merle Australian Shepherd rescue organization.
Do you have a Blue Merle Aussie? We'd love to hear your thoughts in the comment section below.
References and Further Reading:
"Australian Shepherd Dog Breed Information Center," The Happy Puppy Site
Gelatt, K., 1981, "Inheritance of Microphthalmia with Coloboma in the Australian Shepherd Dog," American Journal of Veterinary Research
Grandin, T., 1998, "The way I See It: The Dangers of Over-Selection," Western Horseman
Guthrie, M., 2018, "Deaf Dog Training: How to Train a Canine Who Is Hard of Hearing," The Labrador Site
Guthrie, M., 2018, "Shepherd Dog Breeds – All the World's Best Sheepdogs," Dogsnet
Hedan, B., et al., 2006, "Coat Colour in Dogs: Identification of the Merle Locus in the Australian Shepherd Breed," BMC Veterinary Research
"Merle Eye Defects," 2013, Australian Shepherd Health and Genetics Institute
"Mini Australian Shepherd," The Happy Puppy Site
"Official Standard of the Australian Shepherd," American Kennel Club
Strain, G.M., et al., 2009, "Prevalence of Deafness in Dogs Heterozygous or Homozygous for the Merle Allele," Journal of Veterinary Internal Medicine
Get Pippa's free dog training tips delivered to your inbox