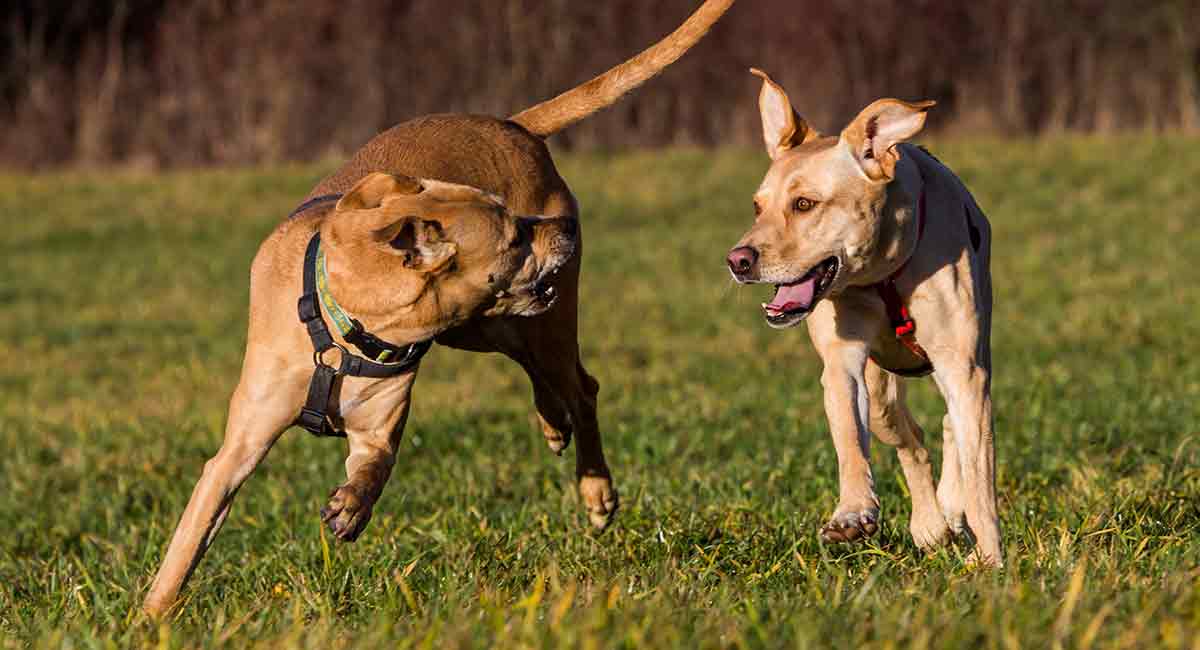 A Pitbull Golden Retriever mix combines the American Pitbull Terrier dog breed with the Golden Retriever dog breed.
The Pitbull Golden Retriever mix is usually medium sized, friendly, and quick to respond to training.
But some people remain nervous of this mix because of its potential to inflict a powerful bite. So, socialization and training are important from a young age.
Read on to find out more about this mix.
Your Pitbull Golden Retriever Mix
The idea of owning a Pitbull Golden Retriever mix is appealing to many. But, others are likely to be somewhat wary.
The Golden Retriever though is renowned for its kind, gentle nature and ranks highly as a pet in the USA and around the world.
But the Pitbull has received a lot of bad press over the years for aggressive behavior. This has seen it banned in several countries along with restrictions placed in certain US towns and cities.
But, Pitbulls do get an unfair rap as they are not inherently dangerous. They are sweet natured in the right hands, sharing many of the same characteristics as the Golden Retriever.
In our complete guide, we look closely at the two parent breeds and how they might combine, giving you some idea of the possible outcome of this unique hybrid breed.
Let's find out if the Pitbull Golden Retriever mix is the right pet for you!
Where Does The Pitbull Golden Retriever Mix Come From?
The Pitbull Golden Retriever mix is the result of crossbreeding the loyal Pitbull Terrier with the sweet-natured Golden Retriever.
Designer dogs have become popular in recent years. But they have created much controversy in the canine world.
Many argue that a purebred has predictable traits, whereas the outcome of a mixed breed is uncertain.
Others, however, claim that as hybrids have a wider gene pool, they reduce the risk of inherited diseases and deformities. So they are considered far healthier.
But like many mixed breeds, little is known as to where this mix originated or why.
By looking at the history of both the Pitbull and the Golden Retriever, we can learn about their purpose and how it influences the traits and characteristics of this mixed breed.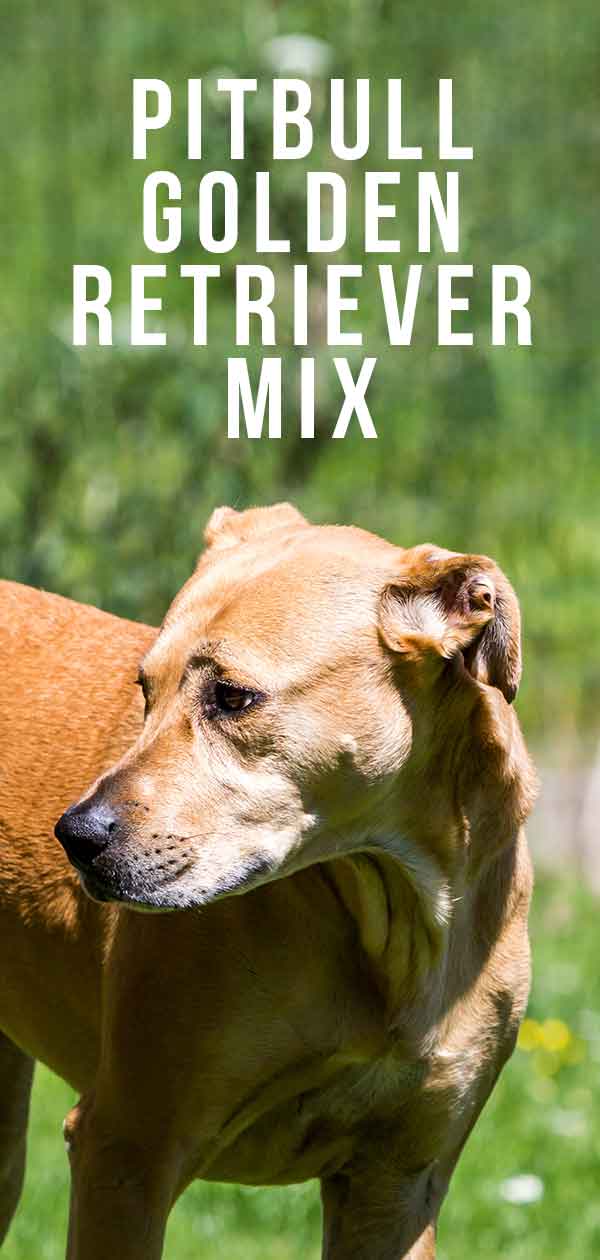 American Pitbull
The Pitbull can trace its roots back to 19th century England developed from English Bulldogs for bull baiting. After banning this inhumane blood sport in 1835, dog fighting took its place.
The Pitbull was bred for aggression towards other animals. But, through selective breeding and culling, biting or attacking a human was discouraged so handlers could safely break up fights.
Early immigrants to the USA brought their Pitbulls with them from England where they took on responsibilities as farm dogs and companions. They also appeared as mascots on army recruitment posters in both World Wars as well as serving beside US soldiers.
During the 1930s, the AKC changed the name Pitbull to American Staffordshire Terrier to separate them from their fighting past.
Sadly, the Pitbull has gone from being "America's Dog" to one that is now feared.
Golden Retriever
The Golden Retriever originated in the Scottish Highlands during the mid-1800s, bred primarily as a hunting dog for the Scottish gentry.
The hunting grounds in Scotland consisted mainly of marshes and streams. But these dogs lacked the necessary skills to retrieve shot wildfowl from both land and water.
The Baron of Tweedmouth, Dudley Marjoribanks, is credited with developing the breed as we know it today. He crossed a Tweed Water Spaniel called Belle with his yellow-colored Retriever, Nous.
Marjoribanks kept detailed breeding records from 1835 to 1890, introducing other lines which included the Irish Setter, Bloodhound and St. John's Water dog. His goal was to produce an exceptional hunting companion who could hunt all day as well as being handsome with a loyal, gentle nature.
The British Kennel Club recognized the Golden Retriever in 1911 followed by the AKC in 1925.
The breed consistently ranks in popularity as a pet around the world.
Fun Facts About The Pitbull Golden Retriever Mix
Pitbulls are renowned for being exceptional climbers. But none more so than a Pitbull Terrier named Antara from Mexico who holds the record for running up a staggering 14 feet high vertical wall.
However, the loudest bark was produced by a Golden Retriever named Charlie who recorded a piercing 113.1 decibels which are considered as noisy as a rock concert!
Pitbull Golden Retriever Mix Appearance
Pitbull Golden Retriever mix puppies may take on the physical attributes of one parent breed more than the other. They may have a combination of both, depending on the genetic dominance at play.
As it is difficult to predict the exact outcome of this hybrid, we can make a few calculated guesses.
As both parent breeds are quite large. So, you can expect their offspring to be reasonably big with a robust and muscular build.
They will weigh anywhere between 35 to 75 pounds, standing 17 to 24 inches in height.
Quite often this mix has the body of the Golden Retriever with the broad head and facial looks of the Pitbull.
Coat Type
There are differences in the coat lengths of these two breeds. But you will not know which type your puppy has until they grow.
They may take on the short, manageable coat of the Pitbull or the long, shaggy one of the Golden Retriever, with an array of colors and patterns possible.
Whatever the outcome, your pup will certainly be a looker!
Pitbull Golden Retriever Mix Temperament
To find out the likely behavior of the mix, we need to look at both parent breeds.
There is no doubt that this mixed breed can be a loyal, loving and friendly dog that enjoys family life.
After all, the Golden Retriever is renowned for being one of the gentlest dogs around who gets along with everyone, including other animals.
And despite their violent past, the Pitbull can be a kind-natured dog with the right training.
Both breeds have an affinity for children. It may surprise you to know that Pitbulls were previously known as "nanny dogs."
In fact, the American Temperament Test Society found that the American Pitbull had a calm and gentle temperament. It scored within the same ranks as the Labrador Retriever and the Golden Retriever!
Risks of a Pitbull Bite
That said, the Pitbull has a bite strength of 1800 psi, meaning that if they do bite it inflicts much damage to the victim and explains why they have such a bad reputation.
Both breeds are devoted to their owners, which means your mix may struggle if left alone for too long. This may lead to destructive behaviors like chewing.
If your Pitbull Golden Retriever mix is well trained and socialized from a young age with their exercise requirements met, then this dog could be your perfect forever companion!
Training Your Pitbull Golden Retriever Mix
Investing in the time to properly socialize and train your mix from a young age is essential if you want a well-behaved and obedient dog that is a valued member of the family.
As both the Pitbull and the Golden Retriever are intelligent dogs with an eagerness to please, this combination should be relatively easy to train.
But, if your mix inherits the stubborn streak of the Pitbull, they may be a little harder to handle.
Keep sessions short but stimulating, using positive reinforcements methods to encourage good behavior.
Potty training should be straightforward with this mix. Especially if you use crate training, which can help speed up the process.
By exposing your puppy to as many people, dogs and animals in different situations, they will grow up into a well-adjusted and friendly dog.
Participating in dog obedience classes helps with socialization as well as organizing puppy play dates and attending a doggy daycare center.
Exercising the Pitbull Golden Retriever Mix
The Pitbull Golden Retriever mix has high energy levels. So it needs plenty of exercise. Otherwise, they can become destructive or aggressive.
For the active owner, this designer dog makes the perfect partner for hiking, running or cycling as well as dog agility.
Both the Pitbull and the Golden Retriever love to swim. So include swimming in your pups' exercise program whenever possible. This can be alongside taking long walks and playing games like frisbee.
A large, secure back yard is essential. But be aware that Pitbulls are great climbers so make sure you have high fencing!
And be careful if you let your mix off the leash as both terrier and retriever breeds have an instinct to chase.
Pitbull Golden Retriever Mix Health
Based on their parentage, the Pitbull Golden Retriever mix is prone to joint problems, hypothyroidism, heart, eye, ear and skin conditions as well as cancer.
As a large dog, they may also experience bloat which can be life-threatening.
A reputable breeder will carry out health screenings that are appropriate for both the Pitbull and the Golden Retriever, which should include:
• Cardiac Exam
• Elbow Evaluation
• Hip Evaluation
• Ophthalmologist Evaluation.
Providing they remain in good health the expected lifespan of the Pitbull Golden Retriever mix is between 10 and 15 years.
Feeding the Pitbull Golden Retriever Mix
Do not overfeed this breed as they are prone to gaining excess weight. This can lead to heart conditions and hip dysplasia.
Giving fish oil is highly beneficial for the bones and joints, heart, kidneys and skin.
Always feed a well-balanced, high-quality food with fresh water constantly available for hydration.
Grooming the Pitbull Golden Retriever Mix
The grooming needs of your Pitbull Golden Retriever mix depends on which coat they inherit from their parents.
If they take after the Pitbull, their short, manageable fur is easy to maintain. But if they inherit the Goldie's longer coat, there will be plenty of shedding to deal with. They will require brushing at least three times a week to prevent tangles and eliminate loose fur.
Part of your grooming should also include regular dental practices. As well as cleaning the ears and trimming of the nails.
Do Pitbull Golden Retriever Mixes Make Good Family Dogs?
The Pitbull Golden Retriever mix is a sweet-natured, friendly dog who gets along with everybody and is patient and tolerant of children.
But, it is vital that this mixed breed is with an active family who can give them lots of attention and meet their high exercise requirements. Otherwise, they are likely to encounter problems.
Rescuing a Pitbull Golden Retriever Mix
All too often, Pitbulls and Pitbull mixes end up in shelters through no fault of their own. It is usually due to the inexperience and ignorance of owners.
By taking on a rescue dog, you are giving them a second chance of happiness. Also, you can have a trial period before making the final commitment to adopt.
It is also cheaper, and your pup is likely to be already house trained!
Finding a Pitbull Golden Retriever Mix Puppy
Designer dogs continue to increase in popularity and demand high prices.
When looking for a Pitbull Golden Retriever mix puppy, only go to a reputable breeder.
Ask questions regarding the temperament and health issues of the parent breeds. The breeder should be happy to answer and may ask you questions too to ensure their puppies go to the right home.
They should provide certificates proving the puppies have been health screened. If not, go elsewhere.
But never buy from puppy farms or pet shops as there are so many unethical practices going on. These animals live in inhumane conditions and often end up with behavioral or health issues.
Pitbull Golden Retriever Mix Products and Accessories
Here are a few things you may find useful for your Pitbull Golden Retriever mix!
Pros and Cons of Getting a Pitbull Golden Retriever Mix
To help you decide if the Pitbull Golden Retriever mix is right for you, we have produced a list of pros and cons:
Cons
High exercise requirements
Potential for aggression
Can be stubborn
Separation anxiety
High shedder depending on parent
May not be able to have Pitbull where you live
Restrictions on home insurance policies.
Pros
Loyal and loving
Excellent with children
Intelligent
Good trainability
Perfect for active families
Similar Pitbull Golden Retriever Mixes
You may want to consider similar breeds before making a final decision:
Pitbull Golden Retriever Mix Rescues
Many rescue centers specialize in Pitbulls, Golden Retrievers and their mixes. If you know of any other organizations, please list in the comments section.
USA
UK
Australia
Canada
Is a Pitbull Golden Retriever Mix Right For Me?
The Pitbull Golden Retriever mix is a delightful combination that is the right fit for many owners due to their kind, loyal and loving natures.
They are gentle and patient with children making them ideal for families.
As they love to please and are intelligent, they are easy to train, although some do possess a stubborn streak.
But this dog only makes a suitable pet if owners understand what they are taking on and can provide the right amount of care, attention and exercise; otherwise, they can become destructive and aggressive.
Check first that it is legal to own a Pitbull where you live.
Do you own a Pitbull Golden retriever mix? Share your story!
References and Resources
Get Pippa's free dog training tips delivered to your inbox