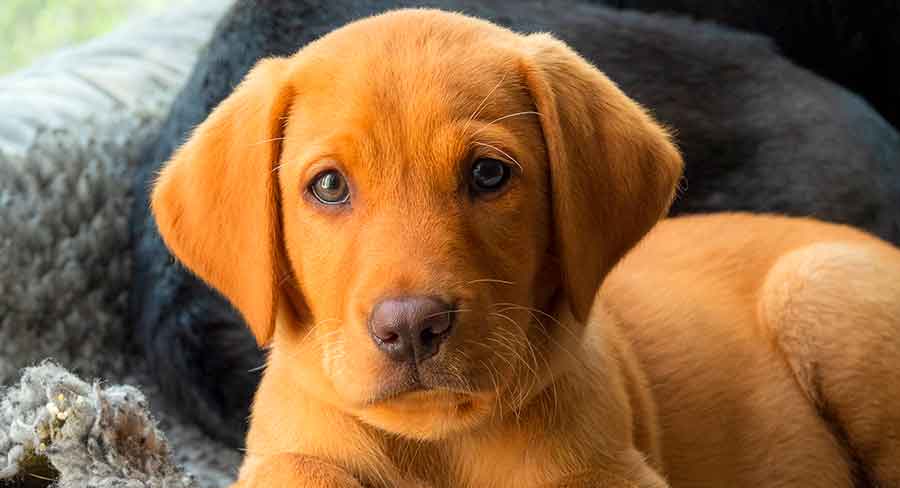 A red fox Lab is a yellow Labrador Retriever with an exceptional amount of pheomelanin pigment in their coat.
Pheomelanin looks yellow in moderate amounts, and redder the more concentrated it is.
Fox red Labs are unusual and highly sought after, but their temperament and care needs are the same as any other Labrador color.
What is a Red Fox Lab?
Labrador Retrievers are America's favorite dog breed, and have been for decades.
They are accepted by the American Kennel Club in three standard colors:
black
chocolate
and yellow.
Why isn't red on the list?
Red fox Labradors are recorded as yellow under AKC rules.
Even though some are nearly as far from being yellow as it's possible to imagine!
But it makes perfect sense, when you look at how red coat color is inherited.
Red Fox Lab Genetics
Let's take a quick look at where red fox coloring comes from, and why it doesn't get a color category of its own.
All dogs (and we mean all dogs) produce their coat's color from just two pigments:
eumelanin, which is black
and pheomelanin, which is red
Black and chocolate Labs produce both types of pigment. In these coats, the eumelanin obscures the color of the pheomelanin.
But yellow Labs don't produce any eumelanin, so all you see is the pheomelanin in their coat.
Pheomelanin pigment appears cream when there is very little of it, yellow in moderate amounts, and red when it is present in large quantities.
At the time of writing, researchers have identified the gene responsible for switching off eumelanin production in yellow Labs. It is (somewhat bafflingly) known as the 'Extension locus', or 'e gene'.
But they haven't yet identified the gene (or genes) responsible for modifying a yellow coat into a cream one, or a fox red one.
Ultimately though, red fox Labs are a genetic variation of yellow Labs, which is why the AKC categorizes them together.
Which leads us to our next question…
Are Red Fox Labs Rare?
If Labradors were wild animals, red coats would indeed be rare.
The e gene which switches off eumelanin production is itself recessive.
Which means puppies only have coats on the yellow spectrum if they inherit the e gene from both of their parents.
Then, the exact amount of pheomelanin those puppies produce is modulated by one or more other genes, to produce cream or red fur.
Whilst these genes haven't been precisely located yet, breeders can tell from the way that they are expressed that they are also recessive. And perhaps influenced by the presence or absence of still further unidentified genes.
So that statistically, if a wild population of Labradors breeding at random, litters of red puppies would be very unusual.
But of course, Labradors are not wild animals.
They don't breed at random, because humans decide which Labradors are going to mate with each other.
So in reality the number of fox red Labs depends a lot upon breeder's enthusiasm for trying to produce them.
Historically, black was the most sought after Labrador color, and the traditional color of a working Lab.
So more breeders bred black Labs than any other color.
Recently, red Labs have gained popularity.
Partly because Labradors are increasingly likely to be kept as pets rather than working dogs, and pet owners are more enthusiastic to embrace unusual or eye catching coat colors.
Whilst a fox red coat requires a very specific combination of genes, it's not difficult to engineer litters with that combination, if breeders feel so inclined.
Some breeders might do so because they hope to profit from the surge in demand for red fox Lab puppies.
But it's important to be aware that responsible breeders breed for health and temperament first, not color.
Many good breeders even refuse to charge more for puppies in fashionable colors, so that they don't contribute to making poor breeding profitable for puppy farmers.
So, whilst red fox Labs are relatively uncommon, and highly desirable, you shouldn't expect to pay over the odds to get one.
Red Fox Lab Temperament
Now let's take a closer look at life with a red fox Lab. Have they got anything besides their coat which makes them especially good pets?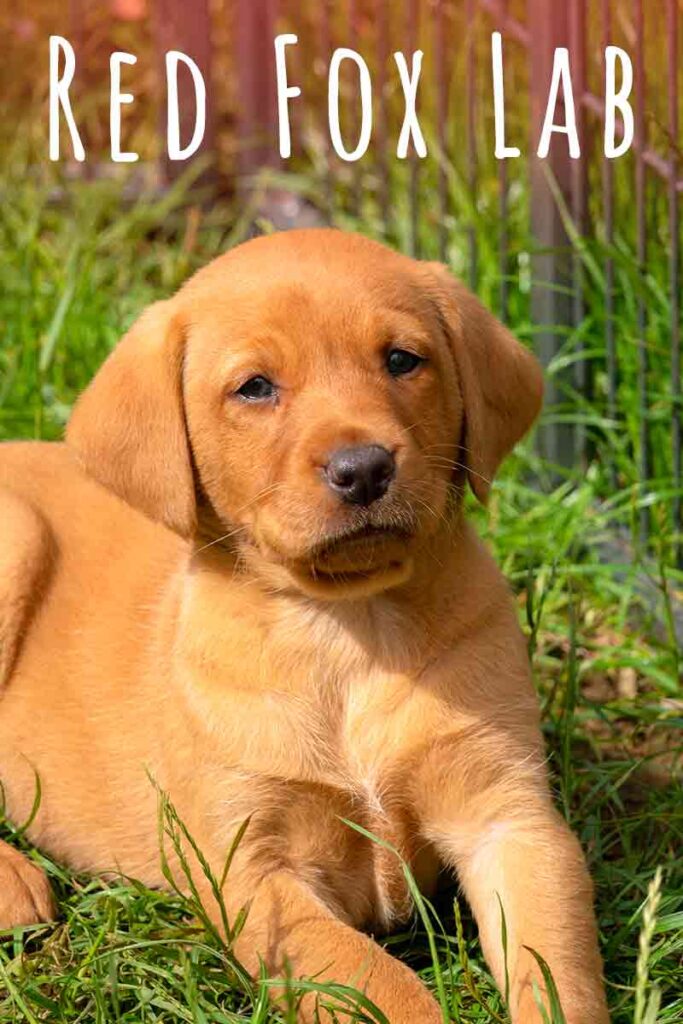 In fact, there is practically no evidence that red fox Labs have a temperament which is distinct from the typical Labrador personality.
All Labradors are friendly with people and other animals, quick learners and hard workers.
Show vs working red fox Labs
A subtle but much talked about distinction which does occur in Labrador lines is between dogs bred for show (also known as English Labs) and dogs bred to work (also known as American Labs).
To help them succeed in long uneventful days at the show bench, English Labs are more likely to be calm and placid.
Whilst American Labs are more likely to be full of energy, and constantly ready to burst into action.
It's a quirk of breeding that red fox Labs are also more likely to belong to working lines.
English red fox Labs aren't unheard of, but they're relatively much less common.
So, most red fox Labs are going to have a strong work ethic and lots of stamina for physical activity.
They need lots of human engagement and training to channel those qualities productively too. If they're left to get bored, they're more likely to resort to chewing, digging and barking as displacement activities.
Finally, a recent study of Labrador behavior in Australia did find that yellow Labradors were more likely to behave aggressively towards other familiar dogs than black or brown Labs.
But it didn't distinguish how many (if any) of the yellow Labs included in the study were red. So we can't say for sure whether the same is true of red fox Labradors or not.
However, carefully socialising any puppy with other dogs before they're three months old will greatly reduce the risk of them reacting aggressively towards them in future.
Red Fox Lab Health
Labradors are medium to large dogs, which live for 12-13 years on average. Red fox Labs are the same.
In fact, there's no evidence that any of the health problems which most commonly affect Labradors occur more or less frequently in red fox dogs.
The most common conditions diagnosed in Labs are:
Hip dysplasia
Elbow dysplasia
Exercise-induced collapse
Degenerative myelopathy
Patella luxation
Abnormalities of the shoulder joint
Thyroid disease
Allergies
To secure the health of future generations, the Canine Health Information Center at the Orthopedic Foundation for Animals recommends that the minimum health checks done on breeding dogs before mating are:
Hips
Elbows
Eyes
Heart
and a DNA test for exercise-induced collapse.
Whenever you contact a breeder about a litter of fox red Labradors, ask them to forward you the the results of these examinations and tests before you visit them.
Good breeders will be happy to oblige. But bad breeders will make up reasons why the tests weren't necessary, or stall over sending you the results. They're hoping that once you've met the puppies you'll let your heart rule over your head instead.
But dogs with these conditions can require a lifetime of expensive veterinary care.
If they've been raised by a poor quality breeder they're more likely to have complex long term behavioral problems too.
Your Red Fox Lab
Red fox Labradors are essentially yellow Labs with very highly pigmented coats.
They are less common than the other coat colors, but they have a loyal following in the Labrador community.
In fact, Dogsnet founder Pippa Mattinson is a big fan herself! Her working red fox Labs Tess and Daisy both appear in our Dogsnet training courses.
A red fox Lab might be the right dog for you too, if you want a clever, energetic dog to spend a lot of time training and interacting with.
If you already have a red fox Lab, we'd love to hear more about them in the comments box down below.
Perhaps you could also let us know where you stand on a very old debate: is it 'red fox' or 'fox red'?!
References and Resources
Everts et al. Identification of a premature stop codon in the melanocyte‐stimulating hormone receptor gene (MC1R) in Labrador and Golden retrievers with yellow coat colour. Animal Genetics. 2002.
Perez et al. Relationship between the melanocortin-1 receptor (MC1R) variant R306ter and physiological responses to mechanical or thermal stimuli in Labrador Retriever dogs. Veterinary Anaesthesia and Analgesia. 2017.
Schmutz & Berryere. The Genetics of Cream Coat Color in Dogs. Journal of Heredity. 2007.
Van Rooy & Wade. Association between coat colour and the behaviour of Australian Labrador retrievers. Canine Genetics and Epidemiology. 2019.
Get Pippa's free dog training tips delivered to your inbox