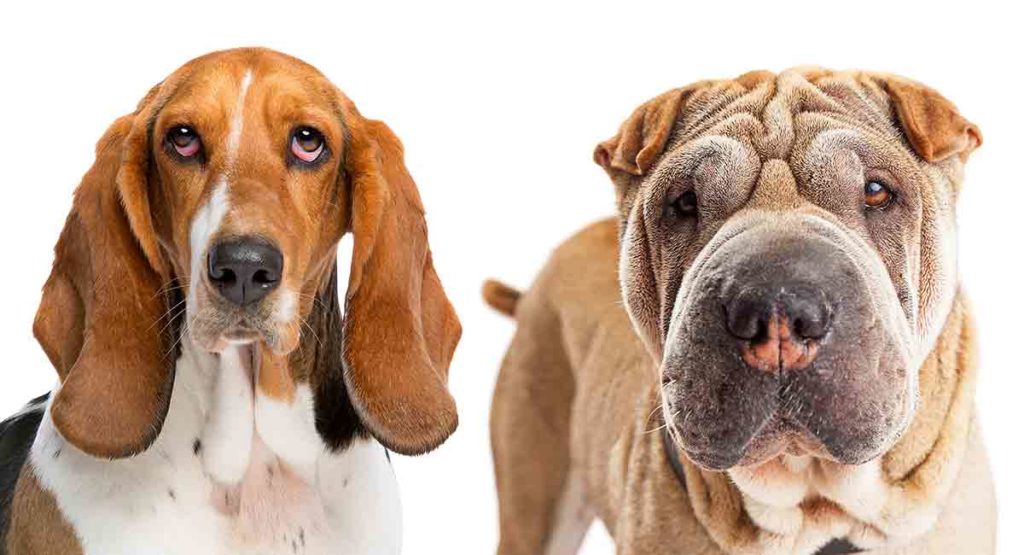 A Walrus dog is a crossbreed of a Shar Pei and a Basset Hound. Walrus dogs can have very variable looks and personalities because their parents are so different from one another.
However, generally they are medium sized dogs weighing between 40 and 65 pounds. They are usually loyal, friendly, and intelligent. But they can have a stubborn streak!
Plus Walrus dogs might be less prone to health problems caused by their looks than either of their parents. This is because the most extreme features are balanced out.
Read on to find out more about this unique breed.
Your Walrus Dog
Are you thinking about getting a Shar Pei Basset Hound mix? This is the article for you!
This loyal, laid-back breed is a cross between the Chinese Shar Pei and the Basset Hound.
We also know them as the Ba-Shar. Or more affectionately as the walrus dog.
In this article, we'll take a look at everything there is to know about the Shar Pei Basset Hound mix. From their physical appearance, to any health concerns you need to know about.
Where Does the Walrus Dog – Shar Pei Basset Hound Mix Come From?
As with most mixed breeds, there isn't a lot of information available about the origins of the Shar Pei Basset Hound mix.
They are likely to have originated in the United States in the 1990s when designer dogs began to rise in popularity.
To find out more, let's look at the parent breeds.
Shar Pei History
Shar Peis have a rich heritage dating back to China's Han Dynasty.
Initially used for hunting, Shar Peis were later bred for dog fighting.
In 1973, a Hong Kong businessman smuggled around 200 dogs to the U.S. in the hope of saving the breed, following a decline in the population at the end of the Communist Revolution.
The Shar Peis in America today are direct descendants of these dogs.
The American Kennel Club (AKC) first recognized the Shar Pei as a breed in 1992.
Basset Hound History
Today's Basset Hound descends from French dogs that were bred in Britain during the 1800s.
Like Shar Peis, Basset Hounds were bred as hunting dogs.Their unrivaled sense of smell was an asset when out in the field.
Bassets were popular with French aristocrats for this reason, for whom hunting was a way of life.
The AKC first registered Basset Hounds back in 1885.
Purebred Or Mutt?
With the demand for designer dogs like the Walrus dog on the rise, this debate is going nowhere anytime soon.
Those in favor of purebreds will argue that puppies come from known sources. Meaning they should look and behave exactly as you would expect once they reach adulthood.
On the other side of the debate are mutts, whose genetic pool is cast far wider. In theory this avoids the complications that come from inbreeding within an increasingly smaller population.
Though it is also true that in mutts, we can't know for definite which characteristics of a dog's parentage will be expressed.
Struggling to make your mind up? Read our article on the pros and cons here.
Fun Facts About the Walrus Dog – Shar Pei Basset Hound Mix
Walrus dogs are growing in popularity on Instagram.
You only need to search the hashtags #walrusdog, #bashardog, or #sharpeibassethound to see why!
Walrus Dog – Shar Pei Basset Hound Mix Appearance
As with all mixed breeds, Walrus dogs can look more like one parent, or a mixture of both.
To better understand what your dog might look like, here's a rundown on both parent breeds.
Shar Peis
These dogs are:
Medium sized
Between 45 and 60 pounds in weight
Between 18 and 20 inches at full height
They have:
Loose, wrinkly skin
Large 'hippopotamus-shaped' heads
Deep-set eyes
Unique blue/black tongues
Tan colored coats
Basset Hounds
These dogs are:
Medium sized, but short
Between 40 and 65 pounds in weight
Up to 15 inches tall
They have:
Powerful short legs
Large paws
Characteristically sad faces
Long, droopy ears
Tri-color coats of black, white, and tan
Walrus Dog – Shar Pei Basset Hound Mix Temperament
To gauge what a Walrus dog's temperament might be like we need to look to their parents. Though bear in mind the inheritance of temperament is even harder to predict than physical attributes.
Both Basset Hounds and Shar Peis can be friendly and affectionate. Though whereas Basset Hounds are like this with everyone, Shar Peis tend to favor only their nearest and dearest.
Both breeds make excellent guard dogs and are very loyal.
Training can be difficult since both Basset Hounds and Shar Peis are highly intelligent and stubborn.
Both of these breeds were bred originally for hunting. So if your walrus dog picks up a scent when out walking, you may well have your hands full calling them back!
For this reason, it is always best to invest lots of time in working your Walrus dog's recall. You can even teach him an emergency recall, for when his strong prey drive catches you by surprise!
Socializing
And while Basset Hounds are friendly with other dogs and animals, Shar Peis can be aggressive. In temperament tests, Basset Hounds score 86.5 percent, while Shar Peis only score 71 percent.
As with all dogs, it is wise to socialize walrus dogs young, to train any territorial or aggressive tendencies out.
Training Your Walrus Dog – Shar Pei Basset Hound Mix
It is best to train your Walrus dog puppy from the first day you take them home.
Potty training should be a priority and will benefit both you and your pup by establishing an early routine.
Equally, if you'd like to crate train your Walrus dog, you should get them used to their crate as soon as you can.
Since Walrus dogs have inherited a stubborn streak from both parents, you will need to be a confident, patient trainer.
As mentioned above, socialization is important from an early age.
Exercise Needs
Walrus dogs should have daily moderate exercise.
Though keep in mind that a walrus dog with lots of wrinkles or a flat face with the pinched nose of a Shar Pei may be prone to overheating and shortness of breath.
It is also important to remember that both Basset Hounds and Shar Peis can suffer from joint problems. For this reason, avoid over-walking your walrus dog puppy. Take regular breaks and always keep a clean supply of water to hand.
Finally, it is worth considering puppy training classes.
Walrus Dog – Shar Pei Basset Hound Mix Health
Unfortunately, Walrus dogs are susceptible to a range of health issues because of their parentage.
Here are some quick tips to get you started, to keep your dog healthy.
Walrus dogs need:
Regular grooming taking extra care around eyes, ears, and wrinkles
High-quality dog food containing glucosamine for healthy joints
What health issues should you be concerned about in the parent breeds before getting your walrus dog?
Shar Peis
Their wrinkled skin makes them prone to cutaneous mucinosis, pyoderma, and seborrhea.
Yet the underlying cause is genetic, an overexpression of hyaluronic acid that is also responsible for a far more serious disease in Shar Pei dogs.
Shar Pei fever, also known as swollen hock syndrome, presents as an intermittent fever accompanied by joint swelling, and can lead to kidney failure if untreated.
The short muzzle of the Shar Pei makes them prone to shortness of breath. And they may even develop brachycephalic airway syndrome.
And as if that isn't all quite enough, because of their deep-set eyes, Shar Peis may also suffer from a range of eye conditions. These include glaucoma, cherry eye, and lens displacement.
Shar Peis may also be prone to ear infections, cardiovascular issues, and even skin cancer.
The life expectancy of a healthy Shar Pei is between 8 and 12 years.
Basset Hounds
Like Shar Peis, Basset Hounds can be prone to eye conditions like glaucoma and ectropion.
Basset Hounds suffer from a blood coagulation disorder known as thrombopathia, which can mean marked periods of bleeding.
The short, sturdy structure of the Basset Hound is an expression of osteochondrodysplasia, which is abnormal growth of cartilage and bone.
This can lead to problems with their joints, causing painful, frequent dislocations.
Their long ears mean Basset Hounds are prone to ear infections if they aren't regularly groomed.
When healthy, Basset Hounds tend to live for around 12 to 13 years.
Do Walrus Dog – Shar Pei Basset Hound Mixes Make Good Family Dogs?
Walrus dogs can make good family dogs if trained well and socialized early.
Between training and regular health checks, you need to be sure that you can invest both the time and money in a Walrus dog before you take one home.
Rescuing a Walrus Dog – Shar Pei Basset Hound Mix
Rescuing a dog can be a rewarding experience.
Though adopted dogs come with their own baggage. So it is important to prepare yourself. You need to make sure you can give your new pet everything they need without tearing your hair out in the process.
One particular benefit of rescuing a Walrus dog is reducing the use of puppy farming. This is a cruel practice that breeds the most desirable traits while giving little thought to a dog's health.
You will also find that with an older Walrus dog, all the traits of their Basset Hound and Shar Pei parentage will already be visible. So there won't be any surprises you aren't ready for!
Finding a Walrus Dog – Shar Pei Basset Hound Mix puppy
Mixed breed dogs are increasingly popular, designed specifically to bring out the best traits in two breeds and mix them into one.
Reputable breeders that specialize in these mixes will ensure your walrus dog pup comes to you in optimum health.
Unlike those you will find in a pet store or from a puppy mill. Both of which should be avoided at all costs.
Documents and Testing
A responsible breeder will provide full details of your dog's parentage and give you access to both the parents and premises where the puppies are raised.
You will also want to ensure that any genetic tests the breeder has performed are available.
Documentation about health and heritage is always important when buying a puppy. Though even more so when choosing a mixed breed like a Walrus dog.
Pros and Cons of Getting A Walrus Dog – Shar Pei Basset Hound Mix
Cons:
Genetically disposed to a wide range of health issues
Stubborn
Can take a lot of work to train
Pros:
Friendly to those they love
Intelligent
Excellent guard dogs
Walrus Dog – Shar Pei Basset Hound Mix Rescues
If you are thinking of adopting a Walrus dog, first contact rescue centers specializing in Shar Peis and Basset Hounds.
Here is a list of some rescue centers that may help; please add your suggestions in the comments!
USA and Canada
UK
Australia
Is A Walrus Dog – Shar Pei Basset Hound Mix Right For Me?
Walrus dogs are an unusual mix, but growing in popularity.
Since both of his parents are prone to health problems as a result of their appearance, it's important to spend a little extra time finding a breeder who prioritises their dogs' health above the pursuit of extreme looks.
Walrus dogs take time and patience to train. So they're often best suited to more experienced dog owners.
Good luck in finding your perfect pup and do let us know in the comments how you got on!
You'll Also Love…
Take a look at the links below for even more great articles:
References and Resources
Get Pippa's free dog training tips delivered to your inbox