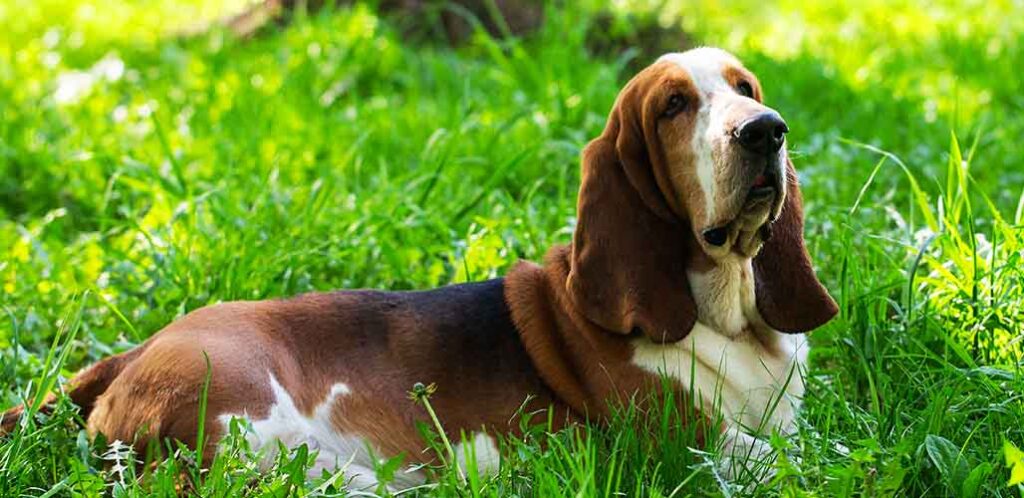 A 1 year old Basset Hound won't be fully grown, but they'll be close to their adult size and weight! Today's complete guide takes a closer look at Basset Hound growth and development.
Basset Hounds are medium sized dogs with short legs and long bodies. They're popular family dogs for experienced owners, because they get along well with children and other dogs. But, Bassets can have some strong hunting instincts! At 1 year old, your Basset Hound still has some growing to do, but they'll be nearing their full grown, adult size.
What to Expect From a 1 Year Old Basset Hound
Basset Hounds are friendly and affectionate with their family members. When well socialized, they get along well with children and other dogs, particularly those in their immediate family. But, they can display strong hunting instincts, when outside the house, and even towards other small pets, like cats.
At 1 year old, your Basset Hound isn't fully matured yet. So, they will have plenty of energy to expend, and will still show a lot of puppy playfulness and curiosity. If your Basset puppy has been in your home since 8 weeks, they'll be much more confident around the house. But, if their needs aren't met, they may have some destructive, or vocal tendencies!
Is a 1 Year Old Basset Hound Fully Grown?
Basset Hounds are interesting dogs, because they will be medium sized as adults, but have very low slung bodies. This is because their legs are very short, and not in proportion with their torsos. So, whilst an adult Basset Hound will usually weigh between 40 and 65 pounds, they won't grow taller than 15 inches at the withers.
At one year old, your Basset Hound might be quite close to these figures, especially in terms of their height. Of course, growth rates will vary from one individual dog to the next, even within the same breed. But, most Basset Hound puppies won't finish growing until somewhere between 18 months and 2 years old. So, it's very likely that your 1 year old Basset Hound is not fully grown yet.
1 Year Old Basset Hound Size
So if a Basset Hound isn't fully grown by the time they're one year old, how big should they be at this age? This is quite a difficult question to answer because growth rates naturally vary between dogs. Some will grow at faster rates than others! In all breeds, females are generally smaller than males, so can reach their adult size faster. But it varies a lot.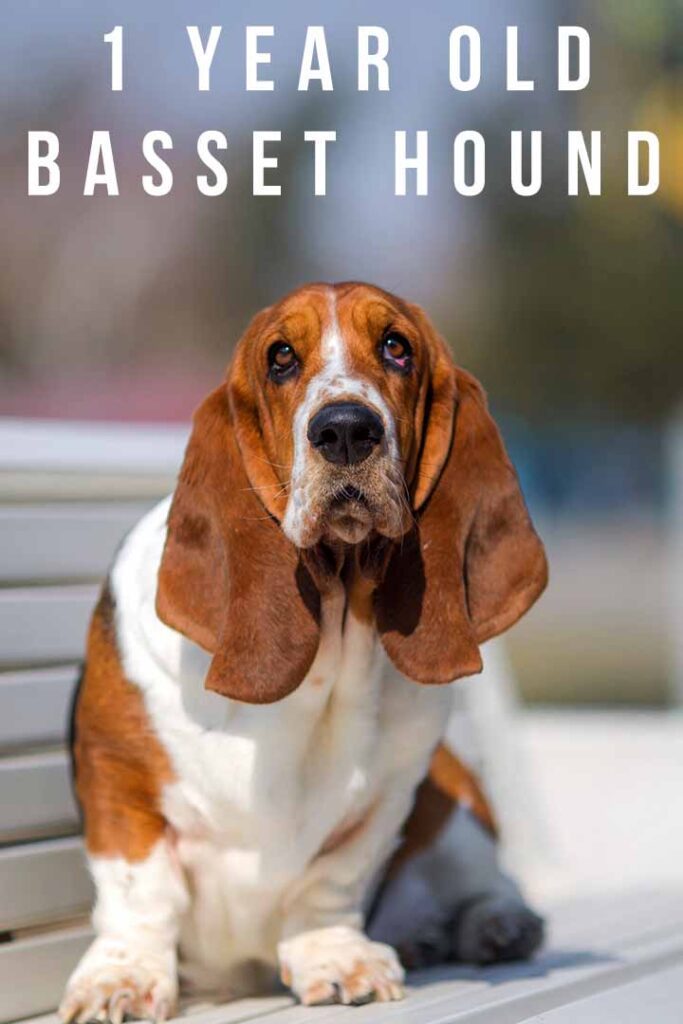 By 1 year old, most Basset Hounds will be either at, or very close to, their adult height. So, they will likely be somewhere between 12 and 15 inches tall. However, they will likely be less muscular and stocky than their adult size at this point. Over the next 6 to 12 months, expect your puppy to grow a little taller, and fill out.
1 Year Old Basset Hound Weight
Weight, like height, can vary massively from one Basset Hound to the next. Females are still generally smaller than males. But, this isn't a strict rule. Basset Hounds are muscular dogs, but are prone to excess weight and obesity. By the time they're fully grown, a healthy Basset could weigh anything from 40 to 65 lbs, depending on their height and build. At 1 year old, this range is more likely to be around 35 – 55 lbs.
It's not necessarily a good idea to aim for a certain weight unless your veterinarian has recommended so. All Bassets are individual dogs with different ideal weights. So, weight charts online won't always be the best guide. The most important thing is that your Basset is healthy for their size. If you're concerned that your Basset Hound pup is over or underweight, take a trip to the vets.
The Best Food for a 1 Year Old Basset Hound
At one year old, some people like to transition their Basset Hound to adult dog food, whilst others prefer to keep them on puppy food until they're fully grown. This decision will vary depending on what's right for your dog. You can ask your veterinarian for their advice if you're worried about making that transition too early.
Either way, it's important to make sure your Basset Hound is on a balanced diet, and is eating a healthy amount. Obesity can worsen certain health problems that are common in Basset Hounds, such as hip dysplasia. So, work with your vet to keep your puppy at a healthy weight through all stages of their development. Make sure to subtract any training treats from your dog's daily calorie allowance to help with this.
Tips for Raising a Healthy Basset Hound
Food and growth are an important part of raising a healthy Basset Hound puppy, but that's not all there is to it! Basset Hounds are large, intelligent dogs. So, they'll need plenty of mental stimulation every day.
By 1 year old, you should already have a good training plan in place, and your puppy will likely be clued up on things like potty training. But, it's never too late to work on training! So, if you haven't started already, basic obedience training is a must. It will make things easier for you, and provide your Hound with some all important mental stimulation. You can also purchase interactive toys for additional stimulation.
If you've already mastered the basics of obedience training, 1 year is a great age for you to build on your heel and recall skills! But, still be cautious exercising a Basset Hound off leash in un-fenced areas, as they may take off after squirrels and other small animals. Even the best recall can fail in those instances!
1 Year Old Basset Hound – A Summary
Do you have a 1 year old Basset Hound at home? We would love to hear about your experiences with this popular breed!
Readers Also Liked
References and Resources
Get Pippa's free dog training tips delivered to your inbox