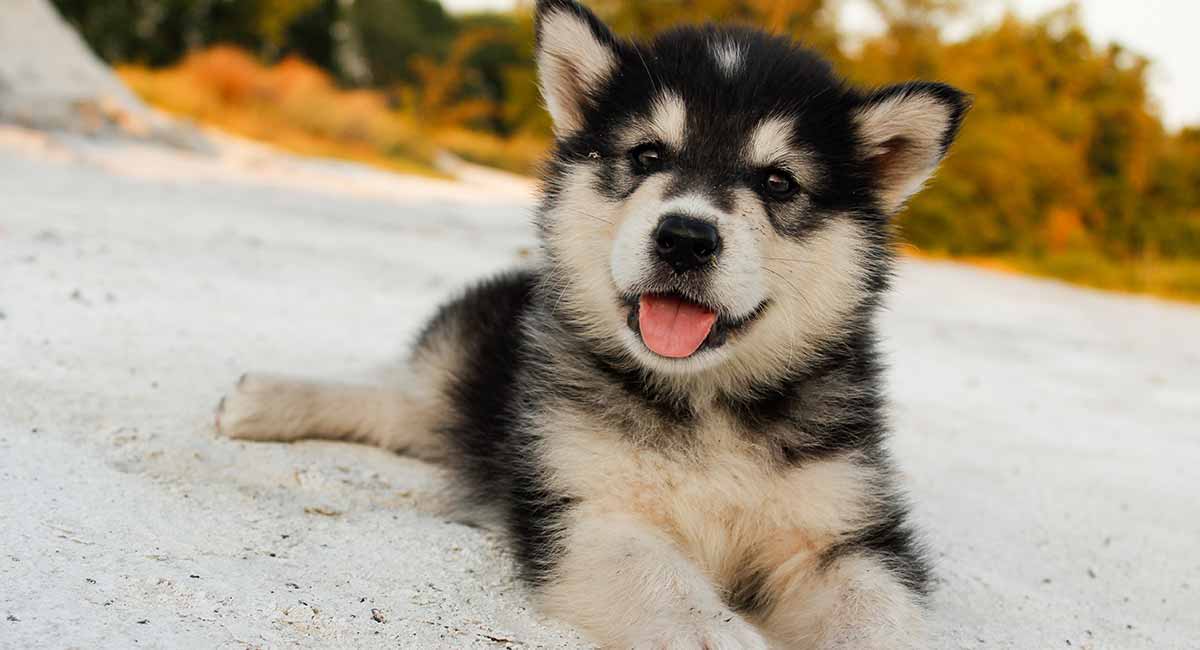 Popular alternative dogs that look like Huskies include:
Not to mention an ever-expanding range of Husky and Spitz breed hybrid dogs, which might inherit a Husky's distinctively wolfish features!
Dogs That Look Like Huskies
If you want to know more about dogs that look like Huskies, then you have come to the right place!
Many breeds of dogs are difficult to tell apart because their physical attributes are so similar, and this is especially true of the Husky.
With their wolf-like features, luscious furry coat, and striking colored eyes, it's impossible not to be mesmerized by this beautiful animal!
However, if you adore the Husky but think owning one would be too much of a challenge, you might consider a dog with similar looks instead.
Despite differences in size and color, many northern dogs share a typical appearance and are often mistaken for Huskies.
As puppies, they look like cute, fluffy teddy bears that are impossible to resist!
But don't fall in love with one of these dogs just yet, as we need to find out if they make a suitable pet.
Here You Will Find
In our complete guide, we discuss the different types of dogs that look like Huskies.
We cover in detail their appearance, temperament, and exercise requirements, what they are like to train, and whether they have any health issues.
First, let's discover how and where they originated.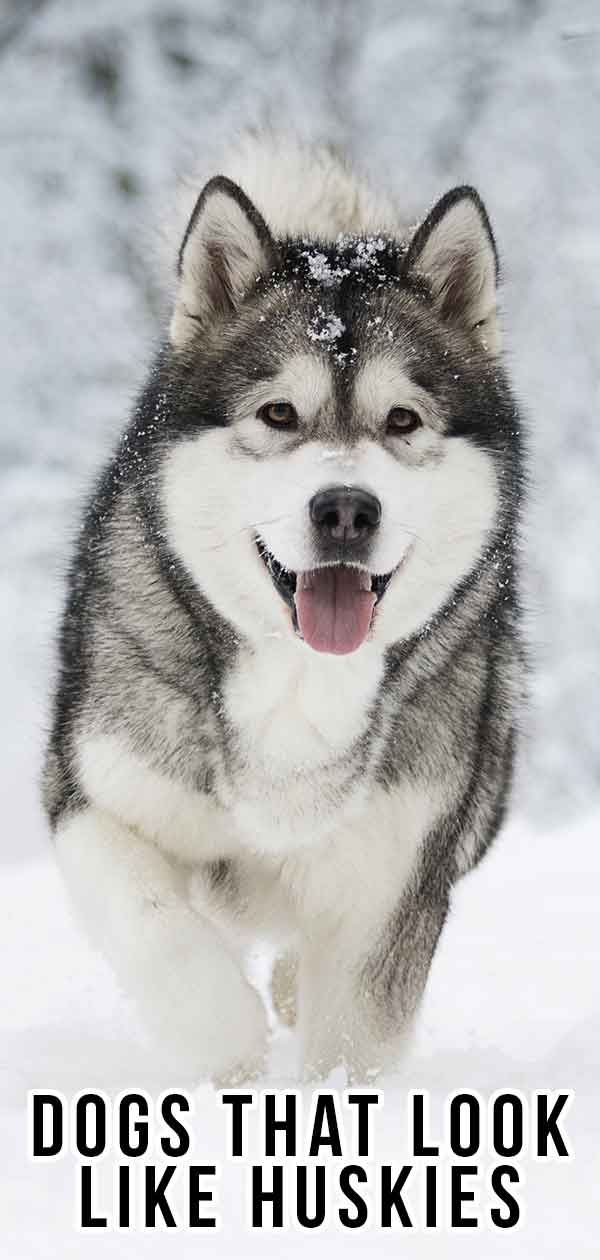 Where Do the Dogs That Look Like Huskies Come From?
During your search for the ideal pup, you may have come across Spitz dogs, also known as Northern dogs or Nordic dogs.
The term "spitz" is a German word that refers to several types of domestic dog breeds that share a common ancestry along with distinctive characteristics.
These dogs have a strong resemblance to wolves and, most notably, the Husky.
Although the exact origins of these Spitz dogs remains a mystery, they are thought to descend from ancient breeds who came from cold, harsh climates like the Arctic regions and East Asia.
Many Spitz-type dogs are the result of both deliberate and accidental breeding of wild dogs and domestic dogs with wolves, making them hybrid breeds.
These Nordic dogs were developed to cope with freezing conditions and for endurance and stamina.
They assisted humans by hunting game, pulling heavy sledges over vast distances, and herding animals such as reindeer.
Dogs of mixed breeding that have Northern dog ancestry also fall into the Spitz dog category.
Hybrid Controversy
Spitz dogs resemble wolves, giving them a mysterious look, which makes them extremely appealing.
Some of these dogs are wolf hybrids or dogs that have a low wolf mix.
Others have developed through crossbreeding to look like wolves.
However, hybrid breeds have caused much controversy amongst the canine fraternity, as the outcome of these dogs is often unpredictable.
With a purebred dog, you know what to expect in terms of size, appearance, and temperament.
Plus breeders know which health tests are needed to reduce genetic health conditions.
Although Spitz-type dogs no longer have wolf blood, many can display wolf-like tendencies and characteristics, which make them difficult to handle.
List of Dogs That Look Like Huskies
If you are searching for dogs that look similar to Huskies, then you will be happy to know you have plenty of choices!
Many get along with children as well as other dogs and pets if raised with them from a young age.
We have devised a list of 10 breeds of dogs that look like Huskies.
Alaskan Klee Kai
The Alaskan Klee Kai resembles a smaller version of the Husky.
They were developed in Alaska during the 1970s as a companion dog rather than a sledge-pulling working dog.
The name Klee Klai comes from the Inuit term for a small dog.
This breed has high energy levels, but so long as you meet their exercise requirements, they are happy to be couch potatoes.
The Alaskan Klee Kai is extremely smart, learning basic commands quickly, and is an excellent watchdog.
They do not tend to be as vocal as the Husky but, if you do not meet their needs, will whine and bark.
They are loving towards their families, being good with children, but do not care much for strangers, so early socialization is essential.
Their strong prey drive makes them unsuitable for households with small pets.
Alaskan Malamute
The powerful Alaskan Malamute is believed to have descended from wolf-dog hybrids that assisted hunters 4,000 years ago migrating to North America via the Bering Straight.
They later became Arctic sled dogs and are renowned for their endurance and athleticism.
As a result, the Alaskan Malamute requires more exercise than the average pooch.
They need both their mind and body occupied, otherwise they become incredibly destructive.
These dogs are strong-willed so require an experienced owner who is firm but loving in their training.
A Mal must respect you, or he will take over.
However, one that is well-behaved is a pleasure to be with, as this breed is gentle, friendly, and playful.
American Eskimo Dog
The American Eskimo is a beautiful white fluffy dog that comes in three different sizes: toy, miniature, and standard.
The breed originated from various Spitz-type dogs, developed by German immigrants to the USA during the 19th century.
The Eskie is highly intelligent, and their alert nature makes them an excellent watchdog.
But be aware that these dogs are incredibly vocal.
If not kept occupied, a bored Eskie can wreak havoc in your home!
These dogs are skillful communicators and will use their eyes to show you what they want.
Outgoing and friendly, the Eskie loves being part of a family.
However, although they are generally good with children, they can become irritated with those who play rough.
Tamaskan
Although the Tamaskan looks extremely wolf-like, it is all dog, made up of Husky-type dogs crossed with Siberian Huskies, Alaskan Malamutes, and German Shepherds.
This breed was developed in the 1980s to create a dog that had the physical traits of a wolf but with the temperament of a domesticated dog.
The Tam is an intelligent, sweet-natured, and loyal dog who shows no signs of aggression.
They are gentle with children and accepting of other dogs.
They do, however, possess a stubborn streak so may be too much of a challenge for new owners.
Due to their sled dog heritage, the Tam has high energy levels so requires plenty of exercise.
However, despite their intimidating appearance, they do not make good guard dogs.
But unlike many Husky-looking dogs, their coat is low maintenance.
Samoyed
The Samoyed people in northwestern Siberia bred and developed the Samoyed for hunting, pulling sledges, and herding reindeer.
These working dogs were treated kindly and regarded as part of the family, installing trust and loyalty into the breed that remains today.
Renowned for their fluffy white coat and a broad, friendly smile, the Samoyed is not a dog that likes to sit around doing nothing and needs to be kept busy with long walks, games, and canine sports.
They make excellent family pets and are especially fond of children, though a bit too boisterous for toddlers.
They demand plenty of attention from their owners but, because they love to please, are easy to train, although they can be stubborn.
The Samoyed gets on well with other dogs.
Because of their hunting and herding instincts, they are likely to nip and chase animals they perceive as prey.
The beautiful Samoyed coat is high maintenance when it comes to grooming, as they are intense shedders, even more so during shedding seasons.
Pomeranian
The Pomeranian is known for its tiny size, fluffy coat, and cute foxy face.
It takes its name from Pomerania, a region between Germany and Poland, where these dogs were bred down in size from large Spitz breeds.
The outgoing Pom loves people and gets on well with other animals.
They are best suited to a family with older children, as they can be at risk of injury from toddlers.
These active little dogs are ideal for owners who want a small pooch with all the characteristics of a full-sized sledge dog.
Despite being tiny, the Pom has small dog syndrome and thinks nothing of challenging a larger dog if they invade their territory.
Due to their alertness, they make excellent watchdogs, but their barking can get out of hand.
Saarloos Wolfdog
The Saarloos Wolfdog is a captivating breed started by Dutch breeder Leendert Saarloos.
He crossbred a German Shepherd with a wolf in the early 1900s to produce a better working dog.
These energetic dogs are incredibly loyal to their owners but shy and suspicious with strangers, preferring to flee rather than attack.
The Saarloos Wolfdog is a breed that requires lots of attention and exercise but thrive if they have a job to do.
They possess a strong prey drive so are not a suitable pet to have around babies or vulnerable pets.
Although the Saarloos Wolfdog is independent, they are prone to separation anxiety, so they may need another dog as a companion.
Their waterproof wolf-like coat is easy to maintain, as they only need brushing once or twice a week.
Northern Inuit
Despite being a relatively new breed, the exact origins of the Northern Inuit are uncertain.
Although they have a wolf-like appearance, they do not possess any wolf DNA but were purposely bred to resemble this wild animal.
The Northern Inuit is sweet-natured, calm, and friendly, making an excellent companion for owners who have the time to dedicate to this highly intelligent and active dog.
They love the company of humans and, as a result, can suffer from separation anxiety.
Although they are good with children, they are unsuitable around toddlers, as they are a little boisterous and could knock one over.
These dogs prefer to howl over barking.
They require an experienced owner who understands their needs and who can give the right amount of daily exercise and mental stimulation.
Some Northern Inuits have delicate digestive systems and need a special diet.
Finnish Spitz
The Finnish Spitz is Finland's most popular dog breed, renowned for their foxlike appearance.
Bred for hunting, these dogs are known as "bark pointers," as they bark continuously to allow the hunter to locate them.
As a result, these dogs can be rather talkative!
This Nordic breed is a friendly dog with high energy levels requiring plenty of daily exercise.
They take a long time to mentally mature, remaining rather silly and puppyish until they are three or four years old.
The Finnish Spitz loves children and is generally good with other pets but may be aggressive to other dogs they don't know.
However, as an independent thinker, they can be a challenge to train so need a capable and experienced owner.
Icelandic Sheepdog
Iceland's only native dog breed, the Icelandic Sheepdog is believed to have been brought to the country by Viking settlers around 900 AD.
These dogs would protect flocks from birds of prey, as well as herding cattle, sheep, and horses.
These dogs are active and intelligent with high energy levels.
Like other herding breeds, they need a mixture of physical and mental exercise, otherwise they become destructive.
The Icelandic Sheepdog is very vocal and will bark at other animals, a trait that originated from when they would warn their owners of danger in the mountains.
Overall, this Icelandic breed is a friendly and playful dog who loves people and is particularly affectionate towards children.
They also get along with other animals but may lunge at pet birds.
Dogs That Look Like Huskies Appearance
Spitz-type dogs vary in color, build, and size, ranging from small companion dogs to large working dogs.
But they all have a distinctive look that strongly resembles the Husky, having had to adapt to and withstand extreme weather conditions.
Signature characteristics include a wolf-like face revealing almond-shaped eyes, small pointy ears, and an elongated jaw.
They are known for their thick, dense double coat, along with a fluffy tail that curls over their backs.
Dogs That Look Like Huskies Temperament
Before you think of bringing a dog that resembles a Husky home, it is vital that you understand their typical characteristics.
They often retain wolf-like behavioral traits such as shyness, suspicion, aggression, and independence.
And we cannot forget the fact that these are pack animals bred to work all day in freezing conditions.
Spitz dog types have high energy levels and are extremely intelligent so are a challenge to handle, especially for inexperienced owners.
Many members of this dog group display a high prey drive, as well, and will chase a small animal, such as a cat, not for fun but to kill.
If left alone for extended periods, they become easily bored and destructive by chewing items or barking excessively to gain attention.
As pack animals, they are often defensive, guarding their territory and food with devotion and may attack any person or animal perceived as a threat.
Some dislike other breeds of dogs as well and may fight with them, which is why early socialization and training is so important.
Training Dogs That Look Like Huskies
Early socialization and training are essential for Spitz dogs and being aware of their traits as a pack dog with a high prey drive are crucial.
Introduce your puppy to various people, dogs, and animals in different situations so they grow up into a well-adjusted adult dog.
As these dogs are highly intelligent, they learn quickly and are easy to train.
However, they can be stubborn, so a firm, consistent approach is necessary.
Vary your training exercises to prevent boredom, always using positive reinforcement methods.
When it comes to potty training, crate training is a method that works well, as no dog likes to sleep where they soil.
Exercise of Dogs That Look Like Huskies
Because Spitz breeds are high energy dogs, it is essential you have the time to meet their exercise requirements.
They can become destructive, sometimes even showing signs of aggression.
Remember, if a dog is tired, he is more likely to be well-behaved.
These dogs require long walks every day with a chance to run around and play.
Outdoor Needs
Don't leave these dogs unsupervised if you don't want your cabbage patch or flowers dug up, as they are notorious diggers!
And make sure the yard is secure with high fences, as Spitz breeds, like the Husky, possess Houdini-like escape skills!
For owners who enjoy running, hiking, or cycling, these dogs make ideal partners, as well as excelling in dog sports like agility.
However, because of their thick coats, Spitz dogs dislike swimming.
They hate getting wet and will rub against anything and everything in a bid to get dry!
Bred for icy conditions, these dogs can quickly overheat, so always exercise them in the coolest parts of the day during summer.
Dogs That Look Like Huskies Health
Although Spitz dogs are usually robust and healthy, they do have a few genetic health issues.
Northern dog breeds are prone to joint issues, especially hip dysplasia and luxating patellas, both of which may cause lameness and degenerative arthritis.
As these dogs love their food, it is vital they don't become overweight, as it will put a strain on their joints.
Eye diseases can also be a problem such as multifocal retinal dysplasia and progressive retinal atrophy, a painless but progressive condition that can result in blindness.
Another health issue seen in Spitz dogs is idiopathic epilepsy.
The cause is uncertain, but special care and proper management are required, as well as knowing how to keep a dog safe during a fit.
Unfortunately, there are no health tests available for epilepsy.
Health Tests
When buying a Spitz-type dog from a breeder, ask if the following health tests have been carried out:
Hip evaluation
Patella evaluation
Ophthalmologist evaluation
Expected Lifespan of Dogs That Look Like Huskies
With proper care, diet, and exercise, Spitz-type dogs often have longevity on their side, living anywhere between 10 to 15 years of age.
Feeding Dogs That Look Like Huskies
The best type of food to give Spitz dogs is one that contains high-quality ingredients.
It should consist mainly of animal-based protein sources like chicken, turkey, salmon, or beef and meet the nutritional standards of the AAFCO or similar.
Much also depends on the age, size, weight, health, and activity levels of your dog and whether they need a special diet.
Always speak to your vet or canine nutritionist if you are unsure what to feed.
As active dogs, northern breeds enjoy hunting and working for their food.
You can scatter some of their feed outside for them to discover or buy treat dispensing toys that challenge your dog and prevent boredom.
Care of Dogs That Look Like Huskies
The outer coat of northern breeds is long and coarse along with a soft, dense undercoat.
Spitz dogs shed heavily and require frequent brushing at least three times a week to remove dead hair.
Use a pin brush so you can get through the thick fur along with a detangling spray.
As we have already mentioned, these dogs dislike water so should only be bathed occasionally or as necessary.
Use a dog shampoo and conditioner and then blow dry the coat while brushing so you achieve their notorious bushy look!
Clean your pup's ears and eyes regularly, trimming the nails when they start to become long.
Their teeth should be brushed every day to remove tartar and bacteria that cause dental issues.
Do Dogs That Look Like Huskies Make Good Family Dogs?
Spitz-type dogs love human company and are generally good with children.
They also get along with other pets if raised with them from an early age.
However, due to their high energy levels, these Nordic dogs are often a challenge to handle so are not an ideal choice for first-time owners or families with small children.
They are most suited to active owners and families with older children who love the great outdoors.
Rescuing Dogs That Look Like Huskies
Adopting an older dog has many advantages over buying a puppy from a breeder.
First, you can see what their personality is like and have a trial period with your chosen dog before committing.
They are also cheaper, donating a fee to the shelter, with many already house-trained and vaccinated.
Plus, by rescuing a dog, you are given them a second chance in life with a new owner.
Finding Dogs That Look Like Huskies
If you dream of owning one of the many dogs that look like Huskies, it is vital that you seek a responsible breeder who has had their breeding stock health tested and offers an agreement between both parties.
Avoid pet shops and puppy farms, as these dogs are kept in inhumane conditions and often end up with behavioral or health issues.
Pros and Cons of Getting Dogs That Look Like Huskies
If you cannot decide if a Spitz-type dog is right for you, it helps to make a list of pros and cons.
Cons
High energy levels
Need a lot of exercise
Time-consuming
Can be defensive
Do not always get along with other breeds of dogs or pets
High prey drive
Need a large living area and backyard
Cannot cope in the heat
Suffer from separation anxiety
Challenging to handle
High grooming needs
Pros
Loyal, loving, and friendly
Make ideal exercise partners
Good with children
Have longevity
Intelligent
Easy to train
Good with other dogs and pets if raised with them
Dogs That Look Like Huskies Rescue
There are rescue centers and shelters where you can find dogs that look like Huskies.
If you know of similar organizations, please list the details in the comments box.
USA
UK
Australia
Canada
Is a Dog That Looks Like Huskies Right for Me?
Dogs that look like Huskies are a unique group.
Although the different Spitz-type breeds have their own characteristics, they are all high-energy dogs that can be a challenge to handle.
Therefore, they are not suitable for first-time owners.
They require someone with the time, experience, and living space necessary for these types of dogs.
If you can fulfill their needs, your reward is a loyal, loving, and friendly companion who will provide years of happiness.
Do you own a dog that looks like a Husky?
What breed is it?
Share your stories in the comments below!
References and Resources
Carles Vilà Hybridization between Wolves and Dogs. Conservation Biology February 1999
Brown RG, et al Alaskan Malamute chondrodysplasia. V. Decreased gut zinc absorption. Europe PMC 1 March 1978
Janis Jeserevics, et al Electroencephalography Findings in Healthy and Finnish Spitz Dogs with Epilepsy: Visual and Background Quantitative Analysis. Journal of Veterinary Internal Medicine 28 June 2008
Brown SK, et al Using multiple markers to elucidate the ancient, historical and modern relationships among North American Arctic dog breeds. Gene Therapy 24 June 2015
Leighton EA Genetics of canine hip dysplasia. Journal of the American Veterinary Medical Association 1 May 1997
Roush JK Canine patellar luxation. The Veterinary Clinics of north America 1 July 1993
Northern Breeds by Margaret H. Bonham
Get Pippa's free dog training tips delivered to your inbox