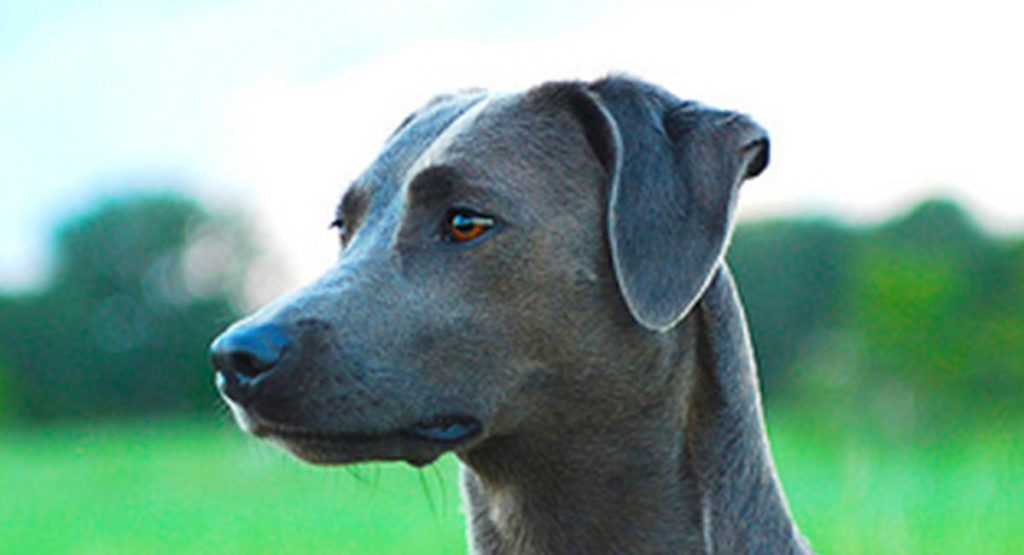 The Blue Lacy Dog is a hunting and herding dog breed from Texas in the U.S.
A Blue Lacy dog is a smart, hard working dog, ideally suited to farm work, and active families with outdoor lifestyles.
They generally grow up to 25 inches at the taller, weighing up to 50 pounds when fully grown.
This breed is the state dog of Texas. But is little known anywhere else.
The Blue Lacy Dog
Unless you live in Texas, you probably haven't heard of the Blue Lacy.
But, if you're looking for a loving, loyal dog who can join you in your active lifestyle, this dog might fit the bill.
Blue Lacys are high energy and love to have a job, whether it be hunting, herding, agility or even keeping you company on your daily run. They are not a dog to curl up with you on the couch and watch Netflix all day.
Where Does The Blue Lacy Come From?
In 1858, four brothers with the last name of Lacy decided what they really needed was a protective dog that could help hunt small game and herd the wild hogs that ran all over Texas at the time. They wanted the ideal farm dog.
So, they bred a wolf (some versions say coyote), a Greyhound, and an English Shepherd (or descendants thereof—all three breeds were probably not present at the initial encounter!) to get the Blue Lacy.
They wanted a smart, hard-working, athletic dog and the Blue Lacy is all of those. They're common in Texas and rare everywhere else.
Although the Blue Lacy was descended from three (and possibly more) distinct breeds, it is officially recognized as a breed by the Animal Research Foundation and has been consistent in breed characteristics over the past hundred and fifty years.
So far, the American Kennel Club and the United Kennel Club have not followed the ARF's lead in recognizing the breed.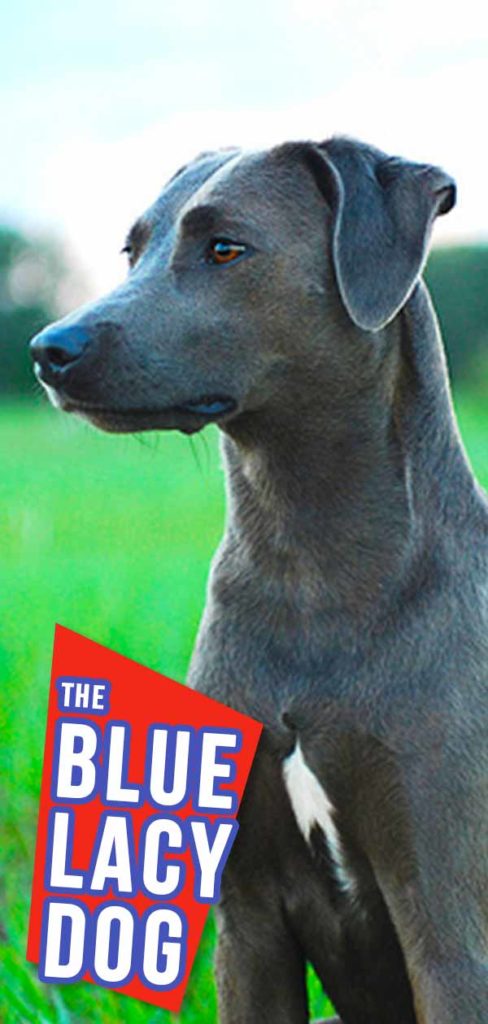 Fun Facts About The Blue Lacy
Fred Gipson, the author of the book Old Yeller, was inspired by his neighbor's dogs, which were Blue Lacys (although Old Yeller was probably a black mouth cur).
The Blue Lacy is the state dog of Texas.
Blue Lacy Dog Appearance
The Blue Lacy is a sturdy, medium sized dog.
They are lean and muscular, with fold over triangular ears. They resemble another "blue" dog, the Weimaraner, except smaller.
Males are usually 45-50 pounds and about 18-25 inches tall at the shoulder. Females are a touch smaller.
Although they are named "Blue" Lacy, they can come in shades of grey, reddish, cream or a combination of these. And some have white markings. Blue remains the most common color.
They have short coats that are thick and dense. They are not prolific shedders, and their coat is low-maintenance.
Blue Lacy Dog Temperament
Bred to assist farmers around the ranch, the Blue Lacy has a strong work ethic and is very energetic. If you run marathons and would like a dog to run along beside you, the Blue Lacy will be happy to do that. They will willingly join in with agility, search and rescue, hunt, herd—whatever you're up for, they can adapt to.
But, they need a job and a lot of exercise, or they can get bored and destructive.
Another thing to note is that they were bred to herd and hunt. This means they have a high prey drive. They'll chase everything that moves, including your cats, your children, and the mailman, unless they are socialized properly and trained from a young age.
Luckily, the Blue Lacy is very intelligent and learns readily.
The Blue Lacy was bred to work with their owner. So, they will some suffer separation anxiety if left alone all day.
Training Your Blue Lacy Dog
The Blue Lacy is very sensitive, so use only gentle methods of training. They will shut down if they are yelled at, and then ignore you entirely.
Because of their herding instincts and high prey drive, they must be socialized early to prevent them from becoming nippy and aggressive around small animals and children.
They can also be territorial. They make great watchdogs, but they must be well socialized, so they don't become aggressive with guests and people they don't know. With their own family they are very sweet and loyal.
A tired dog is a good dog. So be sure your Blue Lacy gets a lot of exercise every day. Aim for at least an hour and a half of vigorous exercise. Though some say at least three hours.
Bear in mind that for this clever pup, simply physical exertion is unlikely to be enough. Enrol in activities like agility training and scent work training to give their minds a thorough workout too!
Blue Lacy Dog Health
The Blue Lacy is considered one of the healthiest breeds. Since they were bred to work long hours in the hot Texas sun, any structural and genetic defects were bred out of them. They have a long life expectancy of about 16 years, and many of them work right up until the end.
They have only a few genetic difficulties. The blue, gunmetal gray, and tricolor coats are prone to color dilution alopecia (patches of thinning hair, itchy or flaky skin) allergies and mange.
Blue Lacys can also be sensitive to anesthesia. So we definitely recommend that you discuss this with your vet ahead of time.
As a high energy working dog, Blue Lacys need high quality dog food meant for active breeds. They burn through a lot of fuel! Make sure you follow your breeder's advice about what to feed and how often.
Do Blue Lacy Dogs Make Good Family Dogs?
Remember when we said the Blue Lacy needs a lot of exercise? If your idea of a good time is to spend hours running, mountain biking, or doing search and rescue with your canine companion, then the Blue Lacy might be perfect for you.
They are happiest when they have a job to do and someone to do it with. They do not like being left alone and will use their high intelligence to take apart your sofa, herd your cats, or eat your mattress.
Blue Lacys aren't a good fit for everyone. But if you are high energy with a job for a dog, you will be rewarded with a loyal companion who will do anything for you.
If you have young children and/or small animals, you'll need to socialize early and often to prevent the Blue Lacy from becoming a nuisance. Like any herding dog, they can get nippy if left to their own devices.
Rescuing A Blue Lacy Dog
There are some Blue Lacy rescues located in Texas. If Texas is far away from you, you will need to do some homework and possibly wait some time before a Blue Lacy becomes available near you.
They are common in Texas, less common in areas of the south, and difficult to find everywhere else. If your heart is set on a Blue Lacy and you want a rescued dog, you may consider traveling to find one.
Finding A Blue Lacy Puppy
Similar to rescues, it's possible to find breeders in Texas, Mississippi, Florida, Georgia, Louisiana, Missouri and California.
If you don't live near any of these places, you can either consider a different breed, travel to one of these breeders, or relocate.
A reputable breeder does not ship his or her puppies. It's terrifying for the puppy, and responsible breeders like to meet the new owners, to make sure the dog is going to a good home that understands the breed.
Raising A Blue Lacy Puppy
As with all puppies, early training and socialization are a must.
This breed is very intelligent and easily motivated to learn and follow new commands. Use lots of positive reinforcement and praise to show them which behaviors you want, while patiently ignoring those you don't.
Blue Lacy Dog Products and Accessories
Did we mention Blue Lacys are high energy? They are also very smart. So physical and mental stimulation is a must.
They enjoy chewing things. This is actually good news for you, because if you give them plenty to chew it keeps them occupied for a while.
Though the list was originally compiled for Husky dogs, Blue Laceys have similar activity levels and needs for chew toys.
Also Look At:
Pros And Cons Of Getting A Blue Lacy Dog
Cons:
Protectiveness can translate to aggressive with strangers if you don't train them
High energy—they need a job and a lot of exercise
Can become bored and destructive if left alone too long
High prey drive
Pros:
Loyal
Smart
High energy
Protective
Willing to learn anything
Similar Blue Lacy Dogs And Breeds
If you're interested in other smart, high energy dogs, consider the Border Collie. They are smart, trainable, and very sweet, much like the Blue Lacy.
A Weimaraner is also very loyal (read: they never leave your side) and sweet, with a protective instinct and a short, easily maintained coat.
The Labrador Retriever is also up for anything, with a playful, downright goofy streak.
If the hunting ability of the Blue Lacy is what you're after, the German Shorthaired Pointer is a great hunting companion.
Or consider a Blue Lacy mixed with a different breed. The healthy Blue Lacy mixed with another breed may result in a healthy, smart dog with energy that is less over-the-top.
Blue Lacy Dog Rescues
Rescues specifically for Blue Lacys are few and far between. Here are the few we have found. But if you come across any others, leave us a comment and let us know!
Is A Blue Lacy Dog Right For Me?
If you are a person who wants a dog to for search and rescue, to run long distances, or for dog sports, the Blue Lacy might be perfect for you.
If you work long hours, are not very active and don't like to spend hours with your dog, we suggest that you consider a breed that is less of a workaholic.
They're definitely not for everyone. But if you are in need of a constant loyal companion to do activities with, the Blue Lacy might be your ideal dog.
References And Resources
Ebeling, J. 2005 "Texas Blue Lacy State's 'Official Dog,'" Ranch and Rural Living Vol. 86 Iss.4
Harrell, S. 2011 "Lacy Dog: A True Texas Tradition," Ranch and Rural Living Vol.92 Iss.10
Svartberg, K. 2006 "Breed-typical behavior in dogs—historical remnants or recent constructs?"
Applied Behaviour Science Vol. 96 Iss. 3-4
Urbigkit, C. 2019 "Livestock Guardian Dogs and Cattle Protection: Opportunities, Challenges and Methods." Human Wildlife Interactions Vol 13. Iss. 1
Whittley, S. 2011 "Budget Cuts Inevitably Hit Agriculture." Ranch and Rural Living, Vol. 92 Iss. 6
Get Pippa's free dog training tips delivered to your inbox