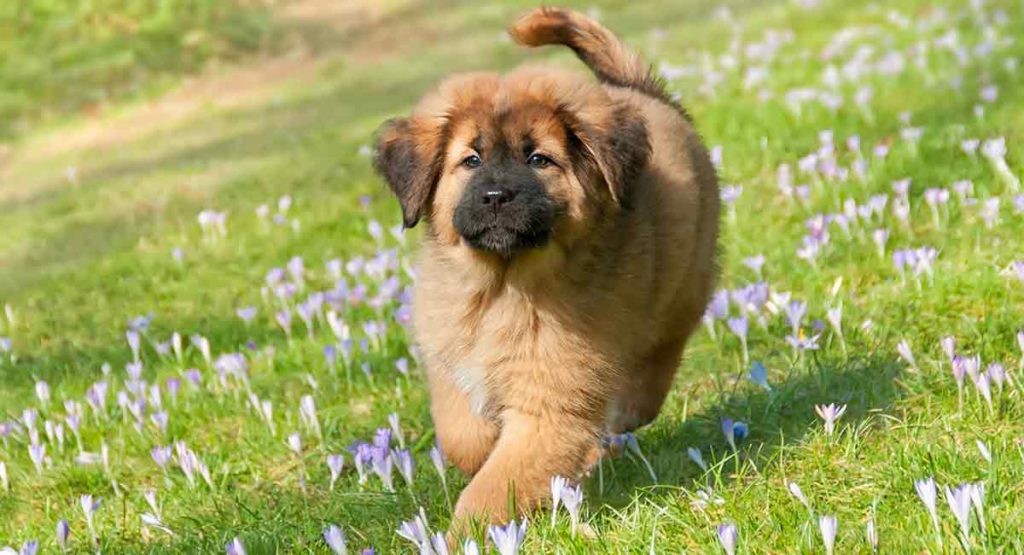 Lion dog is a popular name for the Tibetan Mastiff.
Tibetan Mastiffs are a guarding breed with a calm, steadfast, and loyal disposition. Lion dogs are very big, very hairy, and typically very expensive to buy.
More recent breeds descended from them include St Bernards, Bernese Mountain Dogs, and Rottweilers.
Read on to find out if this is the right dog for your home.
The Tibetan Mastiff
It's a lion. Wait, it's a dog. It's a… lion dog?
The Tibetan Mastiff could also be mistaken for a bear!
The Tibetan Mastiff is an elegant – yet potentially intimidating! – dog breed that has owners captivated all around the world. With the right training, this breed of dog can be the perfect companion.
Loyal, gracious, and statuesque. This breed has not received the popularity it deserves.
Where Does the Lion Dog Come From?
This breed originated in Tibet. Here, dogs were believed to harbor the souls of nuns and monks who were not holy enough to be reincarnated into people or into the heavenly dimension.
This was a popular work dog in Tibet, Mongolia, China, and Nepal. The breed was originally kept to protect sheep from predators such as wolves, bears, leopards, and tigers.
This breed was the 155th breed recognized by the AKC. It was only officially listed in 2006, making it a relatively young breed.
Today, Tibetan Mastiffs are still kept in Tibet as guardian dogs. There, they are referred to as "do-khyi" or "tied dog" and are kept chained to the gates. They are allowed to roam free at night.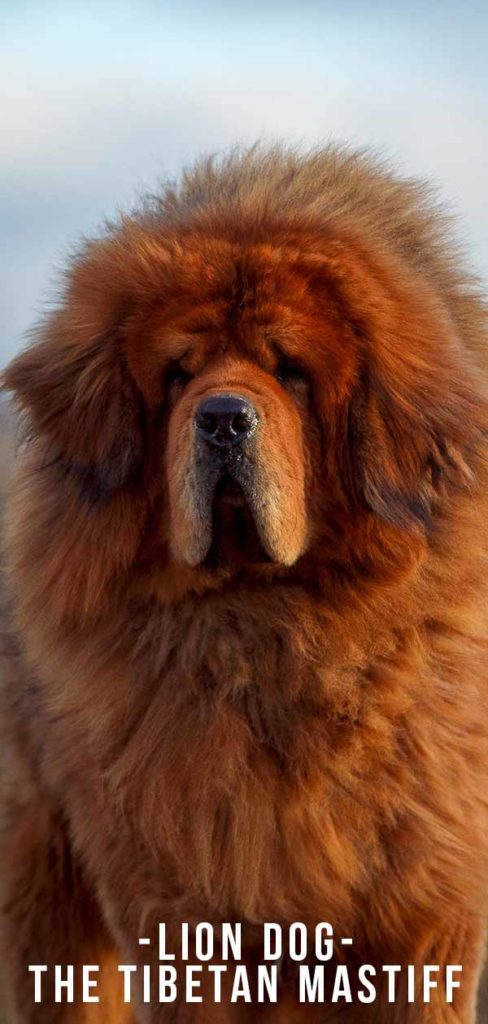 Fun Facts About the Lion Dog
A little known fact about the Tibetan Mastiff is that it isn't actually a true Mastiff. Although it has the misnomer of Mastiff, this breed is closer in its genetic profile to the Saint Bernard, Bernese Mountain dog, and Rottweiler.
This dog was used by nomadic tribes for centuries but did not become popular as a domestic breed until 1980. Today, it is one of the most expensive breeds in the world. Prized for its exceptional loyalty and intelligence, this dog is difficult to find in many areas.
The Tibetan Mastiff is considered a primitive breed, as it is intelligent and tough enough to survive on its own in the high altitudes of the Himalayas. So, it is not a difficult dog to care for as a domestic pet.
Lion Dog Looks – Tibetan Mastiff Appearance
The Tibetan Mastiff is perhaps best known for its massive size. While most females only grow to about 70 to 120 lbs, males can grow to a whopping 160 lbs – in other words, larger than many adult humans!
This dog has an alert appearance with a body that is longer than it is tall. The most distinctive feature of this dog is its broad head with deep-set, almond-shaped eyes.
It has a broad, square-shaped muzzle. The Tibetan Mastiff has a double coat that helps it stay warm in cold weather.
Coat Colors
You can find Tibetan Mastiffs in a range of AKC-recognized colors. All of which come with additional white markings. The most common are:
Black
Black and tan
Blue gray
Blue gray and tan
Brown
Brown and tan
Red gold
Red gold sable
Sub Types of Tibetan Mastiff
Some breeders differentiate between two "sub"-types of Tibetan Mastiffs, the Tsang-khyi and the Do-khyi.
The Tsang-khyi tends to have more facial wrinkling and a heavier bone structure. Both types reach up to 33 inches in height.
Lion Dog Temperament
Tibetan Mastiffs are similar to other livestock guardian dogs. They use tactics like barking and scent-marking to keep away predators.
This breed prefers not to engage in direct confrontations. It can thrive in a fenced yard. But it should not be kept by people who live in close quarters, such as small apartments.
These dogs are generally easygoing but can be standoffish around strangers. They tend to stay awake throughout much of the night, instead preferring to sleep during the day. Stubborn to a fault, these dogs respond best to positive reinforcement in obedience training and socialization training.
Training Your Lion Dog
Good training is vital for all dogs, and modern positive reinforcement training techniques mean it can be fun and rewarding too!
Teaching a Tibetan Mastiff puppy good behavior is especially important because when they're fully grown they'll easily be able to knock people over or take you for a walk by their leash if they haven't mastered good manners.
This guide will help get you started.
And this guide to loose lead walking might be the saviour of your back and shoulders.
Easily Bored
Lion dogs have strong jaws and teeth. And while they are not known to be aggressive, they are easily bored.
This is likely a direct cause of their high intelligence. Even though their working days might be over, pet Tibetan Mastiffs still need jobs to do and problems to solve to be content.
If you are not careful about providing your Tibetan Mastiff with plenty of doggy tasks, you may find that he engages in seriously destructive behaviors in your home.
Look for different kinds of puppy class in your area. And consider buying some interactive toys for the times when you can't be on hand to interact with your clever lion dog.
Our guide to stopping a dog chewing will also help curb the damage to your house!
Lion Dog Care
The most important thing you need to know about caring for a Tibetan Mastiff is that it eats – and it eats a lot. Though surprisingly not as much as you might expect with a dog of this size. Most Mastiffs require about two to four cups of food per day, and are unique in that they will skip meals when they are not hungry.
When females are in heat, males often refuse to eat for long periods of time. It is not uncommon for them to lose up to fifteen percent of their body weight during these times.
Besides compensating for these periods, you should feed your dog a high-quality dog food that is formulated to his age and activity level. Make sure he has plenty of clean water and he should be good to go.
You will need to groom your Tibetan Mastiff on a regular basis. Although much less than with other breeds of dog. You can give them a weekly brushing with a long pin brush to remove any dirt. Or swipe through the tail and mane with a wide-tooth comb to remove tangles.
You do not need to clip the fur of your dog. But you should expect "blowing" of the coat in late spring. This refers to a large molt that helps reduce odors and shedding.
Lion Dog Exercise
Tibetan Mastiffs' long coat of fur means they tend to be more active during the cooler months. They often engage in only short bursts of activity during hotter weather.
This breed is poorly suited to super energetic workouts. But it has plenty of stamina for patrolling the territory – another legacy of his working history. You should not take your Tibetan Mastiff jogging or for any other high-intensity exercise, but instead take it for a long, slow daily walk.
Lion Dog Health
Tibetan Mastiffs are generally healthy and are not prone to many diseases. But, you should have your veterinarian screen your dog on a regular basis for common breed-specific issues, such as:
Hip Dysplasia
Entropion and ectropion of the eye
Elbow Dysplasia
According to the OFA database, hip and elbow dysplasia affect 16% and 15% of Tibetan Mastiffs, respectively. And around one in ten develop thyroid disorders.
Seizures have been known to occur in this breed but are not common. Tibetan Mastiffs usually live for around ten to fourteen years.
Lion Dogs at Home – Do Tibetan Mastiffs Make Good Family Dogs?
Despite their imposing size, Tibetan Mastiffs are famously docile and gentle pets, which makes them well suited to households with older children.
We'd advise caution before bringing a Tibetan Mastiff into a home with small children, though. Their giant size means they can easily knock youngsters over by accident – especially during the boisterous puppy phase!
Because they have a tendency to be stubborn and reserved, lion dogs are most likely to thrive in a family which has plenty of time to dedicate to socialisation and ongoing training.
Investing in these early on means your naturally reserved lion dog will greet new situations with calm and confidence when he's grown up.
If you have a busy lifestyle with lots of other commitments, it might be better to wait a while before committing to a Tibetan Mastiff.
Rescuing a Lion Dog
You can usually adopt a Tibetan Mastiff for much less than you can purchase one from a breeder. However, if you choose to rescue one of these dogs, know that you will want to invest in one that has received substantial training. Particularly if you have children.
Consider adopting a Tibetan Mastiff from a rescue that specializes in Tibetan Mastiffs. When you are adopting such a large and independent dog, it's important that you understand everything about where this dog came from.
Seek a shelter that will have detailed information about a dog's personality, background, and training level to make sure it is a good match for your family and lifestyle. Once your dog is home, engaging in regular positive behavioral reinforcement training will help him adjust to your expectations.
Finding a Lion Dog Puppy
Tibetan Mastiffs are not necessarily difficult to find, but they are expensive. Purebred Mastiff puppies cost anywhere between $2000 to $7000, although you can usually adopt them for much less.
Puppies that come from top bloodlines will err on the more expensive side. Tibetan Mastiffs typically have only one estrus each year. So you can usually only find puppies in December or January.
When you are looking for a puppy, avoid pet stores at all costs. These are not only more expensive but the dogs they sell are often born into overcrowded, unsanitary, and inhumane conditions. Almost all of the dogs sold at pet stores come from puppy mills! Follow this guide to find the perfect puppy breeder.
Raising A Lion Dog – The Tibetan Mastiff Puppy
When you first adopt a Tibetan Mastiff puppy, you will need to dedicate extensive time and energy during the first few months. These dogs are not overly energetic as puppies, but they can be destructive if left to their own devices.
Tibetan Mastiffs are extremely easy to train as they are quite intelligent. They do not need to repeat tasks many times in order to learn them and will often do what they are asked first time, provided they had a positive and rewarding experience learning the command.
Tibetan Mastiffs are good at following their instincts and are very independent. So, lion dog puppies should be taught a strong recall command, and even an emergency recall command, from day one.
As your puppy grows, you should engage in age-appropriate socialization training techniques.
This will help your Tibetan Mastiff learn to trust others and will prevent fear-related aggression.
Lion Dog Products and Accessories
Tibetan Mastiffs do not need much special equipment. But, since they like to chew, we recommend that you invest in a high-quality chew toy. They are especially drawn to wooden objects. so a hard toy is best to prevent any household damage.
Pros and Cons of Getting A Lion Dog
Cons
Tibetan Mastiffs are large and they tend to take up a lot of space.
They can be eye-wateringly expensive.
It also takes a lot of work to socialize them.
Pros
These dogs are loyal to a fault and will do anything to protect their families or livestock.
They are absolutely gorgeous, offering great aesthetic appeal.
At the same time, their massive size and steady gaze offset their beauty by deterring any potential home invaders!
Similar Lion Dog Breeds
Depending on your reasoning for adopting a Tibetan Mastiff, there are several other breeds that might meet your needs. For example, if you want another powerful, cold-hardy breed (but perhaps one that is more friendly) you might consider a Nepali Sheep Dog or an Indian Bangar Mastiff.
Other breeds to consider include:
Indian Panther Hound
Himalayan Guard Dog
Indian Gaddi
Prenean Mountain Dog
Caucasian Mastiff
Lion Dog Rescues
Tibetan Mastiffs are often available from breed-specific rescues. Consider the following resources, and if you know of any others, please feel free to let us know in the comments.
Here are some to consider:
Is A Lion Dog Right For Me?
If you're looking for a statuesque, loyal, and mild-mannered dog who's certain to turn heads, the Tibetan Mastiff might be for you.
You'll be the right owner for him if you've got lots of space in your home, and time to work on socialising and training.
Are you already the proud owner of a lion dog? We'd love to hear about them in the comments section below!
You'll Also Love…
References and Resources