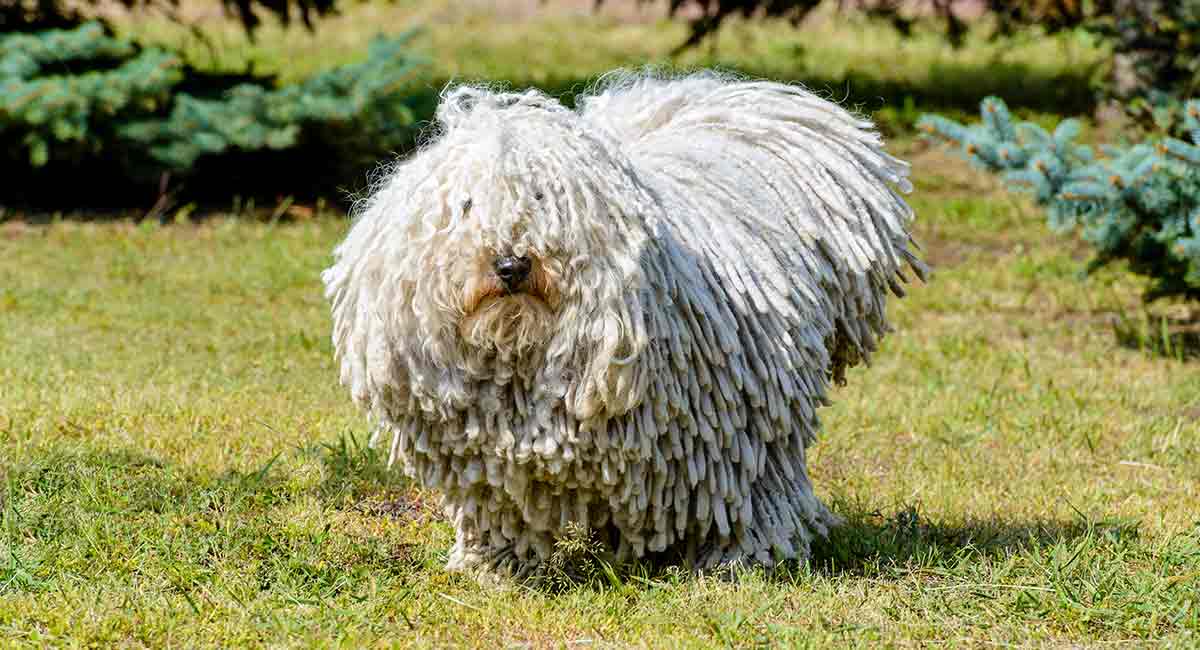 Mop dog is another name for the Komonder breed.
Komonders come from Hungary, where they were bred to guard sheep.
They earned the nickname Mop dog for their distinct white corded coats.
Mop dogs' coats cord naturally around 9 months of age but require lots of upkeep from then on.
Meet The Mop Dog!
While you might mistake him or her for a mop on first sight, the Mop Dog is actually a guard dog hailing from Hungary!
In this article, we'll learn the history and characteristics of this breed, and weigh up the pros and cons as a family pet.
Where Does The Mop Dog Come From?
In the 12th and 13th centuries, nomadic tribes brought Tibetan dogs with them to Hungary.
By the 16th century, the word 'Komondor' started appearing in Hungarian texts.
Komondors were used to protect livestock as their white, corded coats allowed them to blend in with sheep!
During World War II, the breed was nearly eradicated in Europe. Luckily, some survived.
In the 1960s, importation of Komondors into the US resumed. As result numbers have since increased, although the breed remains rare.
Fun Facts About the Mop Dog
In recent years, Mop Dogs have been used in the US to guard livestock against coyotes.
In Hungarian, the plural for Komondor is 'Komondorok'.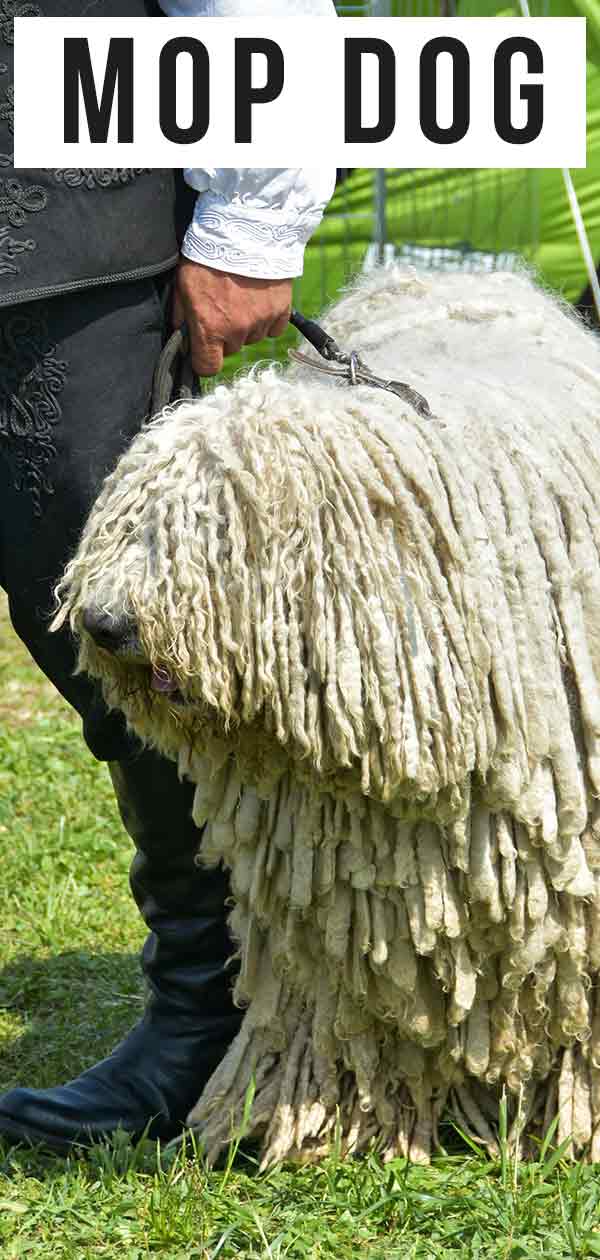 Mop Dog Appearance
The most striking aspect of the Komondor's appearance is its white, corded coat.
Cords form as the dog matures. As puppies, the coat is soft and wavy.
Somewhere between 9 and 12 months of age, the coarse outer coat begins to wrap around the undercoat. This forms twisted cords that resemble dreadlocks.
By two years of age, a Komondor's coat is fully corded.
Komondors are large dogs: males generally stand around 27 inches tall, and females 25 inches.
Males can weigh anywhere between 110 and 130 lbs, and females around 80-110 lbs. This breed is strong and muscular, with a deep chest.
Temperament of the Mop Dog
Komondors evolved as guardians which is evident in their independent, protective personality.
However, they can be distrustful of strangers and may be territorial without training and socialization.
Mop Dogs are happiest when they have a sense of purpose, and enjoy having a 'job' to do.
If they lack stimulation, they easily become bored and destructive.
Komondors can be good with older children within their own family but may have difficulty with unfamiliar youngsters.
Similarly, Komondors can get along with other pets in the home (often 'guarding' them as if they were sheep!) but may not cope as well with animals they don't know.
Care should be taken when introducing new people to your Mop Dog. It's wise to supervise this breed around guests and younger children.
Training and Socialization
The Komondor's natural instinct is to guard and protect.
As a result, this breed can be over-protective if not trained and socialized. In addition, Komondors are independent and can be strong-willed.
So, it's essential to begin socialization and training from an early age and to be consistent.
Positive, rewards-based training has been shown to be more effective than punishment-based training.
Using punishments should be avoided at all costs, as it can be detrimental.
Ensure that any treats used as rewards are part of your dog's daily food allowance so they don't become overweight.
Potty and Crate Training
As well as obedience training, it's also important to potty train your puppy and help them become used to a crate.
Check out our potty and crate training guides for more information.
Learn more about puppy training here.
Mop Dogs require moderate to high levels of exercise daily.
This breed is not suited to apartment living. Komondors need a secure fenced outdoor space to roam, in addition to daily walks and interaction with their owners.
Mop Dog Health
There are several health issues to be aware of if you're considering this breed.
Gastric Dilatation-Volvulus (GDV)
Like many larger dog breeds, Komondors can be at risk of developing gastric dilatation and GDV.
This is a serious condition in which the stomach distends, and can twist. Swelling of the stomach puts pressure on the diaphragm, resulting in labored breathing. Pressure on large blood vessels can restrict circulation, and twisting of the stomach can result in blocked outflow and release of toxins.
Untreated, this can cause irregular heart rhythms, shock, and death.
The cause of this condition is unclear, although the risk appears to increase with age and size.
In addition, eating quickly, eating only once a day, being underweight, and vigorous exercise after eating may also be factors.
Dental Problems
Mop Dogs can develop misaligned lower jaw teeth, or 'undershot bites.'
Undershot bites become more noticeable with age. Puppies whose bites are even at a few months old may later develop an undershot bite.
It can be necessary to remove teeth to improve this condition.
Hip & Elbow Dysplasia
Komondors may experience canine hip or elbow dysplasia, a condition resulting in arthritis and lameness.
Degenerative Myelopathy (DM)
Degenerative myelopathy is a condition that affects the spinal cord.
DM appears in older dogs and results in a gradual loss of coordination in the rear limbs and paralysis.
DM is believed to result from an autoimmune attack on the spinal cord. A mutation in the SOD1 gene may predispose dogs to autoimmune problems.
Testing revealed that 5% test abnormally (meaning they have 2 copies of the mutation) while around 28% are carriers (meaning they have 1 copy of the mutation).
Eye Issues
Komondors may experience eye problems such as entropion.
This is a condition in which the eyelids can turn inwards, causing discomfort and, potentially, damage eyesight.
Depending upon the severity, this condition may require surgery.
Hyperthyroidism
Dogs with hyperthyroidism suffer damage to the thyroid gland.
Signs to watch out for include unexplained weight gain, changes in your dog's skin (such as fur loss and hyperpigmentation) and lethargy.
Dermatologic Problems
Komondors can experience skin problems.
These include dermatitis, a condition caused by reactions to allergens (e.g. pollen or fleas). Dermatitis causes itchy, rough skin and is unpleasant for your pet.
In addition, Komondors can get staphylococcus infections, which appear as small horseshoe-shaped skin lesions.
Congenital Diaphragmatic Hernia
This inherited condition causes laxity of the diaphragm, resulting in abdominal organs moving into the chest.
This condition becomes apparent soon after birth. Puppies will have labored breathing, and can quickly suffer very low oxygen levels and die.
The only remedy for this condition is surgery.
Recommended Health Testing For Mop Dogs
The Canine Health Information Center recommends the following tests:
Hip dysplasia evaluation
Ophthalmological evaluation
Dentition evaluation
Healthy Mop Dogs usually live between 11 and 13 years.
Grooming Your Mop Dog
It's essential that you invest time into caring for this breed's high-maintenance coat.
As a puppy, your Mop Dog will require regular brushing. From around 9 months of age, its coat will begin to cord.
At this stage, you should stop brushing. Instead, you will need to divide new hair into small sections and help shape them into cords.
Cords should be thicker at the base so that they can support the weight of the coat.
Corded coats quickly collect dirt and debris. Thus, you will need to check your pup's coat daily to remove debris. The ends of the cords will also need to be trimmed to keep them neat.
You may wish to seek grooming services to help with caring for your Mop Dog's coat.
Some owners of Mop Dogs elect to clip their coats to remove the cords entirely. Again, it's better to entrust a groomer with any such clipping.
In addition to caring for the coat, it's also important to check eyes, ears, and nails regularly.
Feeding Your Mop Dog
Despite their large size, Komondors do not eat a huge amount.
In fact, they can be picky eaters due to centuries of sharing meals with shepherd owners!
Ensure you provide high-quality dog food for your Mop Dog and monitor intake.
As ever, if you're concerned about your dog's eating habits, seek your veterinarian's advice.
Do Mop Dogs Make Good Family Dogs?
Mop Dogs are generally calm and steady, rather than playful. They can be good with older children and pets in the home.
However, they are guardians by nature, and so may be over-protective or territorial towards strangers if not trained and socialized.
Mop Dogs require moderate to high levels of exercise.
In addition, they need stimulation and are happiest with a job to do, so are best suited to families who spend a lot of time outside or can provide high levels of interaction and stimulation.
They would make great guardians for owners who keep animals such as horses, llamas, goats, sheep or chickens.
Komondors are not suited to apartment living as they require space to roam. Moreover, outside space will need to have secure fencing.
Mop Dogs are known for their distinctive coats, but this comes with a cost. This breed will need a lot of grooming and coat maintenance requiring professional services.
Rescuing a Mop Dog
There are many dogs awaiting rescue in a shelter.
If you are interested in a Mop Dog, you may want to consider rescue over buying from a breeder.
Mop Dog Rescues
If you are interested in rescuing a Mop Dog, these organizations can be great places to start:
Finding A Mop Dog Puppy
When buying a puppy, it's essential to find a reputable breeder.
Responsible breeders provide evidence of the parent dogs' health and behavioral history. They also conduct relevant health testing and ensure puppies are vaccinated.
It's important to spend time with a puppy before bringing him home. Puppies should appear in good health, with clear eyes and a healthy coat.
Pet stores are not good places to find a puppy. Sadly, many get their dogs from puppy mills. Puppy mills aim to produce as many animals as possible in as short a time as possible.
This leads to poor conditions and can result in animal suffering and unhealthy puppies.
Raising A Mop Dog Puppy
Raising a puppy is exciting, but can be challenging. The good news is our puppy guides can help!
For more information on puppy care, discover our guides here.
Pros and Cons of Getting a Mop Dog
Pros:
Excellent guard dogs for owners with animals such as horses, llamas, goats, sheep or chickens
Generally steady and dependable
Cons:
Very high maintenance coat, requiring time and money to care for
Not suited to apartment living; require securely fenced outdoor space and exercise
Can be destructive if bored
Can be over-protective and territorial with unfamiliar people and animals
Will need supervision around younger children/guests
Similar Breeds
The Puli
If you're charmed by the Mop Dog's distinctive coat, but want less of a 'guardian' temperament, the Puli could be ideal.
The Hungarian Puli evolved alongside the Komondor, acting as the herder to the Mop Dog's guardian.
The Puli has the same distinctive corded coat as the Komondor, but is slightly smaller, and has an energetic, intelligent temperament.
Be aware that, like the Komondor, the Puli's coat is very high maintenance. Learn more about the Hungarian Puli here.
The German Shepherd
If you're looking for a dog with the guarding instinct of the Komondor, consider the German Shepherd!
Intelligent and energetic, the German Shepherd is one of America's most popular breeds.
A natural guardian, this breed will need consistent socialization and training from an early age. Learn more about the German Shepherd here.
You might also be interested in learning more about the Walrus dog breed! Take a look at our full guide to them here.
Is A Mop Dog Right For Me?
Mop Dogs are not for everybody. They're best suited to experienced owners who can provide them with a 'job to do.'
Komondors need exercise, stimulation, and space to roam.
If you can provide securely fenced outdoor space, stimulation, and can commit to training and socialization from an early age, a Komondor could be a good fit.
Be aware that this breed requires high levels of grooming. Owners need to invest time and money in caring for their pup's distinctive coat.
In addition, due to his guarding instinct, Komondors are better suited to families with older children. They should be supervised around younger children, guests, and unfamiliar people and animals.
Do you have a Komondor? Share your experience by commenting below!
References & Resources
Clark, R. D. 'Medical, Genetic & Behavioral Risk Factors of Kuvaszok and Komondor', Xlibris Corporation, 2015.
The Canine Health Information Center
Glickman, L. T., et al. "Analysis of risk factors for gastric dilatation and dilatation-volvulus in dogs." Journal of the American Veterinary Medical Association, 1994
Glickman, L.T., et al. 'Multiple risk factors for the gastric dilatation-volvulus syndrome in dogs: a practitioner/owner case-control study', Journal of the American Animal Hospital Association, 1997
Hiby, E. F., Rooney, N. J. and Bradshaw, J. W. S. 'Dog training methods: their use, effectiveness and interaction with behaviour and welfare', ANIMAL WELFARE-POTTERS BAR THEN WHEATHAMPSTEAD, 2004
McGrew, J. C., and Blakesley, C.S., 'How Komondor dogs reduce sheep losses to coyotes', Rangeland Ecology & Management/Journal of Range Management Archives,1982
Monnet, E. 'Gastric dilatation-volvulus syndrome in dogs', Veterinary Clinics: Small Animal Practice, 2003
Welcome, V. I. N. 'The Genetics of Gastric Dilatation and Volvulus (Bloat) in Dogs: What Do We Know and Where Are We Going?', Tufts' Canine and Feline Breeding and Genetics Conference, 2015.
Get Pippa's free dog training tips delivered to your inbox