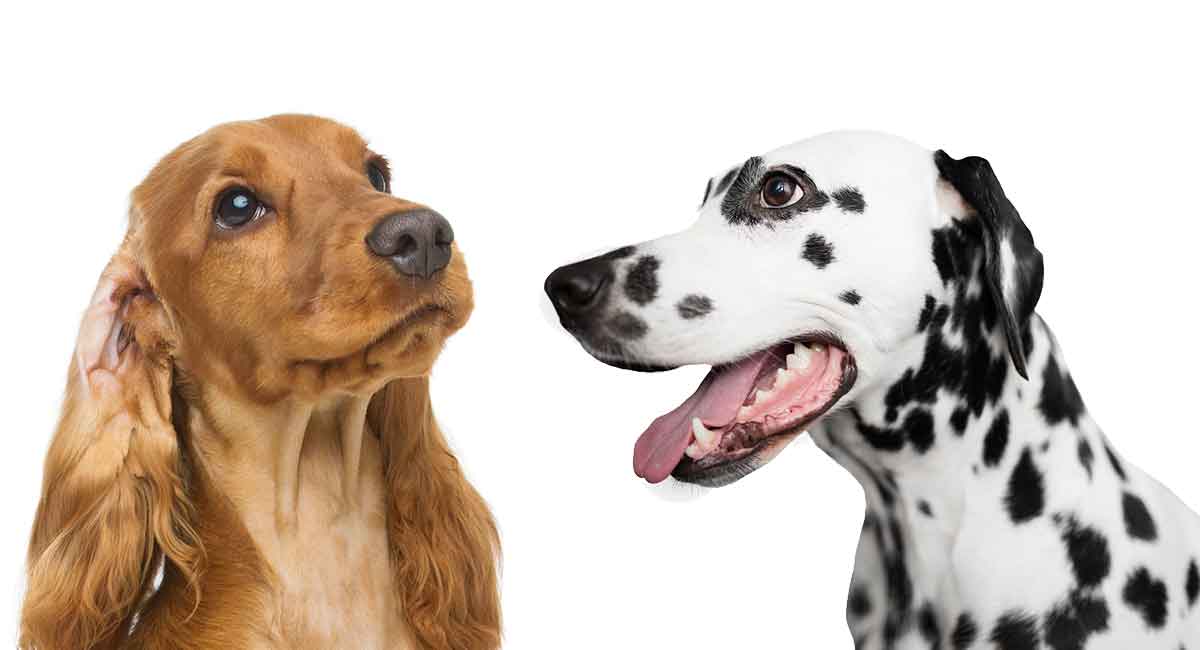 The Cocker Spaniel Dalmatian mix is one of those crossbreeds that makes you stop and stare.
With a potentially unique combination of beauty and intelligence, not to mention personality galore, the Cocker Spaniel Dalmatian mix is certainly a designer dog worth looking into.
Introducing the Cocker Spaniel Dalmatian Mix
Both the Dalmatian and the Cocker Spaniel are dogs known for their unique beauty.
Their crossbreed offspring, the Cocker Spaniel Dalmatian mix, is sure to be a show stopper as well!
It's easy to see why so many dog lovers are giving their attention to this clever and cool looking crossbreed.
But is a crossbreed like the Cocker Spaniel Dalmatian mix right for you?
And what should you know about the crossbreed controversy?
Let's find out.
What You Should Know About the Designer Dog Debate
Designer dogs are nothing new.
As we have mentioned in previous articles, the practice of crossbreeding has been around for centuries, since the beginning of dog and human relationships.
Still, as the trend grows more popular, many experts are voicing their opinions on the pros and cons of crossbred dogs.
And while the lines have become a bit blurred when it comes to certain arguments regarding the designer dog debate, there are some things you should know.
For starters, it is important to understand the difference between a crossbreed and a mutt.
And while there are some who consider the two to be one in the same, others insist there is a real distinction.
You see, while mutts are more of an accidental mixed breed with a largely unknown lineage, crossbreeds are the specifically created offspring of two purebred parents.
Now, what about health?
Of course, this is perhaps one of the more important issues when it comes to the crossbreed controversy.
Many are aware that purebred dogs are more prone to suffering from inheritable health conditions due to centuries of overbreeding in gene pools that continue to grow smaller with each generation.
Some supporters of crossbreeding are enthusiastic about the practice, saying it could help to reduce the number of genetic issues being passed down from parent breeds to litters.
Others insist that this is just a theory and claim purebred dogs and crossbreed dogs are equally susceptible to inheriting genetic health issues.
It is an interesting argument to be sure.
To learn more on the matters of crossbreeding, click here.
Otherwise, keep reading.
We are about to dive into the wonderful world of the Cocker Spaniel Dalmatian mix!
Where Did the Cocker Spaniel Dalmatian Mix Come From?
The Cocker Spaniel Dalmatian mix is what most experts consider to be a first-generation crossbreed.
This fancy term simply means that he is a newer creation whose history is still in the making.
For now, we can learn more about him by checking out the histories of both his purebred parents.
Let's start with the Cocker Spaniel.
Origin and History of the Cocker Spaniel
The Cocker Spaniel originally comes from Spain and was once grouped together under one category with a number of other spaniel dogs until the 19th century, when he was finally put into his own breed type.
While there are currently two types of the Cocker Spaniel dog, they are both considered, for the most part, pretty similar.
So what makes them different?
The American Cocker Spaniel, for one thing, is said to be slightly smaller than the English Cocker Spaniel and is said to have a less dense coat and a smaller head.
Otherwise, they are remarkably alike in terms of temperament, origin, and appearance.
The American Kennel Club, (AKC), finally recognized the Cocker Spaniel in 1946, when he became a canine star amongst families due to the Disney classic Lady and the Tramp.
Today, the Cocker Spaniel sits at number 29 out of 194 on the AKC's list of America's most popular dog breeds and is adored for his gentle nature, joyful personality, and family-friendly disposition.
Origin and History of the Dalmatian
The Dalmatian is an ancient breed with origins linking him to a number of places, including the British Isles, Europe, Asia, and North Africa.
While his official place of origin remains a mystery, experts are able to officially place him around Central Europe, in a region once known as Dalmatia, during the 1800s.
It was there that the Dalmatian is believed to have been first used as a coach dog, where his main job was to trot alongside coaches, protecting his noble companions during the trip and then guarding their belongings when they stepped away.
Gypsy Companion
The gypsy people were also known to love the Dalmatian and were said to travel with the breed as they wandered spontaneously throughout Europe.
It is the Dalmatian's ties to the gypsies that have likely given experts such a tough time when trying to identify where the Dalmatian was originally developed.
This is because it is hard to place him in one region for too long due to his sporadic travels.
Aside from the gypsy people, British nobles adored this gorgeous breed not only for his intelligence and loyalty as a coach dog but also for his affectionate nature as a companion.
Firefighter Mascot
However, it wasn't until the 1800s that the Dalmatian earned his fame as a firefighter's mascot, but this was no feat easily given.
Already a famous coach dog, the Dalmatian became a well-known tagalong to horse-drawn fire coaches.
The image of the Dalmatian alongside fire engines stuck and is still a popular icon of heroism today.
Registered in 1888 by the AKC, the Dalmatian resides at number 62 out of 194 on their list.
Size and Appearance of the Cocker Spaniel Dalmatian Mix
The Cocker Spaniel and the Dalmatian look nothing alike.
From nose to tail, these dogs could not be more different.
With a size ranging from 13.5 to 24 inches tall and a weight that could be anywhere between 20 to 74 pounds, it is anyone's guess how big your Cocker Spaniel x Dalmatian will grow to be.
But what about appearance?
Will he be spotted, like the Dalmatian?
Or will he have a long, wavy coat like the Cocker Spaniel?
Truth be told, the appearance of the Cocker Spaniel Dalmatian mix is going to be left up to chance, depending on genetics and whichever purebred parent he takes after most.
Let's take a look at your options.
Size and Appearance of the Cocker Spaniel
Standing 13.5 to 14.5 inches tall and weighing approximately 20 to 30 pounds, the Cocker Spaniel is certainly a smaller dog than its Dalmatian counterpart.
Still, he is built well, with a sturdy body, expressive eyes, and long ears.
His silky, thick coat is a sight to behold, coming in a number of colors and combinations, including:
lemon and white
blue roan
dark brown
black and gold
tri-color
liver roan
tan
silver
sable
His coat sheds moderately and can grow rather long, although many owners who do not choose to show this breed opt to keep it trimmed.
Now, what about the Dalmatian?
Let's see.
Size and Appearance of the Dalmatian
As previously mentioned, the Dalmatian is bigger than the Cocker Spaniel and stands between 19 and 24 inches tall and weighs from 45 to 75 pounds.
His coat is short and sleek and lies flat to his body.
He has floppy ears and that famous, spotted coat of his comes in two color combinations:
liver and white
blue belton (black and white)
Remember, your Cocker Spaniel Dalmatian mix could inherit any number of the above traits from his purebred parents.
It will all be left up to chance.
But what about temperament and personality?
Let's find out!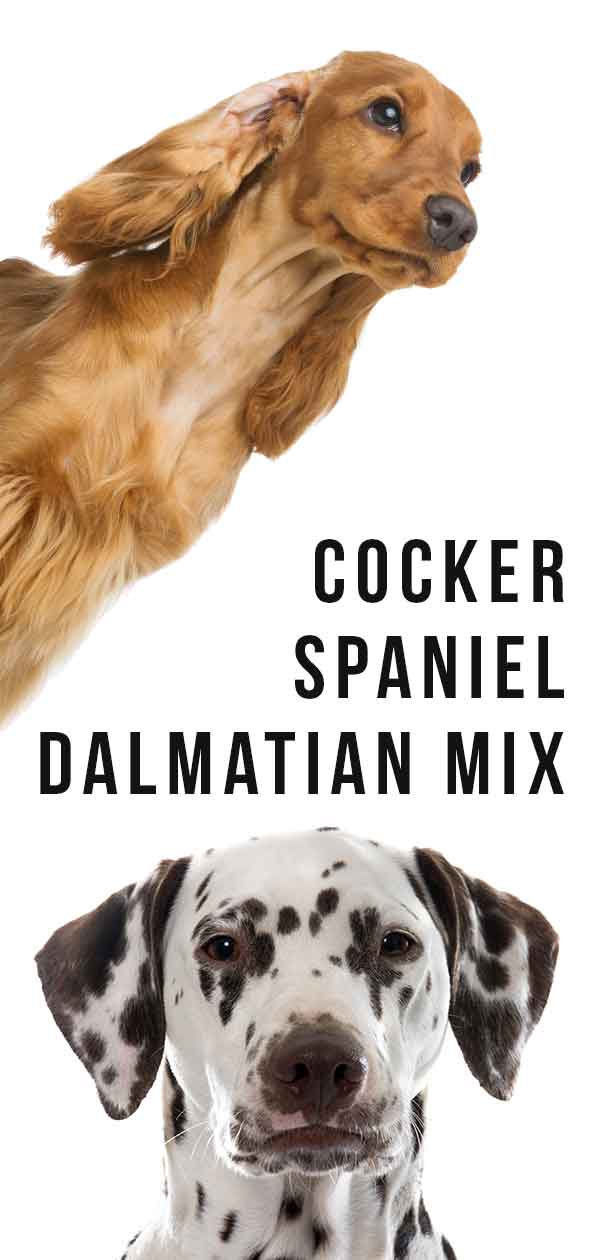 Cocker Spaniel Dalmatian Mix Temperament
Yes, when dealing with a crossbred dog, you are always leaving aspects like appearance, size, and even temperament to chance.
Luckily, both the Cocker Spaniel and the Dalmatian are intelligent breeds who are eager to please and enjoy their families.
But there are aspects to both the Dalmatian's and the Cocker Spaniel's personalities that are quite different.
For example, if your Cocker Spaniel Dalmatian mix tends to take after his Cocker Spaniel parent, you can expect a smart, gentle, and highly sensitive dog whose only mission in life is to be around you and make you happy.
And while the Dalmatian is a bit more independent than his Cocker Spaniel counterpart, he still enjoys learning new commands and is a rather loyal companion.
Dalmatian Personality Traits to Beware Of
However, he is not a natural family dog like the Cocker Spaniel, who is inherently excellent with children of all ages and other animals.
In fact, the Dalmatian, while he does get along with the family and children he is raised with, can be aloof with strangers and standoffish with other kids or animals.
The Dalmatian is also known to have a protective streak, due to his guarding instincts that come from his days as a coach dog.
And while neither the Cocker Spaniel nor the Dalmatian are known to be aggressive breeds, we still recommend early socialization and obedience training beginning in puppyhood for your Cocker Spaniel Dalmatian mix crossbreed.
Early socialization and obedience training are going to be a key component in ensuring you raise a happy, healthy, well-rounded dog.
Cocker Spaniel Dalmatian Mix Grooming and General Care
Grooming needs can be a bit tricky to determine when dealing with a crossbreed like the Cocker Spaniel Dalmatian mix.
Of course, this is because the purebred Cocker Spaniel and purebred Dalmatian have very different coats.
Cocker Spaniel Coat
For instance, the Cocker Spaniel, known for his flowing fur and long, beautiful ears, only sheds occasionally.
Still, because his hair can grow quite long, he will need consistent grooming and bathing to keep him looking his best.
His hair is especially prone to mats and tangles if it is left unattended, which can become painful and will often need cutting.
Dalmatian Coat
The Dalmatian, on the other hand, may have a shorter, sleeker coat, but that doesn't mean he is a wash-n-go kind of dog.
This beautiful breed is a heavy shedder and will need weekly brushing to keep those spots shining, his skin healthy, and any loose hair under control.
Your Cocker Spaniel Dalmatian mix will also need his nails trimmed regularly to keep them from breaking.
His ears need cleaning consistently to keep waxy buildup and moisture from causing infection.
Keep in mind that the Cocker Spaniel, specifically, is prone to ear infections, and your Cocker Spaniel Dalmatian Crossbreed could be prone to them as well.
For this reason, you should diligently clean the ears once a week for a Cocker Spaniel or Cocker Spaniel crossbreed.
Speaking of ear infections, let's discuss health.
Cocker Spaniel Dalmatian Lifespan and Health Concerns
Due to the average life expectancies of the Cocker Spaniel Dalmatian's parent breeds, he could live anywhere from 10–14 years.
Of course, we think the health of your Cocker Spaniel cross Dalmatian is super important.
For this reason, we recommend having this crossbreed undergo early health screening during puppyhood.
Early health screening is a great way to get a head start on your puppy's health, giving you a better idea of what kind of genetic issues he could be prone to and what you can do to keep him as healthy as possible.
Still, aside from early health screening, you should also look into the health issues of his purebred parent breeds.
Let's start with the Cocker Spaniel.
Cocker Spaniel Health
With a lifespan of 10–14 years, the Cocker Spaniel is prone to
cardiomyopathy
otitis externa
hip dysplasia
ectropion
entropion
urinary stones
ear infections
hypothyroidism
obesity
phosphofructokinase deficiency
cherry eye
seborrhea
liver disease
allergies
heart issues, including congestive heart failure
Dalmatian Health
The Dalmatian, on the other hand, has a life expectancy of 11–13 years, and he is most prone to
skin allergies
deafness
obesity
urinary stones
epilepsy
eye issues
thyroid disease
Now, let's talk about exercise and training.
Exercise and Training Requirements for a Cocker Spaniel Dalmatian Mix
Your Dalmatian x Cocker Spaniel is the offspring of two active, intelligent purebred parents.
For this reason, he is going to need adequate exercise and mental stimulation to keep him happy and healthy.
You should also note that both the Cocker Spaniel and the Dalmatian are prone to obesity.
Exercise is especially important for these breeds and their crossbred offspring.
A nice long walk or run every day will do your Cocker Spaniel Dalmatian mix well.
So will allowing him time to run freely in a large, securely fenced backyard.
Now, when it comes to training your Cocker Spaniel Dalmatian mix, you're in luck.
This hybrid dog is highly intelligent and aims to please.
The Cocker Spaniel especially wants to make you proud!
Keep training fun and only use positive reinforcement such as treats and praise and keep away from scolding and punishments.
Is a Cocker Spaniel Dalmatian Mix Right for Me?
So how do you know if he is the right pet for you?
While the Cocker Spaniel Dalmatian mix makes a great family dog, he will need early socialization and obedience training beginning in puppyhood to ensure he does not become overly protective, like his Dalmatian parent could have a tendency of doing.
Furthermore, keep in mind that intelligent dogs mean lots of work.
This is a crossbreed who will do best in homes with families who have the time and patience to train and exercise him.
He will also thrive in homes with backyards where he can run and play freely.
You should also note that the Cocker Spaniel, especially, is very sensitive and family oriented.
So the Cocker Spaniel Dalmatian mix may not be suitable for families with very active schedules who have little time to spend with him.
Finding the Right Cocker Spaniel Dalmatian Mix Puppy!
Does the Dalmatian Cocker Spaniel mix sound like the perfect pup for you?
Picking the right Cocker Spaniel Dalmatian mix puppy from the right source can be daunting, but don't worry.
We are here to help!
Breeder
If you have your heart set on going through a Cocker Spaniel Dalmatian mix breeder, keep in mind that prices are going to vary.
On average, most breeders will charge anywhere from $500 to over $1000.
The price is sometimes being higher if the purebred parent breeds are show quality.
One of the great things about going through a breeder to get yourself a Dalmatian Cocker Spaniel mix puppy is that reputable breeders will usually have health screened their litters, so you can leave knowing your puppy is healthy and okay to go home with you.
But what if you want to rescue a Cocker Spaniel Dalmatian mix from a shelter?
Rescue
Rescuing is always great, and we love it when dogs in need get good forever homes.
Along with the rescuing aspect of going through a shelter, another great thing is the price.
Adoption fees will typically cost anywhere from $50 to $100.
Many shelters will even cover the initial veterinarian fee, ensuring your Cocker Spaniel Dalmatian mix is up to date on all of his shots and is good to go.
Remember, whichever route you choose to take when getting your hands on a Cocker Spaniel Dalmatian mix puppy, the most important thing to do is research.
So are you on the hunt for a Cocker Spaniel Dalmatian mix to call your own?
We would love to hear from you!
Drop us a note in the comment section with any further questions!
References
Borbala Turcsan, Adam Miklosi, Eniko Kubinyi, Owner Perceived Differences Between Mixed-Breed and Purebred Dogs
Tiffani J Howell, Tammie King, Pauleen C Bennett, Puppy Parties and Beyond: the role of early age socialization practices on adult dog behavior, Volume 6, pages 143-153
Nathan B Sutter and Elaine A Ostrander, Dog Star Rising: The Canine Genetic System, Nature Reviews Genetics, Volume 5, pages 900-910
Lowell Acumen DVM, DACVD, MBA, MOA, The Genetic Connection; a Guide to Health Problems in Purebred Dogs, Second Edition, 2011
Carol Beuchat Ph.D., The Myth of Hybrid Vigor in Dogs…Is A Myth
Get Pippa's free dog training tips delivered to your inbox