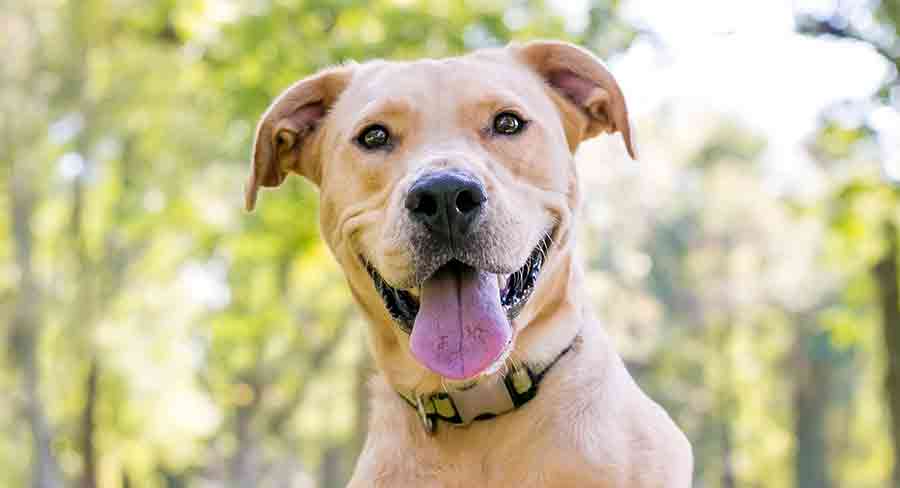 One Lab terrier mix can be very different to the next. It will all depend on the terrier breed used, and the traits your puppy inherits.
But, generally, this cross will be intelligent, friendly, and very energetic, no matter which terrier breed it comes from.
Lab terrier mix puppies will fall somewhere between its two parents in terms of size, temperament, and overall appearance.
So, make sure you're happy with any outcome!
Lab Terrier Mix FAQs
We're going to take a closer look at some of the most popular lab terrier cross dogs in this guide.
But, if you're keen to get some of your questions answered first, you can navigate to them with these links.
What is a Lab Terrier Mix?
A Lab Terrier cross is a mixed breed dog with one Labrador Retriever parent, and one terrier parent.
The main point to note here is that the Labrador Retriever is a specific dog breed. But the term 'terrier' actually refers to a whole group of dog breeds.
In fact, the AKC recognises 31 different terrier breeds!
All terriers share some common traits in appearance, temperament, and care needs.
But, there are some key differences between them too.
Mixed breed dogs can inherit any traits from either parent. So, Lab Terrier mixes have a lot of scope for variety, even puppies from the same litter.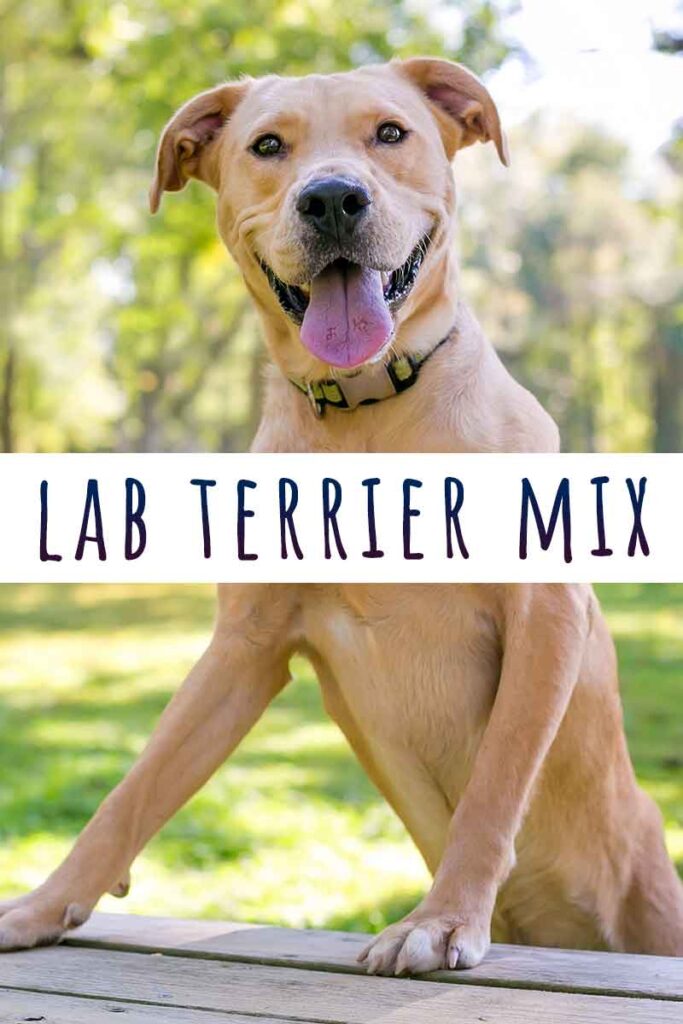 Top 10 Lab Terrier Mix Dogs
Lab Terrier mixes are on the rise! None are yet recognized as official breeds in their own right.
But, they are growing in popularity, and are becoming a more common sight across the world.
Let's take a look at 10 of our readers' favorite Lab Terrier mix dogs.
American Staffordshire Terrier Lab Mix
The American Staffordshire Terrier Lab mix is usually a medium to large sized cross. They're loyal, affectionate, and active dogs.
An Amstaff Lab mix can come in a huge variety of colors thanks to the influence of the Staffie parent.
They will often be very well muscled, and will need lots of daily exercise, as well as socialization from a young age.
Boston Terrier Lab Mix
A Boston Terrier Lab mix is one of the smaller mixes on our list.
This little mix will usually be eager to please, active, and will fit right into a family home.
However, if they inherit the Boston Terrier's shortened snout, they may suffer with some brachycephalic related issues, including breathing, eye, and dental problems.
Jack Russell Terrier Lab Mix
The Jack Russell Terrier Lab mix is likely to be another small combo. This mix will be lively, clever, and alert.
If socialized well, they will suit most households, but might be prone to chasing small pets and young children!
Rat Terrier Lab Mix
Rat Terrier Lab mixes are energetic dogs with a smooth, dense coat.
The Rat Terrier parent breed comes in two sizes (standard and miniature), so the size of this mix will depend which size is bred.
These little dogs may also have quite strong chase and hunt instincts.
Bull Terrier Lab Mix
The Bull Terrier Lab mix will be energetic, muscular, and playful. Mixes may inherit the egg-shaped head of the Bull Terrier parent.
Their colors can vary quite a bit, but their coat will almost always be short and dense. Expect moderate to heavy shedding with this mix.
Wheaten Terrier Lab Mix
The Soft Coated Wheaten Terrier Lab mix can have straight or wavy coats, but their fur will usually be very soft to the touch.
This mix will usually be a medium sized dog. They will form very strong bonds with their close family, and will love homes that can dedicate lots of time and attention to their care.
Patterdale Terrier Lab Mix
Patterdale Terrier and Lab mix dogs are another quite small hybrid. Most of the time, this combo will produce a black Lab Terrier mix.
But, occasionally, some other shades can show up. These dogs are friendly, loyal, and energetic, despite their smaller size.
Airedale Terrier Lab Mix
The Airedale Terrier is the largest terrier breed. So, if you want a large Terrier Lab mix, this is the one to go for.
Airedale Terrier Lab mixes will likely need more exercise than smaller mixes, but will be just as alert and intelligent.
Make sure to watch out for health issues that can impact larger dogs, like hip dysplasia and bloat.
Border Terrier Lab Mix
The Border Terrier Lab mix is another smaller hybrid. This little combo will be loyal and playful, affectionate especially with close family members.
The mix may inherit the more wiry coat texture of the Border Terrier parent.
Fox Terrier Lab Mix
A Fox Terrier Lab mix will vary depending on whether you choose a Wire Fox Terrier or a Smooth Fox Terrier.
Either way, this mix is likely to be smaller than a standard Labrador. It will be friendly, lively, and courageous.
What Do Lab Terrier Mixes Look Like?
Because there are so many different terrier breeds that can be used in a Lab and Terrier cross, the appearance of one can be very different to the looks of the next.
Even their sizes can vary! Some may be smaller, like those with the Border Terrier parent, but others may be much larger, like the Airedale Terrier Lab hybrid!
Terrier breeds come in a huge variety of different colors. Generally, a lot of people favour the Labrador colors when choosing their mix.
The Lab comes in three colors: black, chocolate, and yellow.
So, if your heart is set on one of these shades, try to mix your Labrador with a Terrier that has the same color coat.
How Big Do Lab Terrier Mixes Get?
As we've already seen, Lab Terrier cross sizes can vary.
The Labrador Retriever breed generally grows from 21.5 to 24.5 inches tall, weighing 55 to 80 pounds.
But, with terriers there is a lot more variation.
The smallest terrier breeds might only grow to around 15 inches tall. But, the largest (the Airedale Terrier) grows up to 23 inches, weighing 50 to 70 pounds!
Mixed breed puppies can take after either parent, but they will usually fall somewhere in between the sizes of their two parents.
So, if you cross a Lab with a smaller terrier breed, there is more room for variation in size. Mixing a Lab with a similar sized dog is more likely to give you a predictable adult size.
Do Lab Terrier Mixes Shed?
Labradors are a high shedding breed. They will shed moderately all year round, and heavily during shedding season.
Shedding in terrier breeds varies with their coat type, as does their grooming needs.
And, as we know, mixed breed dogs can take after either parent, or be a perfect mix of the two.
So, you should look into the specific terrier parent being used to find out the likelihood of your mix shedding.
But, if they take after the Lab parent, they will shed a lot.
Are Lab Terrier Mixes Good with Kids?
Labrador Retrievers and all terrier breeds are known to form strong bonds with their families, including young kids that they grow up with.
As long as your mix has been socialized well, they will likely love kids. And, thanks to the common playful natures, kids will usually love them too!
Socialization is important to ensure your mix inherits the friendliest temperament possible, and shows no aggression around kids.
But make sure young kids in your family are taught how to interact with your mix, especially if they are a smaller hybrid that could be easily hurt during rough play.
On top of this, be aware that many terriers have strong chase and hunt instincts. If your mix inherits these, they may be prone to chasing and nipping children.
Are Lab Terrier Mixes Good with Cats?
Labs are known to be one of the friendliest breeds out there.
If you raise a Lab Terrier mix with cats, they will likely get along well.
However, terrier breeds, as we know, can have very strong chase and hunting instincts.
So, they may chase your cat quite a lot. Especially if you get a cat later in your dog's life, and he is not used to them.
In worst case scenarios, chasing can end in aggression. So, you should socialize this hybrid well to cats if you have them at home, and make sure your cats always have a route away from your dog.
Do Lab Terrier Mixes Need a Lot of Exercise?
Labradors and terrier breeds are very energetic. A mix between the two will need plenty of exercise every day, and will be happiest with a job to do.
But, smaller mixes will need less exercise than larger mixes.
And, a Lab Terrier cross is also bound to enjoy curling up with you on the couch after a busy day.
If your mix doesn't get enough exercise, they may display undesirable behaviors, such as:
Barking
Digging
Chewing
Zoomies
How Long Will a Lab Terrier Mix Live?
Labrador Retrievers tend to live to an average of 12 years. Although, with great care and a reputable breeder, they can live into their mid teens.
The lifespan of terrier mixes varies. But, in general, smaller dogs tend to have longer lifespans than larger ones.
You can expect the lifespan of your mix to fall somewhere in between the averages of the two parent breeds.
So, take a look at studies into dog lifespan for your chosen terrier breed, and see how it compares to the Lab!
And, remember that choosing a reputable breeder who health tests their dogs before breeding can increase your mix's lifespan.
How to Choose the Right Lab Terrier Mix for You
Mixed breed dogs can be quite unpredictable. So, you must make sure you're happy with any potential blend of the parents.
Do your research before choosing a Lab Terrier cross. The variation in these hybrids will come from the terrier parent chosen.
And, once you've decided, try to meet the specific parent dogs in person. This is a great way to get a proper idea of what your pup could be like in terms of temperament and appearance.
As long as you socialize your terrier hybrid well, they will suit many different homes.
Overall this mix will be social, friendly, and loyal.
Do You Have a Lab Terrier Mix?
Do you have one of the Lab Terrier mixes that we identified in this guide? Or perhaps you have one that didn't make our list!
We would love to hear about your dogs in the comments.
Readers Also Liked
References and Resources
The American Kennel Club
Howell, T. (et al), 'Puppy Parties and Beyond: The Role of Early Age Socialization Practices on Adult Dog Behavior', Veterinary Medicine: Research and Reports (2015)
Vaterlaws-Whiteside, H. & Hartmann, A. 'Improving Puppy Behavior Using a New Standardized Socialization Program', Applied Animal Behavior Science (2017)
Adams, V. (et al), 'Methods and Mortality Results of a Health Survey of Purebred Dogs in the UK', Journal of Small Animal Practice (2010)
Farrell, L. (et al), 'The Challenges of Pedigree Dog Health: Approaches to Combating Inherited Disease', Canine Genetics and Epidemiology (2015)
Get Pippa's free dog training tips delivered to your inbox