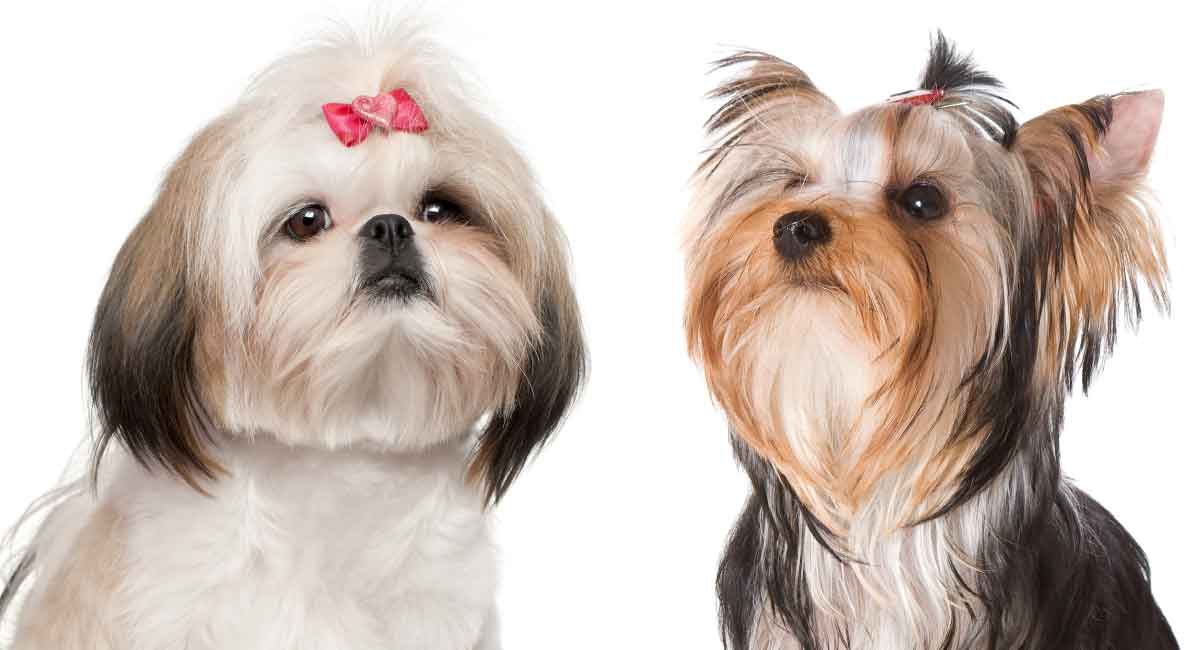 Shih Tzu vs Yorkie – it's a difficult choice!
When you're considering two breeds that are so similar, the decision can seem impossible.
But don't worry, we are here to help you decide between the Yorkshire Terrier and the Shih Tzu!
Welcome to our comparison between these two wonderful breeds!
Shih Tzu vs Yorkie: What to Consider
You are on the search for a dog to join your family, and you've narrowed it down to two similar breeds: the Shih Tzu, and the Yorkshire Terrier.
Both breeds belong to the AKC Toy Group, and are sized similarly.
The Shih Tzu is the larger of the two, usually weighing in at 9-16 pounds.
The Yorkie is smaller, rarely exceeding 7 or 8 pounds when full grown.
Both the Shih Tzu and the Yorkie are common pets for many types of people – but are they right for you?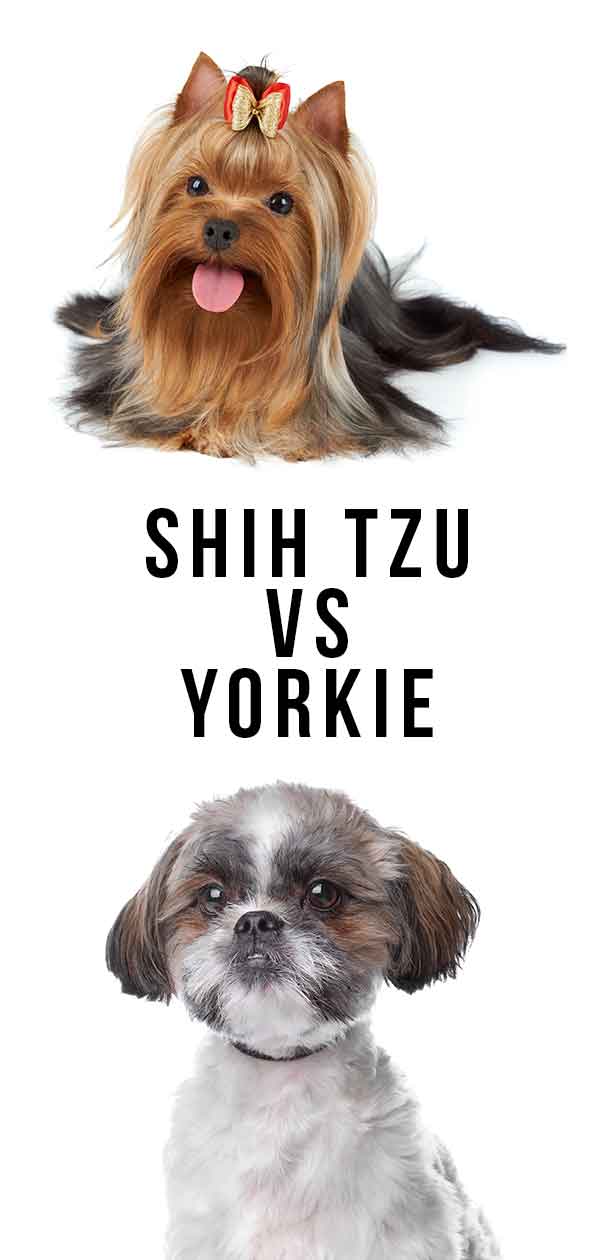 They are affectionate, playful and fun breeds that can make for great pets for the right household.
So, how do you choose between two great breeds that are quite similar, yet different in their own unique ways?
To make your decision, you'll want to learn as much as you can about these two breeds.
This article will give you all the information you need to know to compare Shih Tzu vs Yorkie and make the best informed decision for your situation!
There are many factors to consider, from the health problems associated with each breed to the behavioral characteristics each possess.
We will address all these factors and more in this detailed Yorkshire vs Shih Tzu comparison. Let's get started!
Shih Tzu vs Yorkie – Which Breed to Choose?
The simple truth is: there's no easy answer! There's no "best" breed between these two popular choices.
The best option for you depends on a number of factors, including your personal preferences and your lifestyle.
If you choose to follow the wisdom of the crowd, the more popular choice is the Yorkshire Terrier. Yorkies are currently in the top 10 most popular dog breeds, according to the American Kennel Club.
Shih Tzus are also popular, coming in at around rank #20.
But of course, popularity is not everything!
So long as you get your dog from a reputable breeder that conducts the right health tests, and raises their pups properly, either of these breeds can be a great choice!
Yorkshire Terrier vs Shih Tzu size: Who's bigger?
Physically, these two breeds are similar in size, although Shih Tzus tend to get a bit larger.
Even the biggest Yorkshire Terrier is rarely heavier than 4.5kg, whereas Shih Tzus start around 4kg, and the biggest tip the scales at about 7kg.
Unsurprisingly,that also means they're a couple of inches taller than Yorkies too.
Behind their rival glossy locks, they're different in other ways too.
The Yorkie has a well proportioned, very compact body, with a silky yet wavy coat.
The Shih Tzu has a longer, sturdy body with a broad and deep chest. Its coat is very luxurious, long, flowing, and soft.
Shih Tzu vs Yorkie Grooming Requirements
Both of these breeds have continual coat growth that requires regular grooming.
The Shih Tzu demands daily brushing and bathing once every 3-4 weeks. With some practice you should be able to handle the Shih Tzu's grooming needs on your own.
The Yorkie is even more high-maintenance. Yorkies require daily brushing and weekly bathing.
Their coats can be tricky to handle, so many Yorkie owners end up seeking professional grooming help.
Thankfully, both breeds are infrequent shedders, despite their long coats. Shedding is not much of a problem with either dog.
Shih Tzu vs Yorkshire Terrier Temperament
The Yorkshire Terrier has an affectionate, sprightly, and friendly temperament. They typically have a fairly friendly demeanor, particularly with people they know.
The Shih Tzu has an affectionate, playful, and outgoing temperament. The Shih Tzu tends to be open to meeting new people, and should be friendly around most newcomers.
Both dogs need to be socialized properly, ideally from a young age. This is particularly true if the dog will be around children.
In general, the Shih Tzu does well with children (if socialized), but the Yorkie is a bit less tolerant with children.
Caution is advised for parents of young children who are considering either of these breeds.
Yorkshire vs Shih Tzu Training
When it comes to training, the Shih Tzu is definitely easier to train than the Yorkie.
The Shih Tzu has an agreeable, eager-to-please attitude that makes them relatively easy to train.
The Yorkie can be stubborn – you'll need generous reserves of time and patience to teach this little dog good manners and revisit lessons frequently throughout their life.
Shih Tzu vs Yorkie Health Problems
It's important to consider the health risks associated with each breed before making your decision.
Both are relatively healthy breeds. The Shih Tzu has a life expectancy of 10-18 years, while the Yorkie should live for 11-15 years.
The Yorkshire Terrier is a generally healthy breed, but you should check that the breeder has tested for luxating patella, eye anomalies, and knee issues.
The Shih Tzu is also generally healthy, but are prone to a few more conditions than Yorkies. Breeders should test for hip dysplasia and patellar luxation, as well as eye anomalies.
Some of the most common issues with the Shih Tzu are related to eye health. Retinal detachment and atrophy, cataracts, and corneal dryness are all relatively common. You should have your Shih Tzu's eyes checked frequently.
Also important to note is that Shih Tzus do not tolerate heat well. If you live in a hot climate, this may not be the best breed for you.
Similar Breeds
If you're still not sure which of these breeds is the best for you, there are plenty of other comparisons for you to check out!
Take a look!
Shih Tzu vs Yorkie – Which Pet is Right for Me?
Ultimately, only you can make the decision on whether a Shih Tzu or Yorkie is the right dog for you.
You'll need to weigh the pros and cons of each breed.
For instance, the Shih Tzu tends to be more prone to health problems (particularly eye-related issues), while the Yorkie is harder to train and may not do as well around children.
There's a lot to consider, but keep this in mind: as long as you get a healthy pup from a good breeder, train and socialize it well, and raise it with love and affection, either of these breeds will make a fantastic companion!
References and Further Reading
The Yorkshire Terrier Club of America
Alam, M. R., et al. Frequency and distribution of patellar luxation in dogs. Veterinary and Comparative Orthopaedics and Traumatology, 2007.
Get Pippa's free dog training tips delivered to your inbox