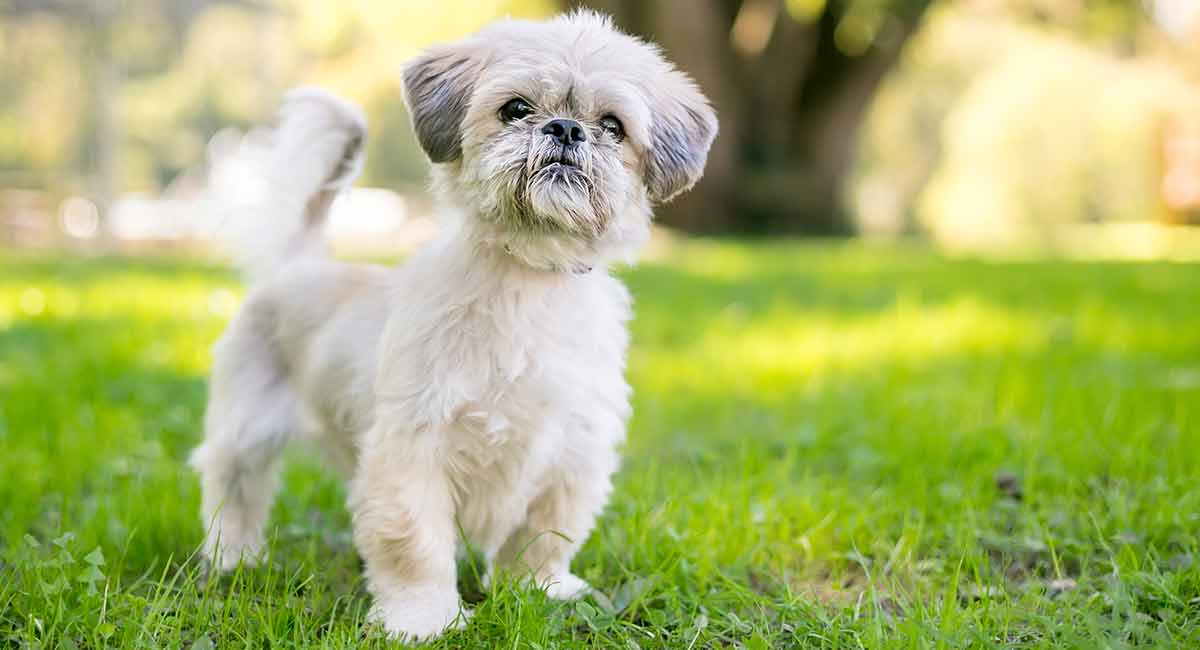 Are you looking for information on the Shih Tzu temperament? Then you have come to the right place!
This cute little dog might be tiny in size but they're big in personality. They're renowned for being affectionate, playful and happy pooches who wants nothing more in life than to be your best friend.
They are instantly recognizable by their "chrysanthemum" faces, large, endearing eyes, and long, flowing coats. But although their name means "lion dog," there is nothing fierce or scary about the Shih Tzu!
Here we take an in-depth look at this tiny pup's love of human attention and how it influences the Shih Tzu temperament.
The Typical Shih Tzu Temperament
The Shih Tzu does not hunt, retrieve, herd or guard. He was bred for generations purely as a companion dog, a job at which he excels!
This cute and cuddly pup possesses a cheerful, sweet-natured temperament. He's incredibly loyal to his owners and is far less yappy and demanding than most other toy dog breeds.
If you are feeling down, it won't last long with the Shih Tzu temperament around. These little fluff balls have a wonderful sense of humor and will always make you laugh!
Because of their connections to royalty, this breed has an aristocratic demeanor. They demand comfort and attention, and enjoy nothing more than being pampered on laps.
The Other Side of the Coin
However, like all dog breeds, there are downsides to the Shih Tzu temperament and the breed itself.
As a brachycephalic breed, the Shih Tzu is prone to respiratory conditions and overheating which are vital concerns for potential owners.
And despite being gentle and affectionate, the Shih Tzu does possess a stubborn streak which can make training a challenge.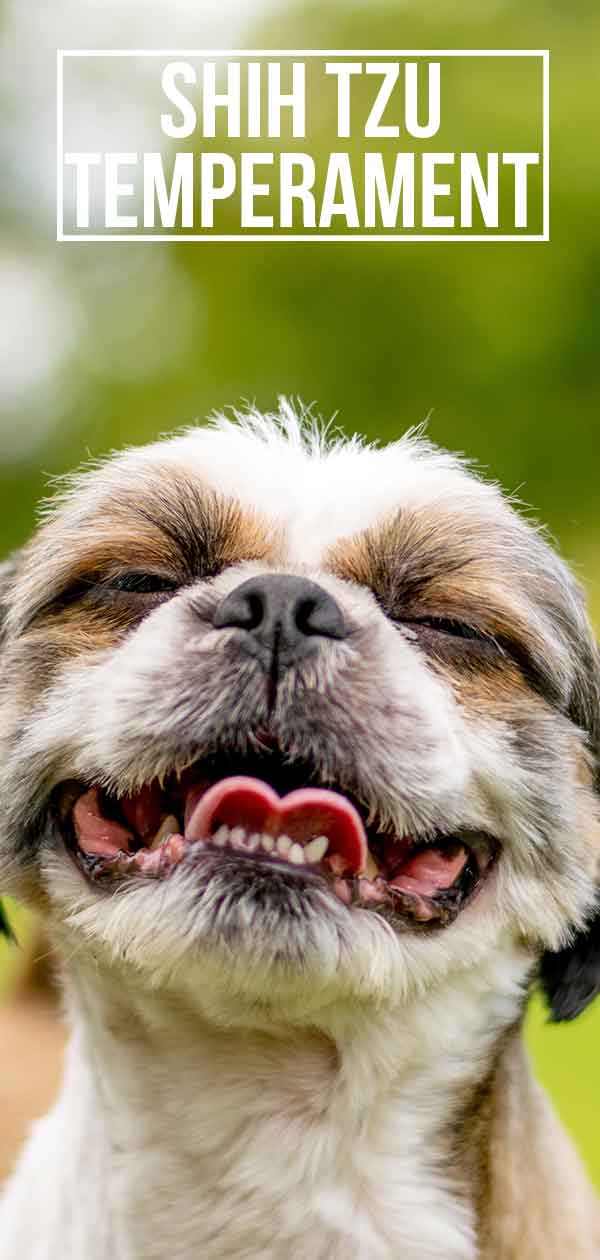 Are Shih Tzus Easy To Train?
Quite often, Shih Tzu owners neglect obedience training, since these small dogs are so easy to pick up and handle.
However, training a dog is vital for their safety. It also makes them a pleasure to be around, creating a healthy relationship between handler and pet.
But the adorable Shih Tzu temperament often challenges training and housebreak. Notoriously stubborn, they tend to have a "what's in it for me?" type of attitude. As the loving Shih Tzu adores attention, you can use this to your advantage as motivation during training.
The key to this fluffball is applying gentle, patient, and consistent methods along with plenty of praise and rewards.
Positive Training Methods
Shih Tzus are extremely sensitive to any yelling or punishment, which may cause them to misbehave if they feel threatened or scared. Training sessions should start as early as possible.
Keep them short and fun, so he doesn't become bored, and always end on a positive note. Once a Shih Tzu realizes that rewards are involved, it should speed up the learning process. In the long run, you'll end up with a well-adjusted and happy adult dog!
Potty Training The Shih Tzu
Potty training your Shih Tzu puppy will be one of the biggest challenges you will face as an owner due to their short attention span and stubbornness.
It is vital that you establish proper toilet habits at a young age, so your pup is set up for life. You will need to be consistent, gentle and incredibly patient!
Shouting at your pup if he has an accident indoors will never work. He'll have no idea why you are upset, which will make him anxious and stressed.
Your Shih Tzu will progress better if you give lots of praise, using kind words with a loving tone of voice when he goes in the designated area.
If you develop a routine for feeding, playing and potty time your pup will have better control of his bowels.
Always take your Shih Tzu puppy out after eating or playing and when he wakes up, as this is when he will most likely need a bathroom break.
Crate Training A Shih Tzu
Crate training is also a good idea when potty training your Shih Tzu, as dogs rarely go to the toilet in their own sleeping area.
Ensure the crate is comfortable, with a cosy bed and some toys. Make it a safe place for your puppy where he can relax and sleep.
Even if your Shih Tzu is an older dog that has never been potty trained before, do not despair. By using the same methods, you will set your pup up for success with their Shih Tzu temperament.
With the Shih Tzu breed, any attention you give them for performing a behavior is rewarding.
That means that even if you shout or punish your pup for having a toilet accident indoors, you are teaching them to repeat the behavior. So if this happens, try not to react.
The Shih Tzu generally wants to please their owners. With positive methods, potty training will eventually succeed.
Are Shih Tzus Friendly?
The Shih Tzu is the ultimate companion dog who will happily follow his people from room to room.
His only desire in life is to love and be loved back.
When guests come to visit, a Shih Tzu truly believes they are there only to see him and him alone!
This breed of dog loves everyone he meets, whether they are old or young. They make excellent therapy dogs due to their gentle and friendly nature.
The Shih Tzu temperament makes him the perfect family pet. He gets along with other animals if raised with them and his mild, gentle demeanor makes him a fun playmate for children.
Are Shih Tzus Aggressive?
The Shih Tzu is a happy-go-lucky dog who possesses a sweet and gentle nature. He is not known for being aggressive.
They are bred solely for companionship. Therefore, they are not guard dogs or notable barkers. But they will alert you if a stranger approaches your home.
If the Shih Tzu temperament shows any signs of aggression, it is often the fault of an owner who doesn't correct bad behaviors. Or lack of training and socializing their pets from a young age.
Are They Good With Children?
Take care with toddlers. They risk hurting a small and vulnerable Shih Tzu accidentally, which may cause your pup to nip.
Some Shih Tzu breeders refuse to sell their puppies to families with children of pre-school age for these obvious safety reasons.
However, if children are supervised and taught how to interact with a Shih Tzu properly, your bundle of fluff should cope with kids of any age.
A Shih Tzu who suddenly becomes aggressive may be in pain from a medical condition or injury, so a veterinary examination is required to determine the cause of any unusual behavior.
Do Shih Tzus Like Other Dogs?
As a friendly animal, the Shih Tzu temperament will get along peacefully with just about any type of dog, especially other Shih Tzus. They generally accept a new puppy in the home.
But like all breeds, early socialization and interaction with other pooches are essential. Ideally in professionally-run dog training classes.
However, as this little fluff ball craves the love of his humans, jealousy often occurs if they feel you are paying more attention to another dog or pet instead of them!
Always be careful if large, boisterous dogs are around as they may accidentally hurt your little Shih Tzu during playtime.
Natural Instincts
As we have stated several times, the Shih Tzu is bred solely as a companion dog, so their love of people can make them clingy.
As a result, this breed is prone to separation anxiety issues, including panic and distress, if left alone without human interaction for long periods.
Your fluffball may display destructive behaviors such as urinating or defecating on the floor, chewing furniture, or pacing relentlessly.
Howling
Another trait a home-alone Shih Tzu might do is howl. Now, this may surprise you to know, but this pampered pooch is more closely related to the wolf than most other breeds, as they have been around for so long!
A wolf separated from his pack is likely to howl so he can communicate their whereabouts.
This fact could explain why a Shih Tzu temperament has this particular trait (which could make you unpopular with the neighbors!) when left home alone. It is their way of trying to communicate with their "human" pack and tell them to come back straight away!
Because of their desire for company, it is not ideal to have a Shih Tzu if you are out most of the time. Unless you have a dog walker or a neighbor who can come in during the day, or they can go to a doggy day-care center.
Are Shih Tzus Good Family Pets?
The loveable Shih Tzu temperament gets along with everyone. From young children to the elderly, as well as other dogs and animals. This breed is an ideal family pet.
However, there are challenges. One of the most noteworthy being: health.
Although the Shih Tzu temperament ticks many boxes as the ultimate companion, we cannot recommend owning one as they are a brachycephalic breed. This face shape makes them more prone to respiratory conditions and heatstroke.
We suggest other breeds who are similar but not brachycephalic, such as:
Do you have a Shih Tzu or are you planning on getting one? Let us know about your experience with the Shih Tzu temperament in the comments!
More Shih Tzu Reading
If you want to find out more about this little breed, take a look at some of these other articles:
References and Resources
2004, "Genetic Comparison Of Purebred Dogs Yields Surprises," Science Forward
Meola, S, DVM, 2013, "Brachycephalic Airway Syndrome," Companion Animal Medicine
Christmas, R, 1992, "Common Ocular Problems Of Shih Tzu Dogs," Canadian Veterinary Journal
2004, "Many Scientists Believe That The Dog Genome Holds A Wealth Of Information That Will Benefit Human Health," Fred Hutchison Cancer Research Center
Get Pippa's free dog training tips delivered to your inbox