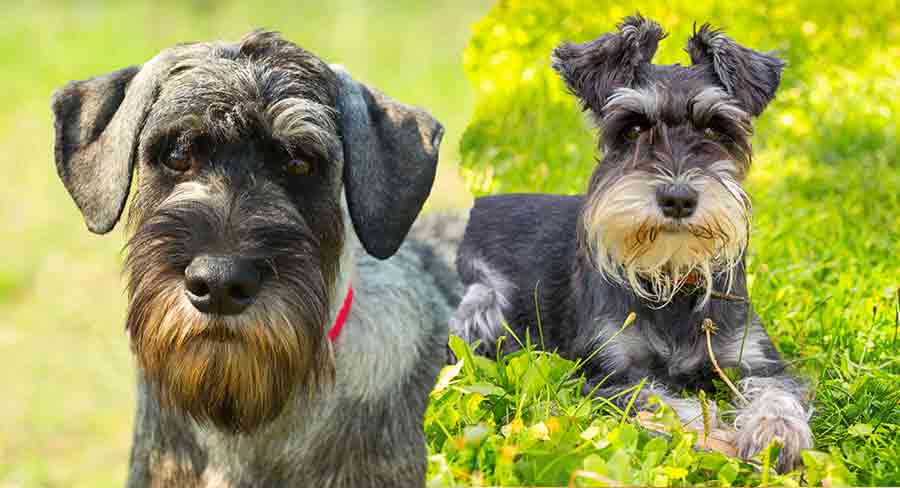 Choosing between a Standard Schnauzer vs Miniature Schnauzer doesn't just boil down to size.
And the ways you might expect the Mini Schnauzer to compare to the Standard could actually be quite wide of the mark.
Both of these breeds are descended from hardworking German farm dogs. We take a look at which has best adapted to becoming your next pet.
Standard Schnauzer Vs Miniature Schnauzer – Which is Best?
Standard Schnauzers and Miniature Schnauzers are similar in a lot of ways, but there's also more to compare than just size.
Use these links to find out how they compare in all kinds of other respects.
Of keep scrolling, to make a fully informed decision about which is best for you.
First, let's see what these rival Schnauzers' origins can tell us about them as modern day pets.
Standard Schnauzer vs Miniature Schnauzer History
Which came first, the Standard Schnauzer or the Miniature Schnauzer?
It was the Standard Schnauzer!
In fact, the Standard Schnauzer started out right back in the 15th century as a wirehair variety of the German Pinscher dog, used for guarding stables and controlling small vermin like rats.
Early Standard Schnauzers were employed as general purpose farm dogs. Their jobs included guarding property, acting as a watchdog, herding livestock and killing vermin.
It took until the late 19th century for them to be recognized as a breed in their own right, and in 1904 they were admitted into the American Kennel Club (AKC).
The Miniature Schnauzer was created in the mid- to late-19th century by crossing small Standard Schnauzers with Affenpinschers and Miniature Poodles.
They earned their stripes as ratting dogs and watch dogs, but they really shot to fame as popular companion dogs – which they remain today.
Standard Schnauzer vs Miniature Schnauzer Fun Facts
Schnauzer means "whiskered snout"!
Despite being closely related, the Standard Schnauzer is classified in the Working Group by the AKC, whilst the Miniature Schnauzer is included in the Terrier Group.
That makes the Miniature Schnauzer the only member of the Terrier Group which isn't descended from English breeds.
Despite being the newer breed, the Miniature Schnauzer has long since outstripped the Standard in terms of popularity. The Mini is the AKC's 19th most popular breed by registration numbers, whereas the Standard ranks 89th.
Standard Schnauzer Vs Miniature Schnauzer Appearance
In all respects except their size, Standard Schnauzers and Miniature Schnauzers look pretty much exactly the same.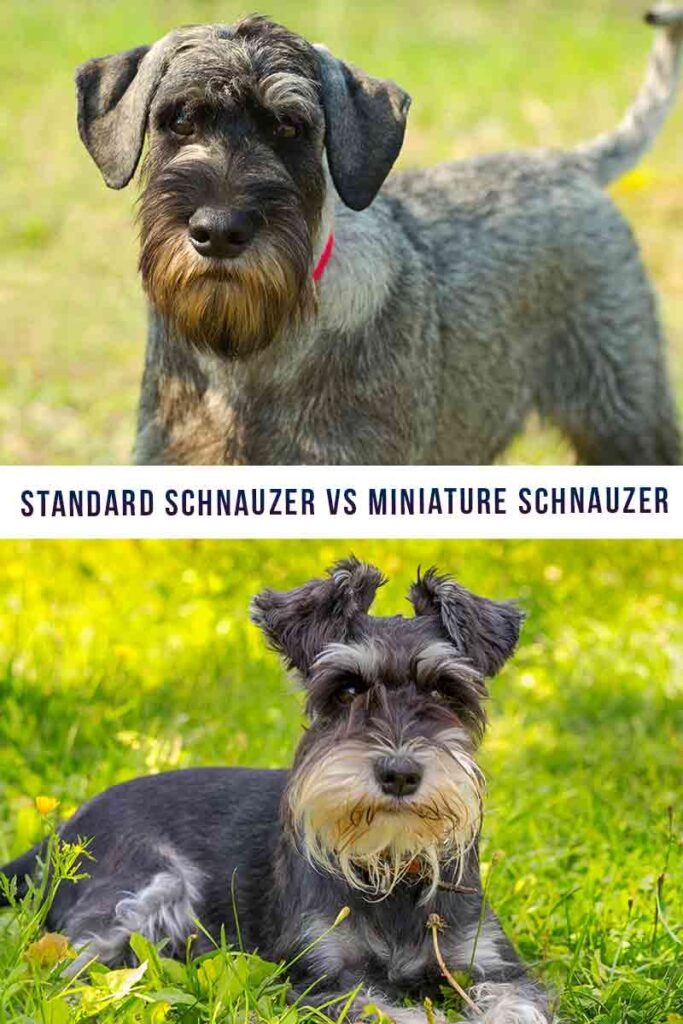 They are rugged-looking little dogs, with a dense, wiry coat. Their fur grows longer on their chin and eyebrows, giving them a wizened appearance.
The accepted colors for Standard Schnauzers are salt and pepper, and solid black.
Miniature Schnauzers are accepted in salt and pepper, black and silver, and solid black.
Size
The ideal show-standard male Standard Schnauzer is 18.5-19.5 inches tall at the shoulder, and weighs 35-50lbs.
The perfect female is 17.5-18.5 inches tall and weighs 30-45lbs.
It's not unusual for pet dogs to fall outside of these narrow ranges though!
Miniature Schnauzers on the other hand are 12-14 inches tall at the shoulder, and weigh 11-20lbs.
Like most dog breeds this small, there's no discernible difference in the size range of males and females.
Standard Schnauzer Vs Miniature Schnauzer Temperament
Miniature and Standard Schnauzers are both confident and clever.
Since they have a long history of working as watch dogs, both breeds are likely to sound a noisy alert whenever anyone approaches the house.
However this isn't the same as being displeased to see them! Provided they are socialized carefully as puppies, both Schnauzers tend to be friendly towards new people and other dogs.
Both dogs are also likely to retain the prey drive which made them talented pest control dogs in the past.
Which means they might pose a risk to smaller pets, such as rabbits and guinea pigs.
Since both types were originally working breeds, they also have stacks of enthusiasm and stamina for physical activity.
In the context of being a pet dog, this usually means that they like to spend lots of time running around and playing with toys.
If they get bored, they might resort to destructive behaviors including digging and chewing.
Standard Schnauzer vs Miniature Schnauzer Training
Schnauzers are usually moderately easy to train.
They are smart, and have the ability to learn a wide range of commands quickly.
Some people occasionally describe Schnauzers as being stubborn, and that this can make them tricky to train.
It's an unfair label though. Dogs aren't really capable of being stubborn, but some individuals are less motivated by treats or praise than others. Which their owners misinterpret as being stubborn when they can't get them to engage with training.
In fact all dogs, including both types of Schnauzer, respond well to positive reinforcement training, when you find out what it is they perceive as being really rewarding and worth working for.
It might be a type of food, or a favourite toy. For terriers and Schnauzers, it might be a game of tug.
Standard Schnauzer vs Miniature Schnauzer Exercise
These Schnauzers both need at least an hour of physical exercise every day.
The Miniature Schnauzer doesn't need any less exercise just because they're small. They were still bred to work all day on a farm, and thrive on physical activity.
But they might struggle to keep up with human activities like running and cycling.
Both sizes of dog will also need access to multiple sources of mental enrichment, for example
chew toys
puzzle feeders
places to dig
and training games.
Schnauzers are intelligent, and they are more prone to unwanted or destructive behaviors if their need for mental stimulation isn't being met.
Standard Schnauzer and Miniature Schnauzer Health
All purebred dogs are vulnerable to genetic diseases which exist at a higher than average frequency in their pedigree.
And the Schnauzers are no exception.
Miniature Schnauzers are prone to:
hip dysplasia
elbow dysplasia
and the neurological condition degenerative myelopathy
Standard Schnauzers have increased odds of developing:
hip dysplasia
elbow dysplasia
thyroid disease
and heart disease
Fortunately, potential mom and dad dogs can be screened for all these conditions before they're used in breeding programmes.
This means carriers and sufferers can be prevented from passing them onto the next generation.
Thanks to this, both sizes of Schnauzer are generally quite healthy. They live for 12 years, on average, although it's not unheard of for them to reach their late teens.
Grooming
Schnauzers of all sizes have low-shedding coats which need to be groomed regularly.
Show Schnauzers with a long coat need to be handstripped to remove loose old hairs and keep their fur in good condition.
For most pet parents, it is more practical to keep their Schnauzer in a short, practical clip.
Either way, they need regular brushing and frequent trips to the groomer.
Despite being non-shedding, neither dog is hypoallergenic. Like all dogs, they produce allergens in their saliva which can become airborne in the environment regardless of whether they shed.
Standard Schnauzers vs Miniature Schnauzer Puppies
Whichever breed you settle upon, it's important to do your research before buying a puppy.
Look for a breeder who has puppies from health tested parents, and is quick to share the certificates with you.
Breeders who keep promise certificates but fail to deliver them (no matter how convincing their reasons are) should present a big red flag.
Miniature and Standard Schnauzers have a very different level of profile, and each can present challenges when it comes to finding a puppy.
If you'd like a Standard Schnauzer, you may have to travel further afield to find a good breeder, and spend longer on a waiting list for puppies.
Meanwhile the Mini's popularity means they're a popular choice of puppy farmers out to make a quick profit.
Breeding dogs and puppies kept at puppy farms are usually housed in appalling conditions. Puppies are more likely to suffer expensive medical conditions and display problem behaviors such as separation anxiety when they're older.
Which Breed Makes A Better Pet?
Both Standard and Miniature Schnauzers do best in an active household with lots of opportunities for exercise and playing games.
Although they both enjoy exercise, a Standard Schnauzer would be a better fit for owners who like running or jogging, since the Miniature Schnauzer might struggle to keep up.
Since they tend to be vocal, they might not be a good fit for people who live in an apartment, or in close quarters with their neighbors.
The more time you can spend engaging and interacting with these breeds, the less likely they are to display unwanted behavior.
Do you have a Standard Schnauzer or Miniature Schnauzer?
Tell us about your reasons for choosing them in the comments!
Readers Also Liked
References and Further Reading
Adams et al. Methods and mortality results of a health survey of purebred dogs in the UK. Journal of Small Animal Practice. 2010.
Orthopedic Foundation for Animals
Official Standard of the Miniature Schnauzer. American Kennel Club. 2012.
Official Standard of the Standard Schnauzer. American Kennel Club. 1991.
McMillan et al. Differences in behavioral characteristics between dogs obtained as puppies from pet stores and those obtained from noncommercial breeders. Journal of the American Veterinary Medical Association. 2013.
Serpell & Duffy. Dog breeds add their behavior. Domestic Dog Cognition & Behavior. 2014.
Get Pippa's free dog training tips delivered to your inbox