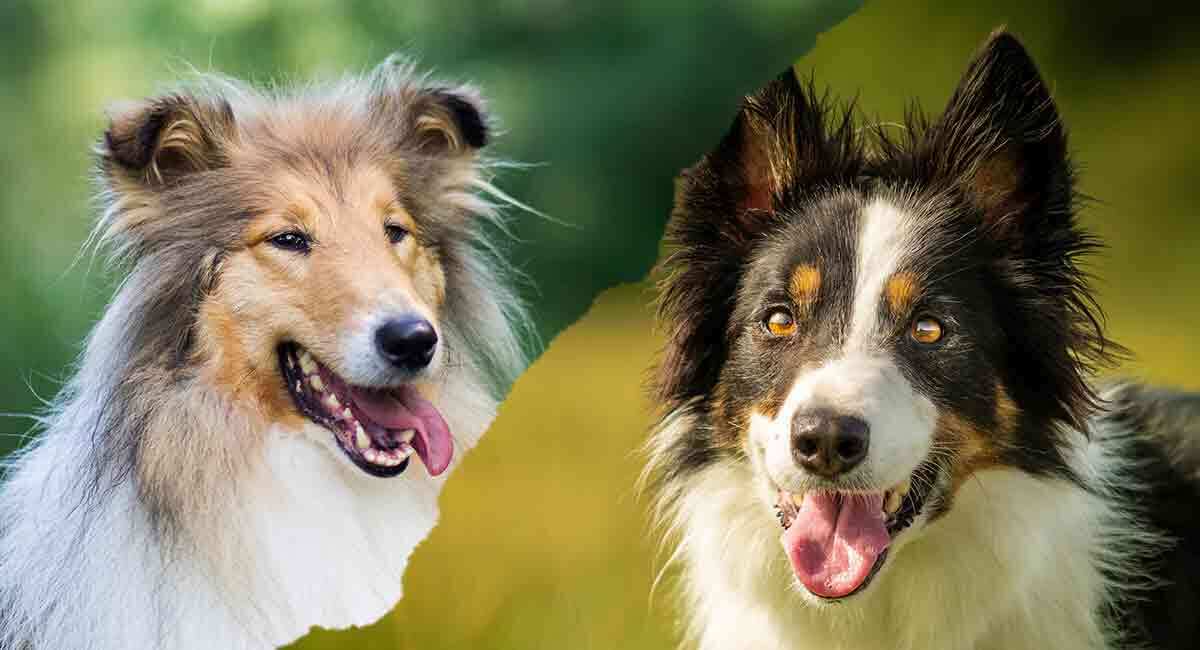 Choosing between a Rough Collie vs Border Collie means pitting two beloved herding breeds against each other for your affections.
Both dogs are clever, loyal and highly trainable. But both breeds are also very high energy and shed a lot. So, they won't be suitable for all households.
Some pet parents prefer the Rough Collie for their more easy-going nature. But others wouldn't be without a Border Collie to keep up with their love of the outdoors.
In this article, we'll set out the similarities and differences between Rough and Border Collies. So that you can pick the right one for you with confidence.
Rough Collie Vs Border Collie – Which is Best?
Rough Collies and Border Collies both have famous reputations, and many admirers all over the world.
Neither one is better than the other.
But depending on your household, your lifestyle, and your circumstances, one of these breeds might be a better fit for you at the moment.
And we'll help you determine which that is.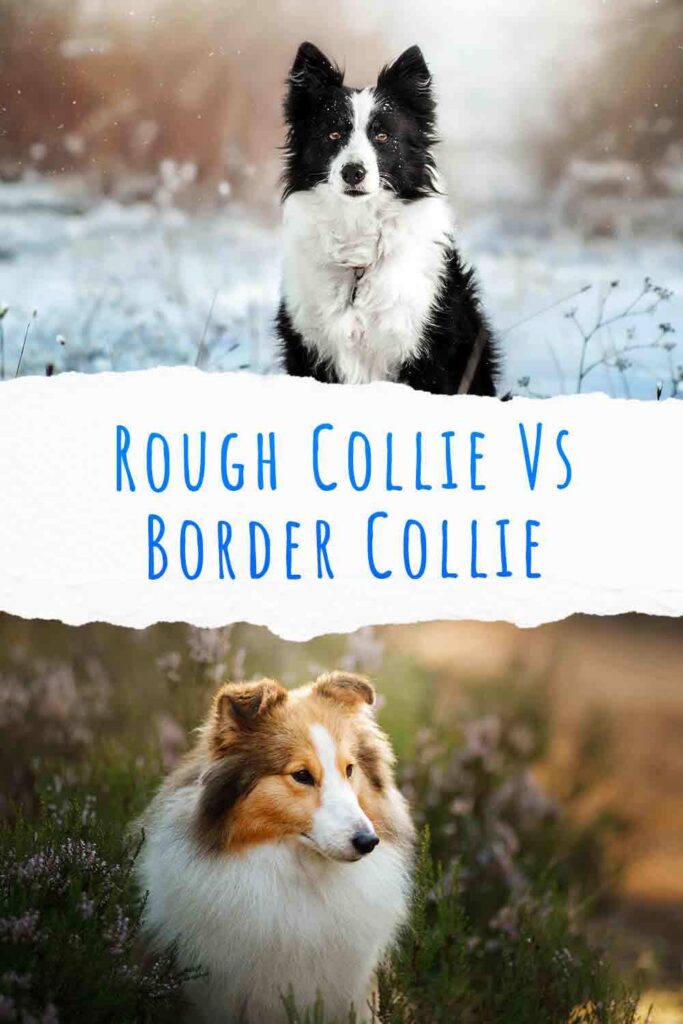 Rough Collie vs Border Collie: Contents
If you like, you can use the following links to navigate this article.
Or, you can join us from the beginning, to find out everything you need to know!
Rough Collie vs Border Collie History
Where else to start, but with the origins of each breed?
It might seem like old news today, but the early history of a dog breed can make a huge impact on what they're like as a pet today.
So let's see what a Rough Collie's roots tell us about them.
Rough Collie History
Rough Collies started out in Scotland just over 2,000 years ago.
They were originally the result of crossbreeding between native Scottish herding breeds, and dogs brought over to Britain by the Romans.
They helped sheep farmers with their flocks, but kept a pretty low profile until the reign of Queen Victoria.
She was such a fan, that interest in them surged all over the world. From sheep farmers and non-sheep farmers alike.
By the time the American Kennel Club was founded in 1885, they had already long since established a loyal fanbase in the United States. And so they were one of the first 14 breeds to be recognized.
Border Collie History
Border Collies are another dog breed native to the UK.
Many think that they were the result of interbreeding between Roman herding dogs and Viking spitz-type dogs.
The new crosses were prized for their herding ability, combined with sturdiness and nimbleness. They were well suited to working in rocky and mountainous regions.
Despite their popularity, Border Collies weren't registered with the AKC until 1994.
Fans of the breed resisted AKC registration for so long because they were worried that it would shift the focus of breeding from working ability onto looks.
Rough Collie vs Border Collie Fun Facts
Rough Collie Vs Border Collie Appearance
Can looks alone help you choose the right dog? Let's find out.
Rough Collie Looks
Rough Collies are by far the bigger dog.
They weigh 35 – 75lbs and stand 21 – 26 inches taller at the shoulder. Males are usually bigger than females.
Their outer coat is long, straight and "harsh" (as opposed to silky). They also have a dense undercoat, to keep them warm whilst working outdoors over winter.
Under all that fur, their body shape is lithe and streamlined, due to outcrossing with Greyhounds early in their history. This is most noticeable in their long, slender face.
Rough Collies' coats can be white, tricolor, sable and white, or blue merle color.
Fun fact: Aficionados of the Collie breed are so completely happy with how their gorgeous canines look, that the official breed standard hasn't been changed in over 40 years!
Border Collie Looks
Border Collies are shorter and stockier than Rough Collies.
They weigh 26 – 44lbs, and stand 18 – 22 inches tall at the shoulder.
So there is also less variation in size within the Border Collie breed, than there is between the biggest and smallest Rough Collies.
Their coat is shorter than a Rough Collie's. It can be straight or wavy.
There aren't any rules about what color they can be. But black and white is by far the most common.
Rough Collie Vs Border Collie Temperament
Both Rough and Border Collies were originally, and in many cases still are, working herding dogs.
And this shines through in their temperament. Both dogs are very responsive to training, and can learn a lot of different cues.
Rough Collies
Rough Collies are loyal, and very patient with children.
They are more inclined to be wary of strangers than Border Collies. Which means they are popular for fulfilling a dual role of herding dog and guard dog.
Some lines of Rough Collies are prone to fearfulness. So much so that scientists in Sweden believe they have pinpointed a specific gene which is responsible for it.
Some Collies have a high chase instinct, and some are quite enthusiastic barkers. But these qualities aren't uniform across the breed. They vary from one dog to the next.
Border Collies
Border Collies on the other hand are world-famous for their brains.
One notable Border Collie called Chaser has learned the individual names of over 1,000 of her toys!
And researchers have even reported that she can understand simple sentences, and the importance of syntax. Such as the difference between "take the frisbee to the ball" and "take the ball to the frisbee").
Border Collies' intelligence means they excel as working dogs, and also in obedience and agility competitions.
But it also means they quickly get bored, frustrated and distressed if they are left alone or ignored for much of the day.
Borders Collies are usually confident and friendly with proper socialisation and training. But they can take a while to warm up to strangers.
Border Collies are also notable for their strong herding instincts. They might try to round up smaller pets or children which they think have strayed from where they should be.
Rough Collie vs Border Collie Training
Both the Rough Collies and Border Collies respond well to force-free training using positive reinforcement.
Since both breeds can be wary of strangers, it's important to socialise them well as puppies. This reduces the risk that their nervousness will turn into aggression when they're older.
As they grow up, frequent, structured training sessions like those in our Dogsnet Training Courses are perfect both for shaping their behavior. And also meeting their need for mental stimulation.
Advanced training in skills like obedience, agility, herding and scentwork will also help to prevent your dog getting bored and destructive.
The bouffant Rough Collie benefits from training from a young age to accept being brushed and groomed.
Rough Collie vs Border Collie Exercise
Border Collies and Rough Collies both need a lot of exercise every day.
Border Collies are bred to work outside all day, covering many miles and keeping charge of their flock at the same time.
They are likely to get restless on less than two hours' exercise a day, and divert their pent up energy into unwanted behaviors instead. Bored Border Collies are notorious chewers!
Rough Collies typically demand less exercise than Border Collies. But they are still large athletic dogs. So they need at least an hour outdoors every day.
Rough Collie and Border Collie Health
Raising a dog isn't just a lifelong commitment to training and exercise – it's a significant financial commitment to food and vet's fees as well.
So many people prefer to know in advance what health issues they might face down the line. It can potentially avert a lot of heartache too!
These are the main health concerns of Rough and Border Collies:
Rough Collie Health
We will start off by looking at some potential Rough Collie health issues.
Collie Eye Anomaly
Collie Eye Anomaly is an inherited eye disease which can lead to blindness.
The frequency of Collie Eye Anomaly appears to vary in Rough Collie populations. Some regions report 24% of dogs carrying the disease, and others report 68% of dogs carrying it.
Only dogs who inherit the defective gene from both parents are affected by the disease. So all potential breeding dogs should be screened before mating.
Degenerative Myelopathy
This is a progressive spinal disease. It leads to loss of co-ordination and paralysis of the back legs.
Around 1 in 10 Rough Collies are affected.
Tooth Decay
Around 1 in 10 Rough Collies experience diseases of the teeth and gums in their lifetime.
Multiple Drug Resistance
Despite the name, dogs with Multiple Drug Resistance are actually over sensitive to the effects of medication, because they are unable to transport drugs out of their brain quickly enough.
About 1 in 3 Rough Collies are affected. They can be identified by a DNA test.
Border Collie Health
Now, let's take a closer look at Border Collie health issues.
Hip Dysplasia
Hip dysplasia is an abnormality of the hip joint which develops into painful arthritis.
Around 1 in 10 Border Collies are currently affected. Breeding dogs should be screened to avoid passing it to their puppies.
Collie Eye Anomaly
Around a quarter of Border Collies carry the faulty gene responsible for Collie Eye Anomaly.
Trapped Neutrophil Syndrome
Puppies who inherit the gene for Trapped Neutrophil Syndrome from both parents have compromised immune systems and fail to thrive.
Around 1 in 5 Border Collies are carriers. So breeding dogs should be tested to make sure two carriers aren't mated together.
Legg-Calve-Perthes
Legg-Calve-Perthes is a painful disorder which affects roughly 15% of Border Collies.
Poor blood supply to the hip joint causes the bone to die and crumble away.
Degenerative Myelopathy
10% of Border Collies also experience Degenerative Myelopathy (described above).
Grooming Rough Collies Vs Border Collies
It won't surprise you to learn that one of these dog breeds needs substantially more attention to grooming than the other!
Rough Collies have a long outer coat, and a dense, warm undercoat. Both are prone to tangles and matting without regular attention.
They need brushing every day. Twice a year they "blow their coat", during which they take moulting to a new level, and need even more attention to make sure their shed fur doesn't get trapped and matted in the new growth.
Their coat shouldn't be clipped, and clipping it won't escape the need for daily brushing.
You can read more about the work involved in a Rough Collie's coat here.
What About Border Collies?
Border Collies also come in two coat varieties. Those with longer coats will need more grooming than those with smooth coats.
But, overall, it will still be less maintenance than the Rough Collie.
Border Collies need grooming a few times a week, and will shed more heavily during shedding seasons.
If the amount of grooming is the only thing stopping you from choosing a Rough Collie over a Border Collie, don't forget they come with smooth (short) coats too!
Which Breed Makes A Better Pet?
Perhaps what you've read so far has already given you a clear idea of which dog is a better match for you.
If not, here's our take on which households are better suited to a Rough Collie over a Border Collie, and vice versa.
Both dogs are best suited to households where someone can interact with them for several hours a day. This can be a mix of walking, jogging, cycling, training, playing, and taking part in dog sports like agility or flyball.
Without this high level of engagement they are likely to get bored, frustrated, or distressed, and express that by barking, chewing, digging, or other unwanted behaviors.
Border Collies in particular are best suited to people who can give them several hours of one to one attention every day. Very active retired people, or people who will employ their dog in a working role for example.
Border Collies may also be better left to people who have previous experience of dog training. For the uninitiated dog parent, it is rather like jumping in at the deep end!
Rough Collies are the slightly easier pet. They are better suited to households with children too. Border Collies are more likely to try and herd up young children. This might sound entertaining, but it is actually a surefire recipe for misunderstandings and painful nips.
However, Rough Collies do need more grooming. They may also be more prone to barking at strangers.
Rough Collie Or Border Collie?
Either of these dogs has the potential to be a devoted companion for an active owner with a passion for dog training.
The Border Collie is best left to experienced dog owners, whilst the Rough Collie gets on well with kids.
If the grooming needs of the Rough Collie seem daunting, look for smooth-coated litters.
Whichever dog you choose, look for a breeder who carries out health checks on their sires and dams.
Do you have a Rough Collie or a Border Collie? Tell us about your reasons for choosing them in the comments!
Readers Also Liked
References and Further Reading
Get Pippa's free dog training tips delivered to your inbox