Choosing between a German Pinscher vs Doberman pits a little-known dog breed against a very famous one.
Their shared ancestry means they have a lot in common. But there are some important differences between these strong, working dogs too.
Not everyone will equally enjoy owning either dog. So in this article, we look at the differences that will help you choose the right one for you.
German Pinscher Vs Doberman – Which is Best?
Here's an overview of everything that's coming up in this guide.
You can use the links to jump to topics you're interested in. Or read on, to find out everything there is to know!
German Pinscher vs Doberman History
Confused as to how a dog's past helps you choose between them now?
Well, in the past, people made breeding choices to produce dogs that were good for specific jobs, like guarding or retrieving. These choices play a big role in shaping our dogs' characters today.
And a dog's original purpose can help to explain their differences to other breeds. Let's take a closer look.
German Pinscher History
German Pinschers are one of the oldest German dog breeds. They were first described in the 18th century. Back then, they would guard stables and keep them clear of vermin.
They enjoyed steady popularity for many decades due to their versatility and dependability as working dogs.
But like a lot of dog breeds, their numbers fell into sharp decline during World War 2, when keeping pet animals became impossible for many people living under the hardships of wartime.
After the war, a group of loyal enthusiasts resurrected the breed from a small number of remaining animals.
In 2003 their hard work was finally rewarded in the U.S., when the American Kennel Club (AKC) formally accepted German Pinschers onto their breed register.
Doberman History
The Doberman's other name is, of course, Doberman Pinscher. So it's no surprise that they are partly descended from the same dogs as the German Pinscher.
The Doberman was created by a German tax collector called Karl Dobermann in the late 19th century. He wanted a dog which was powerful, intimidating, and would protect him at work.
Potential contributing breeds include:
German Pinschers
Rottweilers
Weimaraners
Manchester Terriers
Greyhounds
And other unrecorded breeds.
The Doberman breed was further refined following Karl Doberann's death. And besides protection work, they started to enjoy success as police dogs and military dogs too.
Thanks to this, their numbers weren't so dramatically affected by the outbreak of World War 2 either. So, their popularity continued to grow and grow.
They have been recognized by the AKC since 1908, and have occupied a spot in the top 20 most registered dog breeds for many years now.
German Pinscher vs Doberman Fun Facts
Can you picture a German Pinscher from our photos with a wiry coat? In fact, Schnauzers started out as German Pinschers with wire coats. At first they were treated as exactly the same dog. Then they were seen as a distinct variety of German Pinscher. And eventually they were a new breed in their own right.
Due to this, and because the Doberman was created by crossing the German Pinscher with so many other breeds, the modern German Pinscher is more closely related to Schnauzers than Dobermans!
Dobermans' high profiles have secured them many roles in film and TV. This includes Disney Pixar's Up and Magnum P.I..
German Pinscher Vs Doberman Appearance
The most notable difference between German Pinscher and Doberman appearance is their size.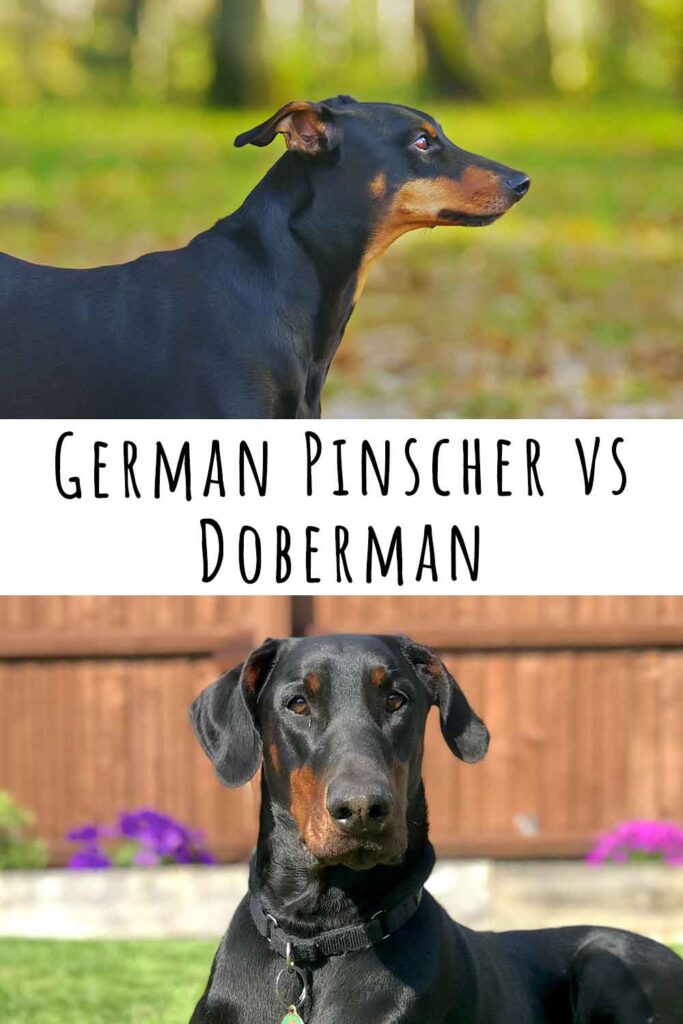 German Pinschers are a compact, medium sized dog. But male Dobermans can reach a whopping 100lbs!
Let's look closer.
German Pinscher Looks
German Pinschers weigh 25-45lbs. Their height at the shoulder is between 17 and 20 inches.
Physically, their build looks athletic and sturdy.
Their short, sleek coat is either black with red points and trim (known as black-and-rust), or red all over.
In the U.S. it is still common to crop their ears and dock their tail not long after birth. But, these practices are illegal in many other regions.
Doberman Looks
By contrast, the Dobie is massive. Males stand 28 inches tall at the shoulder, and weigh 75-100lbs. Females are slightly smaller. They tend to weigh 60-90lbs.
Despite their size, they look lithe, due to their impressive muscles and tight coat.
Their colors can be black-and-rust or red, like the German Pinscher. But dogs with dilute colors – blue or fawn – are also recognized in the official breed standard.
Cropping Dobermans' ears is still common, and even desirable for show-quality dogs in America. But in other places it is falling out of favor, and even being made illegal.
German Pinscher Vs Doberman Temperament
For a lot of people, a significant reason for considering another breed in place of a Doberman boils down to one question:
Are Dobermans Dangerous?
Dobermans were created for protection work. Which is effectively performing aggressive behaviors on cue.
So it's hardly surprising that Dobermans are more likely than most dogs to display stranger-directed aggression.
They're also unusual among dogs which behave aggressively, in that the aggression is less likely to be a result of fear.
And according to medical data about dog bites treated in hospitals, Dobermans present a high risk of injuring people, after Pitbulls, Rottweilers, German Shepherds and their crosses.
This highlights the vital importance of socializing a Doberman puppy carefully, and doing extensive obedience training, to make sure that your Dobie is a safe Dobie.
Other Notable Traits
Other notable Doberman traits include:
Being loyal and attentive to their own family.
Watchdog barking.
Rarely aggressive towards other dogs.
How Do German Pinschers Compare?
German Pinschers on the other hand have never been intensively breed for protection work.
Which means their instinct to distrust strangers is not as strong.
But since the German Pinscher is still quite uncommon, it isn't well represented in scientific research about the temperaments of different breeds.
The UK breed club describes them as:
having a high prey drive
inclined to watchdog barking
very energetic
German Pinscher vs Doberman Training
Both of these dogs need thorough training from puppyhood. They both need to be socialized carefully from puppyhood, so that they are calm and confident with new experiences in future.
Since Dobermans grow so large, obedience training is important to make sure they don't accidentally harm someone by jumping up at them.
They also need to be taught how to behave safely around unfamiliar people. When you choose to own a dog which poses a known risk of harm to other people, it is your responsibility to make sure they are safe.
German Pinscher puppies need to be carefully socialized to smaller pets in their new home, so that they don't mistake them for prey.
Since both breeds are clever, daily structured training games will also help to tire them out more than relying on physical exercise alone.
Force free training using positive reinforcement to reward good behavior is the most effective way to train either breed.
German Pinscher vs Doberman Exercise
Dobies and German Pinschers are both muscle-bound, athletic, active dogs.
As adults, they need 1-2 hours of physical exercise every day.
Plus time spent playing games and training, to provide mental stimulation.
But, it's important not to over exercise them as puppies. The Doberman, especially, takes longer to reach physical maturity. Over-exercising them as a puppy can cause permanent damage to their immature joints.
As a rule of thumb, plan for 5 minutes of exercise for every month old they are, until they reach their first birthday.
German Pinscher and Doberman Health
We all want to find a dog which will keep us company for as long as possible. And bring as little heartache (and expense) as possible in terms of health problems.
Which One Lives the Longest?
An intriguing phenomenon in dogs is that smaller dogs often live longer than larger dogs.
And the same is true of the Doberman vs German Pinscher.
Dobies live, on average, for 10-11 years.
Whilst German Pinschers have a slight edge on them, and live 11-12 years on average.
Which is Healthiest?
During their lifetime, either of these dogs may also experience one of the hereditary diseases common in their breed.
For Dobermans these are:
Hip dysplasia
Heart disease
Hypothyroidism
Prostatic disease (enlarged prostate) in male dogs
And the bleeding disorder von Willebrand's disease
And for German Pinschers they are:
Hip dysplasia
Heart disease
Progressive retinal atrophy
von Willebrand's disease
And post-vaccine complications.
Health Testing
Fortunately, all of these conditions can be found by a veterinary exam or DNA test.
So, breeders can screen their sires and dams ahead of mating, and only breed from healthy dogs.
Asking for proof of these tests is just one important part of finding a well raised puppy.
But what else should you look for?
German Pinschers vs Doberman Puppies
It's vital to always take your time finding a reputable, ethical puppy breeder.
This is especially true of Doberman breeders.
Partly because of the potential for poorly bred puppies to be dangerously aggressive.
And partly because there has been a widespread historical problem of people doing exactly that – trying to create dangerous dogs as weapons or status symbols.
German Pinscher vs Doberman – Which Breed Makes A Better Pet?
German Pinschers and Dobermans are both energetic dogs. They need lots of exercise and mental stimulation.
They need homes which can provide that. And in return they will lavish their human family with love and devotion.
The German Pinscher is much smaller than the Doberman. So they are better suited to homes where fitting in a large dog bed, or storing huge bags of dog food is an issue. But, their need for exercise means they're still not right to apartment living.
The Doberman's size, and the potential for tragic consequences if they're not properly socialized, trained, and controlled around new people means they may be best left to experienced dog handlers.
Even though the Doberman has the potential to be a wonderful pet, it's also impossible to escape people's preconceptions of this breed whilst out and about with them.
And in this respect, the German Pinscher captures the Dobie's iconic looks, but in a smaller, less intimidating package.
Have You Decided?
Whichever breed you choose, take some time to hang out with them before you bring one home.
Do you have a German Pinscher or Doberman? Tell us about your reasons for choosing them in the comments!
Readers Also Liked
References and Further Reading
Get Pippa's free dog training tips delivered to your inbox