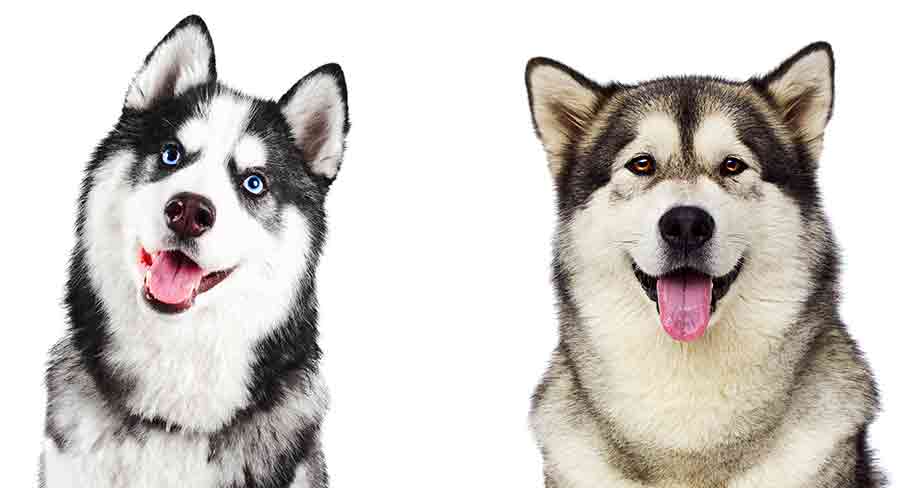 Alaskan Husky vs Siberian Husky – which breed is best for you? Both dogs are active, intelligent, and hard working breeds that excel with a job to do.
But, Siberian Huskies may be more suitable to a family home. As Alaskans are more often bred to work.
The main differences between these breeds lies in their origins, lineage, and status with breed registries. Their appearance, temperament, and trainability are quite similar.
Are you ready to find out more about which breed will suit you?
Alaskan Husky vs Siberian Husky
In truth, neither breed is better than the other. But, one could be better for your lifestyle and home situation.
It's important to match the right dog to your home. Even if you've already narrowed it down to a type of Husky.
Siberian Huskies are a purebred breed. The AKC and other registries officially recognize them.
But, the Alaskan Husky is not yet AKC recognized. They are a mixed breed that often involves the Siberian Husky dog.
The main difference between these two dogs is the purpose for which they are bred.
Siberians, as an official breed, are often bred for championship status. Or to meet a very specific breed standard. Alaskans, on the other hand, are bred to excel as working dogs. There is less focus on their appearance.
Alaskan Husky vs Siberian Husky History and Purpose
These two types of Husky have very similar origins. But, differences arise when we look at how their purpose has evolved over the past century or so.
The Siberian Husky was first bred by the Chuchki people in eastern Siberia. As the breed's name suggests!
They started out as a working dog. Then owners brought them to Alaska in 1908 to compete in dog sled racing as a sport.
Alaskan Huskies, in contrast, originate in Alaska. They are a mixed breed. Their lineage includes purebred dogs such as the Siberian Husky, the Saluki, and various Pointers and Shepherd breeds.
Their More Recent History
The Siberian Husky was recognized by the AKC in 1930. But the Alaskan is not yet officially recognized.
Today, Alaskans are still bred more for working ability than for any breed purity. Which can be seen in their ancestry.
Siberians are more often bred to fit the specifics of the AKC breed standard, or as family pets. Although, a small number may still serve in their original working dog or sporting purpose.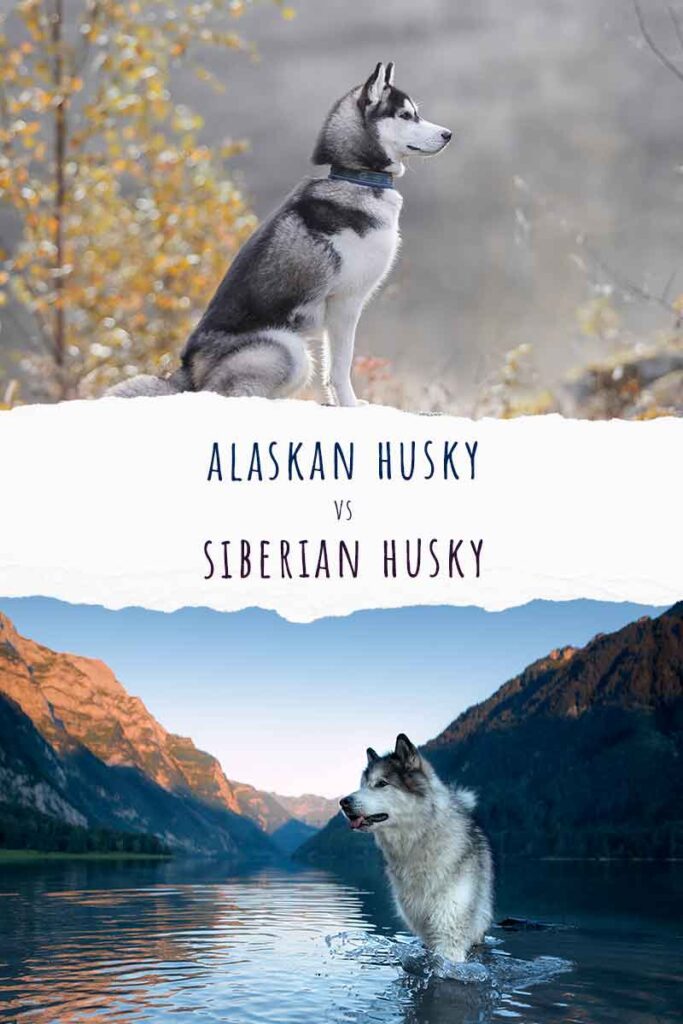 Alaskan Husky vs Siberian Husky Appearance
Appearance is another area where these two breeds can differ. But, since they share quite a significant amount of DNA, both husky types have a typical 'wolfish' look.
Both are likely to have an overall athletic physique, with a dense, double layer coat to protect them from cold weather conditions.
Differences in appearance mainly arise in the breeding process.
Siberians are bred to fit a specific breed standard that focuses on fostering certain physical traits. Whereas, Alaskan Huskies are bred for working ability. Regardless of a specific appearance.
Size
Siberian Huskies, to fit their breed standard, must grow to be between 20 and 23.5 inches tall at the withers.
They can weigh anywhere from 35 to 60 pounds. Females are often smaller than males.
Alaskan Huskies have quite a bit more variation. Their general weight is often similar to Siberian Huskies, ranging from around 35 to 60 pounds. But, Alaskans are usually shorter than Siberian Huskies.
Similarly to Siberians, female Alaskan Huskies are often smaller than males.
Of course, there will be some Siberian Huskies that fall outside the breed standard's specifications. But, they will be disqualified from show.
Because the Alaskan Husky has no breed standard, their working ability will always be more important than their specific height or weight.
Coat Type
Both the Alaskan and Siberian Husky breed have histories that involve working in low temperatures and extreme weather. Their coats reflect this original purpose.
The Siberian Husky has a thick, medium length, double layer coat. It will shed heavily during shedding season.
According to their breed standard, Siberians can be disqualified from show if their coat is too "long, rough, or shaggy". Or if its texture is too harsh.
Alaskan Husky coats can be short to medium in length. It will vary depending on the influence of other breeds in its lineage.
But, despite its exact length, the Alaskan's coat will be dense and double layered to protect them from the cold.
Coat Colors
Alaskans can be any color, with any markings. There are no restrictions on the patterns or shades on their coat.
But, they will usually never be bred for a specific coat color. Breeders alwyas prioritise working ability over a specific appearance.
According to the breed standard, Siberian Huskies are also allowed in any color. They can have a variety of markings.
Unlike Alaskans, it's common that some Siberians will be bred for a certain popular coat color or pattern.
A particular popular trait is blue eyes. Blue eyes are possible in both Alaskan and Siberian Huskies. But they are more common in Siberians, who are often bred to have the trait.
Alaskan Husky vs Siberian Husky Temperament
Like their appearance, the general temperament of Alaskan and Siberian Huskies is quite similar at first glance. But, there are some subtle differences that make one more suitable for family life.
Both breeds are hard-working, energetic, loyal, and independent. Thanks to their origins as working dogs!
They are also intelligent and quick to understand new commands. But many owners find them moderately difficult to train.
This is because they have a lot of energy. And doing things we perceive as being naughty is often a rewarding way to channel that energy.
Many novice trainers are caught unawares by how much mental stimulation and engagement Huskies need before they don't have any energy left for pursuing mischief!
Both breeds are also known to be quite vocal. So, you won't be able to avoid howling and barking in either. They'll love talking to you or singing along to music.
Natural Instincts
Both Alaskan Huskies and Siberian Huskies may also display natural working dog instincts.
This means they may be prone to chasing small animals in your home, and may not be very tolerant of small children that don't know how to properly interact with dogs.
It's important to socialize both of these breeds well, no matter which you bring home. This will help to reduce any risk of aggression.
Since the Alaskan Husky is bred more for their working ability, they are more likely to display strong natural instincts.
So, if you're looking to get one of these breeds as a family pet, the Siberian will usually be the better choice.
Undesirable Behaviors
Both of these breeds will likely be quite vocal in the house and when having fun exercising outside.
They are both highly intelligent breeds with a very high energy level. But, if their mental and physical needs aren't met, they may be more likely to show undesirable behaviors. This can include:
Howling
Barking
Digging
Climbing
Chewing
Zoomies
On top of these undesirable behaviors, a Husky whose needs aren't being met can become stressed and depressed.
Alaskan Husky vs Siberian Husky Exercise
Both of these breeds are very energetic. But, the Alaskan Husky is likely to have higher energy and exercise needs than the Siberian.
This doesn't mean a Siberian Husky will be lazy or low-energy.
Both of these dogs need daily active time to burn off energy.
They may benefit from canine sports such as agility and obedience. Or you can find somewhere that offers sled dog training.
Your Husky, no matter which type, will love the opportunity to put their mind at work as well as their body.
Alaskan Husky vs Siberian Husky Training
Both of these breeds need training from an early age to encourage the best temperament.
They will take well to training. As long as sessions are kept short, interesting, and frequent.
You may benefit from working with a dog trainer who has experience with Huskies.
Positive reinforcement will help you create a strong bond with either Husky. And, training can offer a small amount of exercise.
Alaskan Husky vs Siberian Husky Health
All dog breeds are prone to certain health risks and heritable diseases.
But, both Siberians and Huskies can suffer from some common health issues.
Potential owners should be aware of the following:
Hip and elbow dysplasia
Progressive Retinal Atrophy (PRA – vision loss)
Hypothyroidism
Skin problems
Hereditary deafness.
Extra Issues in the Alaskan
Alaskan Huskies can also suffer from Alaskan Husky Encephalopathy (AHE), an incurable brain disorder.
A genetic test is available to stop this from passing to future puppies.
One study also found that Alaskans with blue eyes and white face markings were more often than others in the breed to suffer from congenital laryngeal paralysis.
Alaskan Husky vs Siberian Husky Puppies
When it comes to finding puppies, you are likely to have more luck finding Siberian Huskies.
Siberians are more popular, since breeders will breed for certain traits rather than working ability.
It's much less common to find people looking for Alaskan Huskies as a family pet. They are usually only bred for work.
Alaskan Husky puppies can range in price from around $500 to $1500. It will depend on the lines they come from, their temperament as a working dog, and more.
Siberian Husky puppies, on average, will range from around $600 to $2000. Again, cost will depend on lineage, demand, and certain traits.
Overall, no matter which breed you choose, finding a reputable breeder is the most important thing.
Alaskan Husky vs Siberian Husky – Which is Best?
In reality, neither breed is better than the other. But, one may be better for your family.
If you're looking for a family pet, more often than not the Siberian Husky will be better for you.
They have slightly lower needs when it comes to exercise and training. But, both breeds are very active, with high grooming and mental stimulation needs.
You may have more luck finding a Siberian Husky. They are currently a more popular family pet, and can be AKC registered.
But, with proper training, socialization, and stimulation, both breeds can be great dogs for the right person.
Make sure to be honest with yourself about the time and cost you are able to dedicate to your dog.
Alaskans in particular are very high energy and are happiest when they are outside working.
Alaskan Husky vs Siberian Husky – Which Breed Did You Choose?
Of course, every individual dog is unique. Do you have one of these breeds at home?
Or, perhaps you've been lucky enough to own one of each of these wonderful Husky dogs!
We would love to hear about your experiences with the Siberian and Alaskan Huskies in the comments.
Readers Also Liked
References and Resources
Get Pippa's free dog training tips delivered to your inbox