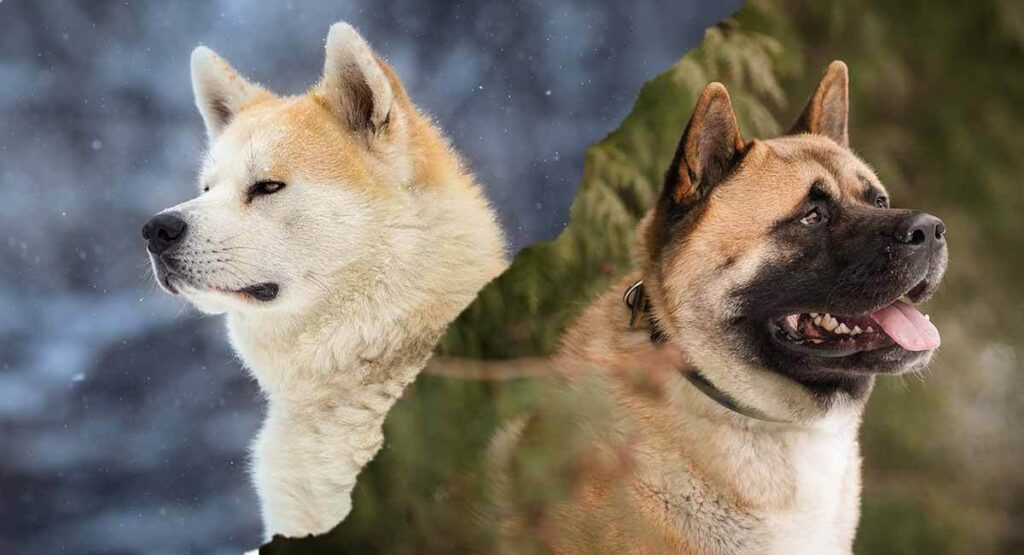 American Akita vs Japanese Akita – which one is right for you? Both the American and Japanese Akita varieties originate in Japan, with their roots as hunting dogs.
Some consider these lines to be two separate breeds. But the AKC groups both types under the same breed.
Both varieties of Akita are large dogs, known to be very loyal, territorial, and potentially aggressive. So, both Japanese and American Akitas must be well socialized.
American Akita vs Japanese Akita Contents
You can click the links below to jump straight to a section that interests you.
Ready to find out everything you need to know about the differences between these two Akita dogs? Let's get started!
American Akita vs Japanese Akita History
For many people, both the American Akita and Japanese Akita are considered unofficial strains of the same breed. In fact, the American variety didn't actually exist until after the Second World War.
Before this, Akitas were a well-loved breed in Japan, descending from the ancient Matagi hunting dogs.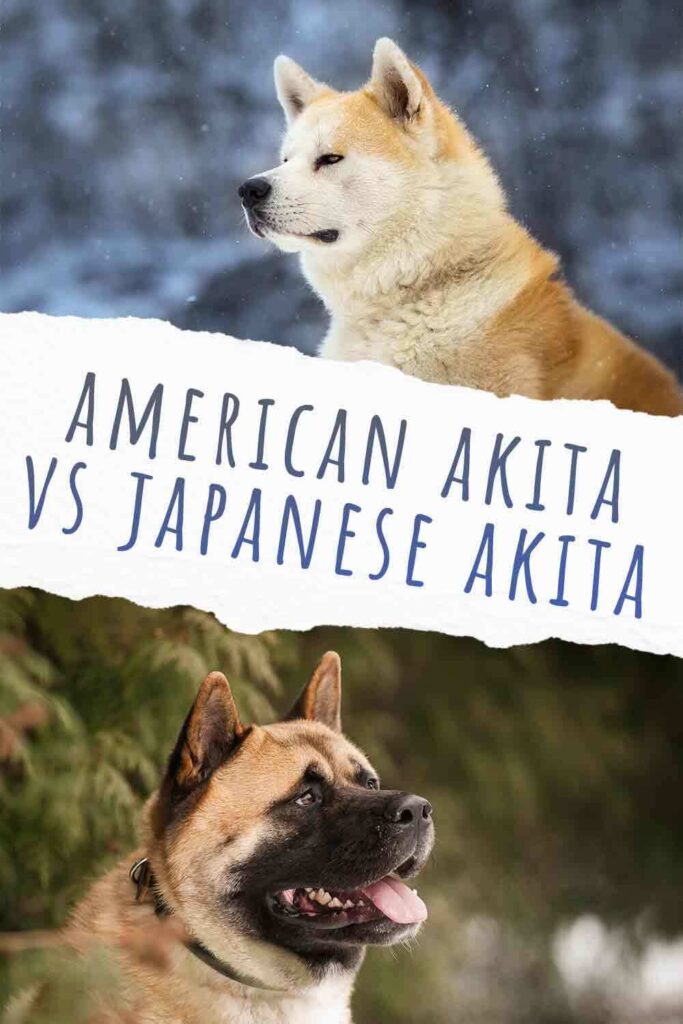 Helen Keller was the first to bring the breed to America. She was gifted an Akita in 1938 whilst visiting Japan and brought it home with her.
After World War Two, American service members brought more Akitas home, helping to boost the breed's popularity in the states.
Differences began to emerge. In America, people bred Akitas to be big and bear-like, whereas in Japan, breeders tried to keep to the original breed stats.
American Akita vs Japanese Akita Appearance
Both the American and Japanese Akita dogs are considered to be large breeds. But, the American variety is slightly larger.
Generally, both types will weigh upwards of 100 pounds, growing somewhere between 24 and 28 inches tall at the shoulder. Females are usually smaller than males for both types.
Both types have thick, heavy coats and triangular ears. But, there is some variety in their features.
The American Akita has been bred to have a bear-like appearance, with a square, boxy head. The Japanese Akita, instead, has a more fox-like appearance, with a pointed snout.
Many people will notice the similarities between the Japanese Akita and the other popular Japanese breed – the Shiba Inu.
Coat Colors
Another area in which these two breed strains differ is their coat colors.
The fox-like Japanese Akita comes in four different colors: red fawn, sesame, brindle, and white.
On the other hand, the American Akita has a much wider spectrum of shades. As well as the colors above, the American Akita can be:
And various shades of brindle.
American Akita vs Japanese Akita Temperament
Both types of Akita are known to be incredibly loyal and devoted to their owners.
In fact, an Akita known as Hachiko was honored with a statue after he travelled to Shibuya station every day to greet his owner, continuing the habit for 10 years after his owner's death, until his own.
However, this loyalty comes with its downsides. One of which is aggression.
Both American and Japanese Akitas are known to be aggressive breeds, particularly towards other dogs.
They form very strong bonds with their families, and may therefore display guarding behaviors, including aggression, towards anything unfamiliar.
A Closer Look
The tendency towards aggression in this breed is backed up with scientific research.
Plenty of studies have looked into aggression in dogs, trying to determine if some breeds are more aggressive than others. In many of these, Akitas are classified as some of the most aggressive.
For example, one questionnaire asked veterinarians in New Zealand to rank dog breeds in terms of aggression. Akitas were regarded as "very aggressive".
Another study looked at dog aggression towards strangers, owners, and other dogs.
This study found that Akitas scored highly for dog-directed aggression, with over 20% of Akitas studied displaying serious aggression towards unfamiliar dogs.
As Akitas are such large dogs, any physical aggression towards other dogs or even people can have dire and fatal consequences.
What to Do
This doesn't mean that you should never get an Akita. In fact, with proper training and socialization, both American and Japanese Akitas can make great companions.
However, socialization from a young age is vital to minimise the risk of aggression.
It will reduce the chance of guarding and territorial behaviors, but may not eradicate them altogether.
So, make sure you always keep a close eye on your Akita with unfamiliar dogs, children, and people.
These dogs come from hunting lines, so will also likely have strong chase and kill instincts. They may react aggressively towards other household pets, like cats.
So, if you have other animals at home, you may want to consider a different breed.
American Akita vs Japanese Akita Exercise Needs
Both types of Akita descend from hunting dogs and require a moderate amount of daily exercise to stay happy and healthy.
There isn't a huge difference between the two types in this category.
However, as both varieties are large breeds, you should be wary of over-exercising them as puppies.
Studies have shown that large breed dogs are more likely to be at risk of health problems like hip dysplasia, and overexercising puppies whilst they are growing can worsen this problem.
Your vet is best positioned to advise you on exactly how much exercise your Akita will need.
American Akita vs Japanese Akita Training
Training is vital for both types of Akita, but this is no easy feat. Despite their immense loyalty, both the American and Japanese Akita can be hard to train.
Neither of these dogs are a good choice for first-time owners.
They need consistency in their training, and owners may benefit from professional dog training help.
You can use the Akita's loyalty and devotion to your advantage when training them. Use positive reward methods to build on this bond when training.
You may want to look at online dog training courses for help with a structured training plan.
American Akita vs Japanese Akita Health
Both varieties of this breed tend to share the same potential health risks. Responsible breeders will health test dogs for any problems, but some of these issues cannot be tested for.
Here are some health issues you should learn about if you're considering either the American or Japanese Akita.
Progressive Retinal Atrophy
Myasthenia gravis
von Willebrand's disease
Autoimmune thyroiditis
Bloat
In terms of their general care, both types of Akita will need regular grooming, particularly during heavy shedding periods.
But, in general, these dogs are good about keeping themselves clean. Make sure they get enough exercise and a high quality diet.
American Akita vs Japanese Akita Puppies
If you're living in America, you may find it easier to get an American Akita. But, it's still possible to find Japanese Akita puppies for sale.
Both types tend to cost upwards of $1000 as puppies, but remember to only buy from reputable breeders.
Show quality puppies will often cost more than those intended as family pets.
When you bring a puppy home, socialize them as soon as possible.
Alternatively, you can consider rescuing an Akita. But work closely with the rescue center staff to ensure your chosen Akita has the right temperament for you.
Which Akita is Right for Me?
Choosing between an American Akita and a Japanese Akita can be tough for a lot of people! But, there aren't a huge amount of distinguishing features.
Generally, the American Akita is a lot bigger, with more bear-like features, and a much wider variety of colors.
But, both types have very similar temperaments, exercise needs, trainability levels, and health risks.
No matter which type you decide on, make sure that you train and socialize them very well from a young age to reduce any risk of aggression.
Neither type is best for novice owners, or for homes with other dogs and other small pets. Never leave them unsupervised with other small animals or other dogs because of hunting instincts.
American Akita vs Japanese Akita – A Summary
Whether you choose the American or Japanese version of this breed, you will have a loyal companion with a rich history.
Both types need plenty of exercise, grooming, and will form a strong bond with their immediate family.
Which one do you think is right for you? We would love to hear your experiences with both types of Akita in the comments!
References and Resources
Get Pippa's free dog training tips delivered to your inbox