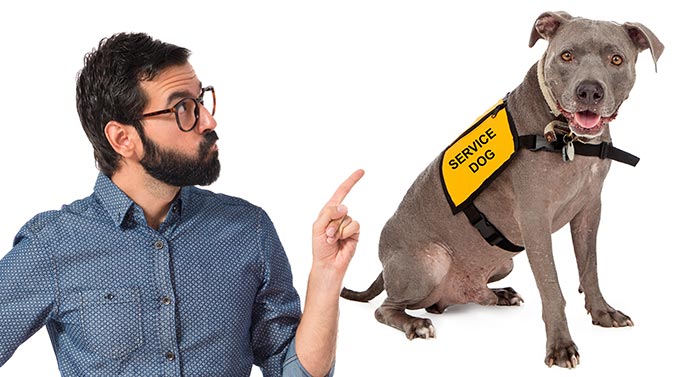 What is considered a service dog, and how do you know if you're eligible for one?
Under the Americans with Disabilities Act 2010 (ADA) a service dog is trained to perform a specific task.
One which helps a disabled person with their disability.
Any breed can be trained as a service dog.
The range of tasks they can be taught to perform are as varied and individual as the people who need them.
What Defines A Service Dog?
A service dog is defined as a dog that is individually trained to do work or perform tasks for a person with disabilities.
The tasks the dog performs must be specifically related to their handler's disability.
Disability is defined as:
"A physical or mental impairment that substantially limits one or more major life activities, a person who has a history or record of such an impairment, or a person who is perceived by others as having such an impairment."
These definitions all come from the ADA, which makes them part of federal law.
Service Dog Rights
Dogs which meet the definition of a service dog can accompany their owner into any place open to the public.
The only questions staff may ask are:
"Is the dog a service animal required because of a disability?"
and
"What work or task has the dog been trained to perform?"
They can't ask about details of the disability, require any documentation about the person or the dog, or demand a demonstration!
Service dogs can't be asked to leave public premises unless they are out of control, or they aren't toilet trained.
Dog allergies or phobias are not a sufficient reason to turn away someone with a service dog.
Disabled people can't be charged extra for their service dog to access places with them.
What Is Considered A Service Dog?
For most people, their first mental image of a service dog is a Labrador Retriever.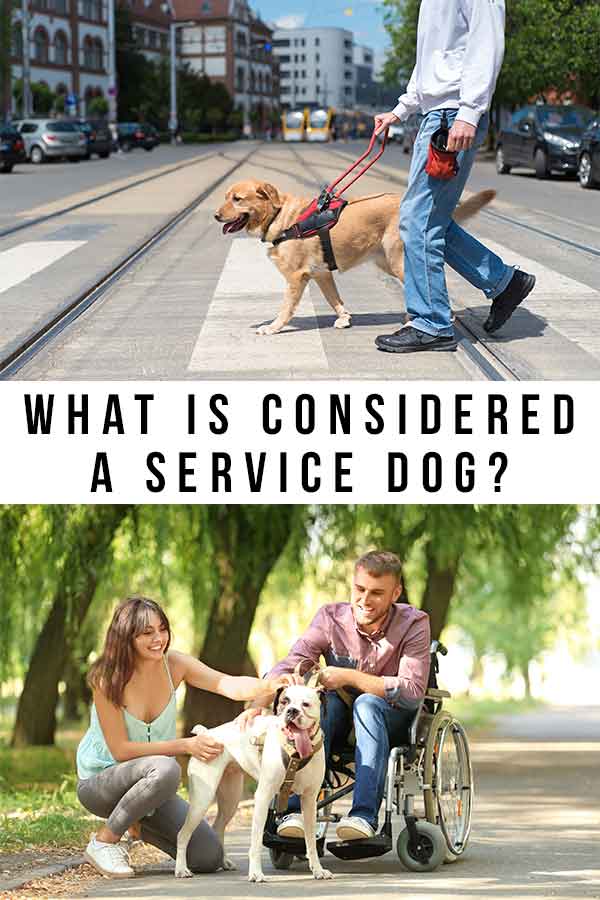 But the ADA doesn't place any rules on which dog breeds can become service dogs.
Labs are well suited to the role because they are easy to train, enjoy working closely with a human handler.
And typically calm and confident around new people and in unfamiliar situations.
But all kinds of dogs can become service dogs.
For example, small breeds like Miniature Poodles are often successful hearing dogs.
Hearing dogs don't usually need to be strong enough to stop their handler in their tracks, or pull them out of a chair.
And being small makes them easier to travel with in other ways.
Types Of Service Dog
As of 2016, there were approximately half a million service dogs working in the United States.
Let's take a look at some of the wide-ranging and varied tasks they've been performing!
Seeing eye dogs
Seeing eye dogs are service dogs for blind and visually impaired people.
They're almost certainly the best known type of service dog, and they're frequently the most easily recognizable too.
Guide dogs for blind people often wear a brightly colored jacket while they're working.
Even though service dogs aren't legally required to wear anything which identifies them as a service dog,
They also wear a distinctive rigid handle, which enables their handler to better receive information from their dog.
Common tasks seeing eye dogs are trained to do include:
Navigating busy sidewalks and obstacles.
Stopping at kerbs, steps, and specific doorways.
Judging height, and preventing their owner from bumping their head.
Blocking their handler from walking into an unsafe situation.
But guide dogs owners report that the benefits don't stop there!
They say that having a guide dog with them also boosts their confidence, and makes new situations less intimidating.
It also acts as an icebreaker for conversations.
Hearing dogs
Another well-known type of service dog is one supporting a person with deafness or hearing loss.
Service dogs for deaf people are trained to recognize and alert their owners to important sounds, such as:
Doorbells
Alarm clocks
Smoke alarms
Someone calling their owner's name
Service dogs for people with physical disabilities
There are many ways that service dogs can be trained to give specific help to people with physical disabilities.
For example:
Helping people maintain balance and direction whilst walking.
Picking up dropped items or mail from the floor.
Opening doors.
Turning lights on and off.
Protecting someone having a seizure, or seeking help for them.
Large dogs can even help their owners to lift themselves from seated to standing.
Psychiatric service dogs
Service dogs for psychiatric disabilities are one of the less well known types of assistance dog.
In fact, people with "invisible" illnesses like post-traumatic stress disorder (PTSD) report that there is a lack of awareness about psychiatric service dogs.
This sometimes leads to awkward misunderstandings.
Causing unkind comments and businesses trying to deny disabled people their legal right to have their service dog with them in public places.
In fact, service dogs can be trained to provide life-changing support to people with mental health disabilities.
Such as:
Reminding them to take medications.
Interrupting flashbacks and dissociative episodes.
Providing tactile grounding by licking.
So next time you see a dog wearing a service dog vest, don't assume that the person with them will "look" disabled.
Or that they need their dog any less if they don't!
Autism assistance dogs
One of the most recent ways service dogs have been trained to work is as autism assistance dogs.
Tasks autism assistance dogs might perform include:
Sitting on their owner's feet, to providing tactile grounding.
Blocking children with autism from leaving the house.
And prompting their owner to recognize important sensory input, like alarms.
Many people with autism report that their dogs provide social support and make social interactions easier.
They also reduce feelings of stress and anxiety just by being there.
In this sense, they act like both a service dog, and an emotional support dog.
Are Emotional Support Dogs Service Dogs?
No, emotional support dogs and service dogs are different.
Service dogs are trained to perform specific tasks for their owner.
But emotional support dogs work just by providing their company.
Emotional support dogs have some special legal rights, but not as many as service dogs.
Do Service Dogs Need A Certificate?
No, service dogs do not need a certificate.
In fact, the Department of Justice specifically warns against being persuaded unnecessarily to pay for your service dog to be entered on a register or certified in some way.
Are Service Dogs Pets?
Service dogs are more than just pets.
But when they're not on duty they also enjoy all the perks of being loved and special family members.
Service dogs live at home with the person they're supporting.
And also enjoy the same close emotional bond which pet dogs have with their families.
When they're not in "work mode", they do normal pet stuff instead.
They nap and play with their family, and provide companionship.
Some service dogs even spend their puppyhood with their forever family.
Undertaking their training with them when they're old enough.
But it's more common for service dogs to be raised by foster families.
To be trained by a specialized agency before they move in with the person they're going to serve.
When they're old enough to retire, some service dogs stay on with their disabled person, alongside a new service dog.
Others go to live with a nominated friend or family member of their disabled person.
And the remainder are rehomed for an honorable retirement via the charity which trained them.
What Is Considered A Service Dog? Summary
A service dog is trained to perform specific tasks to help a disabled person overcome their disability.
They have specially protected rights in law to accompany their owner into all places open to the public.
Have you ever met an extraordinary service dog?
Tell us about them in the comments box down below!
References & Further Reading
Get Pippa's free dog training tips delivered to your inbox