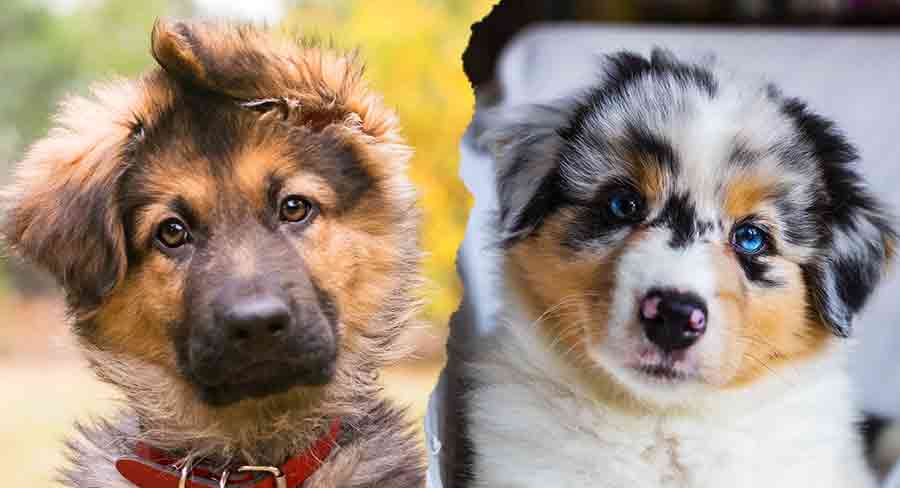 The Australian Shepherd vs German Shepherd debate compares two dogs that you might think are quite similar when looking at their names alone.
German Shepherds are usually larger than Australian Shepherds. But, both dogs have strong natural instincts, loyal temperaments, and fluffy double coats that require plenty of grooming.
Read on to find out which breed is more suitable for your family.
Australian Shepherd vs German Shepherd
In reality, there's no straightforward answer as to which breed is best. It will entirely depend on your lifestyle, the time and space you can dedicate to your dog, and the traits you're looking for in a new pup.
Both Australian Shepherds and German Shepherds have strong roots in working dog histories.
So, they share a lot of traits, both in their temperament and appearance.
But, there are a few differences that can really impact which is best for you. Let's start off by learning a little more about their history.
Australian Shepherd vs German Shepherd History
A dog breed's history might not seem that relevant to you. But, it can be a great indicator of the natural instincts your dog could grow up to display.
Both of these breeds have a history as herding dogs. Australian Shepherds descend from European herding breeds. But, they were refined as their own breed in Australia and America.
Aussies are versatile, hardworking dogs, often found on ranches or at rodeos. They have also been used as search-and-rescue dogs, therapy dogs, service dogs, and even drug detectors.
The German Shepherd Dog (GSD) also started as a herding breed, originating in Germany. Like the Aussie, the GSD is known for its versatility.
German Shepherds have also been used as therapy dogs, service dogs, and more. But, their main working role throughout modern history is as a K9 police and military dog.
Both breeds have working histories, and are found as working dogs today as well as family pets.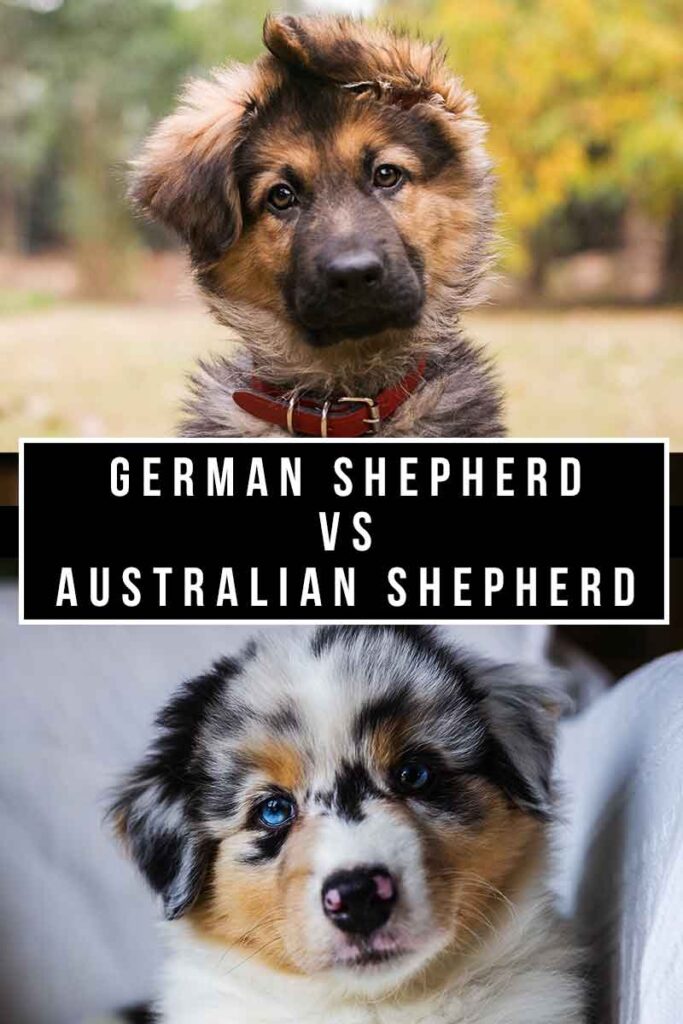 Australian Shepherd vs German Shepherd Appearance
In terms of appearance, German Shepherds and Australian Shepherds bear a passing resemblance to each other in some ways. But, there are also a lot of differences, particularly in their size and coat.
Height and Weight
German Shepherds are generally larger than Australian Shepherds.
But, there is a chance that you could meet a particularly large Aussie and a rather small GSD that are the same size.
Usually, German Shepherds grow from 22 to 26 inches tall, weighing somewhere between 50 and 90 pounds as an adult.
Australian Shepherds, on the other hand, usually grow between 18 and 23 inches, weighing from 40 to 65 pounds as an adult.
In both breeds, males tend to be larger than females.
Coat Type
Both the German Shepherd and Australian Shepherd breeds have a thick, double coat.
The outer layer of this coat is dense and designed to protect them when they're working. But, this means they will shed heavily during shedding season, and moderately all year round.
We will take a closer look at grooming later in this guide.
Both breeds tend to have shorter fur around their faces and paws. Aussies tend to have longer fur down their legs.
But, both dogs have long fluffy tails when left undocked.
Colors and Coat Patterns
The main appearance difference between these two breeds is the patterns and colors they can come in.
Australian Shepherds can come in any of the following:
Black
Blue merle
Red
Red merle
They may have tan points, white markings, or both.
German Shepherds, on the other hand, can be any of the following:
Black
Blue
Grey
Sable
Liver
White
Cream and black
Red and black
Silver and black
Black and tan
GSDs have a little more variety in their color options. But, the merle pattern on Aussie coats is very popular.
Australian Shepherd vs German Shepherd Temperament
Both German Shepherds and Australian Shepherds have strong working roots that influence their modern day temperaments.
Australian and German Shepherds can be aloof. But, they will be alert, intelligent, and energetic.
It's likely that both breeds will form strong bonds with their family, and react with caution to anything unfamiliar that might be a threat. Some owners report that their dog's natural guarding instincts can even feel overprotective and antisocial.
Both can be great with small kids as long as they are socialized properly, but they can display natural herding instincts around small kids.
This might include nipping at their heels to round them up, and getting frustrated or agitated if their human family refuses to be all together in the same room.
Risk of Aggression
One study found that both Australian Shepherds and German Shepherds scored higher than average for stranger-directed aggression.
However, they both scored lower than average for owner-directed aggression.
It also found that both breeds scored higher than average for dog directed aggression, although the GSD scored lower for dog-directed fear.
As long as you socialize your dog well, both breeds can be calm around strangers, but they might always fall short of actually being friendly.
Socialize your puppy well from the moment they come home to minimise the risk of any aggression, to strangers, family members, and other animals.
Remember Natural Instincts
You must also bear in mind the natural instincts in both of these breeds before bringing one home.
Australian Shepherds have strong herding instincts. They are known to try and herd small children, other dogs, and other pets.
This can involve nipping at heels, barking, and chasing. Small kids may find this stressful, so you should supervise interactions between them.
GSDs can also display these herding instincts. But, on top of this, they are known to display strong guarding instincts.
So, it's important to monitor interactions between your dog and others. Particularly people who are unfamiliar if they have kids or other dogs with them.
Socialization can help with these issues, but can't eradicate natural instincts altogether.
Australian Shepherd vs German Shepherd Training and Exercise
Both of these breeds are very high energy. They need plenty of exercise every day in order to stay happy and healthy.
Without it, they may display unwanted behaviors such as barking, digging, and chewing.
Both breeds will also take well to consistent training. Australian Shepherds and German Shepherds are active, intelligent, and quick to learn.
Use positive reward methods to create a strong bond with them.
But, keep training sessions short and interesting so you don't lose your dog's interest.
Australian Shepherd vs German Shepherd Health
There are some health issues that can plague both of these breeds.
The most common one to note is hip dysplasia, a condition in which your dog's joint is malformed. This can cause problems and pain walking and moving.
Other than this, there are some problems that can affect the breeds individually.
German Shepherd Health Issues
Here are some common problems that can plague the GSD.
Heart issues
Autoimmune thyroiditis
Eye issues
Degenerative myelopathy
Ear infections (eg. otitis externa)
Osteoarthritis
Musculoskeletal disorders due to breeding for a certain appearance in the show ring are also increasingly common.
Australian Shepherd Health Issues
Common health issues for the Australian Shepherd breed include:
Epilepsy
Cataracts
Cancer
Collie Eye Anomaly
Multiple Drug Sensitivity (MDR1 gene mutation)
Autoimmune thyroiditis
German Shepherd vs Australian Shepherd Lifespan
There are plenty of studies looking into average lifespan in purebred dog breeds.
One found that the Australian Shepherd had an average lifespan of 9 years.
Whereas, another found the average for German Shepherds was slightly higher, at 10 years.
However, it's important to remember these figures are averages based on survey responses. So, your dog may live for a longer, or shorter amount of time.
Giving your dog great regular care, a healthy lifestyle, and choosing a puppy from a reputable breeder will help to increase their lifespan.
Australian Shepherd vs German Shepherd Grooming
Along with a great diet, general care of both breeds involves regular grooming. Both the German Shepherd and Australian Shepherd have double coats.
Both breeds will shed slightly all year round, and more heavily during shedding seasons.
Regular grooming can help owners to keep on top of shedding fur. Grooming once or twice a week should be enough to keep your dog's fur looking great.
But, this frequency will increase during heavy shedding periods.
You may also need to groom your dog more if they are actively working, as they may be prone to more knots and tangles.
When grooming your dog, take the time to check their nails and ears, as both breeds are prone to waxy buildup and ear infections.
Australian Shepherd vs German Shepherd Puppies
According to the AKC, German Shepherds were the third most popular purebred dog breed in 2020.
Australian Shepherds were a little further down the scale at number 12.
So, both breeds are pretty popular, and you shouldn't have too much trouble finding puppies.
But, regardless of which one you choose, it's important to only go through a reputable breeder.
Avoid puppy mills or pet stores, even if their puppies are cheaper, as they are usually less healthy and may experience behavioral issues as they grow older.
Puppy Price
The cost of puppies for both of these breeds will vary depending on your location, demand for puppies, and parentage of puppies.
Generally, you can expect to pay between $800 and $2500 for Australian Shepherd puppies.
German Shepherd puppies are usually somewhere between $1500 and $3500.
If you're looking to spend less on a puppy, you could also consider looking in a rescue center for your next breed.
Australian Shepherd vs German Shepherd – Which Breed is Best?
When choosing between the German Shepherd and Australian Shepherd, you should consider all aspects of these dogs.
Both breeds are active, loyal, and intelligent. They can take to training well, but need plenty of exercise and mental stimulation.
Both breeds will also need lots of socialization to encourage the best temperament possible and minimise any risks of aggression.
Which Shepherd breed is your favorite? Tell us which one wins your heart in the comment section down below!
Readers Also Liked
References and Resources
Get Pippa's free dog training tips delivered to your inbox