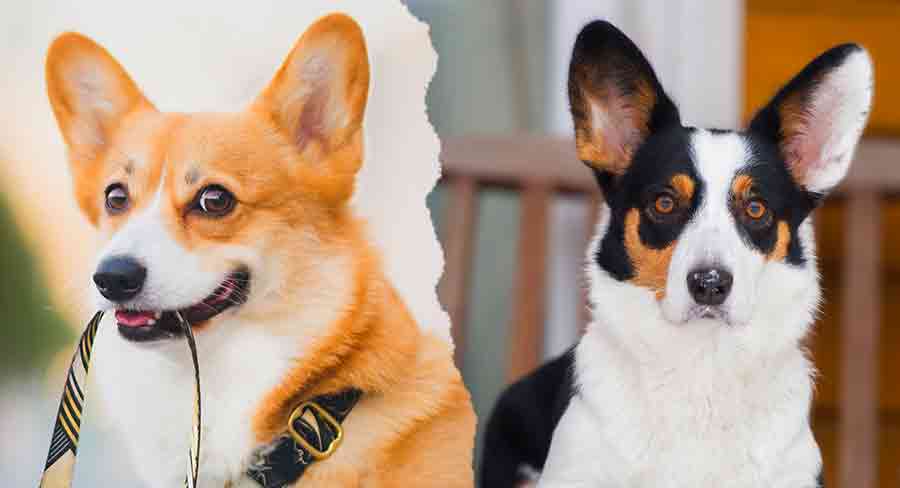 Pembroke vs Cardigan Corgi – what's the difference? Both the Pembroke and Cardigan Corgis are short, clever, and active dogs with a rich history in herding.
But, despite these similarities, they are actually two distinct breeds that come from very different parts of Wales.
Both are dwarf breeds. But, Cardigan Corgis are larger overall and have a wider range of potential coat colors.
Pembroke Corgis and Cardigan Corgis can make great family pets, but these slight differences could make one a better choice for you. Let's find out which!
Pembroke vs Cardigan Corgi – What's the Difference?
At first glance, the Pembroke and Cardigan Corgi breeds look quite similar. Both have dwarfism and can have similar facial features and markings.
Most people are very familiar with the Pembroke Welsh Corgi, thanks to the Queen of England, who has kept over 30 in her life!
But, there are a few subtle differences in temperament and personality, as well as a striking difference in history that can make one Corgi a better choice for your family pet.
You can use the links below to jump straight to certain sections.
First up, let's start by taking a closer look at where these two breeds come from, and if their histories ever crossed paths.
Pembroke vs Cardigan Corgi Breed History
Both Pembroke and Cardigan Corgi breeds were made and standardized in Wales.
At some points in their history, the Pembroke Welsh Corgi and the Cardigan Welsh Corgi breeds were freely interbred.
In fact, until 1934, many enthusiasts in the UK regarded them as a single breed.
But, they originally come from very different lines, and are now regarded as two distinct dog breeds.
Let's take a closer look at the exact differences in their early histories.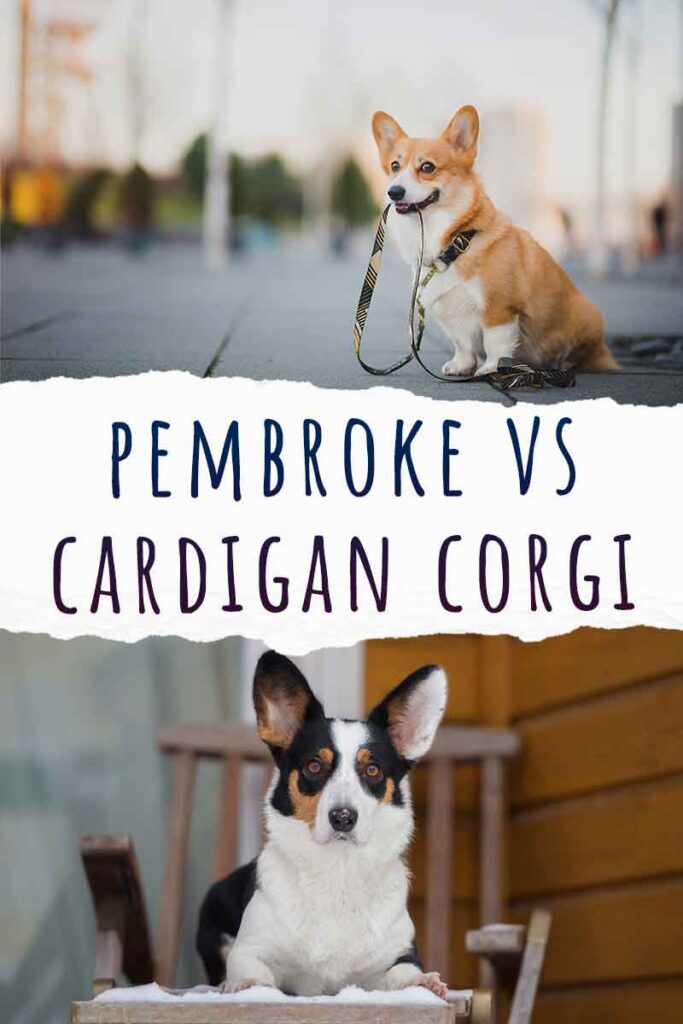 Cardigan Welsh Corgi
The Cardigan Welsh Corgi is less popular than the Pembroke version. But it is actually the older of the two Corgi breeds.
Many historians believe that Cardigan Corgi ancestors were brought across to Wales from Europe by the Celts, as early as 1200 BC.
In Wales, Cardigans were developed to herd cattle. But, over the years, many would serve roles as a versatile farm dog.
This required protective instincts, loyalty to their family, intelligence, and an all round high level of athleticism.
Despite the Cardigan Welsh Corgi's long and rich history, the breed didn't make its way to America until the 1930s.
In 1935, it was fully recognized by the AKC, and now sits at number 68 out of 197 AKC breeds in terms of popularity.
Pembroke Welsh Corgi
The Pembroke Welsh Corgi is much more popular than the older Cardigan, ranking at number 11 out of 197 AKC breeds in 2020!
Ancestors of the modern Pembroke breed originated in what is now northern Belgium, owned by weavers and craftsmen.
When a community of these craftsmen moved over to Wales, they brought their dogs with them, and over time the Pembroke Welsh Corgi emerged.
As we mentioned earlier, some breeders did mix the Pembroke and Cardigan Corgi lines.
But, they have remained separate breeds.
Despite its shorter history, the Pembroke Corgi obtained AKC recognition a year earlier than the Cardigan variety, in 1934.
Pembroke vs Cardigan Corgi Appearance
Both the Cardigan Welsh and Pembroke Welsh Corgis are dwarf breeds. So, they will have short legs, long spines, and relatively large heads for their body.
This can mean that people mistake the breeds for one another. Or even that they think a Cardigan Corgi is a Pembroke mixed with another breed.
In general, Cardigans are stockier, heavier and more rounded than the Pembroke Corgi.
Pembrokes tend to grow between 10 and 12 inches tall, weighing up to 30 pounds as an adult.
But Cardigan Corgis are a little larger, growing between 10.5 and 12.5 inches tall, and weighing from 25 to 38 pounds when fully grown.
In both breeds, females are usually slightly smaller than males.
Different Features
As well as their height and weight, there are a few bodily features that can help you distinguish one Corgi breed from the other.
The Cardigan tends to have larger, more rounded ears than the Pembrokeshire breed.
And the main difference is usually in the tail.
Pembroke Corgis traditionally have a docked tail. Whereas the Cardigan breed traditionally has a long, fox-like tail. Some Pembrokes have a naturally short tail.
Many modern breeders seek to keep these traditional choices, by docking or leaving their dogs' tails in puppyhood.
But, you might find the occasional break from tradition.
Coat and Colors
Both the Cardigan Corgi and the Pembroke Corgi have thick double coats that come in very different color varieties.
The Pembroke can be any of the following:
Black and tan
Fawn
Red
Sable
And may have white markings on their chest, legs, neck, muzzle, stomach, and head.
Cardigan Corgis, on the other hand, can be:
Black and white
Blue merle and white
Brindle and white
Red and white
Sable and white
Brindle merle and white
Grey and white
Liver and white
Red merle and white
Sable merle and white
White merle
Although only the top 5 color varieties in this list are standard AKC colors.
Cardigan Coat Patterns
As well as a larger variety of coat colors, the Cardigan Welsh Corgi also has a much larger scope of potential coat patterns.
This includes:
Black mask
Black mask and ticked
Brindle points
Brindle points and ticked
Tan points
Tan points and ticked
Ticked
So, in terms of appearance, these two Corgi breeds can be very different from one another.
Pembroke vs Cardigan Corgi Temperament
Your dog's appearance might not impact the type of family pet they make. But, their temperament can really affect how well they fit your family!
Since both breeds have a history as working herding dogs, they can share a lot of traits.
Cardigan Welsh Corgis and Pembroke Welsh Corgis will both be intelligent, alert, and energetic.
Cardigans may be a little quieter and more reserved around strangers, but both tend to be friendly and happy in new situations, especially when trained and socialized well.
Both Corgi breeds will also usually form strong bonds with their families, and will need to keep their minds stimulated as well as their short bodies.
But, these strong bonds can lead to aggression if your Corgi is not socialized properly. This applies to both breeds.
Aggression
Every dog breed is prone to aggression if they are not socialized well as a puppy.
But, one study into dog aggression found that veterinarians in Australia categorized both Corgi breeds as 'very aggressive'.
A closer look into the more popular breeds in the study also led to the conclusion that the Pembroke Welsh Corgi was more aggressive than Staffordshire Bull Terriers, Border Collies, and Doberman Pinschers.
Of course, this doesn't mean that all Corgis will be aggressive. But, it does mean you need to work hard at socializing your puppy to minimize the risk.
Whether you have a Pembroke Welsh Corgi or a Cardigan Welsh Corgi, introduce them to plenty of people, animals, dogs, and children by the time they're 16 weeks old.
Especially to unfamiliar people and dogs. Make sure the meetings are positive, and that your little Corgi pup feels safe and secure.
Studies have shown that socialization from an early age like this can help to reduce problem behaviors in adult dogs. So it's very important in both Corgi breeds.
Natural Instincts
Another point to consider is that both the Pembroke Corgi and the Cardigan Corgi started their lives as herding breeds.
So, there's a chance that your modern Corgi, no matter which breed, will have some natural herding instincts and behaviors.
This can include chasing, barking, and nipping at heels.
If you have young kids or other animals in your home, this is something to bear in mind. And, there's a chance of it in both Corgi breeds.
Pembroke vs Cardigan Corgi Training and Exercise
Both the Pembroke Welsh and the Cardigan Welsh Corgi breeds can take to training well. They are clever and alert little dogs that form strong bonds with their families.
Owners can use positive reinforcement training methods for great results, and to improve on that already strong bond.
Just remember that some things, like natural instincts for barking, cannot be trained out. But, you can train a Corgi not to bark in some situations.
Both breeds need daily exercise, despite their short legs. However, because of their body shape, exercise that involves jumping or climbing things like stairs can put pressure on their backs.
You should also be careful when letting either Corgi breed swim. They may find it harder than other breeds to get out of rivers or bodies or water due to their shorter limbs.
Pembroke vs Cardigan Corgi Health
We've briefly mentioned it in the last section, but one main health issue for both Corgi breeds relates to their body conformation.
Because both Corgi breeds have long backs and shortened legs, they can be at higher risk of problems like Intervertebral Disc Disease, which can cause pain, trouble moving, and even paralysis.
To reduce this risk, don't let your Corgi jump down from beds or the couch. You may also want to restrict the amount they use stairs.
Dog ramps are a great way to lower pressure on a Corgi's back.
Other Issues
Both Corgi breeds can also be prone to other health issues, including:
Hip dysplasia
Degenerative Myelopathy
Cancer
Heart issues
Progressive Retinal Atrophy
Responsible breeders will health test their dogs and show you clean certificates of health before you commit to a puppy.
Both the Pembroke Welsh Corgi and Cardigan Welsh Corgi have average lifespans of 12 years. But with proper care and good breeding, they can exceed this.
Pembroke vs Cardigan Corgi – Which is Best?
Neither Corgi breed is naturally better than the other. But one might be better for you!
The differences between these two breeds are quite subtle, and mostly center around their appearance.
Cardigans may be a little more reserved around unfamiliar people, but both breeds will be clever, alert, and affectionate to close family.
It's also worth noting that the Pembroke Welsh Corgi is also a much more popular breed. So, it may be easier for you to find Pembroke puppies than Cardigan puppies.
And, both breeds may present issues in homes with small children or other pets, since they can have natural herding instincts, involving chasing, barking, and nipping their targets.
No matter which Corgi breed you choose, early training and socialization is vital.
Pembroke vs Cardigan Corgi – What Do You Think?
Do you have one of these lovable little Welsh breeds at home? Or, do you have any other great tips for telling them apart from one another at first glance? Which Corgi breed is your favorite?
We would love to hear your Corgi stories in the comments!
Readers Also Liked
References and Resources
Fowler, D. 'A Brief History of the Queen's Corgis', Grazia (2021)
'Official Standard of the Cardigan Welsh Corgi', AKC (1995)
'Official Standard of the Pembroke Welsh Corgi', AKC (1993)
Stafford, K. 'Opinions of Veterinarians Regarding Aggression in Different Breeds of Dogs', New Zealand Veterinary Journal (1996)
Howell, T. (et al), 'Puppy Parties and Beyond: The Role of Early Age Socialization Practices on Adult Dog Behavior', Veterinary Medicine: Research and Reports (2015)
Vaterlaws-Whiteside, H. & Hartmann, A. 'Improving Puppy Behavior Using a New Standardized Socialization Program', Applied Animal Behavior Science (2017)
Bubenik, L. 'Intervertebral Disc Disease at a Glance', Consultant on Call (2006)
Rossi, G. (et al), 'Intervertebral Disc Disease and Aortic Thromboembolism are the Most Common Causes of Acute Paralysis in Dogs and Cats Presenting to an Emergency Clinic', Vet Record (2020)
Adams, V. (et al), 'Methods and Mortality Results of a Health Survey of Purebred Dogs in the UK', Journal of Small Animal Practice (2010)
March, P. (et al), 'Degenerative Myelopathy in 18 Pembroke Welsh Corgi Dogs', Veterinary Pathology (2009)
The Canine Health Information Center
Get Pippa's free dog training tips delivered to your inbox