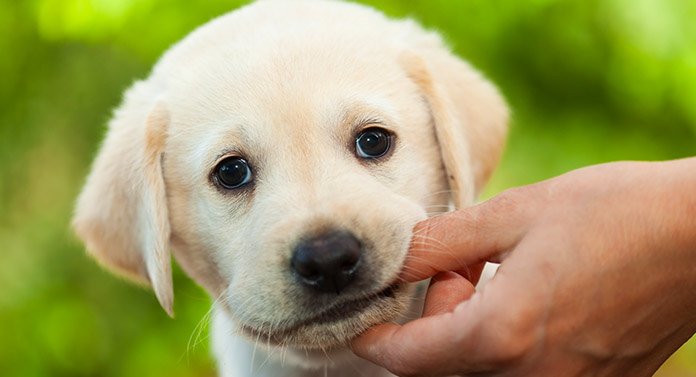 Why do puppies snap at you when you least expect it?
Puppies use their mouths for all sorts of things including eating, exploring, and playing.
Puppies often nip at fingers, toes or trailing clothes, or even snap the air next to them, to try and initiate play.
Since most puppy parents would rather they didn't do this, the best way to stop it is by redirecting the puppy to a more suitable target.
Why Do Puppies Snap At You?
Puppies are so cute in photos. So fluffy, cuddly, and serene.
The reality of an actual puppy in your house can be something of a shock in comparison!
Real life puppies are a mix of sleepy cuddles, and rambunctious energy.
Which may include snapping their teeth at your feet, legs, hands, face and hair.
All of the bits of you which are most mobile in fact.
And it all comes down to their need to play.
The Importance Of Puppy Play
Just like all baby mammals, finding time to play is an important priority for puppies.
Play time isn't just fun and games for them either – it serves some important functions too:
It develops and refines their coordination and motor skills.
It gives them opportunities to practice dealing with the unexpected.
Play time also improves welfare by creating positive, rewarding experiences.
And playing with other puppies and people helps to build social bonds.
That last one is particularly important for understanding why puppies snap at people.
Help! My Puppy Growls And Snaps At Me!
It doesn't usually feel very friendly or playful if your puppy snaps at you.
Those tiny teeth can be sharp as pins!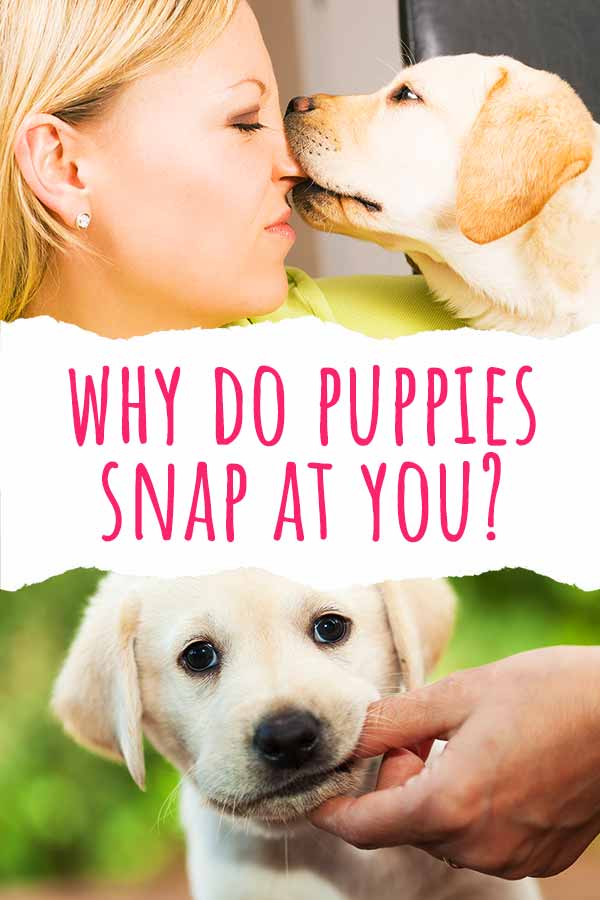 When my whippet Max was a puppy, he had a particular penchant for snapping at the backs of my daughter's knees when she ran.
When he did it, he was seeing her as a family member who was playing a wonderful running and chasing game. And he wanted to join in too.
But how to tell her that?
The thing is, dogs have coats of fur, which stops teeth getting through to the skin and drawing blood if they nip and snap at each other,
So puppies and dogs can use snapping as a perfectly safe way of saying "play with me!" to one another.
And it's how they will try to communicate with us as well, until we teach them another way.
Communicating playfulness
In fact, snapping at you is just one kind of body language dogs use to indicate playfulness.
You can also look out for:
chasing after you
snarling and growling (yes really!)
barking
and play bowing.
These are all actions puppies use to tell each other they want to play.
But not all of them are ways we want them to communicate with us. Our skin just isn't up to it for a start!
So we need to discourage snapping, and teach safer alternatives.
Let's build up to that now.
Finding The Right Way To Play
Playing games together where no one gets hurt is one of the great joys of puppy parenting.
Finding safe and suitable games to play from a young age forms an important part of socialising your puppy. So they're better prepared for the big wide world, and less likely to display unwanted behaviors as adults.
Puppy games can also shape how quickly and easily dogs respond to training later in life too.
Hopefully you've already got a stash of puppy safe balls, frisbees, tug toys, and plushies on hand to play with.
Playing with them so that everyone has a good time is something that we give a lot of attention to in our Puppy Parenting course.
Here are some of the strategies we recommend for managing a puppy who snaps at you, and eventually discouraging it altogether:
Don't punish them
If your puppy snaps at you, the most likely explanation is that they want to play with you, and they're trying to communicate that in perfect doggy body language.
It's not their fault that we communicate differently!
Punishing their misunderstanding will damage the bond of trust that you're working so hard to build.
It will also increase the possibility of behavioral problems in future, and may make them harder to train.
Here's what to do instead –
Don't be a target
Remember how we said that puppies are most likely to snap at the bits of you which move?
Puppies love to chase, pounce on, and bite things which dangle, trail or flap about.
So try to wear close fitting clothes, in sturdy fabrics. Stick to shoes without laces for a while, or tuck the laces in so they don't bounce around when you move.
And if you have long hair, tie it back, so your puppy isn't tempted to snap at the movement near your face.
Redirect them to suitable toys
If your puppy snaps at you, redirect that energy to a suitable toy.
Plush toys which they can use to play tug with and shake in their mouth are great choices.
Your puppy will quickly learn that when they want to play, their toys are great things to play with.
But remember, your puppy doesn't just want to play on their own, they want to play with you to build up those all-important social bonds.
So try to pre-empt your puppy's playfulness too, and use it to reward a behavior you do like.
For example, when your puppy sits at your feet and looks at you with all four paws on the floor and their jaws firmly shut, grab that opportunity to praise them and reach for a favorite toy.
That way they will learn that sitting nicely is a polite way to get attention and play time from humans.
No rough housing!
Finally, to discourage your dog from snapping at you, don't join in with rough housing or rough and tumble games with them.
This actually encourages mock fighting behaviors like snapping!
Puppy Snapping That Isn't Related To Play
It's very unusual for puppies to snap at people aggressively.
As infants, they know that the odds are stacked well against them in a fight. So if they are frightened, or threatened, they are much more likely to try and hide, than bite.
Bear in mind that a playful puppy also has a relaxed posture, ears that are pricked up and alert, and a wagging tail.
But if your puppy's posture is rigid when they snap at you, their ears are pinned back flat against their head, or their tail is tucked between their legs, it's possible that they are snapping because they are actually extremely frightened.
If you suspect this is the case, find a force free trainer or behaviorist who can meet your puppy in person to help them.
Resource guarding
Another non play-related reason a puppy might snap at their owner is to guard something they value highly, but they're worried is under threat of being taken away from them.
For example their food bowl, their bed, or their favorite toys.
Again, a force free behaviorist or trainer is best placed to help you determine why this kind of behavior has started, and how to change it.
Why Do Puppies Snap At You? Summary?
The overwhelmingly most common reason that young puppies snap at people is to prompt that person to play with them.
To discourage a puppy from snapping at you, avoid wearing loose clothes and redirect them to their toys instead.
For more support with this, and many other aspects of puppy parenting and training, you might also be interested in our Dogsnet Training Courses.
Our students also benefit from personalized support from the Dogsnet team in our private students' forum.
References
Howell et al. Puppy parties and beyond: the role of early age socialization practices on adult dog behavior. Veterinary Medicine (Auckland, N.Z.). 2015.
Somerville et al. Why do dogs play? Function and welfare implications of play in the domestic dog. Applied Animal Behaviour Science. 2017.
Ziv. The effects of using aversive training methods in dogs—A review. Journal of Veterinary Behavior. 2017.
Get Pippa's free dog training tips delivered to your inbox