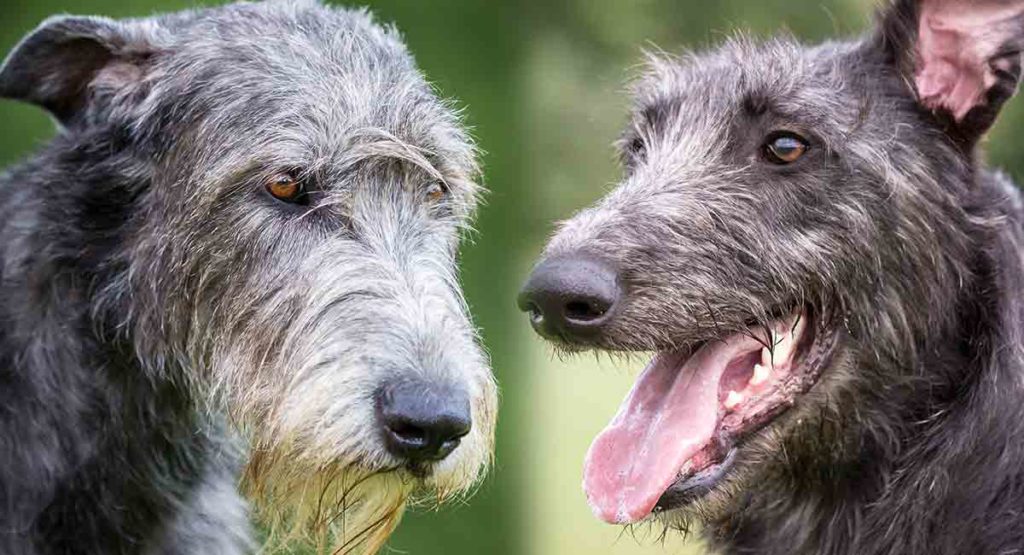 Choosing between a Scottish Deerhound vs Irish Wolfhound is tough – they share a common ancestry, similar looks, and equally laidback temperaments.
However, the Irish Wolfhound is slightly larger than the Scottish Deerhound. The Scottish Deerhound is more energetic and anecdotally, easier to train.
Scottish Deerhound vs Irish Wolfhound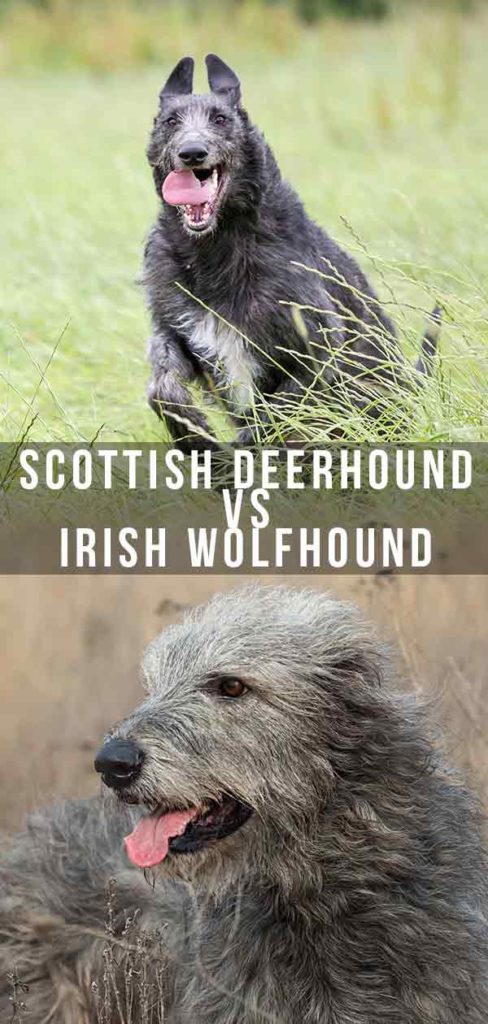 If you're trying to decide between the Scottish Deerhound vs Irish Wolfhound, you've come to the right place!
These big, hairy, beautiful dogs have some fascinating things in common. Both are gentle, calm, and dignified breeds with Greyhound ancestry.
But they do have differences. So what do you need to know?
Scottish Deerhound vs Irish Wolfhound History
Both are old breeds of sighthound (they hunt with the eyes). But it's difficult to pinpoint their exact origins.
Origins of the Irish Wolfhound
Some think the indigenous large dogs of Britain were bred to Middle Eastern coursing hounds in the early days of international trade to create the Irish Wolfhound.
Long established in Ireland, the Irish greyhound was brought to ancient Rome and had become commonplace by 391 AD.
Later, in the 15th century, Irish farmers needed a dog that could help them scare off the wolves that came onto their lands.
So, they bred these dogs, which originally hunted Irish elk (at the time, not extinct), to help them out.
But apparently, the Irish Wolfhound did such a good job that much of their prey became extinct.
And this also had the reverse effect of reducing the Irish Wolfhound population.
The Irish Wolfhound Makes a Comeback
Around 1841, a man named H.D. Richardson wrote about the breed for an Irish journal. He was trying to prove that the Irish Wolfhound still existed.
So, he collected specimens, which were then used to try to rehabilitate the breed.
By crossing the Richardson specimens with that of the Scottish Deerhound, they did just that.
A British army captain named George Augustus Graham is credited with creating the Breed Standard.
In 1885, the first breed club was formed for Irish Wolfhounds. The AKC recognized them in 1897.
So, as you can see, Scottish Deerhounds figured prominently in saving the Irish Wolfhound from extinction.
Origins of the Scottish Deerhound
The Scottish Deerhound has its own storied history.
Scottish Deerhounds may have been in Scotland before the Scottish people were!
Their ancestry can actually be traced to the region as far back as the third century. The Scottish people themselves arrived there in the 9th century.
These dogs are also coursing dogs and sighthounds. Back in the day, they were used by clan chieftains for hunting red deer or Highland stag;
So, they were definitely Deerhounds by the 16th and 17th centuries. But like the Irish Wolfhound, Deerhounds began to decline.
This has been attributed to the exclusive breeding privileges levied on owners within clans.
Which made it impossible for those outside clans to continue breeding them. These strict policies caused the Deerhound's demise.
However, in the 1820s, Archibald and Duncan McNeil worked hard to restore the breed.
And in 1886, Scottish Deerhounds were accepted into the AKC. But even today, they are still considered relatively rare.
Scottish Deerhound vs Irish Wolfhound Appearance
With such similar backgrounds, it's inevitable that these dogs look somewhat alike. Both have deep chests, wiry hair, and similar colorings.
However, they both have their own distinct features.
Size and Build
The Irish Wolfhound is the larger of the two.
In fact, it is the tallest of all breeds accepted by the American Kennel Club – reaching upwards of 30 inches at the withers and 105 lbs.
Meanwhile, the Scottish Deerhound comes in at about 28–32 inches and 75 lbs and up.
The Irish Wolfhound is considered more muscular.
Whereas the Scottish Wolfhound is described as more Greyhound-like. Although larger in size and structure than Greyhounds.
But check out their ears and the tail.
Irish Wolfhound ears are small and folded back, but Scottish Deerhound ears are even smaller.
They can seem more pointed and can appear erect or semi-erect.
Irish Wolfhounds have long, bushy tails that curl slightly upward. On the other hand, Scottish Deerhound tails are long and tapered, like a whip.
Coat Color and Texture
But they can be similar, too!
The Irish Wolfhound comes in colors, like
gray
brindle
red
black
white
fawn.
Scottish Deerhound colors include
dark blue-gray
light gray
brindle
yellow
sandy red
red fawn.
Sometimes Deerhounds can also have black ears and muzzles.
Although, white is generally not acceptable for the breed standard except on the chest and toes.
The Wolfhound has a double coat, but the Deerhound doesn't.
That means the Wolfhound will shed a bit throughout the year, while the Deerhound sheds more seasonally.
Both require minimal weekly brushings.
Scottish Deerhound vs Irish Wolfhound Temperament
Both breeds are calm, serene, docile — even lazy.
In addition, they are gentle and loyal and look dignified. Therefore, both breeds can make excellent companion dogs.
It's their size and health concerns—and not temperament—that can make them less desireable as pets.
Please note that giant dog breeds like both of these will mature more slowly than smaller dogs.
So, they'll have a puppy mentality for a longer time than you would expect.
As sighthounds, both breeds do have a tendency to chase small animals. However, they are not aggressive.
Irish Wolfhounds are said to get along better with other dogs, but Scottish Deerhounds are more sensitive to being alone.
Deerhounds may have more energy and need more activity, though.
Neither dog is good for guarding despite their imposing sizes.
Scottish Deerhound vs Irish Wolfhound Training Requirements
While both breeds take well to training, their size can make them somewhat difficult to handle.
These big dogs may also seem intimidating to children and people who aren't used to dogs.
Bred for hunting, both types of dog may suddenly take off once they see a squirrel or rabbit in the distance.
Training is necessary for these dogs to help develop focus and concentration.
Both breeds do have also traits that make them a bit more independent and stubborn than some other breeds.
But socialization and training can help with this immensely.
Deerhounds and Wolfhounds alike love people and can be very smart. So their stubbornness will be balanced out a bit!
Irish Wolfhounds are said to be more eager to please, so they may be more preferable when it comes to training time.
On the other hand, Deerhounds are more aloof and sensitive. And may also be more prone to destructiveness if left alone.
Scottish Deerhound vs Irish Wolfhound Exercise Requirements
You may be fooled by their couch-potato tendencies into thinking these dogs don't need a lot of exercise.
They need exercise and activity to develop that calm, lazy demeanor in the first place.
Since they were bred as hunting dogs, both Deerhounds and Wolfhounds need to be able to run freely in safe, secure areas.
A short leashed walk isn't going to be enough exercise for these giant breeds.
Being crated all day certainly won't be good for these dogs either mentally or physically.
On the other hand, you can't force either breed to exercise, especially when young.
They basically need the right kind of environment – a large, fenced in yard with high walls that allows them to run when they want to is key.
You may find that Scottish Deerhounds require a bit more exercise than Irish Wolfhounds. They can become more destructive if left alone.
But both breeds need plenty of time with their human companions.
Scottish Deerhound vs Irish Wolfhound Health
As giant breed dogs, both Scottish Deerhounds and Irish Wolfhounds face health issues that big dogs face.
This includes hip and elbow dysplasia and musculoskeletal disease or gastrointestinal problems.
The rapid growth rates of these breeds required to reach their large size may be responsible for these issues. And lead to their lower lifespan.
In addition, both breeds experience issues that sighthounds face, such as excessive bleeding.
Irish Wolfhound Health Issues
Irish Wolfhounds experienced four major genetic bottlenecks making them somewhat inbred. And this may contribute the Irish Wolfhound's average lifespan of about 5–9 years.
These dogs are most prone to diseases such as dilated cardiomyopathy, osteosarcoma, gastric dilation, volvulus, and osteochondrosis.
They may also experience portosystemic shunt, rhinitis, epilepsy, von Willebrand's disease, juvenile fibrocartilaginous embolism, and eye issues.
Scottish Deerhound Health Issues
For the Scottish Deerhound, osteosarcoma, portosystemic shunts, gastric issues, and heart issues are a problem as well.
They also experience "Deerhound neck," which results from cervical pain.
Moreover, they may also suffer from bloat, cystinuria (bladder stones) and Addison's disease.
The life expectancy of the Irish Deerhound is about 8–11 years.
Sighthound Health Issues
Interestingly, sighthounds have unique physiological traits that aren't within the reference levels of the general population of dogs.
Particularly, when it comes to hematological and biochemical variations. This means they may bleed excessively and be prone to hypothyroidism, for example.
However, Scottish Deerhounds may have some unique medical differences in certain areas, such as cholesterol and calcium levels.
Which Breed Makes a Better Pet?
Both breeds are very similar. But have some slight differences.
The Irish Wolfhound is larger, whereas, the Scottish Deerhound has a bit more energy and may be more sensitive.
These two breeds suffer large-breed and sighthound health issues, so be sure you know what you're getting into.
Just make sure you have a suitable home for such a large breed. That means the right amount of space, activity, and time for human-animal interactions
If you do have a home suitable for both breeds, the choice may simply depend on which one you meet and fall in love with first!
Which do you prefer? The Irish Wolfhound or the Scottish Deerhound. Let us know if the comments below.
More Comparison Guides
References and Further Reading
Irish Wolfhound Club of America
Scottish Deerhound Club of America
Fleming JM et al. 2011. Mortality in North American dogs from 1984-2004: An investigation into age-, size-, and breed-related causes of death. Journal of Veterinary Internal Medicine.
Galis F et al. 2007. Do large dogs die young? Molecular and Developmental Evolution.
Sheerer KN et al. 2013. Haematological and biochemical values in North American Scottish deerhounds. Journal of Small Animal Practice.
Urfer SR et al. 2007. Lifespan and disease predispositions in the Irish Wolfhound: A review. Veterinary Quarterly.
Zaldivar-Lopex S et al. 2013. Clinical pathology of Greyhounds and other sighthounds. Veterinary Clinical Pathology.
Get Pippa's free dog training tips delivered to your inbox