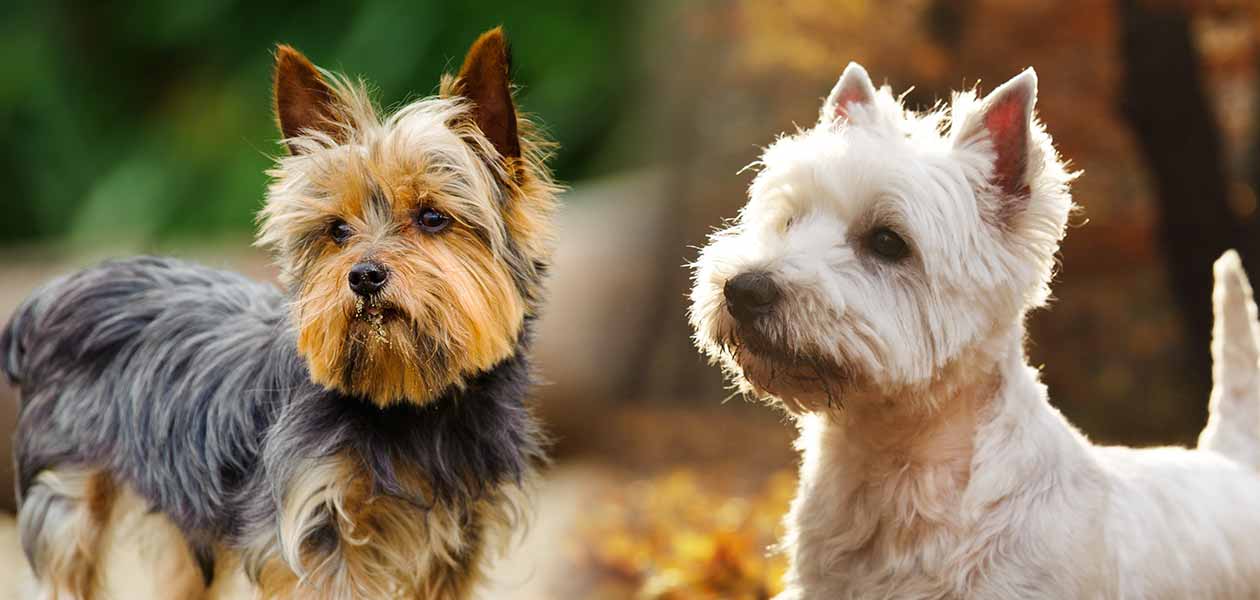 It's no easy job choosing between a Westie vs Yorkie dog.
The West Highland White Terrier and the Yorkshire Terrier are both small breeds with bags of character.
However, they do have some different needs, which may make them better suited to different kinds of households.
Let's find out which one is the better match for you!
Westie Vs Yorkie – Which is Best?
Westie and Yorkies are both perfect dogs for lots of people, and neither can really be described as better than the other.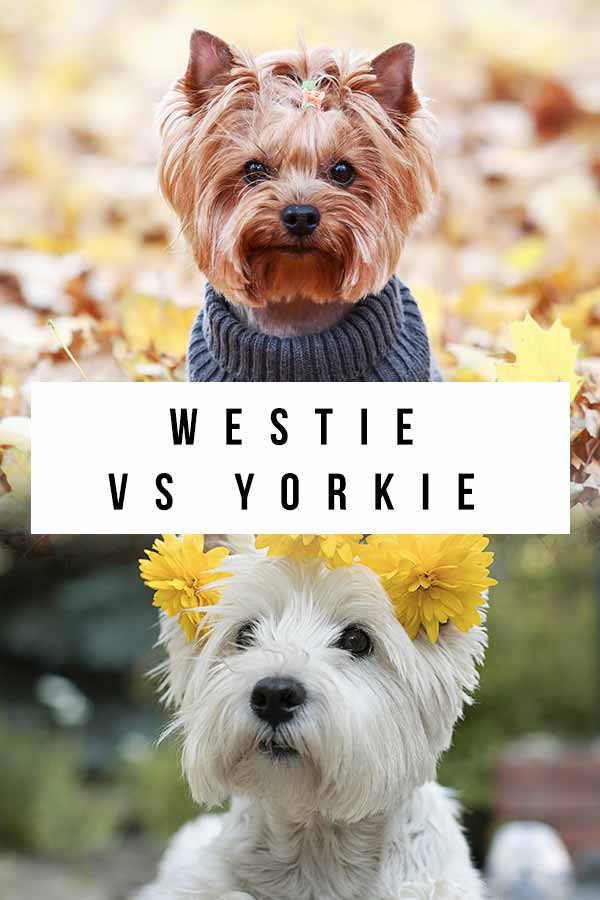 But once you've compared them side by side, there might be one which is better for you personally.
So we've got the information you need to do that.
Contents
First of all, a breed's past can tell us a lot about what kind of modern day pet they'll be.
So let's compare the origins of Westies and Yorkies.
Westie vs Yorkie History
Yorkies and Westies are both terrier breeds, developed around the same time and just 300 miles apart in the United Kingdom.
Here are some more facts about each.
West Highland White Terrier History
The West Highland White Terrier was developed in Scotland in the late 19th and early 20th centuries.
Hunters there wanted a rugged, agile little dog who could follow foxes, otters and badgers over the rocky Scottish landscape.
Legend has it that Colonel Malcom of Poltalloch, an influential early breeder of Westies, decided that they should be white after a red dog of his was mistaken for a fox and accidentally shot.
Westies were recognized by the UK Kennel Club in 1907, and the American Kennel Club in 1908.
Today, a small number of Westies are still used for hunting rabbits, but they're most popular as pets.
Yorkshire Terrier History
The tiny Yorkie is one of the 21st century's most dainty dog breeds.
But their past is anything but faint hearted.
They were developed as ratting terriers in the early 19th century, in the UK county from which they take their name.
The first Yorkies worked in cotton and woollen mills. Where their size gave them an excellent advantage for pursuing vermin into small spaces.
But their silky coat also gained them the attention of people who could afford to keep dogs just for companionship or show.
They quickly went on to become popular pets on both sides of the Atlantic.
Westie vs Yorkie Fun Facts
The Westie is the second most popular member of the AKC's Terrier Group, after the Miniature Schnauzer.
There are more Yorkies registered each year than Westies or Mini Schnauzers, but they're considered members of the Toy Group instead.
In fact, Yorkies are the 10th most popular breed in the U.S.!
Natalie Portman, Alyson Hannigan, Liev Schrieber and Tom Brady are all happy Yorkie owners.
Westie Vs Yorkie Appearance
Yorkies and Westies have a lot in common, but it's the details of their appearance which really set them apart:
Size
Yorkies are one of the smallest dog breeds, weighing just 7lb.
Westies weigh at least twice that, tipping the scales between 15-20lbs.
Color
Yorkies are born black and tan, which fades to blue and gold as they mature.
White Yorkies are controversial, and not regarded as true Yorkies at all by many people.
Westies are, by definition, white.
Coat
Yorkies have a single coat of long, fine, silky hair. Unless participating in shows, most owners choose to keep their Yorkie's coat clipped short for practicality.
Westies meanwhile have a medium length double coat. The outer layer is hard and straight, while the undercoat is softer and dense enough to keep them warm through a cold Scottish winter.
Overall, the Westie's rough-and-ready coat demands less grooming than the Yorkie's, which is decidedly high maintenance.
Tail
At dog shows it looks like Westies and Yorkies have matching short tails.
However, the Westie's tail is naturally short, whilst show Yorkies have docked tails.
Docking Yorkie's tails is a divisive practice, and one which is falling out of favor with people who simply keep Yorkies as pets.
In many places outside of America, it is illegal altogether.
Westie Vs Yorkie Temperament
All terriers are united by similar personality traits, which relate back to their original roles as working dogs.
They have lively minds and lots of energy. Even very small dogs like the Yorkie need lots of physical and mental stimulation.
Yorkshire Terriers and West Highland White Terriers both tend to be quite vocal, and sound an alert whenever people approach their home. This is perfect for some owners, but it can be stressful to manage in apartments.
Like all terriers, both breeds are curious and bold explorers. They are likely to have a strong prey drive, which they often express in the way they play. They love to dig and chase balls, for example.
Yorkies tend to be more people-focused than Westies, because they have been selectively bred for companionship for longer.
But neither breed is very patient of being pushed or pulled about by young children.
They prefer households where at least one adult is around to keep them company for all or most of the day.
Westie vs Yorkie Training
Westies and Yorkies are very intelligent, but they're both regularly described as stubborn.
This is misleading, since it implies some sort of battle of wills is involved.
In fact, all dogs can be successfully trained using positive reinforcement techniques.
The hurdle is finding a reward to use in training which is more gratifying than following their natural instincts to hunt, explore, or bark up a storm at passers by.
Some Westies and Yorkies don't appear particularly food motivated, which means training them takes more patience than training a breed who will do anything for even the most modest snack.
Toilet training
Yorkshire Terriers might also take longer to potty train than other breeds.
This is due to their size. Small dogs have a small bladder capacity to match.
So it takes longer before they can last all night without needing a bathroom break.
Westie vs Yorkie Exercise
Lots of people are drawn to small fluffy breeds like Westies and Yorkies because their size makes them look like they don't need much exercise.
It's true that the Yorkie might struggle to keep up on long hikes over rough terrain.
However, they are still very active dogs!
The right owner must have lots of time for playing games and interacting with them at home.
The Westie is equally active, but better able to go for long walks.
Westie and Yorkie Health
Caring for a sickly dog is expensive and heart breaking.
So it's wise to consider the overall health of any dog breed you're considering for your next pet.
These are some of the notable health concerns of Yorkies and Westies:
Yorkies
Around 1 in 5 Yorkies experience luxating patellas – knee caps which slip loosely in and out of position.
This condition can be managed by surgery. But it is hereditary, so affected dogs should be excluded from breeding, and breeders should be able to show that their litter's parents were screened before mating took place.
They are also one of the three breeds most likely to suffer from collapsed windpipe.
Yorkies are also prone to
tooth decay
diseases of the hip joint, including hip dysplasia and Legg-Calve-Perthes disease
hypoglycemia (low blood sugar)
portosystemic shunts (where the blood supply bypasses the liver)
Cushings disease
and heart disease.
And due to their size, Yorkies are also very fragile, and at risk of traumatic injuries such as broken bones.
Westies
Westies are also prone to tooth decay, and joint disorders such as hip dysplasia and luxating patellas.
Some breeding lines are also affected by the condition craniomandibular osteopathy, also known as 'Westie jaw'. In affected dogs, the jaw bones grow too thick, causing pain and drooling.
Additionally, nearly 1 in 5 Westies are estimated to suffer from atopic dermatitis – itchy skin and painful lesions caused by allergies to food or something in their environment.
Atopic dermatitis can be notoriously frustrating and heart breaking to try and keep under control.
Westies are also prone to:
lung disease
colitis (inflammation of the bowel)
pancreatitis (inflammation of the pancreas)
the hormonal imbalance Addisons disease
and the neurological condition White Shaker Dog Syndrome, which causes uncontrollable tremors.
Yorkie vs Westie lifespan – which lives longer?
Most West Highland White Terriers live for 10.5 to 15 years. Their average life expectancy is 13 to 13.5 years.
Most Yorkies live 10 to 15 years. Their average lifespan is 13 years.
But both breeds are reported reaching their early twenties!
These figures compare very favorably to the all-breed average lifespan of 11 years 3 months.
And they owe their longevity to their size – small breeds tend to live longer than medium and large ones.
Westies vs Yorkie Puppies
Whether you settle on a Westie or a Yorkie, it's important to secure your puppy from a responsible breeder.
Yorkie breeders should screen their breeding dogs for luxating patellas and eye disease, as well as any of the following inheritable conditions which have previously appeared in their family tree:
Legge-Calve-Perthes
autoimmune thyroiditis
hip dysplasia
Westie breeders should screen all sires and dams for:
hip dysplasia
luxating patellas
eye disease
and craniomandibular osteopathy.
These tests can make responsible breeding an expensive undertaking.
So well-bred puppies of either breed usually cost in the region of $1000, and often more for dogs with notable show champions in their pedigree.
However, the cost is still tiny compared to the lifetime expense of owning one of these long-lived little dogs.
So it's worth paying full price for a healthy puppy, rather than settling for the cheapest puppy, who is likely to have been raised in a puppy mill.
Which Breed Makes A Better Pet?
Westies and Yorkies are both small dogs with similar terrier-like temperaments and activity requirements.
The Yorkie is prone to a longer catalogue of health problems than the Westie, and demands more commitment to grooming.
However the Westie is particularly vulnerable to allergies and skin disease, which can make their coat just as tricky to look after.
Both dogs are best suited to households with adults or older children, where someone can keep them company and keep them occupied for all or at least most of the day.
Neither breed is inherently better than the other, but we hope this article has helped you choose the one which is best for you.
Do you have a Westie or Yorkie? Tell us why you chose them in the comments!
Readers Also Liked
References and Further Reading
Official Standard of the West Highland White Terrier, American Kennel Club, 1989.
Official Standard of the Yorkshire Terrier, American Kennel Club, 2007.
Orthopedic Foundation for Animals, Canine Health Information Center.
Craniomandibular Osteopathy in Westies and other Scottish Terrier Breeds, Westie Foundation of America, accessed June 2020.
Fadok, The Basics of Dermatitis and Atopic Dermatitis in Westies, accessed June 2020.
Salzmann et al, Genome-wide linkage study of atopic dermatitis in West Highland White Terriers, BMC Genetics, 2011.
Adams et al, Methods and Mortality Results of a Health Survey of Purebred Dogs in the UK, Journal of Small Animal Practice, 2010.
O'Neill, Longevity and Mortality of Owned Dogs in England, Veterinary Journal, 2013.
Buback et al, Surgical treatment of tracheal collapse in dogs: 90 cases (1983-1993), Journal of the American Veterinary Medical Association, 1996.
Get Pippa's free dog training tips delivered to your inbox