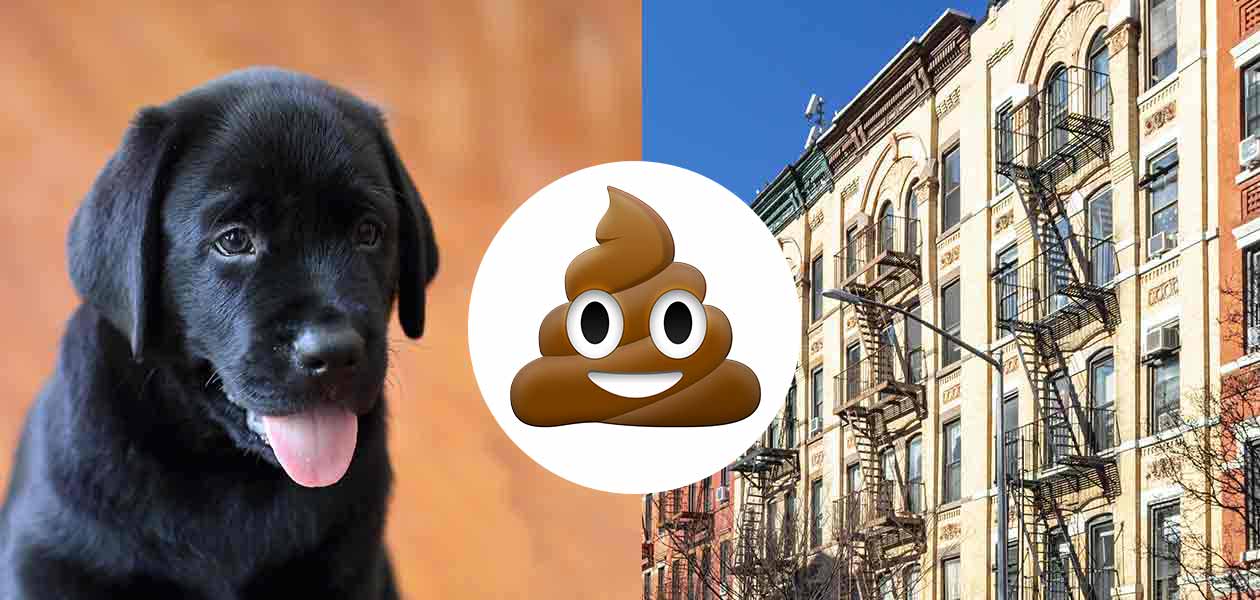 Potty training a puppy in an apartment is totally achievable for many new dog owners.
There are two main methods you can use: teaching them to toilet outside straight away, or using a designated toilet area inside.
The former will involve a lot of legwork initially, but quicker results. The latter will involve less outings outside, but a longer road to a fully potty trained dog.
Which one you choose will depend upon your apartment's set up, the size of dog you have and a few other factors too.
Choosing how to potty train a puppy in an apartment
Your two choices are
1. To potty train your puppy to pee and poop outdoors from the beginning.
2. Or to use puppy pads.
Outdoor potty training is probably best for people that:
Work from home or don't work.
Have good mobility.
Have a small to medium sized dog breed.
Live fewer than two floors up or have a lift.
Have a balcony where their puppy can pee and poop…
…or have a safe area just outside the building.
Puppy pad training is best for those that:
Live more than two floors up.
Have limited mobility.
Have a larger dog breed.
Don't have a balcony where their puppy can pee and poop.
Struggling to Choose?
Not sure which category you fit into? Then I recommend you decide which system you think you are most likely to be able to stay on top of.
Outdoor potty training a puppy in an apartment is a bigger time commitment and this is the deciding factor for many new dog owners.
But even if you decide to go with indoor potty training using pads, it's good to understand the outdoor method and try to apply it whenever you are home.
So let's take a look at what that would involve.
Outdoor potty training a puppy in an apartment
The two main groups of people who will use the outdoor method whilst living in apartments are
1. Those who have balconies.
2. And those who are able to regularly carry their puppy to an adjacent yard area.
Apartments with secure balconies
If you have a balcony where it is safe and hygienic for your puppy to go potty then you are onto a winner with this system.
Set up a puppy pee zone on your balcony with a puppy pen.
If your balcony is fairly weatherproof you can line this with puppy pads to make it easier to clear up.
Alternatively a puppy potty of some artificial or real grass is a good choice too. And might help your puppy to translate their peeing habit to the dog park later on in life.
A process you won't need to worry about if you have relatively easy access to a yard.
Apartments with yards
Potty training a puppy in an apartment when you have access to a yard can follow the same principles as the balcony situation.
To follow this method you will need to be able to carry your puppy from your apartment to the back yard in a couple of minutes or less
You will need somewhere right next to your apartment block where it is both safe and legal to pop down your puppy to pee or poop.
If this is a communal garden, do check their rules on pets. And of course pick up your pup's poops straight away.
You will also need to weigh in the risk of putting your puppy down in a public space before they have been vaccinated.
Routines for potty training a puppy in an apartment
To make this system work you need to take your pup outside at regular intervals, and make sure that you supervise them closely in between.
When your puppy arrives home at 8 weeks old their bladder will be tiny. It might need emptying as much as every twenty minutes in the first few days. If you are lucky they will go every two hours.
We go into potty training in detail in our Puppy Parenting course. But, basically, your schedule will adapt as they grow and develop some bladder control.
8-12 week puppy schedule
Initially outings downstairs will look something like this:
6am
7am
9am
11am
1pm
3pm
5pm
7pm
9pm
11pm
2am
Stick to This Schedule
It's important to wake up in the night to take your puppy down for a pee in the early days, or they risk wetting in their crate.
You should be able to drop 2am wake ups within the first few weeks.
In addition to the times shown above, you will need to take your puppy out immediately after they eat or have a big drink. Or wake up from a nap.
When you take your puppy out, wait with them until they have peed before returning to the apartment.
If you wait for 15 minutes and they don't pee, bring them back inside but don't put them down.
Carry them for 15 minutes, or pop them in their crate, then try again.
Don't let them walk down the stairs. Not only is that bad for their joints, but they might well pee on the trip down!
3-6 months puppy schedule
Your puppy should have a little more bladder control now, and their visits outside will look more like this.
6am
9am
12 noon
3pm
6pm
9pm
11pm
6 months onwards
Somewhere between six and eight months your puppy will be able to hold their bladder for four to six hours at a time.
But this doesn't mean you should necessarily force them too.
Regular trips outside to allow them to relieve themselves will drastically reduce the chances of them having an accident.
Indoor potty training a puppy in an apartment
Of course, the outdoor method involves quite an intense schedule. And it's not practical for everyone potty training a puppy in an apartment to do this many trips in and out.
But, there is another method. And that involves puppy pads or an alternative to them.
Crate training your puppy if you live in an apartment is essential.
This is the process of getting your puppy used to being shut in a crate for short periods of time, and comfortable napping and sleeping there.
Making arrangements
Set up a crate that's big enough for them to stand up and turn around in, but no bigger.
Leave the door open and put it inside a puppy pen.
This is going to be their sleeping and peeing area.
The pen around the crate must be lined with puppy pads, to be removed and replaced every time they mess them.
Reducing Puppy Pads
Over time you can reduce the pads lining the pen into just a single corner.
Take one away at a time and keep them in the area where your puppy seems most inclined to pee and poop.
Eventually you'll be able to remove them altogether. But, this will take time and depend upon how well you are getting on with your visits outside.
Your puppy doesn't need to stay in there all the time. But, you can pop them in at around the times shown above in their routine so that they can go potty.
Whenever you are able to do so, try to let them outdoors to pee or poop when they are due. This will help to build this association up for later on.
Potty training a puppy in an apartment
If you live in a high rise apartment, then potty training is only really practical by using puppy pads or a puppy potty.
But it's totally achievable for most owners to have a pup that's clean in their home. Even if that home is further above the ground.
You can use all the usual potty training methods such as those shown in our Puppy Parenting course. Just adapt the area where the puppy is put down.
Whether that's a puppy potty, balcony or puppy pads.
Readers Also Liked
Get Pippa's free dog training tips delivered to your inbox