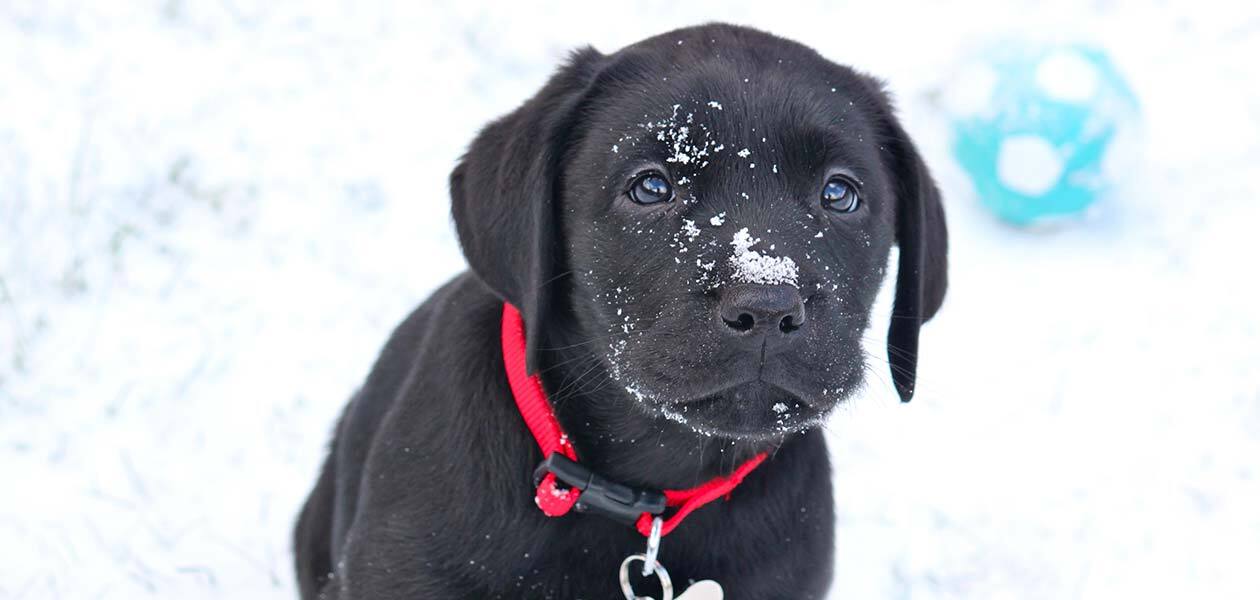 Winter puppy potty training presents some unique challenges. To your puppy, but also to you.
The weather is cold, the ground surface is slippery. All you both want to do is get indoors.
But don't despair!
With just a few adjustments, you'll find you sail through potty training your puppy just like you would in summer.
Winter puppy potty training can be harder
If you are finding it trickier to potty train your puppy when the weather is miserable, you are far from alone.
As wonderful as our dogs are, I do not look back with rose tinted spectacles at the hours spent standing in the rain waiting for them to pee as puppies.
Or dealing with their reluctance to go outside.
But there are two important things to remember.
The first is that with a little planning, and a lot of persistence, you can potty train a puppy just as well and as quickly in winter as you can in summer.
And secondly, this time period although unpleasant in some ways, is really short when compared with the years you are going to enjoy life with your house trained adult dog.
So let's get stuck in!
Back door closed or open?
Many people try to aid their puppy's journey through house training by keeping a door to their yard open.
In winter this would mean getting a rather cold home into the deal.
But actually, this isn't really a bad thing.
The open back door method can lead to accidents later on, when the door has to be closed for some reason.
Because the puppy never learns to wait to relieve themselves during the day.
It leads people to feel that potty training has regressed, but actually they have just stalled along the way.
For this reason, don't worry about not wanting to leave the door open. Just leave it shut!
For some people, like those in apartments, this won't be possible anyway!
It'll be much nicer for you and your dog, especially when you are cosying up indoors during rain showers!
Puppy won't go outside in the rain
I love the rain. It's not a popular opinion, but I always have. Everything looks shiny, and I don't mind getting wet as long as I'm properly kitted out or able to get dry again as soon as I desire.
However, I've never had a young puppy agree with me.
Most puppies don't want to get soggy, they want to stay in the dry. Which is understandable, but unfortunately when it comes to potty training it's just not an option.
If your puppy is reluctant to go outside when it's wet, then don't try to lure or tempt them. Just pick them up.
If you have mobility issues or an enormous puppy, then use a harness and leash with lots of bits of kibble to tempt them.
But the reason we avoid this otherwise is every moment your puppy is on the floor and needing a pee, is a moment when that pee might just come out.
Once you have scooped them up, they won't go until you set them down again.
Escapees!
When you take your puppy outdoors in the rain, the chances are they'll be keen to come straight back inside.
Make sure you have shut the door before you set them down, so they can't escape back into the house.
If possible, use a puppy play pen outside to pop them into.
To encourage them to pee as quickly as possible, and not to hold it in, it's important that you brave the weather too.
Staying with your puppy
Sadly, staying outdoors while you wait for your puppy to pee or poop is even more helpful in winter.
In summer you have some chance of leaving your puppy to it resulting in them doing their business.
Come winter, this is greatly reduced.
That's because it's uncomfortable being outside in winter, and far less fun than in summer.
So your puppy will be far less likely to want to sniff around and play while he's out there, giving time for nature to take its course.
Gearing up for winter puppy potty training
To encourage yourself to stay with your puppy as long as necessary outside, make sure you have a set of clothing ready.
Waterproof boots, a wide brimmed, waterproof or warm hat. Even a great big sweater.
Just make sure that whatever you will need is there waiting and ready to go immediately when you need it.
It's no good spending ten minutes looking for your socks when your puppy needs to pee right now.
Getting prepped will make the experience far more comfortable, and stop you making excuses to yourself that result in tiny puppy puddles on your floor!
Winter puppy potty training in the snow and ice
It's one thing objected to a bit of water, but another much more reasonable thing to complain about when you have to go out in the freezing snow or ice.
Slipping and feeling unsteady on your feet is scary for a small puppy. As is being submerged in a cold layer of snow.
We don't want to put the puppy off peeing outside by making an extremely unpleasant this to do.
And yet even in winter, puppy potty training still needs to go on.
But you can get around this by creating a place that it's not so unpleasant for your pup to pee.
Shelter
If you live somewhere with particularly harsh winters, then it's a good idea to construct a small shelter.
Something that will have a cover, to protect the ground from getting too frozen or filled with snow.
If it's not too windy a marquee will do the trick, or you can nail a tarp between some existing trees or shed structures in your backyard.
However, not everyone is handy!
Getting out there with a shovel and clearing an area each morning can go a long way too.
When all else fails – winter puppy potty training indoors!
Sometimes we do everything we can, but for a time the elements are against us.
In this case, consider temporarily using puppy pads in a playpen indoors.
This can delay potty training a little, but in some circumstances it's worth it to save you and your pup a few days of intense stress.
Whenever you would have taken your puppy outside, put them in the designated playpen instead.
Just make sure it's on a room with a hard washable floor. Cleaning puppy pee off tile is much easier than carpet!
Winter puppy potty training
Puppy potty training in the cold and wet is often harder work for you both.
But it is a relatively short period of time, and if you get prepared and take action now you'll get there before you know it.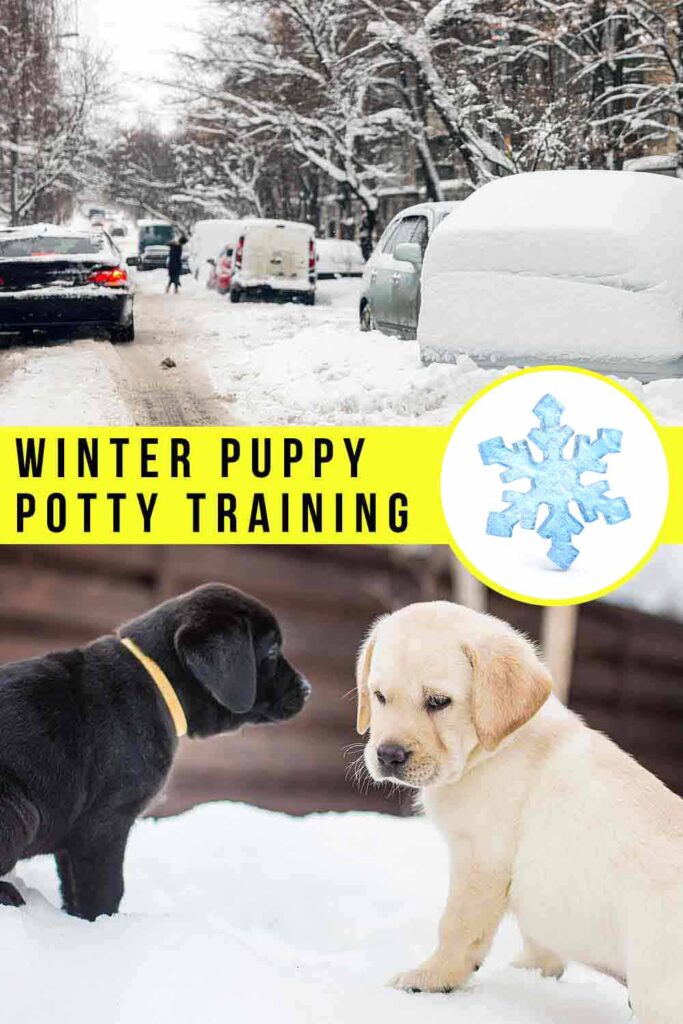 Get Pippa's free dog training tips delivered to your inbox