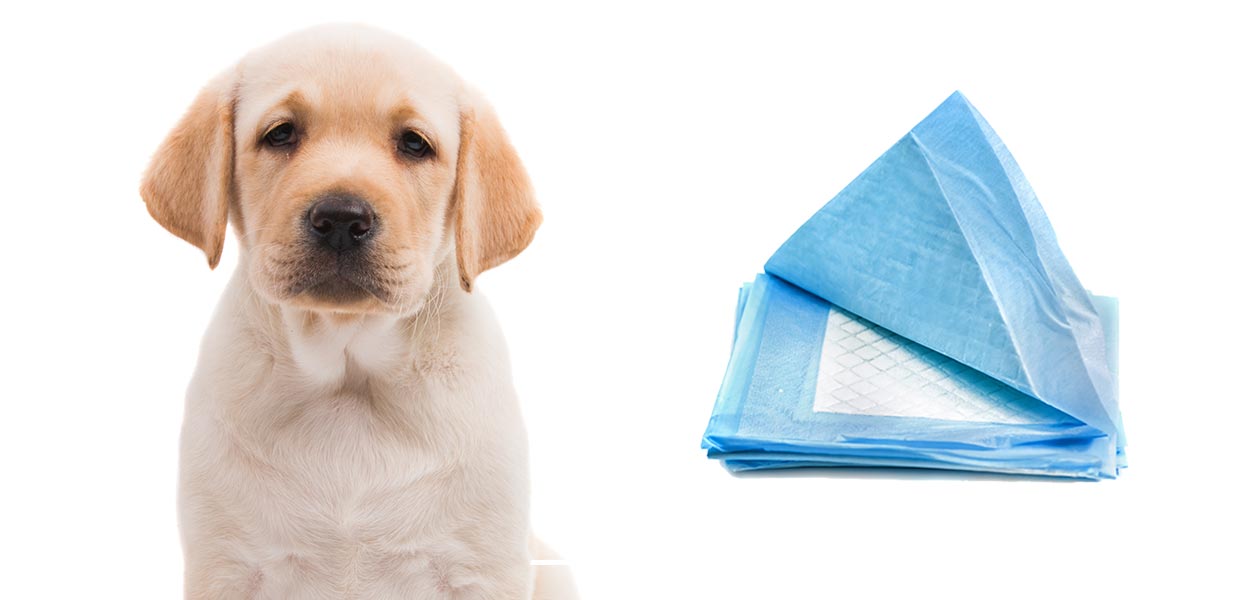 There are a few alternatives to puppy pads that you might like to consider when your new dog arrives.
The most popular options include paper, fabric, or dog potties with artificial or real grass.
Or using a different method of house training that does not involve lining the floor.
Indoor potty training
There are two main potty training methods, outdoor and indoor.
The indoor method usually involves puppy pads, but there are plenty of other options.
Using this method you begin by lining the area the puppy has access to with some kind of covering.
Then over the days and weeks you reduce the area that is covered, until there is only a small area where they poop or pee.
You can then transfer this outdoors, or leave it in place if you live in an apartment or don't have a backyard.
The problem with puppy pads
Puppy pads do a pretty good job of soaking up your puppy's waste. But they have their drawbacks.
They are not biodegradable, and will stay in landfill along with our children's diapers for the next few hundred years. And they have some practical problems too.
They are fairly expensive and need replacing daily.
Puppy pads also move around the floor.
You can lay them out in a nice even covering when you put your puppy in their pen at night, but you can guarantee there will be gaps in the morning.
And you might find poop or pee in those spaces in the early days.
If this happens and you aren't around to do an instant clean up, then the likelihood of your pup peeing between them increases.
Which is exactly what you don't want when the aim is to reduce the area they cover.
Unfortunately, the alternatives to puppy pads each have their own drawbacks too.
Paper alternatives to puppy pads
Thirty years ago puppy pads were not in common usage. What was used instead, were newspapers.
They were cheap, because everyone had already bought them anyway.
Easy to get hold of, and compostable too!
These pros are still true today, but the reason many people don't use them is they simply don't work as well.
Newspaper can soak up pee, but not as efficiently. You'll find residue underneath.
And if you leave newspaper down overnight the print can soak off into the flooring, depending on what you are leaving it on and how much your pup has peed!
I find it doesn't move around as much as puppy pads, but you have to use several layers to make sure it doesn't soak through.
There are some purpose made options too, but none of these work quite in the same way.
Fabric alternatives to puppy pads
Reusable puppy pads are a relatively new idea, and work along the same basis as reusable baby diapers.
Made of a combination of cotton and polyester, they are the size and thickness of puppy pads but aren't single use.
After your puppy has peed, pop them straight into the washing machine.
If they've pooped, scrape the waste into the bin and then wash.
Our concern with these, although I hasten to say i've not used them myself, is that the puppy is being taught to go on fabric.
Which could lead to some confusion regarding their bed, or even your soft furnishings.
This would be enough to put me off, despite the environmental pluses.
Dog potties
The remaining options could all really be referred to as dog potties.
Dog potties range in price, but you only need to pay for one once.
If they are made of plastic they create landfill, but it's likely to be considerably less than the quantity of puppy pads you need would make.
The real downside is these are likely to only work with a puppy that is already used to peeing on grass.
Because you can't cover a large area with them, they rely on your dog's instinctive response to pee where the grass is.
The most popular dog potties are created using artificial grass or real grass.
Artificial vs real grass alternatives to puppy pads
Puppy potties with artificial grass are easy to maintain, and stay looking relatively nice in your home when they aren't in use.
But real grass will be appealing to dogs with some association with peeing on the lawn.
You can buy a tray that has grass seed in it, or use a large kitty litter box and fill it with soil and seed it yourself.
But like the other methods above, they aren't an ideal solution.
Other puppy potty training methods
To potty train your puppy, you don't need to use puppy pads.
You can instead follow a strict schedule of letting your puppy out at small intervals of time.
Forming a habit of them peeing and pooping outside, which is ideally never broken.
You wait until the puppy has peed or pooped before putting them down inside to play.
Then for a small period of time before they are due to go potty again, you pop them in their crate or on your lap.
This way you can gradually increase the gaps between toilet timings over the weeks.
If you pop over to our Puppy Parenting course, you'll be given details on how to win with this approach.
Along with plenty of support in our private forum too!
Get Pippa's free dog training tips delivered to your inbox