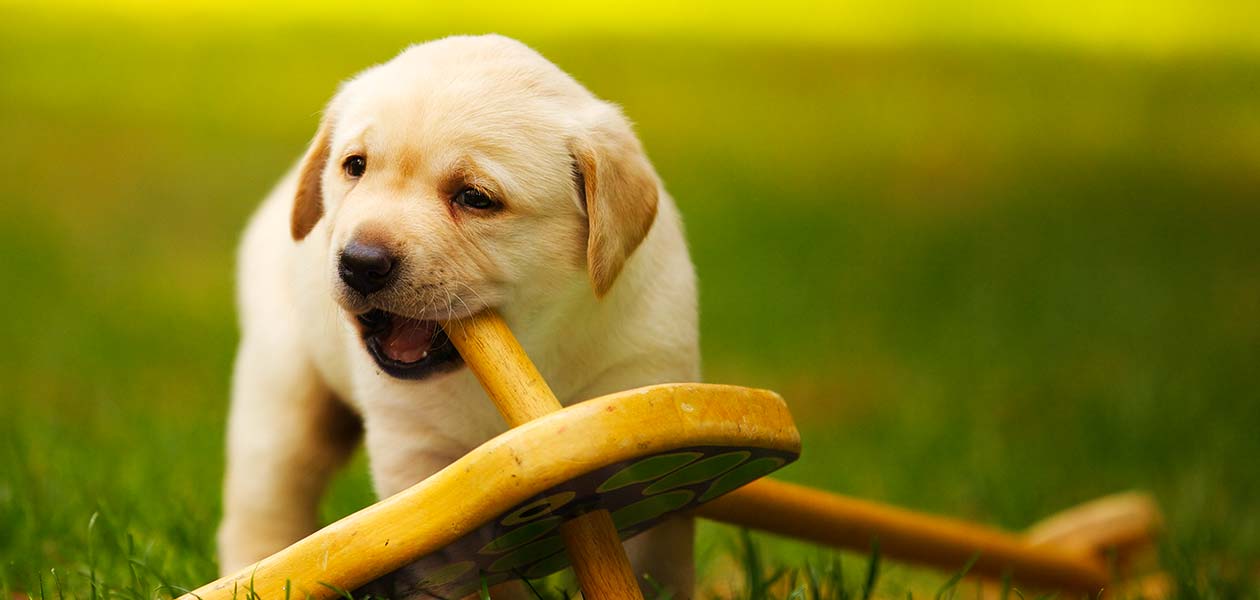 Working out how to stop a puppy from chewing on wood furniture can be very frustrating.
Because some puppies find our chairs, tables and cupboards seriously appealing.
Fortunately, there are ways that we can tackle this splintery problem.
Often by using a combination of prevention, distraction and training.
Why do puppies chew?
Puppies love to bite and chew.
They enjoy the sensation, find it relaxing and it helps to relieve teething discomfort too.
Although many new puppy parents expect some chewing, they often don't realise what the object of that desire is going to be.
Lovingly selected toys are left unloved in a corner, while the chair legs take a brutal pounding.
You leave the room for thirty seconds, only to return to find your pup tooth deep in the dresser.
Why do puppies chew on wood furniture?
There are several reasons your puppy might start gnawing away at the furniture.
A lack of toys, or appropriate chew toys, can mean they go elsewhere to fulfil that need.
Boredom can also encourage them to go looking for ways to entertain themselves.
Furniture is convenient too. They move their toys around and lose them, but the table is always where they left it.
How to stop a puppy from chewing on wood furniture
The right method to stop a puppy from chewing on wood furniture in your home will depend upon the cause.
Your main things to try will be:
Blocking access to that piece of furniture
Providing them with more appropriate chew toys
Starting to work with positive reinforcement training
The solution is likely to be a combination of more than one of the above.
The more of them that you can address at once, the better your chance of success!
Choosing the right chew toys
There are a huge range of chew toys for puppies available right now, but they aren't all equally appealing.
To begin with it's a good idea to have a range of different types and textures to offer your dog.
Obviously we're not all made of money, so we recommend you start with a single puppy Kong, a Kong Wubba and a tough soft toy.
Have a look at whether the surface of the furniture they are chewing has a particular type of texture.
Are they hooking their teeth into a rounded or jagged section? If so, find a toy that replicates that surface.
For those particularly enthusiastic chewers an antler can be a brilliant distraction, but they do occasionally chip dogs' teeth, so use and choose with caution.
Every time your pup goes towards the wood furniture they have been chewing, pop this toy into their mouth.
If they aren't keen then wiggle it around the floor to build up interest first.
Make kissy noises with your mouth, and crouch down so that you are on their level.
Most puppies can't resist running towards a person on the floor.
Boredom busters
The best way to keep a puppy happy is through training.
Puppy games like those we introduce in our Puppy Parenting course are a great source of entertainment.
And simple training games aren't just a great way to keep their brains and bodies busy.
They also introduce the idea of focusing on you in exchange for rewards.
Don't try to go too far, too fast with training solutions for puppies, as this can damage your success later on.
Attempting to recall a puppy away from something they want is likely to end in being ignored.
Which impacts upon the effectiveness of the recall cue when you use it in future.
What matters at this stage is teaching your dog that you are a source of treats, fun and entertainment.
Time spent training is time spent not chewing.
And the less she chews your furniture, the less she will be thinking about chewing it too.
Prevention
The most effective way to stop a puppy from chewing on wood furniture is to prevent their access to it.
How practical this will be to do will depend a lot on the layout of your home.
Here are the main tools that can help you:
Puppy pen
Baby gates
Crate
If the focus of your dog's chewing is one specific item of furniture, then stopping them accessing the room it's in with the use of a baby gate for a few weeks should break the habit.
But if that room is one you wanted the puppy to be in, then you will need to stop them accessing it in a different way.
Setting up a puppy pen elsewhere in the room allows the puppy to still be there, but prevents them from accessing the furniture.
Crate training can also be useful in these situations.
But remember, popping a puppy in their crate while you aren't in the room is fine. Leaving them there for hours on end is not.
If you work full time, you'll need to make some solid arrangements for your puppy's care while you are out the house.
How to stop a puppy from chewing on wood furniture
The best way to stop a puppy from chewing on wood furniture is to use a combination of distraction with toys, avoidance of the area with barriers, and training.
And most importantly, keep your puppy entertained.
Fortunately, most puppies grow out of chewing when they reach adulthood. And the sooner you put good habits in place, the quicker this change will come.
Get Pippa's free dog training tips delivered to your inbox