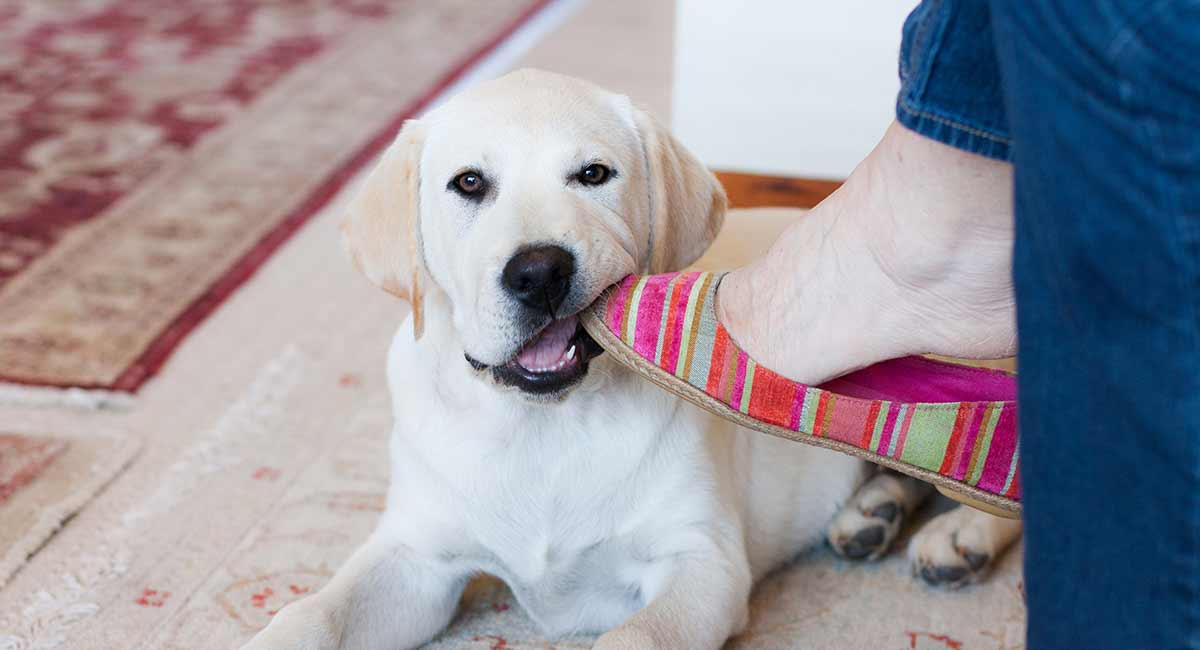 Working out how to stop a puppy from biting your clothes can be a challenge.
Every puppy is different, and the targets of their tiny teeth can be surprising.
But don't panic!
There are several approaches that you can try to help with the problem.
Why do puppies bite clothes?
When your puppy is jumping and biting your clothes it can feel like a full on attack.
Especially if they do it to your dressing gown, when you've just got up at the crack of dawn to let them out for a pee.
However, puppies biting at clothes doesn't come from a place of aggression. They're just having fun!
When they are small, puppies play quite hard.
Their mother and litter mates will have helped them to inhibit their bites to an extent, but when they arrive home they will still be mouthy.
How to stop a puppy from biting your clothes
There are a few techniques you can use to keep your clothes safe from your puppy's teeth.
Let's start by looking at avoiding the issue.
The first thing to try, if your wardrobe allows it, is to wear tighter clothes.
Tight clothes
Tight fitting clothes, shorter length trousers or skirts, can help because they don't have loose fabric.
Loose floaty skirts and dangling cords are very appealing to puppies.
They wave and jiggle around in a 'come and get me!' fashion.
And they are really easy to grab hold of.
Swapping big trousers for tight jeans for the next few weeks will both discourage the biting from starting, and mean that if they try your skin will be better protected.
If you don't have any tight jeans, then another trick that works is to pop a hair tie around each ankle.
This holds the fabric closer to you and presents less of a tempting target to your puppy.
Just don't forget to pop those ties off before you leave the house!
Short clothes
Wearing short clothes can help, but it's not without its drawbacks.
Above the knee shorts or skirts are out of reach of most little puppies, and are even a less obvious target when you are sitting down.
But if they do decide to have a try, things can be even more frustrating than with longer legged garments.
Because it's not just puppy teeth that are sharp. Their claws are too!
When puppies jump up at you, they scrabble at your legs.
Many owners accidentally reward this behavior by reaching down to pet them when they first do it.
Which is easily done if you are wearing long trousers, because their claws don't hurt.
But swap those long trousers for short ones, and boy can those spikes sting!
If you've already started teaching your pup to keep all four paws on the floor however, shorter legged clothes can provide a short term solution!
How to stop a puppy from biting your clothes AND shoes
Unfortunately, the clothes on your legs aren't the only popular target for puppy biting.
They are very fond of feet too.
Wearing shoes in the house, even if your carpets take a small hit, can be worth it for the first few weeks.
Even better, invest in some plain, boring, slippers. No tassels, bows and not too fluffy.
Or swapping your nice shoes for some old worn ones.
Try to choose a pair that are free from laces, or keep the laces tucked in.
You might even find you need to leave out the knot for now, and just slip them straight down the sides.
Anything to remove temptation.
Remove yourself
As you can see, we go to some fashion lengths to stop puppies from biting clothes in our house.
If you met us in the first few weeks our new dogs were home, we'd be dressed rather differently to the rest of the time!
But even these methods aren't foolproof.
There are times that even a home worker needs to leave the house and look halfway decent.
Fortunately, for these occasions we have a couple more tools in our arsenal.
Containment
A good way to stop a puppy from biting your clothes temporarily is by containing them.
This can be putting them at the other side of a baby gate.
Or if they have been crate trained, popping them into their crate instead.
As a method this works particularly well when they are over excited. Giving them space to calm down.
Distraction
This can be coupled with, or used separately to, distractions!
Have a few dog toys that you keep out of reach most of the time.
Puppies will tire of their toys if they see them constantly and always have access to the game.
Popping a few on a high shelf and only passing them over for a few minutes a day will keep them very exciting.
And they prove a great way of taking a pup's attention away from your clothes and onto something else.
How to get a puppy to stop biting clothes through training techniques
Nothing is quite like training for getting results.
In our puppy parenting course we look in detail at the problems caused by puppies' biting antics and how to deal with them.
An important part of the course involves games you can play with your puppy. These are really tiny training sessions in disguise.
Whenever your pup is working to please you in order to gain a reward, they aren't chewing your clothes.
And the more they learn to be sensible and calm, the better your time around them will be.
How to get a puppy to stop biting clothes
To get a puppy to stop biting clothes you can use a number of avoidance, distraction and containment solutions.
Making a start with their positive reinforcement training will also give you benefits well beyond the early biting stages of puppyhood.
And I hope you'll be reassured to know that no matter which methods were used, I'm yet to meet a puppy that didn't grow out of biting clothes after the first few months at home.
Get Pippa's free dog training tips delivered to your inbox