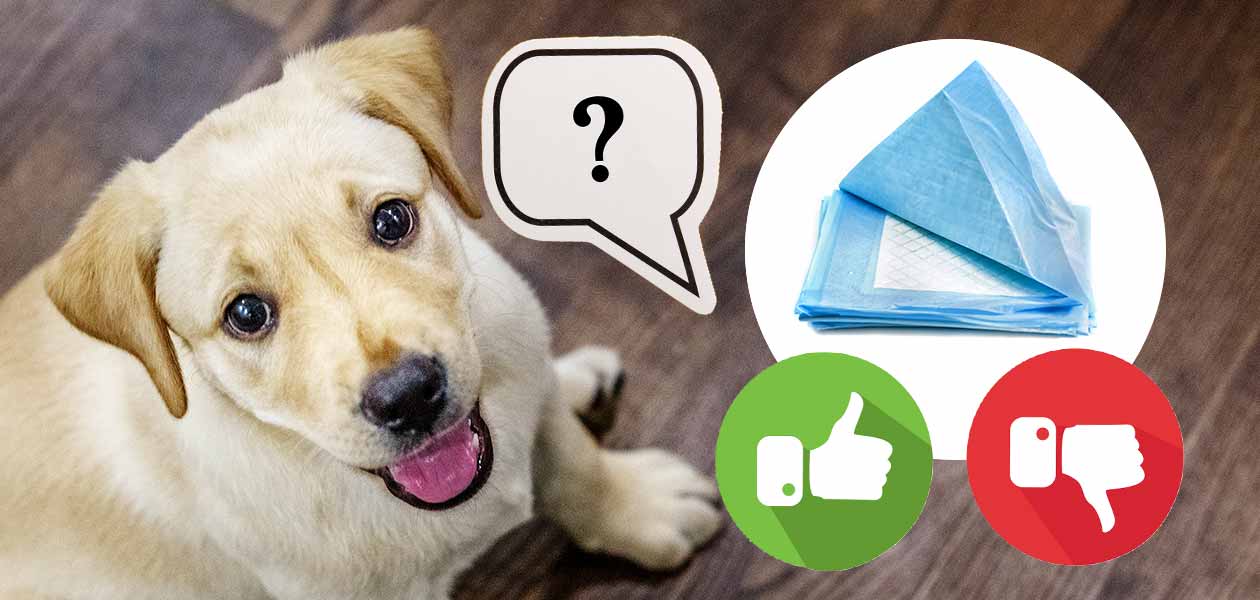 Are puppy pads bad for potty training, or are they the best way to house train your dog?
There's no straightforward answer, and it depends entirely upon your circumstances.
Puppy pads are the best option for some puppy parents, but possibly better kept as a Plan B for others.
Let's find out which method would suit you and your pup the best, and why some people object to puppy pads so strongly.
How to potty train a puppy
You can generally break potty training methods down into two categories.
Outdoor potty training and indoor potty training.
Potty training without pads
If you work from home and are around for much of the day, then you can dedicate yourself totally to puppy potty training.
By spending those first few weeks sticking to a careful routine, you can have a puppy that never pees indoors.
If you are lucky!
A puppy that has never got into the habit of peeing indoors, is of course less likely to do so further down the line.
Their pee place is outside, so when they want to go that's where they head.
It's a hard couple of weeks, but the results are quick and as long as you stick with it your puppy will be dry in the house relatively fast.
And that's brilliant, if you can dedicate most of your time to your puppy in those early days.
Not to mention nights…
But not everyone is in a position to do so.
Enter, the puppy pads!
For most owners, indoor potty training involves using puppy pads.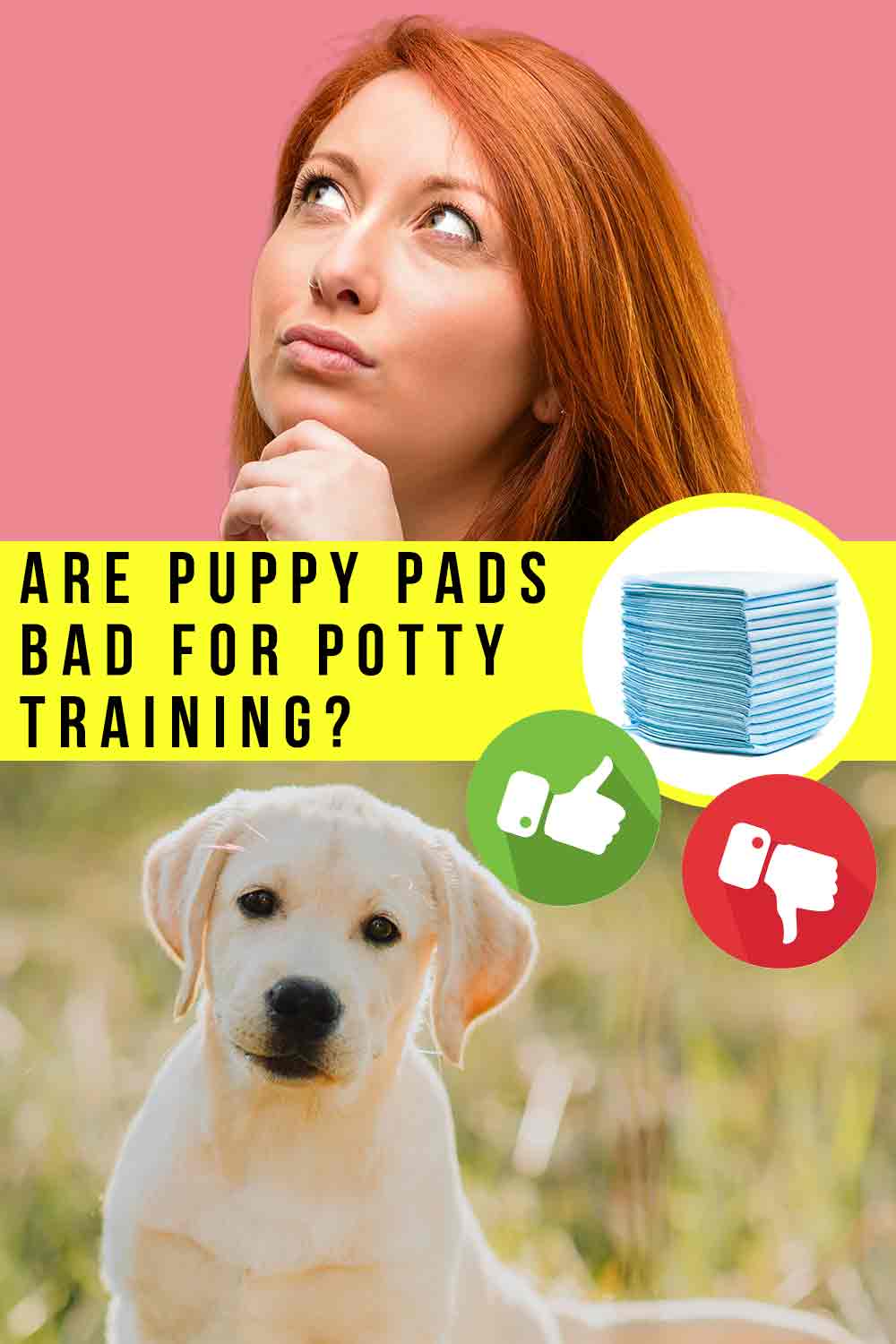 These are spread around a wipe-clean floor, in the room the puppy spends most of his time in. Often confined in a puppy pen area.
The idea is that the puppy can pee or poop indoors, and it's easy to clean up.
Over time you decrease the area covered by pads, until the puppy is only going in one spot.
You then remove the puppy pads altogether once they have a stronger bladder and are able to go outdoors.
It's a popular method with owners that live in apartments.
This method works and has been used for generations by puppy parents, albeit previously with newspaper instead of puppy pads. Which have their own drawbacks!
But it is not a fast method of potty training, and can in some dogs build a strong association where indoors is their peeing preference.
Especially in bad weather.
Are puppy pads bad for potty training?
Puppy pads are not inherently bad for potty training, but they aren't always the quickest or easiest method.
The main drawbacks are:
You have to get up close and personal with their mess
Hygiene
Smell
They create an association with peeing and pooping indoors
Your puppy takes longer to become clean in the house
Hygiene and smell
When you use puppy pads, your puppy will at times during the day pee or poop on them.
If you are home then you can clear that up straight away, but if you are out or otherwise engaged it might be left for a while.
When you use them overnight in a puppy pen, even more so.
The other issue with the poop and pee being left in place, even if they are on a puppy pad, is this association issue.
Peeing and pooping indoors is a habit
The idea of puppy pads is for the puppy to do their business on them.
Which works well, if you have a completely covered area to start with.
And your pup doesn't manage to move or chew them up when you aren't looking….
But dogs, like us, are creatures of habit.
Once we've got them used to it being okay to pee inside sometimes, they'll be more likely to want to do so at other times.
Even if the surface they were going on has moved or changed.
When you house train a puppy to only ever pee outside from the first day, they never make this bad habit.
Delays in being clean indoors
The ultimate goal for most puppy parents is to have a companion that uses the bathroom outdoors.
There are situations where this is not possible, or has to be pushed back.
Temporary bladder infections, elderly dogs or those that live in high rise flats for example.
But generally speaking you want your dog to do her business away from your home.
Puppy pads delay this process, because that's how they work! Your dog pees and poops indoors, on the pads.
Being clean in the house is delayed, because they have another option that is much more convenient.
But that doesn't mean puppy pads are necessarily bad.
When are puppy pads good for potty training?
There are two main situations in which puppy pads are invaluable.
The first is if you work away from home.
Combining full time work and raising a puppy involves a lot of effort and a strict schedule.
A part of this is likely to involve leaving the puppy for a couple of hours in a large pen, lined with puppy pads, and containing an open crate.
This is a set up that can be used just at night, which is the other main situation in which puppy pads are deployed!
The combo method!
Sometimes a puppy owner will just use puppy pads in a pen at bed time.
This is something we teach in our Puppy Parenting course, because it's a very popular option.
In the day they will use the outdoor method. With an iron clad routine of letting the pup out regularly, and avoiding accidents in the home.
At night the pup's crate will be open to allow them to go potty whenever they need to, ideally without waking them up.
It can be a good solution to the crippling tiredness caused by night wakings.
The downsides are still potentially a delay to being clean in the house, at least overnight, but this isn't always the case.
When are puppy pads bad for potty training?
Puppy pads are really only bad for potty training in the sense that they can make the process of training a dog to be clean indoors take longer.
But they can also provide a valuable tool, especially if you are out for some of the day or struggle with being woken at night.
If possible the best approach is to use an outdoor routine from the word go, even if it's in conjunction with puppy pads.
Good house training habits really help to keep your puppy on track.
Because the more your puppy is put in the position to have to pee outdoor, the more likely they are to wait until an outdoor opportunity arises.
Get Pippa's free dog training tips delivered to your inbox