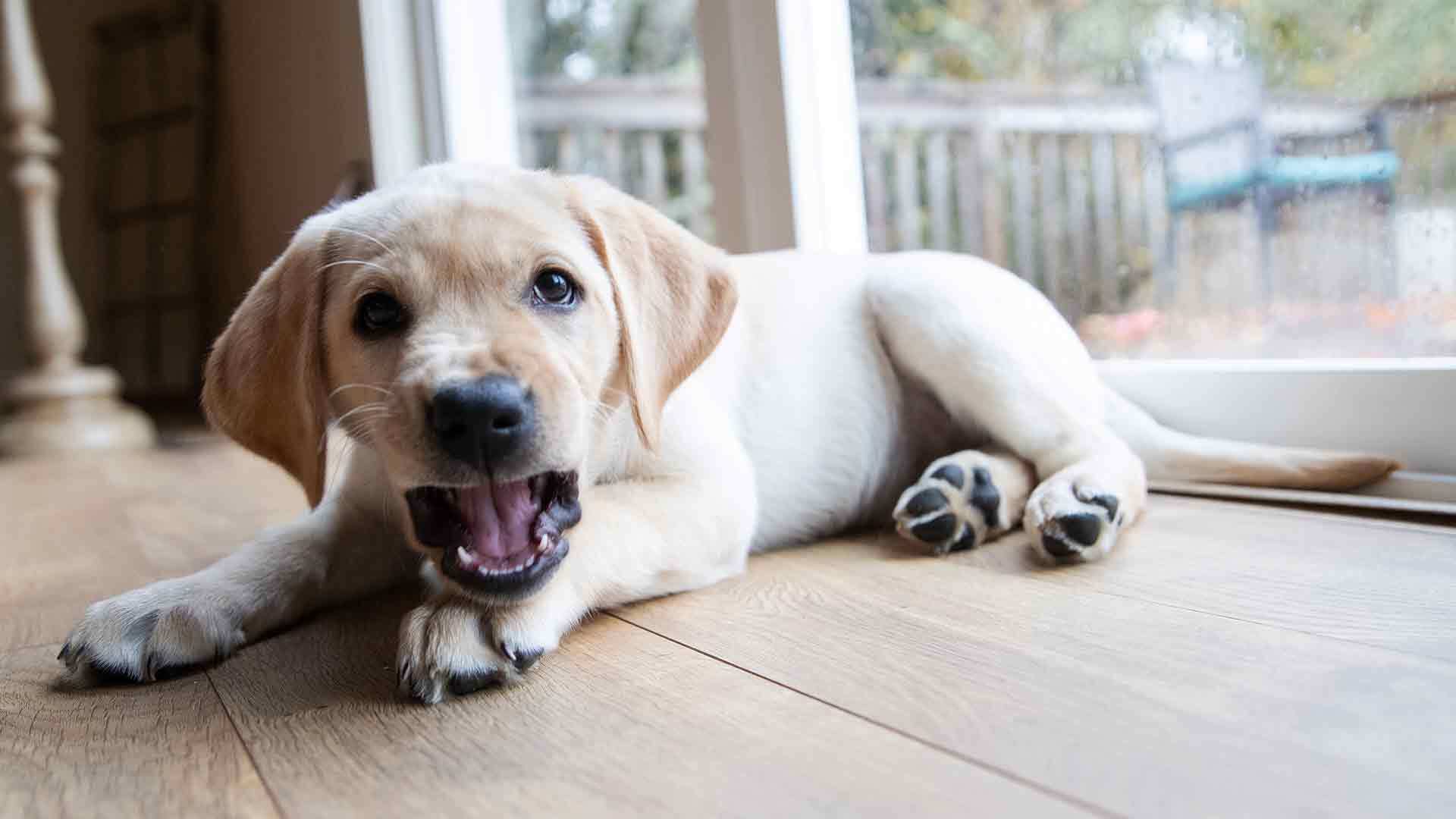 Teaching a puppy bite inhibition begins before they even move into your home.
It's a process that starts at their earliest interactions with their mother and litter-mates.
But it's up to you to complete their bite inhibition education, once they enter your house and heart.
And that's an important job, because biting is an area where new puppy parents and their furry friends can often fall out.
Bite inhibition training begins with the litter
When your puppy was first born her eyes were closed and she was just about able to crawl to her mom for a drink.
But by three weeks old her personality was starting to emerge, and by four weeks she was playing enthusiastically with her siblings. And trying to get her mom to join in too.
Yet sometimes, she played too hard. Which was okay, because her family let her know.
And she learned quickly that if she wanted to get to play, she had to moderate her behavior.
That her bite had to be inhibited, or she'd be left out of the fun.
Bring your puppy home at 8 weeks
Taking them home at no earlier than 8 weeks is possibly the most important thing you can do when it comes to teaching a puppy bite inhibition.
Because it gives their mom and siblings a significant amount of time to naturally learn that biting hard is not good.
Now the level of play biting a dog with a thick fur coat can cope with is harder than our soft human skin wants to handle.
But it's a great starting point.
Carrying on the good work
When you bring your puppy home at eight weeks they have the basis of bite inhibition already.
Teaching a puppy bite inhibition from this point is far easier than teaching it yourself from 6 weeks old, without the added benefit of those final two weeks with their furry family.
You just need to continue the good work, and help them to understand that using the full force of their teeth is not an option.
And there are a few things you can do to speed up the process.
Ways to teach a puppy bite inhibition
There are several methods you can use, individually or together, to help your puppy learn not to bite you.
Keeping them calm
Using toys to interrupt and distract
Withdrawing attention
Management
Training
Don't get them too excited!
Puppies are easy to wind up. And it happens a lot, because the process of getting there is fun for you both.
Sadly, the results aren't.
An overexcited puppy bites hard, with no inhibition whatsoever. And often to indiscriminate targets.
To prevent your puppy from going over the threshold, try to play with them and their toys for limited periods of time. Maximum a few minutes.
Don't rough house and wrestle with your puppy using your hands.
This might be enjoyable temporarily, but it almost always ends in biting.
Here are our top tips for keeping your puppy from getting carried away:
Interact using toys
Don't shriek, giggle or make other high pitched noises
Keep games short
Stop the game before your puppy gets too excited
Unfortunately, sometimes despite your best efforts your puppy will get worked up.
And when that happens, you need some techniques to pull out of the bag.
Distracting them with toys
Distracting and redirecting your puppy's bite is very effective.
When our puppies are young I keep a rope toy or Kong Wubba in my pocket or on the counter nearby at all times.
Then whenever the pup tries to mouth at me or my stuff, I can pop the toy in there instead.
If they won't engage with the toy and want to return to you, try wiggling it around to make it more interesting.
Withdrawing your attention
Did you know that even dogs use a withdrawal of attention to signal the end of a game.
An adult dog that no longer wants to engage with a puppy will stand still, stiff and upright.
You can do the same thing!
If your puppy is getting nippy when you want to interact with her, then draw yourself up onto your feet.
Stand still, fold your arms and look dead ahead.
Don't react to them at all, and some of the time puppies will give up and go looking elsewhere for a distraction.
Management
But sometimes taking your attention away from a frenzied puppy is just not enough.
They are so wound up and excited that they will follow you and attempt to continue their game.
This is where you need management strategies.
Your puppy setup should include baby gates, a puppy play pen and a crate.
When your puppy is over excited, put a physical barrier between you. Either pop them into their crate or play pen, or go through the baby gate and leave them in a safe puppy proof room.
Wait for at least two minutes, or as long as it takes them to calm down again. Then return!
And you can reduce the chances of another bite incident with some training.
Training
You can help your puppy to resist the desire to bite through rewarding them for showing self restraint or not choosing to put their teeth towards you.
It's a great way to be hands on with your pup, without getting nipped.
To do this you will need to keep some tasty treats nearby to reward them for making food choices.
Every time your hand approaches your puppy and she doesn't go to nip, say 'yes' and pop a treat on the floor next to her.
Ignore her and remove your hand if you approach and she goes to bite.
Depending on how bitey your new dog is, you might have to start rewarding her for simply not responding to your hand gestures relatively near to her face, and work your way forward from there.
You can find out lots more about teaching a puppy bite inhibition in our Puppy Parenting online course here. 
Teaching your puppy bite inhibition
Teaching your puppy bite inhibition is important, but it's worth remembering that puppies almost all bite. Some more than others, but most of them do it to an extent.
And they almost all grow out of it eventually. Whether that's a few weeks or months down the line.
What you are doing is helping to speed up this natural process, and do it in a kind and clear way.
Get Pippa's free dog training tips delivered to your inbox