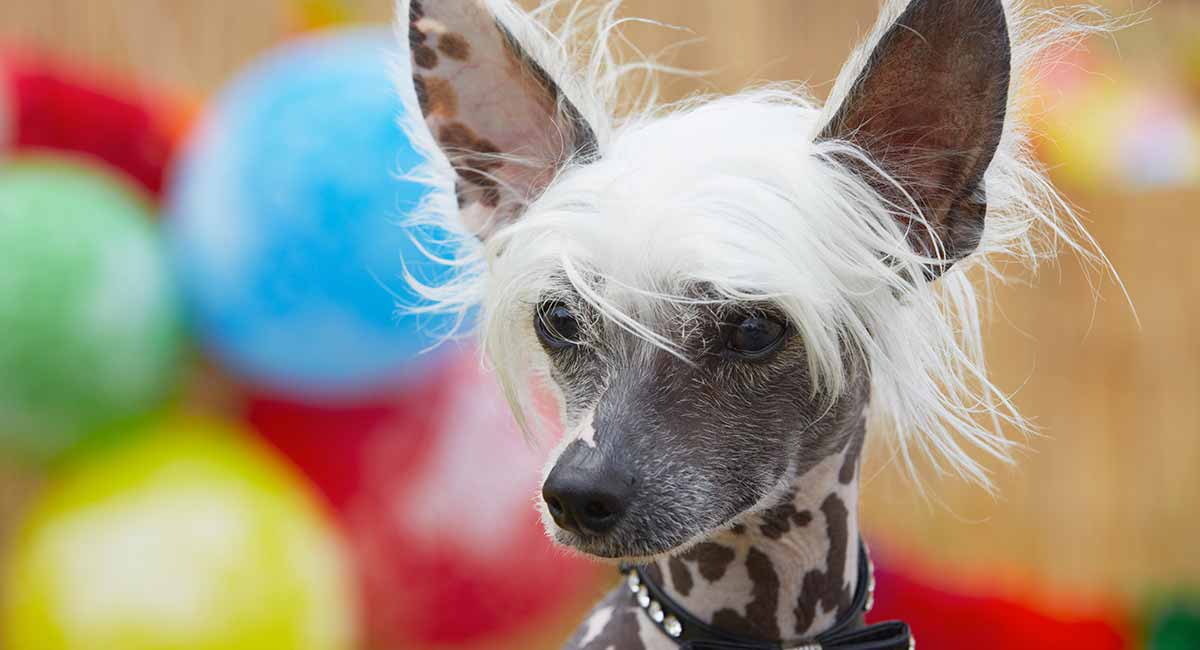 Hairless dogs are conspicuous for their bald skin, but underneath their hair-free exterior they have wonderful canine personalities just like their coated counterparts.
These are the most commonly identified hairless dog breeds:
Let's find out more about them!
A Little History
There is evidence of hairless dogs going back very early in our history. Archaeologists have found their likenesses on early ancient pottery in South America.
Early seafaring records also refer to breeds of hairless dogs kept on board a number of ships as ratting dogs.
Darwin himself is said to have written about Turkish hairless dogs. He noted their naked state and defective teeth.
Whilst any native Turkish hairless breeds have since died out, others have weathered the highs and lows of fortune to remain sought after companions today.
What Makes A Dog Hairless?
Hairless dogs have a genetic disposition for hairlessness.
Most hairless dog breeds have canine ectodermal dysplasia or CED.
CED is the result of a gene mutation, which causes hairlessness and also deformed teeth.
For these breeds the trait for hairlessness is expressed on dominant genes in a heterozygous gene structure.
Let's Break That Down
Or in simpler terms, these hairless dogs carry both the gene for hairlessness, and the gene for a coat.
Individuals with only the genes for a coat have coats (yes coated hairless dogs do exist!).
Fertilized eggs with only genes for hairlessness are reabsorbed by their mother's uterus while they are still only a tiny ball of cells.
This means that hairless dogs can also pass on the gene for a coat. It also means that hairless and coated puppies can be born in the same litter.
The exception to this dominant gene hairlessness trait is the American Hairless Terrier, which we will talk more about later.
Why choose a hairless dog?
Some say that hairless dogs are great for those with allergies. Indeed they may be suitable for those of us who dislike a lot of vacuuming and grooming.
Though, bear in mind that allergies will still be triggered by shed skin (dander), saliva, and urine. So, hairlessness is no guarantee of compatibility if you have allergies.
And of course, you will need to groom your hairless dog from time to time. One of your first tasks will be finding a good, specially formulated sunscreen.
In other words, hairless dogs still need a little research before buying and a lot of love when you get them home.
Let's learn a little more about these beautiful dogs so you can be fully prepared for your hairless dog.
Peruvian Inca Orchid
Peruvian hairless dogs have been with us for a while. Historians think they date back to long before the Incan Empire.
Archaeologists have found pottery from pre-Incan cultures like the Moche and Chancay depicting hairless dogs.
These dogs are sight hounds. Their first owners bred them to hunt, send messages and even warm beds! Think of them as the canine equivalent of a hot water bottle!
Today you may know the Peruvian Inca Orchid by a variety of names. They are also called:
Perro Calato
Inca Hairless
Perro Flora
the Perro Sin Pelo de Perú
and the Perro Viringo
Peruvian Inca Orchids are recognized by the American Kennel Club. They describe the breed's temperament as affectionate, loyal, and noble.
Peruvian Inca Orchid Characteristics
They earned their name during early Spanish expeditions in Peru. The colonists found the dogs in the cool, darkened rooms of Inca nobility among the orchids used to decorate their homes.
Peruvian Inca Orchids come in both a hairless and coated variety, and can be small, medium, or large. They can be a multitude of colors both as a solid color all over their body, or as spotted patches.
They can have spiky hair on the tops of their heads or sparsely over their backs.
Your Peruvian Inca Orchid will need sunscreen on sunny days. He may also need dog clothes when the temperature outside is cold. Plenty of regular exercise is a must.
Caring for your Peruvian Inca Orchid
These dogs require a lot of socialization. You should not keep your Peruvian Inca Orchid as an outdoor dog. This is due to their lack of coat.
They are very affectionate and loving with their owners, so can be great dogs to have around older children.
On the whole, Peruvian Inca Orchids are healthy dogs.
However, like with other hairless dog breeds, the Peruvian Inca Orchid may be prone to dental issues. So, we advise that you bring him for regular checkups.
Chinese Crested Dog
The Chinese Crested dog (or the Chinese Crested Hairless) or simply the Chinese Hairless dog.
Despite the name, historians believe that these dogs originated from either Africa or South America. This is because the breed shares genetic characteristics with both the Xoloitzcuintli and the Abyssinian Sand Terrier.
They likely earned their names as ratters onboard Chinese ships during the thirteenth century, used to keep the rat populations at bay.
Chinese Crested dogs are recognizable for their long hair covering the crowns of their heads, lower limbs, and tails.
Though they do have body hair as well. This is a sparse covering over their bodies much like we have hair covering ours, instead of a full coat.
Chinese Crested Dog Characteristics
They are small dogs that are affectionate, playful, and alert, belonging to the toy group of the American Kennel Club.
Chinese Crested dogs were bred as companion dogs for people who were sick and bedridden since they don't tend to need a lot of exercise.
You might not find a better snuggle partner!
The skin and fur of crested hairless dogs can be any color, and the skin may be one solid color or spotted.
Caring for your Chinese Crested Dog
Chinese Crested dogs can be prone to skin conditions such as acne, general skin irritations, and sunburn.
They may require special skin treatments which should be discussed with a veterinarian before applying.
As companion dogs they are easy to train, tending to show great obedience with their owners.
Chinese Crested Dog Health
Turning to health, Chinese Crested dogs can have a number of problems, so it is essential to purchase your pup from a reputable breeder.
Eye conditions such as retinal atrophy and glaucoma are especially important to look out for, along with patella luxation.
On rare occasions, Chinese Crested dogs can suffer from epilepsy.
The Chinese Crested is also known for having quite primitive teeth that have shallow roots, and are very susceptible to decay. These teeth are often referred to as tusks.
Chinese Crested dogs are considered one of the most cute hairless dog breeds, though you will also often see them on top ten lists of most ugly dogs!
Beauty is in the eye of the beholder we think!
Xoloitzcuintli
Probably one of the most famous of hairless dogs, the Xoloitzcuintli, sometimes known as the Mexican Hairless dog or Aztec Hairless dog, is considered one of the oldest breeds in North America.
Their name is often shortened to Xolo.
Xolos have been identified in numerous archaeological findings which place them as companions to early migrants from Asia, recognizable thanks to their distinctive lack of premolars.
Xoloitzcuintli Characteristics
Xoloitzcuintli dogs can be toy, miniature, or standard-sized.
Their skin can be a range of colors including red or bronze, though Xolos are more often the typical black hairless dog you might have in mind.
They can have hair on the crowns of their heads that comes in a range of colors, or can be completely hairless.
As with other hairless dog breeds, Xolos also have a coated variety.
Xolos are calm dogs that make excellent watchdogs. They are loyal and affectionate with their owners and will pine if left alone for too long.
Caring for your Xoloitzcuintli
These dogs require early socialization and where possible puppy training classes, particularly to curb any barking tendencies.
They are also known to dig or climb to escape confinement, so you will need to prepare your home accordingly.
Xolos were initially bred for hunting and warming; some Xoloitzcuintli owners say that their dogs know exactly where on their body is cold or is aching and will snuggle up to help!
Getting a Xoloitzcuintli means you get the best of both worlds in terms of exercise. Xolo dogs do enjoy long walks and vigorous play, but they can also be peaceful dogs that won't constantly seek entertainment.
Xolos tend to be generally healthy dogs, though the best breeders often test for hip dysplasia, patellar luxation, and various eye disorders.
American Hairless Terrier
American Hairless Terriers, also known as just as American Hairless dogs are another widely recognizable hairless breed.
They are the only hairless breed in which the trait for hairlessness is recessive. They are also the only hairless dog breed that has normal dentition.
The Rat Terrier, the predecessor of the American Hairless Terrier, originated from mixed-breed terriers that came to North America from Europe during the eighteenth century.
American Hairless Terriers are periodically bred back with Rat Terriers to prevent gene pool degradation.
American Hairless Terrier Characteristics
These Terriers are small to medium-sized energetic and curious dogs.
They have typical terrier hunting instincts, though their lack of a coat makes them unsuitable for hunting purposes.
In appearance, these dogs can be shades of white, tan, and black either as one solid color, spotted, or with patches. They may also have eyebrows and whiskers.
American Hairless Terriers require moderate exercise and minimal grooming. They are obedient dogs that are easy to train, and are equally happy whether taken on frequent long walks or snuggling on the couch.
American Hairless Terriers are a fairly healthy breed, though individuals should be checked for hip dysplasia, cardiac issues, and luxating patellas before they're used for breeding.
Less Well-Known Breeds
There are several lesser known breeds of hairless dogs around the world, sharing similar appearances, temperament, and health concerns to more recognizable breeds.
Most of these aren't presently recognized by the main breed registries.
Abyssinian Sand Terrier
The Abyssinian Sand Terrier, or African Hairless dog, is a rare hairless dog originating in Africa.
They resemble other hairless dog breeds in coloration and tend to be completely hairless.
They are medium-sized dogs that are loyal, affectionate, and good with other dogs and small children.
The Abyssinian Sand Terrier puppy only learns to bark when raised around other dogs.
Ecuadorian hairless dog
The Ecuadorian hairless dog is a descendant of the Peruvian Hairless dog.
It is distinguishable from the Peruvian because of its much shorter tail and lack of premolars.
It isn't considered an official breed, though is one of the rarest breeds of dogs.
Hairless Khala
The Hairless Khala or Bolivian Hairless dog originates from Bolivia, though is found throughout Central and South America.
Their appearance is very similar to that of the Xoloitzcuintli, and similarly vary in size.
These are loving and docile dogs. Train them early to avoid dominance over other dogs. Though they are happiest when in other canine company.
Argentine Pila
The Argentine Pila dog is a companion dog very similar to the rarer Hairless Khala and more common Xoloitzcuintli and Chinese Crested.
They are affectionate dogs that are loyal to their families and can be small, medium, and large in size.
Argentine Pila dogs have very soft skin, and can be very long-living dogs.
There are also some breeds with very short coats that some people mistake for hairless dogs. Among these are the Johangi from India, the Japanese Terrier, and the American Crested Sand Terrier.
Is A Hairless Dog Right For You? A Summary
If you are interested in getting a hairless dog, here are some things to keep in mind.
Hairless dog breeds will benefit from sunscreen when in sunny weather.
However, because their skin is delicate, it is best to check with your veterinarian to ensure you are using a suitable treatment.
They will also require dog clothes when the weather is cold. You should not keep hairless dogs as outdoor dogs.
Grooming And Care
Grooming is far easier for hairless dogs than for coated ones. Even still, they still need to have the occasional brush. You must also monitor their skin for signs of infection.
A bath from time to time will keep your dog in the best of condition, for which you should use a mild shampoo designed specifically for dogs.
Also keep an eye on their teeth since many hairless dog breeds suffer from dental issues.
Overall, hairless dogs are easy to train, low maintenance dogs that are great for both individual owners and families.
Do You Have A Hairless Dogs?
Which breed are they, and what would you like other dog lovers to know about them?
Tell us in the comments box down below!
Readers Also Loved…
References and resources
Get Pippa's free dog training tips delivered to your inbox