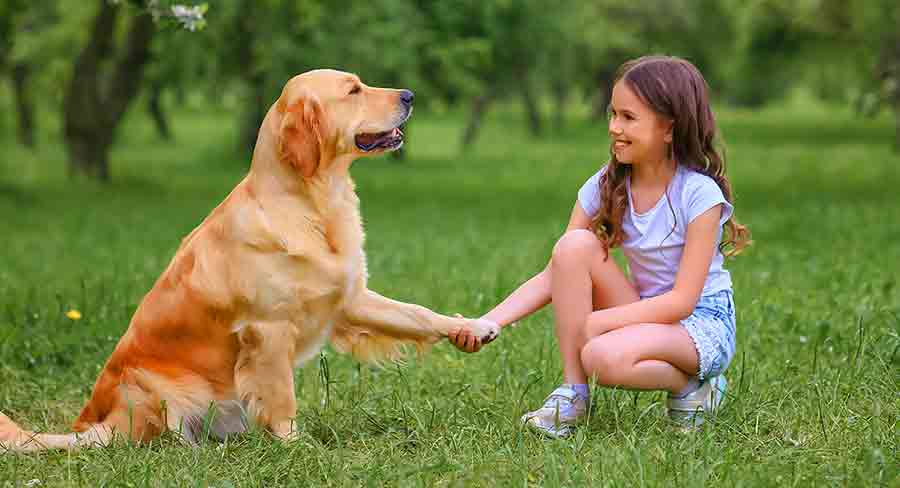 Puppy training for kids is a fun way to get the whole family involved in raising a puppy. We're going to take a look at the best ways of involving kids of all ages in dog training.
Products included in this article were carefully and independently selected by the Dogsnet team. If you decide to make a purchase from one of the links marked by an asterisk, we may earn a small commission on that sale, at no extra cost to you.
Puppy Training For Kids
Lots of people think that the company of a loyal canine pal is a quintessential part of childhood. For lots of families, the pre-school years are also the period when one parent stays at home full time – which is potentially a suitable opportunity to settle in a new puppy.
The reality of raising a puppy sometimes falls short of kids' (and grown ups') expectations though. They are not always cute, cuddly or sleeping. Sometimes they are wild, noisy, biting, toy-stealing, wrecking balls of energy! Teaching kids how puppies think and learn is a great way to keep their relationship sweet.
Safety first!
The good news is that modern dog training relies on force free methods, and positive reinforcement of good behavior, rather than punishment of bad behavior. This is the safest way to train, since puppies are less likely to bite (either through upset or a misplaced sense of play) if they aren't being manhandled. Nonetheless, kids should always be supervised when interacting with or training your puppy.
Younger children in particular are less able to correctly interpret dogs' body language. So they may miss the signs that their puppy is confused, frustrated, tired, or fed up. Children also make up a disproportionate number of patients needing treatment for dog bites at hospitals. So you should always monitor them with your puppy, and be ready to step in.
Dog Training For Kids
Have a think before your puppy comes home about how mature your children are, and what's realistic to expect of them. Most children under 5 years old have enough difficulty controlling their own energy and impulses. So it's a little ambitious to try and get them involved in dog training. Let them enjoy your puppy's company by sitting next to them with you when they're both feeling calm, and show them how to stroke a dog correctly.
Children between 5 and 8 years old can start to take part in basic training. This shouldn't include anything which involves picking up the puppy, such as potty training. But they can help with some of the practical aspects of settling a dog into their new home, and teaching basic obedience. Here are a couple of examples of how.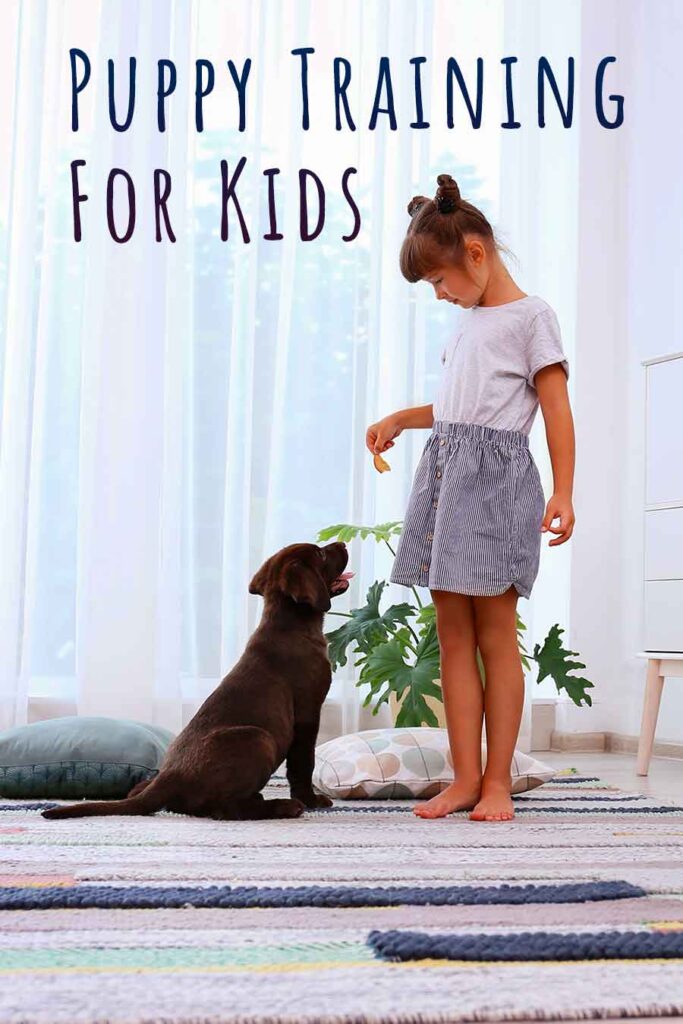 Simple Puppy Training For Kids: Happy Places
There are lots of advantages to crate training. And crate training begins with convincing the puppy that the crate is a great place to be! Kids can help with this by sneaking treats into the crate whenever the puppy isn't looking. Show them where a small pot of treats for this purpose is kept, and remind them to be super sneaky. Your puppy shouldn't realise how the treats ended up there! If you have more than one child, challenge them to find out who can hide the most treats in a day.
Simple Puppy Training For Kids: Teaching 'Sit'
Everybody loves a dog who sits nicely when asked. And this is a cue which young children can teach their puppy from the other side of a barrier or baby gate. Give your child a small handful of treats, and ask them to drop the first two right in front of the dog, then hold out the third one at arm's length and shoulder height, in a closed fist. Your puppy will be watching that hand intently, and sooner or later they will lower their butt so they can look up more comfortably. When they do, encourage your child to give them some praise, and drop the treat in front of them. Repeat this with a few more treats.
Soon your puppy will be sitting down as soon as they see your child holding out a treat in an extended fist. At this point your kids can start labelling the behavior by saying 'sit!' at the same moment their puppy sits down. Once the puppy understands the connection between the behavior and the word 'sit', your child can stop holding out the treat at first, and just drop it in front of the puppy once they're seated.
Top Tip!
For commands or cues to keep working, it's important to make sure our dogs give the right response to them as often as possible, and are consistently rewarded for it over a very long period. At least until your puppy is fully grown up! Unfortunately lots of young kids (and older kids, and adults…) struggle with this part. Once their new 'sit' cue has worked a couple of times, it's hard to resist the urge to use it around distractions (when it won't work), or to use it when they don't have any rewards to give.
To avoid your kids undoing your own training progress, always give them their own cues to use. For example if you're using 'sit', get them to use 'rest'. Or let them have 'sit' and keep the traditional cue 'hup' (short for 'hold up') for yourself – then you'll feel like a real pro!
Puppy Training For Older Kids: Clickers, Whistles, Tricks and Beyond
Modern dog training relies on satisfyingly simple principles, so kids aged 8 and above can often get involved in all aspects of it. To teach a new behavior, you need to
Get it
Mark it
Reward it
Name it
Proof it
To get a new behavior, you'll need a plan that culminates in your puppy offering the behavior you want (like holding out a treat at shoulder height in the 'sit' example above). Most modern trainers then use a clicker to mark good behavior, so the dog understands exactly what it was they are being rewarded for. To reward the behavior you'll need treats or a favorite toy. And to name some behaviors (such as recall) you'll need a whistle. Remember, the name eventually becomes the cue that your dog responds to in future. Finally, proofing the behavior requires patience and repetition.
Children vary as to when they develop enough comprehension, dexterity, and patience to teach a puppy using this method. For example, it takes a little practice to manage a whistle or clicker and dispense treats at the same time. And it takes time and patience not to rush the proofing stage. Puppy training is a fun new skill for kids to learn, but for most parents it involves training a puppy and teaching a child how to train a puppy at the same time. You'll have the best idea of what your child is capable of.
Puppy Training Resources For Kids
In this next section, we've got some great books to help engage your children with puppy training.
The Everything Book Of Dogs And Puppies
Not strictly a training manual, the Everything Book of Dogs and Puppies* from DK is a great introduction to dogs and how to look after them, for kids aged 6 to 9. So, it's a great way to make a younger child feel included in puppy rearing, before they're old enough to really get involved with training.
Dog Training For Kids
This dog training book for children* does exactly what it says on the cover. Aimed at 8 to 12 year olds, it presents over 40 activities – from basic obedience commands to party tricks and fun games – and breaks them down step by step. The methods are all force free, so your kids will have fun, and get results.
How To Speak Dog
How about appointing your child as Puppy Translator In Chief? This bright and engaging book* from National Geographic is not a training manual, but it's full of accessible and informative wisdom to help kids aged 8 to 12 understand how dogs think and express their feelings. So you can call the shots in training and keep everyone on the same page in that respect, whilst your kids still get to contribute something unique and equally valuable of their own. A fun and harmonious way to share the journey together!
101 Dog Tricks, Kids Edition
This kids edition of the popular dog trick training book* is aimed at 7-10 year olds. A great advantage of getting kids this age to teach a puppy tricks, is that it's less likely to interfere with or compromise any of the serious obedience training that you're also working on. The book also contains fun idea for games to play with your puppy, and crafty projects to make for them!
Are The Dogsnet Training Courses Suitable For Kids?
As you're reading our blog, you've likely noticed that we have our own force-free online training courses for puppies and dogs. Our Dogsnet training courses are aimed at grown ups. However, some of the games can be easily taught to children aged 8 years and over, so that they can join in your training journey. Depending on their maturity, some older children and teenagers might also enjoy following our Puppy Games course in full.
Puppy Training For Kids – Summary
Puppy training is a fun way for kids to bond with their new pet. Younger children should always, always be supervised by an adult when they interact with a puppy. Older children might enjoy taking part in puppy training, but they should either train in a way which is consistent with you, or stick to tricks and games which won't undo your hard work.
Have you got any top dog training tips for kids? We'd love to hear them in the comments box down below!
Affiliate link disclosure: Links in this article marked with an * are affiliate links, and we may receive a small commission if you purchase these products. However, we selected them for inclusion independently, and all of the views expressed in this article are our own.
References
Golinko et al. Characteristics of 1616 Consecutive Dog Bite Injuries at a Single Institution. Clinical Pediatrics. 2016.
Get Pippa's free dog training tips delivered to your inbox