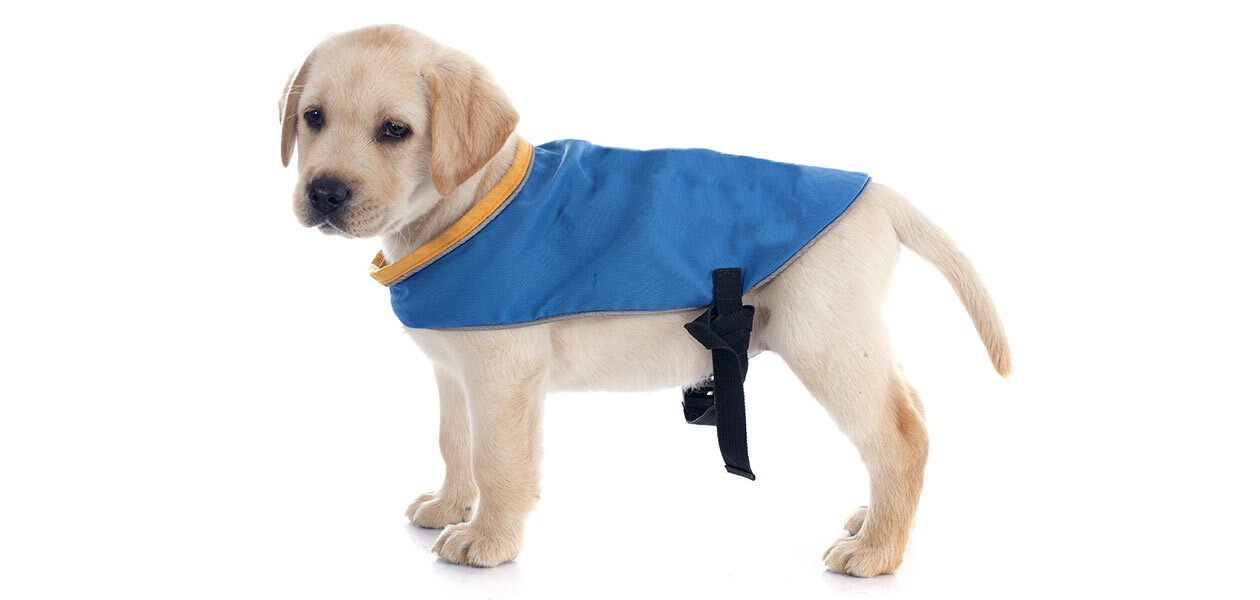 Does your puppy hate harness wearing? Does he run away when he sees it?
Does your puppy fight having their harness put on, and roll and twist once it is on?
Here's a simple strategy for teaching your dog to love his harness!
Starting small and building up day by day, you can teach your pup to not only like his harness, but to love having it put on.
My puppy hates seeing the harness
There are a number of ways your puppy might respond when you approach them with the harness:
Wiggling and writhing around
Trying to hide
Yapping
Play bowing
Darting back and forth, just out of reach
Biting at you or the harness
What do all these responses have in common?
They are all totally normal!
Why your puppy hates harness time!
Most puppies won't make a fuss the first time they see you holding a harness.
After all, they've no idea what it is!
But as soon as you've attempted to put them into it once or twice, they've got a good idea that they want to be where it isn't.
They don't hate the harness as such, but they'd really rather avoid being constrained.
So we need to break that negative association, and create a positive one.
And we can do that with touch training.
Handling your puppy
Some puppies adore being poked and prodded, or held tightly against you.
Others are not such big fans.
In fact, they will see any attempt to interact as the start of a game that inevitably involves full deployment of their shiny new teeth.
But we can get past this by training them to accept being handled willingly.
And to do that we use food!
Make their meals count
I try not to give puppies their meals from a bowl, unless I absolutely have to.
Their daily kibble is all broken up throughout the day, and spent on training sessions.
This means that they are keen to work for their food, and find every training session as rewarding as possible.
Start small
All we want to achieve at first is stillness.
So we pick up the puppy and pop them straight down on the table.
Holding them gently but firmly we wait for them to stop wiggling, just for a moment, then give them a treat.
Treat streaming is an excellent tool here. Where we give several treats in a row to elongate that period of stillness.
Stop when they wriggle, and treat when they're still.
Do this in short bursts throughout the day.
They will soon start to realise that being still equals more food!
When you can see an improvement, you can move on to showing them the harness.
Showing them the harness
This step is for puppies that have a strong negative association with just seeing you with the harness.
Leave the harness somewhere your puppy can see it, like on the kitchen counter.
Periodically touch the harness. If the puppy doesn't react, lift it slightly then put it back down again.
Repeat throughout the day.
Once your puppy realises you lifting the harness doesn't lead anywhere you can pick it up, hold it for a few seconds, then put it down again.
Increase these periods of time, until you are able to pick up the harness and carry it for a few minutes without your puppy reacting.
Your puppy is now used to you interacting with the harness, without worrying it's going to impact on her.
The next step is getting her to happily wear it.
And we can train this one too.
Undoing what your puppy hates! Harness loving instructions
Once again, the best way to get your puppy to happily accept their harness is to build it up in stages.
Start by simply feeding kibble pieces to your puppy through the harness.
To begin with, stick your whole arm through the head section and treat stream.
Then get them to poke their nose through for the treats.
After that, their whole head.
In slow stages work along the process of fastening and clipping the harness.
Happily wearing a harness
When you first start putting the harness on fully,, immediately remove it again as soon as you have clipped it up.
Carry out a few sessions with the harness fully done up for a brief instant like this, before you leave it on for any length of time.
Again, build this time up incrementally.
Slow and steady wins the race!
Video instructions for helping a puppy who hates their harness
Dealing with a puppy that hates harness wearing is no fun, but it's something we can train them out of fairly quickly.
You can find more detailed instructions on dealing with this, along with a great instructional video, on our online Puppy Parenting course.
You'll also get access to the private members only forum when you sign up, where we'd love to chat with you about your puppy raising experiences so far!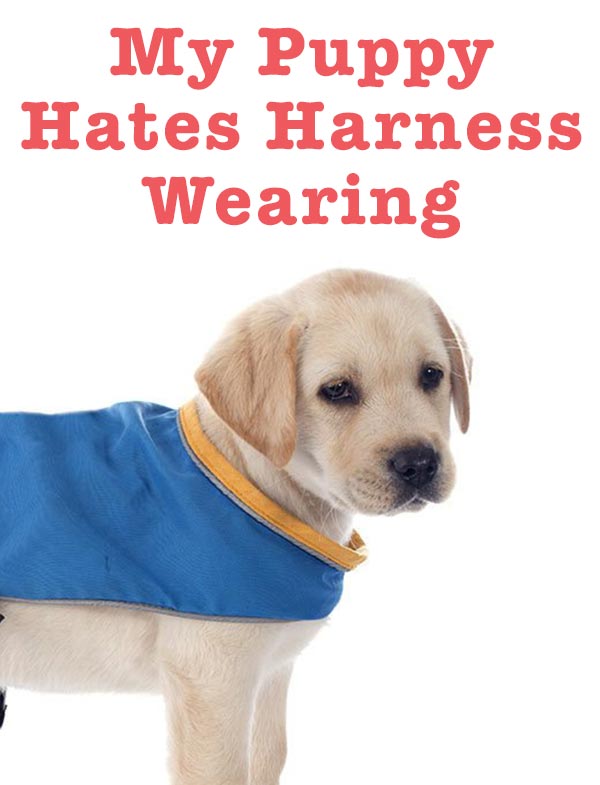 Get Pippa's free dog training tips delivered to your inbox