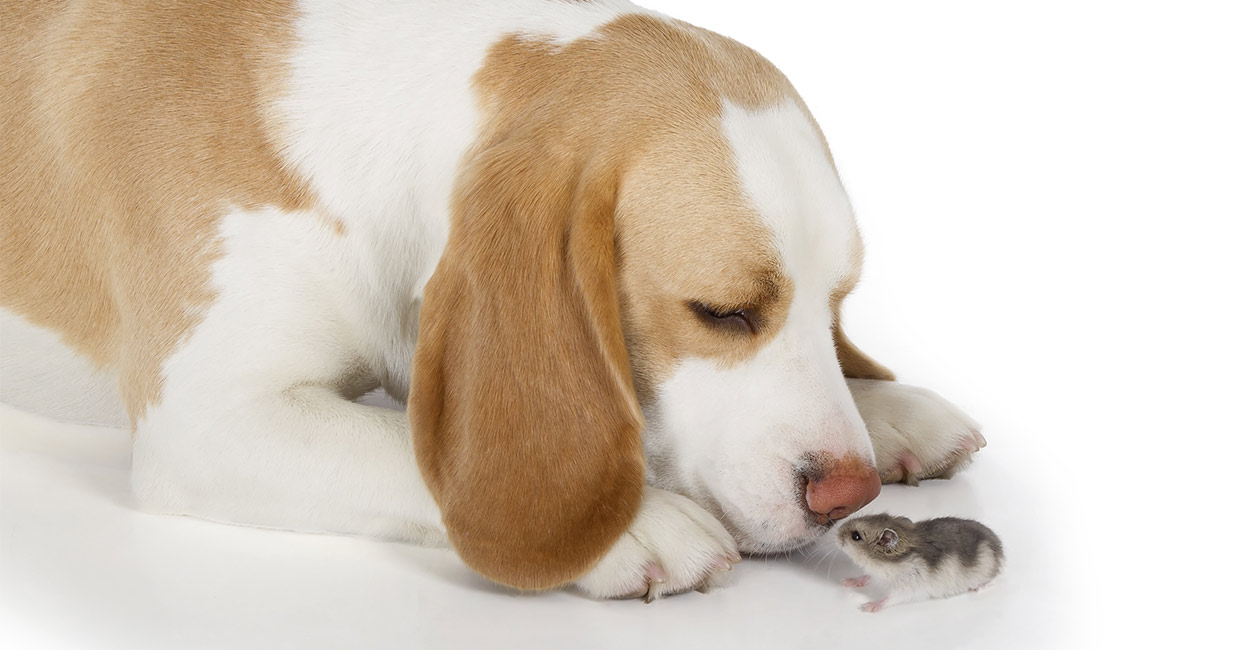 You have probably heard of a Beagle, but what about a Lemon Beagle? Want to know about these sweet pups named for a sour fruit?
Check out this list of 30 fun facts to learn lots of Lemon Beagle information.
Contrary to what their name implies, Lemon Beagles are not actually yellow.
Rather, the Lemon Beagle's fur is white with light gold patches or spots that look lightest when born. Lemon Beagles also have golden irises that match their luscious-looking coats.
Lemon Beagles aren't a breed all their own.
The American Kennel Club (AKC) only recognizes the Beagle—there is no separate registration required for color variations.
So of the Beagle colors, lemon & white is one of the 11 standard AKC colors, while lemon also has a valid registration code.
Will breeding two Lemon Beagles together result in Lemon Beagle puppies?
If the lemon gene is strong in both parents, then you may well get a litter of beautiful lemon and white Beagle puppies.
However, since Beagles can come in virtually any acceptable hound color, the puppies could actually come out in many different colors.
The most common Beagle color is actually tricolor—black, tan, and white!
So the white lemon Beagle is super unique, not to mention that a true lemon can be hard to achieve—some breeders suggest that a Lemon Beagle isn't a true lemon unless it has a black nose.
According to some breeders, lemon and other bi-colored Beagles may shed more than other color variations.
Beagles are moderate shedders to begin with, but according to Sunshine Acres Beagle Puppies, it seems that lemons shed a bit more than other Beagles.
Regardless of their color, all purebred Beagles have some amount of white in their tails.
They may have a few white hairs at the tip, or their tail may look like it was dipped in white paint, but a telltale sign of a purebred Beagle is white at the end of their tail.
So a dog may actually be a Lemon Beagle mix if she doesn't have any white at the end of her tail.
…and that white tip was meant to make it easier for hunters to see their dogs in super tall grass and brush?
That's right, the white-marked tail of all Beagles, including the Lemon Beagle, was essentially meant to serve as a white flag.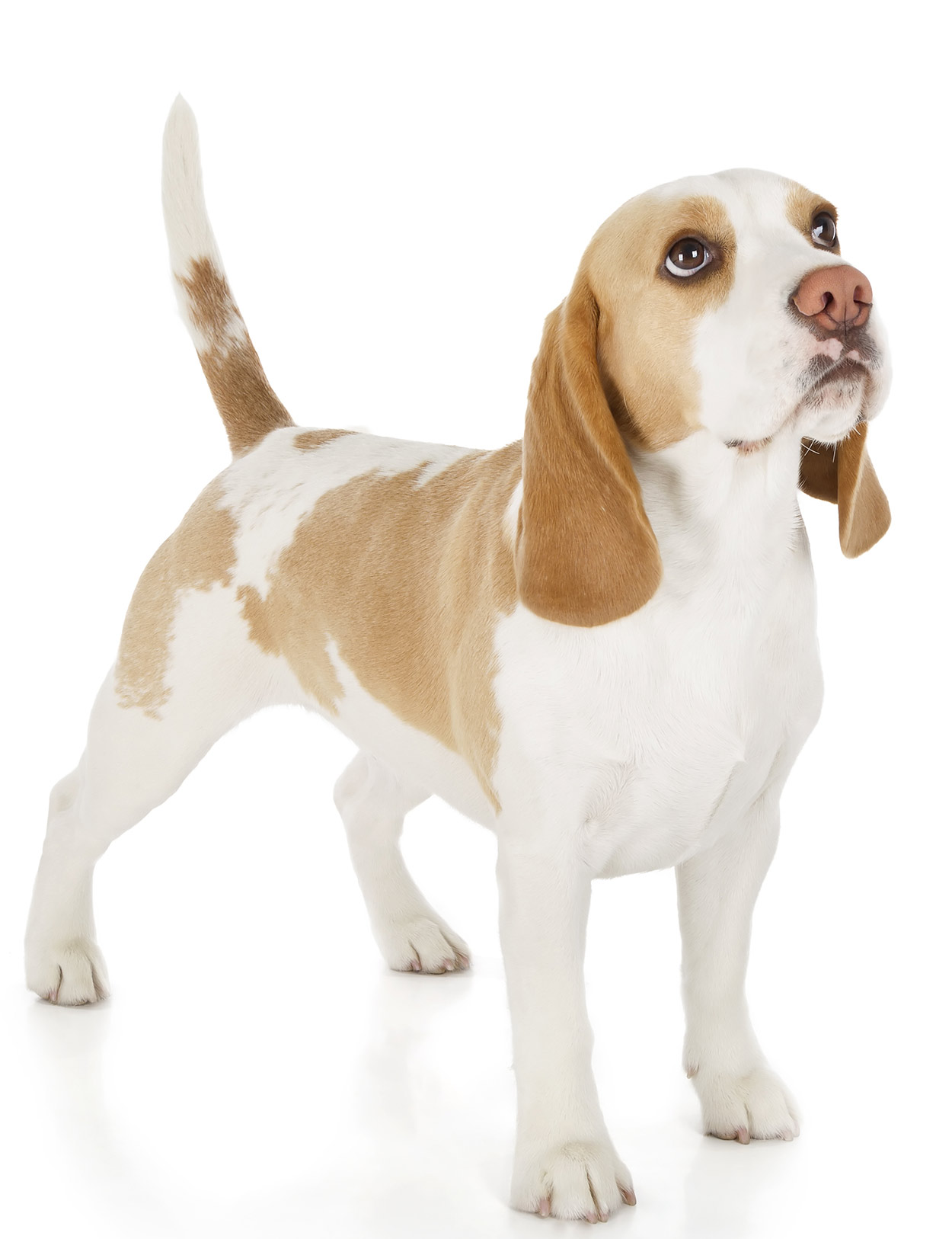 Beagles descend from hounds who were used to hunt rabbits and hares.
According to the Continental Kennel Club, Beagle-like scent dogs were documented as early as 400 B.C. in ancient Greece and 200 A.D. in the United Kingdom.
It's thought that the Romans brought small hunting hounds to the UK. These dogs were first referred to as "Beagles" around the mid-1400s.
By then, Beagles were starting to resemble the dog that we know today—a smaller version of the traditional English foxhound that's often pictured in old English fox hunting paintings and tapestries.
However, the small size of these hounds made them slower, but more useful as hunters of small game, such as rabbits and hares.
Today's Beagles have the same nose for game and uncanny ability to follow a scent for miles.
As such, a Beagle (lemon or otherwise) may follow his nose for miles if he's "on scent"…best to keep him on a leash if you don't want him wandering off!
Beagle noses are powerful enough to detect pregnancy hormones, believe it or not!
You've heard of bomb-sniffing or even cancer-sniffing dogs, but did you know that some dogs have such powerful sniffers that they can detect pregnancy?
To find out more about this phenomenon, check out Elvis, the Beagle who helped a zoo determine if its polar bears were pregnant!
Some Beagles are even used as drug-sniffing dogs!
As if sniffing out rabbits and pregnancy hormones wasn't enough, Beagles are also commonly used as drug-sniffing border patrol or airport security dogs…talk about a truly gifted sense of smell!
…and they are still highly sought after hunting and sporting dogs.
Just ask my husband's uncle, the owner and operator of "Hillbilly Hunting Beagles" in Kenna, West Virginia!
He specializes in breeding and training Beagles, and occasionally gets a litter of lemon-spotted Beagles.
They are beautiful and make wonderful hunting partners with proper training.
AND they were among the top 10 most popular dog breeds of 2017.
In fact, Beagles made number five on the list!
Meet Maymo the Lemon Beagle!
This special Lemon Beagle has just as much of a social media presence, if not more, than many humans—he has his own Facebook page and YouTube channel!
If you're looking for adorable dog pictures and videos, be sure to check Maymo out!
Beagles have been popular in the media for a long time.
These talented pooches aren't only known for their hunting ability, but they're also known for their media presence!
Here are a few famous Beagles that appeared on my favorite childhood movies and TV shows:
So is the Lemon Beagle sweet, sour, or a mix of both?
Depending on how they've been bred, Lemon Beagle temperament can lean toward the ornery side.
Some breeders suggest that Beagles who come from a strong hunting background can be harder to train (due to their tendency to become distracted by all the smells) and more prone to trouble than Beagles which have been bred with the intention of becoming pets only.
But the good news is most Beagles have a very sweet nature, no matter if they've been bred to be pets or hunting dogs.
They are excellent cuddlers and love to sleep and spend time with you, which leads to my next point.
Beagles like to live amongst friends—they do not fare well in isolation.
You won't be able to keep a Beagle (lemon-white or any other color) if you'll have to leave him alone for more than a few hours each day.
Beagles are hounds and therefore thrive in groups, so if you won't be home with your Beagle, then it's best that you get him another Beagle friend.
Beagles actually can gain weight pretty easily, although they were bred to be active dogs.
According to an article posted by the Banfield Pet Hospital, the Beagle is genetically predisposed to obesity.
This is unfortunately the case with many hound-type breeds.
Exercise and play time will not only keep a lemon-white Beagle mentally stimulated, but also in his peak physical condition!
Can you give a Lemon Beagle dog a lemon?
According to the American Society for the Prevention of Cruelty to Animals (ASPCA)'s list of plants that are toxic to dogs and cats, lemons can be a problem for dogs due to their essential oils and psoralen, a compound which occurs naturally in citrus fruits.
It is safe to give them small amounts of the inner fruit, as these toxins are found in the skin, or zest, and other parts of the plant.
Beagles typically don't drool or slobber very much.
Can you hear Lucy from the Peanuts comic saying, "Ewwww, dog germs!" every time Snoopy licks her face?
The good news is, Beagles and many other wolf-faced dog breeds typically do not drool as much as other breeds, like Saint Bernards and Boxers.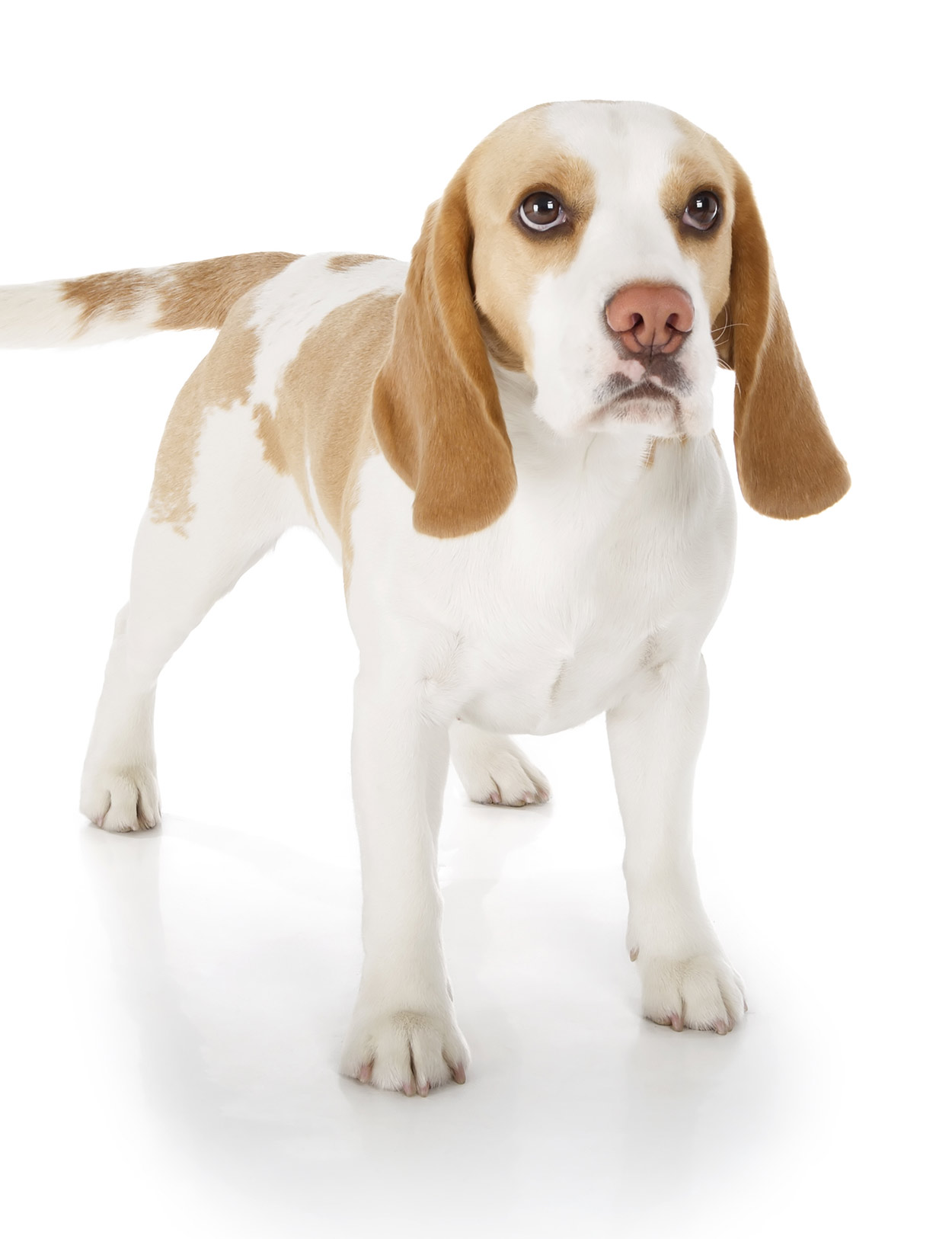 Lemon and white Beagles (or any other Beagle color) generally do not have a "doggie" smell.
That is, unless they have rolled in something that doesn't smell like perfume! My childhood farm dog, an adorable red and white Beagle named "Holly," used to enjoy a good roll in horse manure, and I can tell you that it's not a becoming smell (or color – picture red and white fur tinged green) for a dog!
Is there such a thing as a pocket or miniature Lemon Beagle?
You may have heard of a lemon "pocket" Beagle that's a pint-sized version of a standard Beagle—this terminology actually refers to tiny English hare hounds (which were small enough to fit in a huntsman's pocket or glove, hence the name) that were interbred with larger hounds to create today's Beagle.
Although there are some true pocket Beagles that have been specifically bred from the same line that produced the small hunting hounds of yore, it's not likely that you'll find one in an everyday breeder's litter.
Rather, a breeder who is advertising "pocket Beagles" or "micro Beagles" may actually have developed a line of standard Beagles which have been bred to be kept on the small end of the standard 13-inches-and-under Beagle type.
(Registered Beagles fall into one of two categories: 13 inches and under or 13–15 inches.)
This can sometimes be accomplished by breeding small standard Beagles with other small standard Beagles, and then breeding the runts of these litters together to keep the offspring extra tiny.
However, two small Beagles can produce a litter of larger Beagles, so it's really a 50/50 gamble.
(You can read the American Kennel Club's stance on pocket and miniature Beagles here.)
A very common health condition in lemon (and other colors of) Beagles is cherry eye.
According to the VCA Animal Hospital, this condition, which results in the protrusion of the third eyelid gland, occurs primarily in hound and "squash-faced" breeds.
In Beagles, it's thought that the gland is very weakly attached to the rim of the lower eyelid, which causes it to protrude over the eye from time to time.
Beagles (lemon or otherwise) are prone to develop potentially cancerous skin tumors.
According to the Merck Veterinary Manual, short-haired dog breeds are particularly prone to developing various types of skin tumors.
Beagles may be more likely to develop squamous cell carcinomas on the undersides of their belly, and these tumors can turn cancerous if left untreated.
Additionally, older male Beagles may be more likely to develop liposarcomas, which are cancerous tumors that develop on the chest and legs, but usually do not spread elsewhere.
Beagles actually make three different sounds—a bark, bay, and howl.
As hunting-bred dogs, Beagles have developed three distinct vocalizations that they use at various times. They will rarely bark, but when they do, it will probably be a quick bark in excitement to see you (or to see their breakfast).
The bay is used most often when they are hunting to signal when they've cornered an animal. What they are most notorious for is their ear-piercing howl! Should you leave a Beagle alone for too long, he will make his distress known—loudly and clearly!
Where can you find lemon-colored Beagle puppies?
There are a few Lemon Beagle breeders out there who specialize in either lemons only or various colors of Beagles.
Can you adopt or rescue a Lemon Beagle?
Not everyone can afford to buy a Lemon Beagle from a breeder, and not everyone wants to raise a puppy.
How much do Beagle (lemon) puppies cost?
Lemon Beagle price depends on a few things:
the quality of the parent stock
whether or not the puppy is show-quality (able to be registered)
how much care and/or training was provided before the puppy is ready to go
You can expect to pay anywhere from $500 to about $1,300 for a Lemon Beagle puppy, give or take a few hundred dollars. An adult Lemon Beagle (typically retired from show or breeding) will probably cost a bit less.
You may see Beagles in contemporary or historical artwork!
Since Beagle-type hunting dogs have been around for such a long time, there are lots of paintings and tapestries that depict them chasing after hares or in their customary nose-to-the-ground stance.
This painting of Beagles in a classic landscape was originally done in 1845! (Check out the lemon-colored Beagle by the fence.)
Beagles LOVE to dig.
Not quite what you wanted to hear, was it? However, Beagles get their love for digging honestly.
Due to their heritage of hunting for rodents which burrow to hide, it's instinctual for a Beagle to want to dig.
If you want to keep a Lemon Beagle, but you have a prized flowerbed or vegetable garden, then you may want to have a designated area for her to dig to her heart's content.
Lemon Beagles (and all other Beagles) are talented escape artists.
Beagles are very athletic and intelligent dogs who will get into mischief if they're left to their own devices or if they're cooped up for extended periods of time.
Thus, you should keep a Lemon Beagle enclosed by a five-foot fence—the higher, the better!
Due to their tendency to dig, you'll also need to line the bottom of the enclosure with chicken wire to prohibit that behavior.
Lemon Beagles
Lemon Beagles are a unique color variety of a very popular dog breed.
They can be traced back hundreds, if not thousands of years. They have all of the joys (super sniffer) and pitfalls (cherry eye) of the Beagle breed.
Do you have a Lemon Beagle? Are you hoping to get one soon? Let us know in the comments below!
References
Elliott, D. "The Obesity Epidemic: Causes, Risks, and Diagnosis in Pets," Banfield Journal, 2010.
Moriello, K.; Dryden, M.; Foil, C.; Hawkins, W., et al. "Tumors of the Skin in Dogs," Merck Veterinary Manual.
Ward, E. "Cherry Eye in Dogs," VCA Animal Hospitals.
Get Pippa's free dog training tips delivered to your inbox