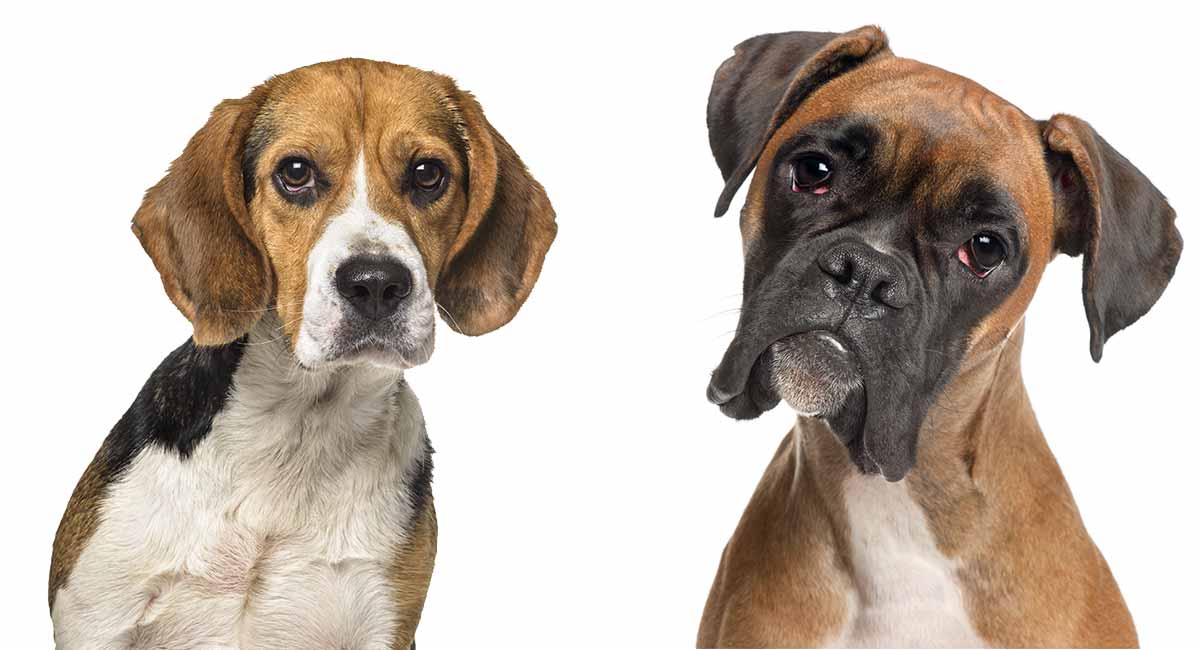 The Boxer Beagle mix is a fast-rising star in today's crossbreed-loving society.
A quirky mix of two of the world's favorite canines, with a unique disposition and boundless energy.
This designer dog is a great pet for the right household.
Let's learn more!
Meet the Boxer Beagle Mix!
As you may have already guessed, the Boxer Beagle mix is a cross between the purebred Boxer and the purebred Beagle.
This also makes him a first-generation crossbreed. But what is a first-generation crossbreed, and why is it so controversial?
What to Know About the Crossbreed Controversy
A first-generation crossbreed, like the Boxer Beagle mix, is a dog who is the offspring of two different purebred parents.
Crossbreeding is nothing new in the dog breeding world, but first generation crossbreeds are becoming more and more popular as pets.
The designer dog trend has risen in popularity over the last two decades, and many experts and dog lovers have conflicting opinions.
For example, there's a debate over whether a crossbreed should be considered a breed in its own right. Or if it is really just a mutt.
Those in favor of crossbreeding are quick to point out that crossbreeds were designed with a purpose. While mutts have a widely unknown lineage in their bloodline and are really more "accidental" mixes.
Crossbreed dogs are hybrid dogs who were created in the hopes of combining certain desirable characteristics from two different purebred dogs.
For a more complete article on mutts as compared to crossbreed dogs, visit here.
Crossbreeds in comparison to purebreds
The truth is that it can take generations to work out certain snags when creating new breeds.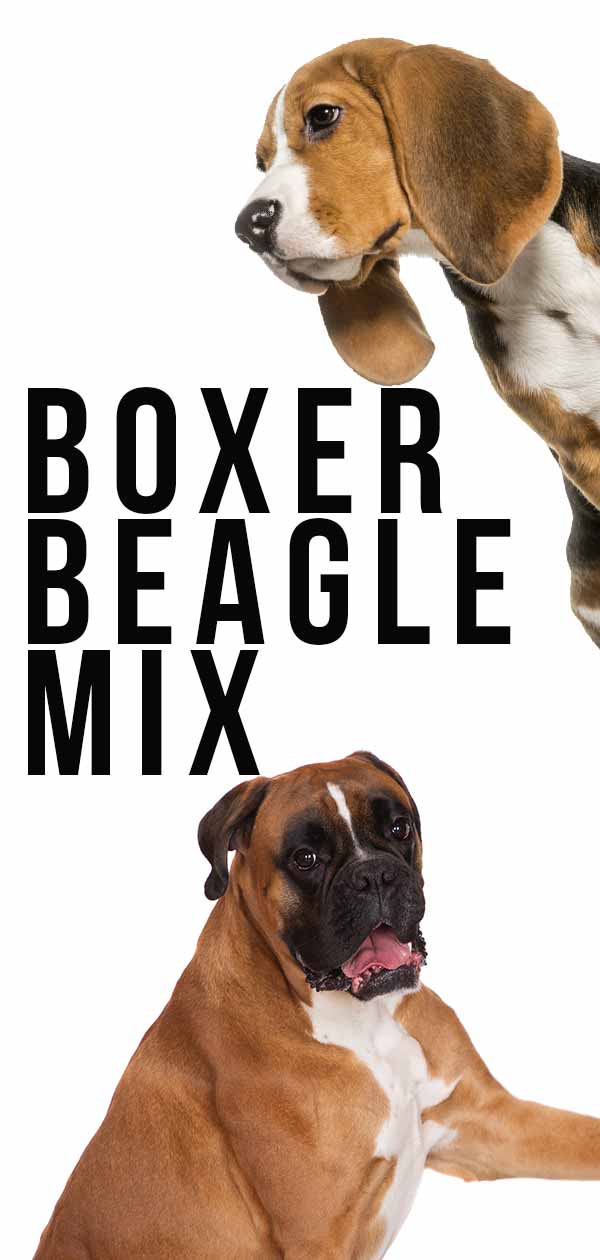 First-generation crossbreeds are problematic. This is because they are so highly unpredictable when it comes to certain genetic traits and characteristics.
Health, temperament, and appearance can be difficult to predict in a first-generation crossbreed.
Crossbreed vs purebreed health
Let's talk about health, which is one of the focal points of this debate.
As many dog enthusiasts know, purebred dogs are prone to inheriting genetic diseases. This is due to generations of overbreeding in declining gene pools.
Supporters of crossbreeding insist that, by widening the gene pool, crossbreeds could be healthier than their purebred counterparts. And at less risk of inheriting the same diseases.
A number of people disagree with this theory, however. They claim that both purebred dogs and crossbreed dogs are equally susceptible to inheriting genetic ailments.
If you're interested in learning more about the crossbreed controversy, click here.
However, if you are ready to move on and learn all about the Boxer Beagle mix, keep reading!
Where Did the Boxer Beagle Mix Come From?
As we mentioned above, the Boxer Beagle mix is a first-generation crossbreed. Which means that his roots have yet to set.
In a few generations-time, we may be able to say conclusively where he came from and how he came to be.
But until then, we will have to settle for learning about him through his parent breeds.
Let's begin by taking a look at the origin of the Boxer.
Origin of the Boxer
With a genealogy that dates back as far as 2,500 B.C., the modern-day boxer is a far cry from his ancestors, the Assyrian empire's ancient war dogs.
A dog of German and English descent, the Boxer is believed to have been refined over thousands of years from his original ancestors to the Boxer breed we know and love today.
According to the American Kennel Club (AKC), this delightfully charming breed got his name due to his incessant use of his front paws when he plays, jumps or defends himself.
The Boxer boasts an extensive and impressive resume, working with the likes of law enforcement and military, as well as being a useful guide dog.
He also makes for an excellent guard dog, watchdog, and family pet.
Today, the Boxer ranks in at number 10 out of 194 on the AKC's list of America's favorite dog breeds!
So, what about the Beagle? Let's take a look!
Origin of the Beagle
Another ancient breed, the Beagle's early history is much more clouded than that of his Boxer counterpart.
What most historians can agree on is that the Beagle's ancestors were English pack hounds, used for hunting small game with their masters.
The Beagle breed found its way to America after the Civil war. They promptly found favor with small game hunters and families alike.
Today, the Beagle is still a popular hunting hound. He's famous for his musical howl, his affectionate nature, and his playful spirit.
The Beagle currently sits at number 5 out of 194 on the AKC's list of America's most popular dog breeds!
With two breeds as beloved as the Boxer and the Beagle, it is also no surprise that breeders would choose to mix the two.
With that in mind, let's discover what type of temperament your Boxer Beagle mix could wind up with.
Boxer Beagle Mix Temperament
Of course, if you are considering bringing a Boxer Beagle mix into your life, you'll want to get a good idea of what his personality is going to be like.
As we mentioned above, one of the issues with first generation crossbreeds is that they are less predictable than purebred dogs.
This means that your Boxer Beagle mix dog's temperament could vary depending on what characteristics he inherits from his purebred parents.
Let's take a closer look at the parent breeds to get a better idea of what your Boxer Beagle mix's temperament could be like.
Boxer Temperament
Despite being the predecessor of ancient war dogs, you don't get much sweeter than a Boxer.
Highly intelligent and incredibly loyal, the Boxer is a bouncy, excitable dog who loves people.
He is playful and energetic, and he adores children and other household pets of the opposite sex.
Keep in mind that the Boxer does not always tolerate other dogs of the same sex.
You should also note that the Boxer is incredibly active.
He will need plenty of exercise and training to keep him physically and mentally sound.
Boxers may not be the best dogs for older seniors or smaller children, who could easily be knocked over by a playful Boxer just trying to say hello.
Without the proper attention, training, and exercise, a Boxer can become bored and destructive.
Boxers also like to jump and need to be trained not to jump up on everything and everyone.
Beagle Temperament
The Beagle is a clever little dog who is famous for his comedic personality and loyal nature.
This funny and cute breed does well with children and other dogs.
But he should not be left unsupervised around smaller household pets like Guinea pigs or rabbits, as it is in his nature to hunt!
Incredibly active, the Beagle will also need plenty of exercise and mental stimulation throughout the day, just like his Boxer counterpart.
The Beagle enjoys pleasing his humans and is almost always in a good mood!
Boxer Beagle Mix Temperament
Considering the temperaments of the Boxer and the Beagle, a prospective Beagle Boxer mix owner can expect a playful, energetic, and intelligent dog!
Of course, we always recommend early socialization and obedience training, regardless of how good a dog's natural temperament is.
Early socialization and obedience training play a major role in reducing your dog's anxiety.  It will help your puppy to grow up into a happy and well-rounded dog.
What Will My Boxer Beagle Mix Look Like?
Just like with temperament, the appearance of your Boxer Beagle mix is going to depend on which parent he takes after most genetically.
Based on his purebred parent breeds, your Boxer Beagle mix could be somewhere between 13-25 inches tall and could weigh between 20-80 pounds.
Due to the similar coat types of the Boxer and the Beagle, you can also expect your Boxer Beagle mix to have a short, sleek coat that sheds moderately.
But what about coat color and other defining characteristics?
To get a better idea of all the physical traits your Boxer Beagle mix could inherit, we'll have to take a look at his parent breeds.
Let's start with the Boxer!
The Boxer's Defining Characteristics
The Boxer has a short, sleek coat that comes in three color combinations:
He is gracefully built with a lean, muscular body and wide, round eyes. He is born with long ears and a long tail, although some breeders choose to clip the ears and dock the tail.
The skin around a Boxer's forehead is loose and wrinkled, causing him to wear a permanently adorable look of confusion or curiosity.
He also has a shorter muzzle and hanging jowls.
The Boxer can grow to be between 21.5-25 inches tall and weigh 65-80 pounds.
The Beagle's Defining Characteristics
The Beagle has a coat that is similar to the Boxer's in texture, however, it is a bit thicker and sheds more heavily.
The Beagle's coat comes in seven color varieties, including:
Tri-Color
White and Chestnut
Chocolate Tri
Orange and White
White and Chocolate
Red and White
This cute breed is also famous for his long ears and long tail, his wide, inquisitive eyes, and happy, expressive face.
He stands between 13-15 inches tall and weighs 20-30 pounds.
How Do I Groom and Care for A Boxer Beagle Mix?
You should expect to brush your Boxer Beagle mix at least two or three times a week to keep his skin and coat healthy.
Luckily, your Beagle Boxer mix will only need an occasional bath.
Like all dogs, the Beagle Boxer mix will also need his nails trimmed on a regular basis to keep them from cracking or splitting.
He will also need his ears checked and cleaned consistently to keep waxy build-up and moisture build-up from causing ear infections.
How Long Will A Boxer Beagle Mix Live and Does He Have Any Health Concerns?
With an average lifespan of 10-15 years, the Boxer Beagle mix could be susceptible to the same health issues as the purebred Boxer and Beagle.
For this reason, you may want to consider early health screening.
Early health screening in your Boxer Beagle mix puppy is an excellent way to better manage your Boxer Beagle mix's long-term health.
Another way to stay on top of his health is by looking into the health concerns of his purebred parent breeds.
We'll start with the Boxer.
Boxer Lifespan and Health Concerns
On average, a healthy Boxer can live anywhere from 10-12 years.
He can be seriously prone to weather sensitivities, meaning he may not tolerate extreme heat or cold. For this reason, the Boxer is meant to be an indoor dog.
The Boxer can also be susceptible to:
hip dysplasia,
aortic stenosis,
cardiomyopathy,
thyroid deficiency,
certain cancers, and
degenerative myelopathy.
Beagle Lifespan and Health Concerns
The Beagle can live from 10-15 years and can be most prone to:
hypothyroidism,
luxating patella,
epilepsy,
hip dysplasia, and
eye issues.
What are Exercise Needs of a Boxer Beagle Mix?
Since both the Boxer and the Beagle are such high energy breeds, you can expect your Beagle Boxer dog to be high-energy as well.
This means he is going to need plenty of exercise every single day. An hour-long walk or jog every day in nice weather is a great source of exercise for your Beagle Boxer mix. But you can't stop there!
He will also need lots of playtime in a securely fenced backyard where he can run freely.
We should note that your Boxer Beagle mix should always be kept on a leash or harness when outside of a fenced in area.
Because both of his parents were bred for hunting, the Boxer Beagle mix could have a tendency to take off after squirrels or rabbits.
What are Training Needs of a Boxer Beagle Mix?
As far as training, your Boxer Beagle mix is likely going to be intelligent and enjoy pleasing his humans.
However, his high energy could mean that you will have to exercise a lot of patience to get him to do what you want.
Positive reinforcement, such as treats and praise, work best with this sensitive crossbreed.
Remember, early socialization and obedience training will be key in helping him grow up into an adaptable dog.
Are My Home and Lifestyle Ideal for A Boxer Beagle Mix?
The ideal home type for a Boxer Beagle mix is a home that has plenty of room for him to play and run.
A safe and securely fenced backyard is a must with this crossbreed. He will need a place to burn off any excess energy between walks.
However, keep in mind that the Boxer Beagle mix is not meant to be an outdoor dog. He will do best in homes with families who are going to accept him as a consistent member of the family.
The Boxer Beagle mix will also do best in active families who have plenty of time to exercise and train him.
Families consisting of very small children or older seniors may want to reconsider the Beagle Boxer mix dog. He is incredibly energetic and may like to jump.
Finding A Boxer Beagle Mix Puppy!
Are ready to bring a Boxer Beagle mix into your home? There are a few things to consider before buying a puppy.
While picking out a new puppy is super exciting, it's important to make sure you take your time and go through sources you trust.
The health of your Boxer Beagle puppy depends on you doing plenty of research. It's a good idea to make sure you go through reputable breeders or shelters.
So, how much will a Beagle Boxer mix puppy cost you from a breeder?
Most breeders charge anywhere from $500 to over $1000.
While the price can be a bit steep, one of the benefits is that reputable breeders have already health screened their puppies. They are also able to offer you certificates to prove it.
If you are opting to rescue your Boxer Beagle mix, keep in mind that prices are going to vary. However, they are much less than breeder prices, typically running between $50-$100.
One of the great things about going through a rescue, aside from the obvious, is that many shelters will cover the initial trip to the veterinarian!
Are you the owner of an adorable and energetic Boxer Beagle mix? We would love to hear all about it in the comment section below!
References
Borbala Turcsan, Adam Miklosi, Eniko Kubinyi, Owner Perceived Differences Between Mixed-Breed and Purebred Dogs
Tiffani J Howell, Tammie King, Pauleen C Bennett, Puppy Parties and Beyond: the role of early age socialization practices on adult dog behavior
Nathan B Sutter and Elaine A Ostrander, Dog Star Rising: The Canine Genetic System, Nature Reviews Genetics
Lowell Acumen DVM, DACVD, MBA, MOA, The Genetic Connection; a Guide to Health Problems in Purebred Dogs
Carol Beuchat Ph.D., The Myth of Hybrid Vigor in Dogs…Is A Myth
Get Pippa's free dog training tips delivered to your inbox