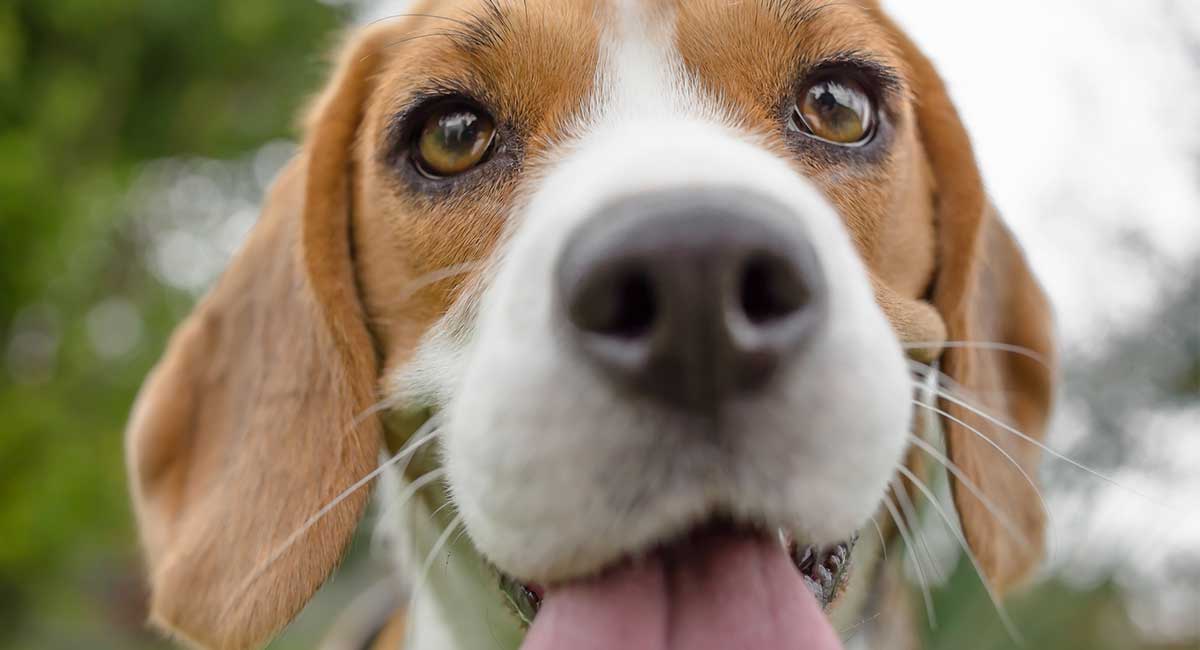 Are Beagles hypoallergenic? Unfortunately, no dog breed is truly hypoallergenic. Like all dog breeds, Beagles produce allergens in their saliva, fur, and dander.
Beagles are an average shedding breed. But their allergens can be controlled with regular cleaning.
However, unlike some breeds, this chatty yet agreeable hunting dog needs very little in the way of special care or grooming.
The Beagle is a small, robust hound and a popular family pet.
So let's discuss the question 'are Beagles hypoallergenic?'
What Do We Mean By Hypoallergenic?
Many illnesses are caused by things in the environment.
These so-called allergens can cause nasty symptoms. These include: trouble breathing, congestion, and skin rash.
In extreme cases, allergy symptoms can be life-threatening.
Animals can be a source of allergens. Often in the form of small proteins present in their saliva, fur, or shed skin cells ("dander").
An estimated 10 to 20% of people are allergic to dogs or cats.
That's why some breeders claim to have hypoallergenic cats and dogs. These are dogs that produce little or no allergens.
Is Any Breed Hypoallergenic?
The American Academy of Allergy, Asthma and Immunology have looked at 'hypoallergenic' breeds. They state no cat or dog is truly hypoallergenic.
Dogs can produce varying levels of allergic response depending on a few factors. These are a person's sensitivity, the type of proteins shed by that dog, and the amount of shedding.
If shed substances are regularly removed by cleaning also plays a role.
But, the safest option for someone with a serious dog allergy is to avoid dogs.
Exposure to allergens from dogs can be reduced by frequently bathing your pet and cleaning the house
It is common for people with dog allergies to keep pet dogs if they are able to manage their symptoms.
Do I Need A Hypoallergenic Pet?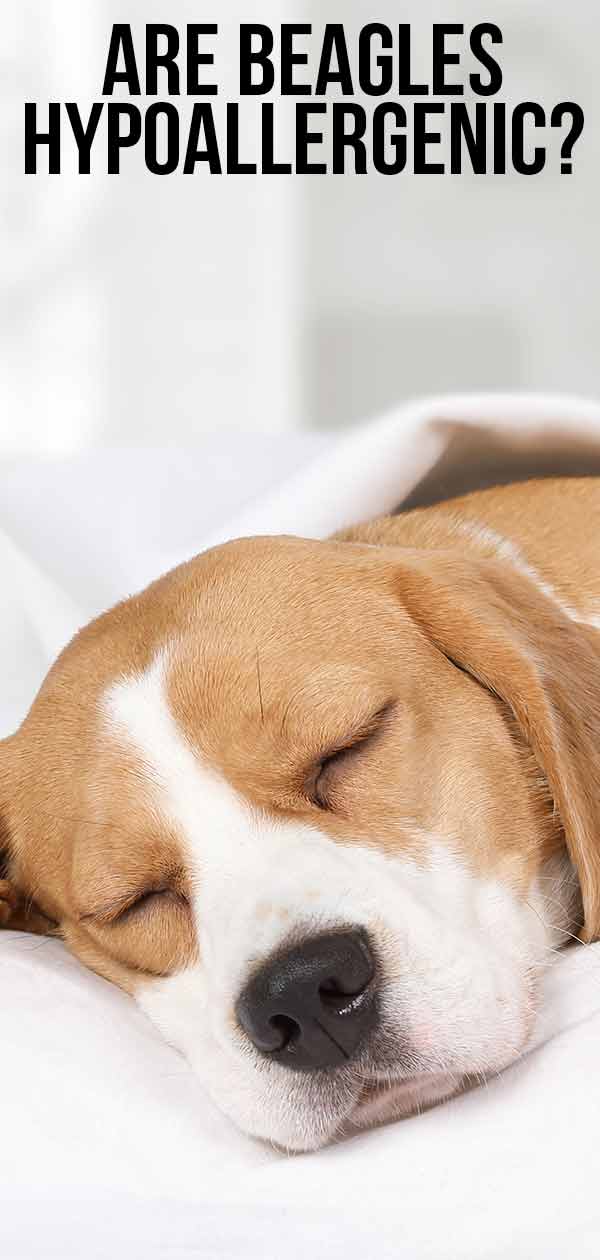 If you have an allergy but still want a pet or need to be in contact with dogs, consider the following:
Are my symptoms mild enough to only be a minor annoyance?
Can my symptoms be controlled by a safe and effective treatment and cleaning regime?
Are my symptoms likely to become worse if I stay in regular contact with dogs?
But, you may need to see a physician or allergy specialist to answer these questions.
What About Beagles?
Beagles are active and friendly. So it's natural to want one as a pet. But owning one will involve being in close contact with him or her.
Bringing home a dog is not recommended if you know you'll need to give them up. Or if you'll need to keep them outside the house and away from the family.
If you already own a beagle and a family member has new or more severe symptoms of an allergies, such as asthma, seek medical advice immediately.
A quick response will increase your chances of limiting or stopping the allergy so you can keep your pet.
Treating allergic symptoms with immunotherapy has been effective in reducing symptoms in certain cases.
Are Beagles Hypoallergenic?
Unfortunately, the answer to 'are Beagles hypoallergenic' is no. Beagles are not hypoallergenic.
Hypoallergenic claims are usually made about hairless dogs. E.g., Chinese Crested. Or dogs with a coarse or woolly coat like poodles.
Beagles are common laboratory animals. They are often used to create dog-produced allergens for research use.
Allergen Production
This breed generally produces an average amount of dog allergens.
The most important thing to realize is that there is little variation in allergen production between breeds.
Research has found that houses with so-called hypoallergenic breeds do not have lower levels of allergens than those with other breeds.
The number of allergens in your home depends on if the allergens are stuck on surfaces. It will also depend on how often they are removed.
Are Beagles Low Shedding?
Beagles have short hair. They are not high nor low shedders of fur and dander. They are average shedders.
Grooming Your Beagle
You can reduce you and your family's exposure to allergens by regularly grooming and bathing your dog.
Plus, cleaning dog beds, and other things that your dog touches, at least twice a week can help.
Materials that trap allergens, such as carpets, should be avoided or removed.
Also, avoid anything that might dry out or annoy your dog's skin. This can increase shedding or fur or dander.
Best Allergen Control Methods
We recommend using a mild dog shampoo or baby shampoo on your pup.
Grooming your Beagle away from allergy-sufferers or if possible, outside.
Allergens can be reduced by using an air filtration machine.
It's best to opt for high-efficiency particulate air ("HEPA") filter device that can filter the whole interior space of your home.
Evidence shows cleaning can reduce exposure to allergens. But it is not as effective as living in a house without dogs.
Low Allergy Pets
A person that is allergic to one type of dog is likely to be or become allergic to all breeds of dog. But, they may not be allergic to other animals.
Nonetheless, before taking home a new pet you should first find out if you are sensitive to any allergens.
A board-certified allergist or medical professional can test you for different kinds of allergen.
Knowing this, it's easier to find a pet that does not produce the allergens you're sensitive to.
However, some healthcare professionals may suggest that you avoid all pets.
Not Just Dogs…
If you have a dog allergy, you should be cautious of mammals too. Cats, rodents, and other animals may pose similar problems.
Many people with a dog allergy develop allergies to other animals.
In this case, you could consider other types of pet such as fish or reptiles.
Are Beagles Hypoallergenic – Final Thoughts
So let's summarize – are Beagles hypoallergenic?
The Beagle is low maintenance and requires little grooming. But, this breed still produces allergens.
So, the Beagle is neither hypoallergenic nor high shedding.
In fact, experts suggest there is no such thing as a truly hypoallergenic dog.
If you already have a pet or you are often in contact with animals, in most cases, you can balance these priorities.
Find the Cause
It's important to seek advice on what may be causing your allergic reaction, the severity, and how to protect your health.
In worst cases, allergy symptoms can be life-threatening. They should not be taken lightly.
So, if you have a severe dog allergy, it might be best to choose another pet.
Do you have an allergy to dogs? If so, how do you manage it? We'd love to hear your story in the comments section below.
If you'd like to read more about this cute breed, take a look at our guide to the Pocket Beagle!
References and Further Reading
Butt A, Rashid D, and Lockey RF. 2011. Do hypoallergenic cats and dogs exist? Annals of Allergy, Asthma & Immunology. DOI: 10.1016/j.anai.2011.12.005
Chan SK and Leung DY. 2018. Dog and cat allergies: current state of diagnostic approaches and challenges. Allergy, asthma & immunology research. DOI:10.4168/aair.2018.10.2.97
Frew AJ. 2019. Immunotherapy of allergic disease. Journal of Allergy and Clinical Immunology. DOI: 10.1067/mai.2003.84
Hollander A, Doekes G, and Heederik D. 1996. Cat and dog allergy and total IgE as risk factors of laboratory animal allergy. Journal of allergy and clinical immunology. DOI: 10.1016/S0091-6749(96)70088-X
Kilburn SA, Lasserson T J, and McKean MC. 2001. Pet allergen control measures for allergic asthma in children and adults. Cochrane Database of Systematic Reviews. DOI: 10.1002/14651858.CD002989
Mailing HJ. 1998. Immunotherapy as an effective tool in allergy treatment. Allergy. DOI: 10.1111/j.1398-9995.1998.tb04082.x
Morisset M et al. 2016. Horse-meat allergy mediated by dog-allergy: a case report and review of the literature. Allergo Journal. DOI: 10.1007/s40629-016-0103-7
Nicholas CE et al. 2011. Dog allergen levels in homes with hypoallergenic compared with non-hypoallergenic dogs. American journal of rhinology & allergy. DOI: 10.2500/ajra.2011.25.3606
Shirai T et al. 2005. Effect of pet removal on pet allergic asthma. Chest. DOI: 10.1378/chest.127.5.1565
Wright L S and Phipatanakul W. 2014. Environmental remediation in the treatment of allergy and asthma: latest updates. Current allergy and asthma reports. DOI: 10.1007/s11882-014-0419-7
Wüthrich B, Guerin B, and Hewitt B. 1985. Cross‐allergenicity between extracts of hair from different dog breeds and cat fur. Clinical & Experimental Allergy. DOI: 10.1111/j.1365-2222.1985.tb02260.x
Get Pippa's free dog training tips delivered to your inbox