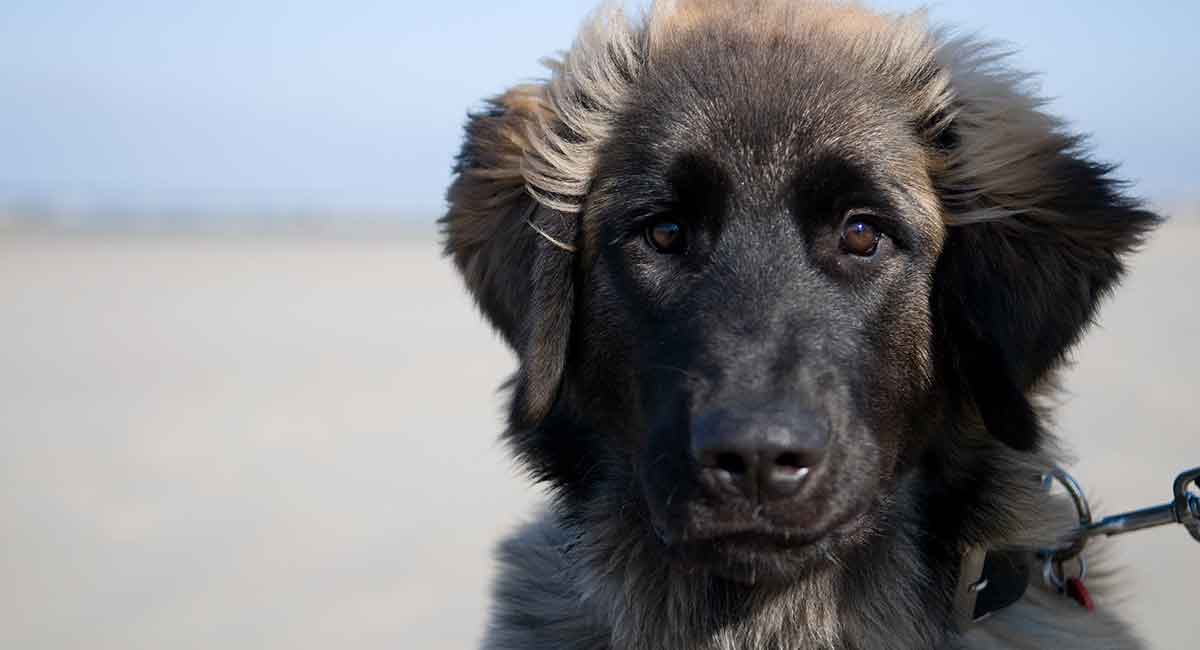 Once you lay eyes on the Leonberger, you understand why he's not an easy dog to forget!
The Leonberger dog breed is about as close to canine royalty as they come. Right down to his nickname, Leo.
While the gentle, loving and playful Leonberger is truly a delightful pup, large Leonbergers fully grown can make even other large breed dogs look small!
So it can be wise to take some time to gather all your Leo dog breed info. To decide if you have the space, resources and energy necessary.
Common questions about Leonbergers include:
This article is chock-full of Leo information to help you decide if this is the right dog breed for you and your family.
We hope you enjoy your course in Leonbergers 101!
Origins of the Leonberger dog
The German Leonberger is from – no surprise here – Leonberg, Germany.
There are differing accounts of just how this gentle giant of a dog got his start in life. Most point to sometime in the mid to late 19th century and a politician by the name of Heinrich Essig.
Essig had an unusual goal when he started his breeding program. He wanted to breed a giant dog that could be a companion pet to royalty!
To do this, he hand-picked parent dogs from breeds such as the Newfoundland, the Pyrenean Wolf Dog, the Saint Bernard and others.
From there, Essig marketed the Leonberger, or Lion dog, to the likes of Napoleon III, King Edward III and Tsar Alexander II. As well as artistic luminaries such as Sergei Rachmaninoff and Richard Wagner.
Yet, somehow, this pup never got a big head from all that royal attention. He remained gentle, humble, and eager to work alongside human partners from all walks of life.
As it turned out, the Leo became known as a fantastic swimmer, a great herder and livestock guard. And he's  a wonderful cart-puller too, a sport these dogs still enjoy competitively today.
Leonberger size
Leonberger dog weight, height and overall size can vary quite a bit depending on gender.
For an adult male dog, the average height is generally between 28.5 and 31.5 inches tall (paw to shoulder).
For an adult female dog, the average Leo height is 25.5 to 29.5 inches tall.
An adult male Leo's weight can top the scales at more than 170 pounds!
An adult female typically weighs between 110 and 140 pounds.
Leonberger personality
As an adult dog, the Leo's basic personality is friendly and calm.
This dog breed can happily spend hours splayed out on a cool floor or comfy couch resting while keeping a close eye on family members, especially children.
Leonbergers, unlike many other dog breeds, have been known to stand calmly in the midst of milling crowds of people, other dogs, and even car traffic.
The one exception is in puppyhood. A young Leo may literally bowl you over with affection. Proper training will be necessary for everyone's safety.
Leonberger temperament
The Leo's basic temperament reflects similar traits to the dog breeds that came together to become the Leonberger breed.
Leonbergers are known to be gentle, patient, tolerant of children and strangers, friendly, and devoted.
They're fearless when it comes to doing their job of protecting family or livestock.
Because of the Leo's special mix of traits, this dog is a popular choice for therapy and service dog work.
Not only are they smart and patient, but this dog is also very strong!
Leonberger training and socialization
As pups, Leonbergers are happy-go-lucky, curious, inquisitive, cuddly and playful. An adult Leo dog is calm, patient, tolerant, brave, and service-oriented.
But between the ages of 12 and 18 months they can be a handful! Breeders and dog trainers often call these the "Leo teenage years."
They can last up until 24 months, since giant breed dogs are often the slowest to reach maturity.
This is where early and ongoing training and socialization help you and your dog successfully master this early life hurdle.
Socialization prepares your Leo to be a happy, healthy, productive member of your family and the local community.
In addition to basic dog training, you may want to consider applying all that teenage Leo energy and zest for exploring to a specific discipline.
There are lots of great outlets for a young Leonberger dog's strength and smarts. These include:
therapy dog work
cart pulling (drafting)
agility
obedience training
show ring training
Is a Leonberger dog a good family pet?
A Leo dog puppy is still somewhat manageable size-wise.
However, once full grown they just take up a seat on the couch – this dog will likely require his own couch!
Luckily, the Leonberger's overall personality and temperament is quite gentle and loving.
Along with early and ongoing training and socialization, this can make the Leo a fabulous family dog.
But if you have small children or other small family pets, it can be worth considering the size-related risks. For example if your new Leonberger accidentally steps on – or worse, sits on – another family member!
Leonberger shedding and grooming
One thing many first-time Leo owners are not prepared for is just how much dog hair comes along with their new dog!
These dogs are not just large – they are also really hairy!
Their coat is long, thick and double layered.
The outer coat is thick and designed to be naturally water-repellent.
The undercoat, in contrast, is shorter, much softer and thicker – this layer is designed to serve as natural insulation in cold weather.
Not only will your Leonberger dog shed year-round, but twice each year your Leo will do something called "blowing coat."
This seasonal shed replenishes your dog's coat so it can keep doing its job well. For you, it means a lot of brushing, sweeping and vacuuming!
Because of this, breeders often caution new prospective dog owners that a Leonberger is not the right breed for everyone.
You may find it difficult or impossible to keep your surroundings and wardrobe free from dog hair.
You will also need to set aside time every few days to thoroughly brush your dog and clean his ears. Take time every other week for nail clipping.
Leonberger lifespan
Like many giant breed dogs, the Leo's life expectancy is almost the opposite of this dog's enormous size.
Depending on who you ask, the Leo may live between 7 and 12 years. However, the average lifespan is between 8 and 10 years.
Proper diet, regular exercise, and access to preventative veterinary care all contribute to a longer lifespan!
Leonberger health concerns
The Leo is prone to a variety of health concerns. This is not uncommon in purebred dog breeds.
The reason for this is because often the breed standard focuses on appearance over health.
Strict breeding for looks can inadvertently introduce genetic weakness which then leads to health issues.
However, not all of the health concerns you will need to watch out for have pre-screening tests.
One of the most concerning issues that all deep-chested large and giant dog breeds share is gastric torsion, or bloat. This causes the stomach to twist.
Bloat often occurs when a dog drinks a lot of water or eats right after a period of intense exertion. Bloat can also happen if your dog gulps dinner too quickly.
It can quickly become life-threatening without treatment.
Luckily, there is a simple surgery your vet can perform to remove the threat of bloat.
Leonberger health testing
The Canine Health Information Center (CHIC) was established to serve as a resource and support for breeders and dog owners.
CHIC maintains a voluntary database where breeders can find out about the latest recommended health tests.
They can submit test results for their parent dogs and promote their efforts to maintain healthy dogs.
These are the current CHIC-recommended health tests for the Leo:
Hip and elbow dysplasia
Eye issues
Leonberger polyneuropathy 1 and 2
Autoimmune thyroiditis
Leukoencephalomyelopathy (LEMP)
Cardiac issues
Leonberger breeders
Every Leo breeder will have a slightly different breeding philosophy and approach.
It can be challenging to decide which breeder to work with, especially once you meet the cute puppies!
Best practices suggest choosing a breeder who makes it very clear that they take a health-first breeding approach.
They should choose only healthy parent dogs who have been pre-screened for all known genetic-based health concerns in the breed.
Verify in advance that your selected breeder can provide evidence of clear pre-screening test results. Also, ask for proof that all required vaccinations have been administered.
They should give you an initial guarantee of good health, with a take-back guarantee if your new puppy does not work out for any reason.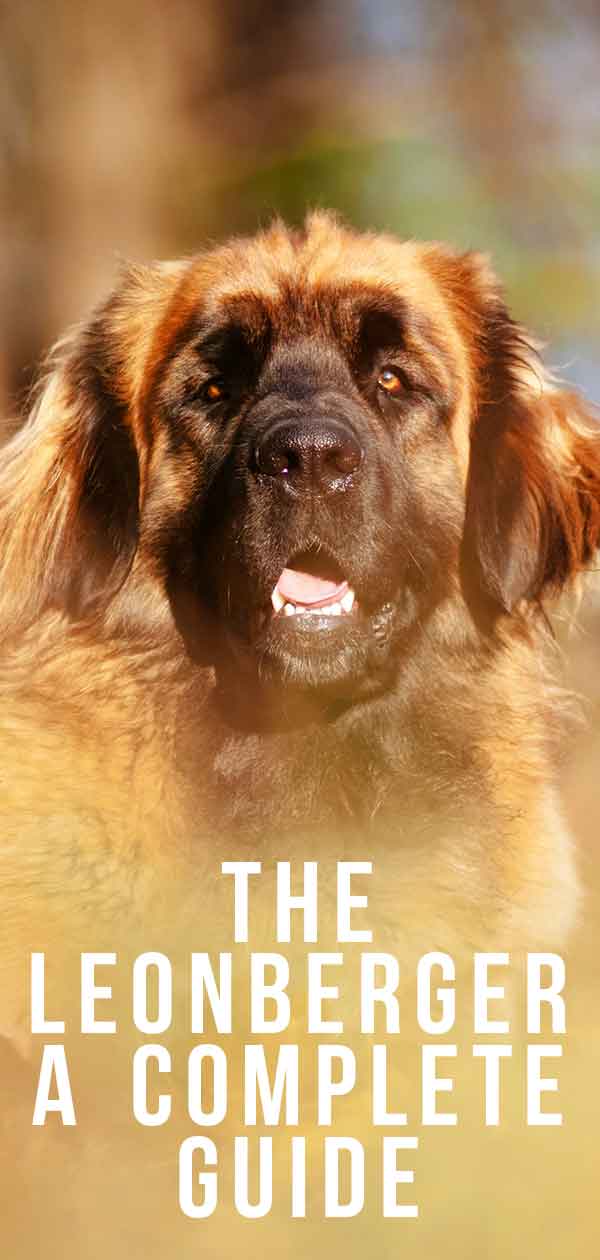 Leonberger dog cost
Many dog lovers in the world today are so partial to the Leonberger breed that they can't imagine having any other dog! However, this powerhouse of a pooch likely won't come cheap.
As of the time of the writing of this article, general postings advertising breeder-born Leonberger puppies placed the average puppy cost at around $2,000+.
Keep in mind that this price is just for the puppy!
It doesn't include all of the supplies, home and travel crates, bedding and blankets, leashes and collars, food and treats, flea and tick treatment, grooming, toys, preventative veterinary care, training, doggy day care or boarding and other needs your new pup may have.
A recent University of Pennsylvania report suggests that the annual cost of owning a giant breed dog may well run you upwards of $3,500 – and this does not include unexpected emergency veterinary treatment.
You will also want to take a look at your home and yard and make sure it is sufficiently secure to contain your new dog and puppy-proofed for safety.
This may come with extra costs as well.
Choosing a Leonberger puppy
Before choosing a Leonberger puppy, you should meet both parent dogs. Observe their appearance, personality and overall sociability and friendliness.
Parental traits can be one of the biggest predictors for the type of dog your Leonberger puppy might become.
Of course, if you are considering Leonberger rescue instead of working with a breeder, it most likely won't be possible.
Here, the best approach is to simply spend some time with any dog you are considering. Make sure to include all of your family members in the interactions.
Look for a Leonberger puppy or adult dog who is bright-eyed, clear-eared, with healthy skin, coat, and hind quarters.
Choose a Leo who is friendly and sociable and eager to interact and play. He should be willing to be held and petted and get along well with people and other dogs.
One notable advantage of rescuing an adult Leonberger is that your dog's most rambunctious days may be in the past.
This can make your time together calmer and safer, especially if you have a young family.
Is the Leonberger dog the right pet for you?
We hope you have enjoyed learning more about this massive and memorable dog!
Is a Leo pup in your family's future? Please post a comment to let us know if this Leonberger info helped you choose your new pet!
SOURCES:
Ferguson, C., "Leonberger Health Statement," Leonberger Club of America, 2018.
Lutz, D., et al, "Health," International Leonberger Union, 2018.
Springel, S., et al, "A Brief History of the Leonberger," Leonberger Club of Great Britain, 2018.
Ward, J., "Temperament," Leonberger Club of Canada, 2018.
Joel, G., "Why Not a Leonberger?," Leonberger Hunde Kennel, 2018.
Get Pippa's free dog training tips delivered to your inbox