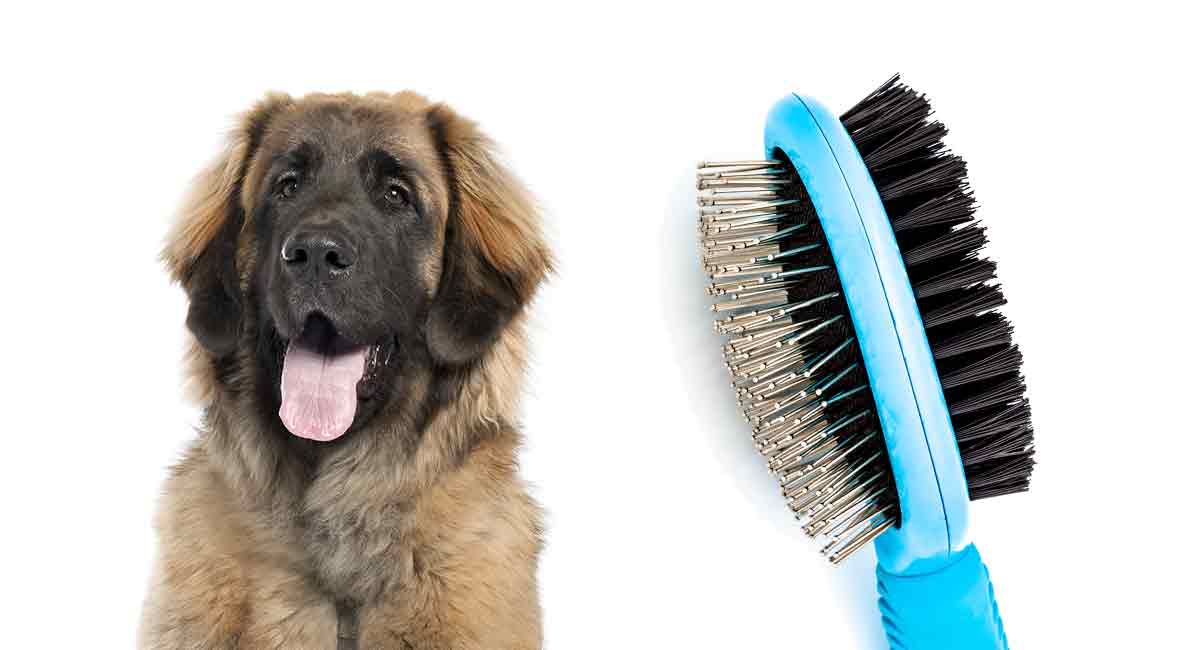 One look at the Leonberger dog's thick and luxurious coat will have most dog lovers wondering, "What is the best brush for a Leonberger?"
The Leonberger is an amazing family dog!
They are known to be especially gentle and loving with children even though at heart they are big playful puppies themselves.
It is true you get a LOT of dog when your family adds a Leo, as this breed is affectionately known!
But you also get a lot of coat, and that can translate into quite a bit of brushing and grooming.
So choosing the best brush for a Leonberger is going to be a very important part of caring for your new canine family member!
In this article, we get up close and personal with the topic of Leonberger grooming so you can choose a Leonberger brush you and your pup will love to use.
The Signature Leonberger Coat
A full grown Leonberger can easily top the scales at 170+ pounds.
This makes these giant dogs one of the largest representatives in the working dog class!
In fact, the Leo is often considered the draft horse of working dogs.
This description is particularly apt since these dogs were originally bred to help out with farm chores, including pulling carts, as well as herding and guarding livestock.
They are also really good swimmers!
The signature Leonberger coat is sometimes likened to a lion's mane because of its full, thick appearance with a neck ruff of sorts.
The coat is a double layer.
The top layer is coarser and water-repellant.
The bottom layer is shorter and much softer and insulates your dog with warmth.
This coat is weighty enough to make a whole second dog in itself (see the proof for yourself in this post by a Leo owner!)
Leonberger "Coat Blows"
Like other water-loving dogs, such as the Golden Retriever, the Leonberger's thick, double layer coat needs to shed seasonally.
This allows each layer to replenish itself so it works the way it should to repel water and keep your Leo insulated in cold.
For you, however, what this basically means is you will go running – and we do mean running – for that best brush for a Leonberger dog that you chose when you first brought your new pup home!
At other times of year, you will likely be able to get by with brushing your dog a few times per week.
But during the twice-annual seasonal coat blows, you will want to set aside time daily to brush your Leonberger.
This is the only way to keep dog hair from taking over your house, your car, and your wardrobe.
What To Look For In A Leonberger Brush
The right Leonberger brush will make Leonberger grooming much easier on both you and your pup.
You want to choose a brush that is sturdy, because it will meet its match in tackling your dog's plush coat.
You also want a brush that feels comfy and natural in your hands so you don't strain your hand or wrist muscles while you are brushing and brushing and brushing.
Look for a Leonberger brush with rounded tips that will be gentle and non-abrasive as it works its way down through the layers of your dog's coat to massage the skin beneath.
Introducing Your Leo To Brushing And Grooming
The best time to begin introducing your Leonberger to brushing and grooming is right away!
The earlier you start brushing your Leo, even as a young puppy, the more comfortable your dog will feel.
When you brush your puppy, you should also take the opportunity to check your dog's ears, teeth, and nails.
This will also help your dog get used to you feeling around the ears, mouth, and paws.
Also, be sure to offer plenty of love, pats, praise, and treats.
Leonbergers tend to be particularly fond of treats, as this fun video highlights!
Your Leonberger Grooming Toolkit
Because the Leonberger dog's coat is so thick and full, you may find that the best brush for a Leonberger is actually not just one brush, but several!
These three brush types are each popular for different reasons to brush and groom dogs with thick, double layer coats like the Leonberger's.
Slicker Brush
Professional groomers suggest starting out by using a slicker brush.
A slicker brush is unique in how it works to remove shed hair from your Leo's coat.
The new generation of dog slicker brushes have a self-cleaning feature dog owners love.
One button-push or click and all that shed hair is ejected right into the trash can, making cleanup a breeze.
Comb (Rake)
A stainless steel comb, sometimes called an undercoat rake, is the tool you need to make sure that your brushing is penetrating all the way through your Leo's thick coat down to the level of the skin.
This is vital for your dog's health!
The action of brushing gives your dog's skin a nice massage that aids in circulation, aerates the skin, and moves dead hair and trapped dirt or debris up and away before it can cause mats, tangles, or – worse – abrasion and potential infection.
Pin and Bristle Brush
You can think of a pin and bristle brush as the pièce de résistance of your Leonberger grooming toolkit.
The pin and bristle brush adds smoothness and shine to your dog's coat.
The most common type of pin and bristle brush has the pins on one side of the brush head and the bristles on the other side.
The pins help aerate and separate the hairs of your dog's coat, and then the bristles smooth the coat and add shine.
Be SURE that any pin and bristle brush you select has rounded tips for your dog's comfort and safety.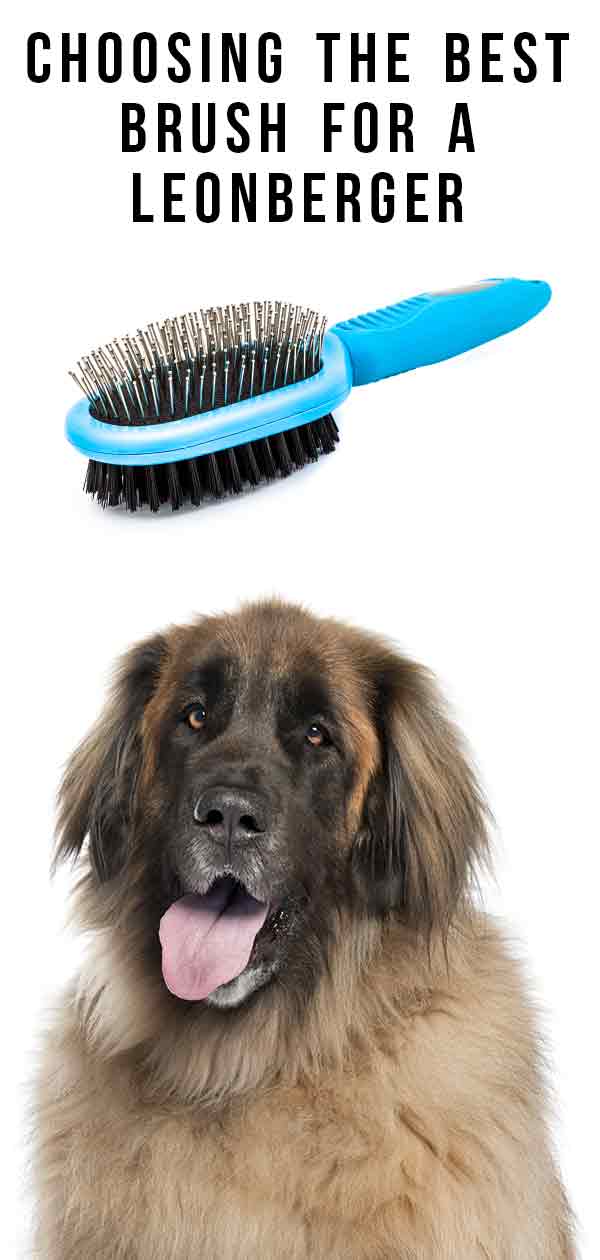 Best Slicker Brush For Leonberger
Each of these slicker brushes is a good candidate to help remove shed hair, dirt, and debris as part of your regular brushing routine.
Hertzko Self Cleaning Slicker Brush. This nice, wide, self-cleaning slicker brush features evenly spaced, round-tipped pins.
They will gently bend as you brush so you won't harm your dog's skin.
The Pet Portal Pro Quality Self Cleaning Slicker Brush. This is a sturdy and well-apportioned professional slicker brush.
It comes with a free e-book on dog grooming basics and a 5-year manufacturer warranty.
Best of all, it features a one-click self-cleaning button.
Safari Self-Cleaning Slicker Brush. This uniquely shaped self-cleaning slicker brush features a curved brush pad to move with the contours of your dog's body as you brush.
Best Comb For Leonberger
The type of comb you may find works best for your Leonberger is not any ordinary comb!
This type of comb is called an undercoat rake.
It works to catch the shed hair and rake it up and out of your dog's coat for better skin and coat health.
Pet Republique Dematting Tool for Dogs. The Regular 12+23 teeth undercoat rake comb comes highly rated by dog owners.
Leonberger owners say it works wonders.
It really reaches all the way down into the undercoat to remove shed hair, dirt, and debris gently but thoroughly.
Oster Dog Rake and Shedding Brush. This brush is also highly recommended by Leonberger owners.
They say it is amazing at removing shed hair that is trapped in the thick undercoat.
Pat Your Pet 2 Sided Undercoat Rake. This de-matting rake and comb is designed for use with medium and long coats.
It reaches down into the undercoat and gently remove dead, shed hair as well as trapped dirt or debris.
Best Pin And Bristle Brush For Leonberger
These are three of the best pin and bristle brush choices for thick, double-coated dogs like the Leonberger.
They are all highly recommended by other dog owners!
GoPets Professional Double Sided Pin & Bristle Brush. Dog owners say this brush is super-sturdy and effective at brushing even thick double-coated dogs.
This brush has rounded pins and an easy-grip silicone handle.
AtEase Accents Dual Sided Pin and Bristle Brush. This lovely bamboo pin and bristle brush is sturdy and sustainable.
Its soft bristles and rounded pins will give your dog's coat that final glistening shine.
Owners say it really works for thick, double-coated dog breeds.
HaloVa Pet Comb. This eco-friendly bamboo-handled brush features softly rounded pins and high-quality bristles to smooth and shine your dog's coat.
Owners say it is a really good brush – a great value for the money.
Best Brush For A Leonberger Dog
We hope you have found this article about the best brush for a Leonberger dog helpful and informative as you study your options and select a brush you will both love to use!
Sources
Güllix, W., et al, "Care," Leonberger Union, 2018.
White, S., "Owner Handlers," Leonberger University, 2018.
Novak, L., et al, "Leonberger," The Canadian Kennel Club, 2018.
Get Pippa's free dog training tips delivered to your inbox