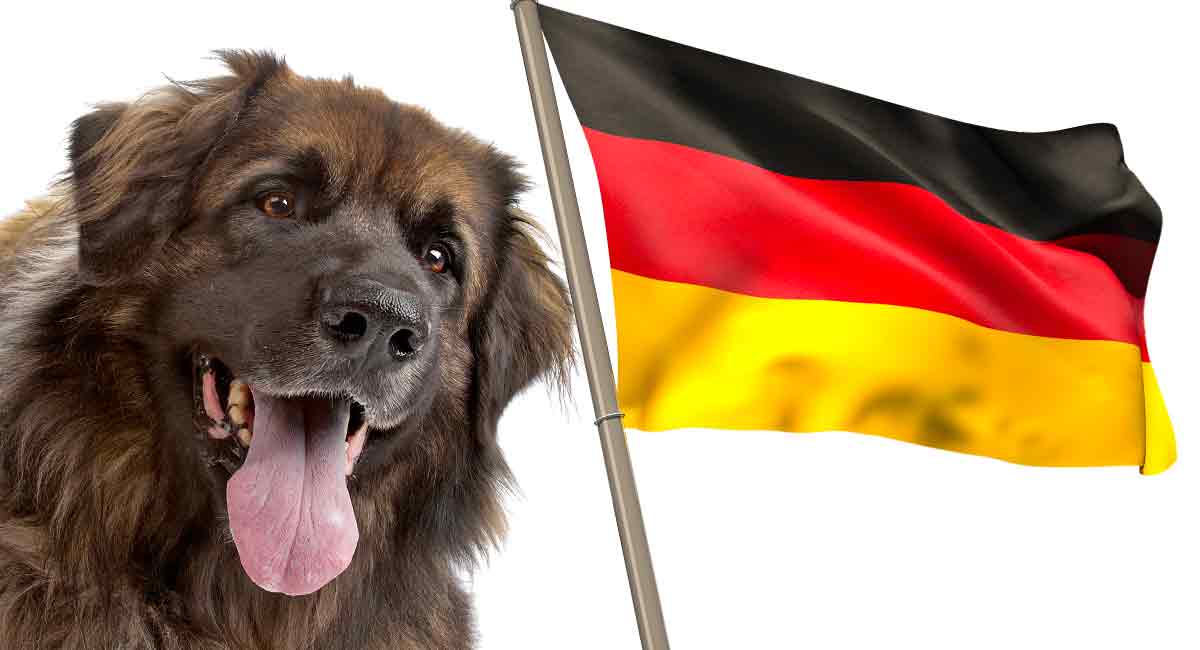 Where do Leonbergers come from?
This massive breed with the unmistakably regal bearing and kind eyes has a fascinating history to explore.
Male Leonbergers stand over 31 inches at the shoulder. They weigh up to 170 pounds. But despite their enormous size, the Leonberger is known for his gentle character and even temperament.
Not the most common breed, they rank as the 100th most popular breed in America.
But don't let that deter you.
This majestic dog is distinguished by a lion-like mane, a black face mask, and an easy gait. And he has plenty to recommend him.
So if you're wondering, "Where do Leonbergers come from?" let's find out.
Early Leonberger History
Where do Leonbergers come from?
Their background is intriguing. Full of mystery and contradicting reports.
We do know the breed originated during the Victorian era. In a small German town located 20 kilometres northwest of Stuttgart.
The town is called Leonberg, so there's no dispute where the breed got its name.
Who Created the Leonberger?
Heinrich Essig was a 19th century politician, entrepreneur, and dog breeder.
He set out to create an ideal canine companion for royalty.
According to legend, he wanted to create a large breed that looked like the lion on the Leonberg coat-of-arms.
Essig and his family kept a wide array of rare and exotic animals.
Their home was more akin to a little zoo, They kept foxes, turkeys, and peacocks, in addition to numerous dogs.
Where Do Leonbergers Come From?
Essig wrote that he carried out his initial cross in the 1830s. Between a black-and-white female Landseer Newfoundland and a long-haired Saint Bernard. The first Leonberger came from this cross.
It's alleged that these dogs were then crossbred for four generations. They were also outcrossed. First with a yellow-and-white Saint Bernard. And later with a white Pyrenean Mountain Dog.
Some reports indicate that other local breeds with fixed genetic characteristics but no breed classification were added into the developing breed lines.
With what we know about canine genetics today, this seems quite plausible.

Our best records show that the first registered Leonbergers were born in 1846.
Where Do Leonberger Colors Come From?
The puppies from the original union were black and white.
However, at the time white dogs were very fashionable. So Essig was striving for an all white dog.
This is where crossing with a yellow-and-white Saint Bernard and white Pyrenean Mountain Dog come in to help explain the question, "Where do Leonbergers come from?"
In 1889, Essig died without having defined the Leonberger breed standard.
After his death, Essig's nephew bred Leonbergers.
His dogs consistently featured tawny colors and black masks.
These are the colours that the breed is known for today.
What Is a Leonberger Dog?
One thing that makes the Leonberger truly unique compared to other large dog breeds is that he was initially bred for companionship. Not as a working breed.
Literally fit for a king, monarchs who added this majestic breed to their royal courts included:
Napoleon III
Tsar Alexander II
King Umberto of Italy
Empress Elisabeth of Austria
Prince of Wales (later King Edward VII)
Despite these auspicious beginnings, the Leonberger also made a versatile working dog.
They were impressive toiling on farms. They possess natural guarding instincts to protect herds and property, while also being strong enough to pull carts.
It wasn't until 2009 that the breed was officially admitted to the American Kennel Club (AKC) working group.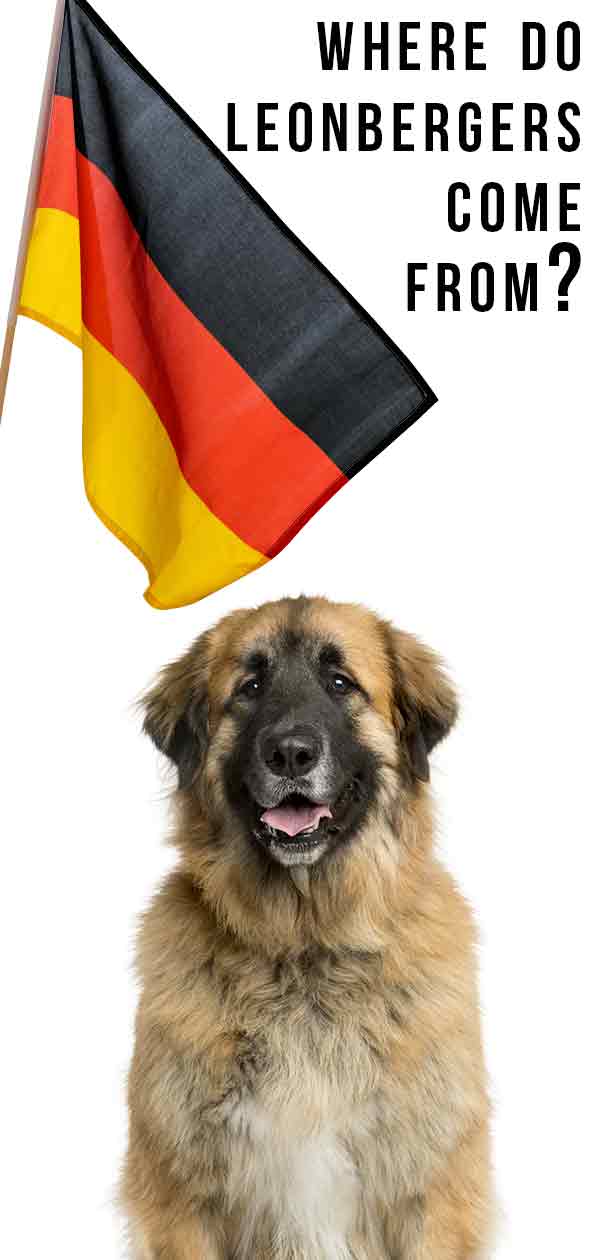 Recent History of the Leonberger
It's interesting to note that the Leonberger almost became extinct during World War I.
Karl Stadelmann and Otto Josenhans are credited for saving the breed.
After the war ended, they searched throughout Germany for Leonbergers.
They located a total of 25. Of these, only five were suitable for breeding purposes.
Thankfully this was enough to continue the survival of the breed.
In 1922, a breeding cooperative was formed. Within four years, 350 Leonbergers had been selectively bred.
This brought about a revival of the breed. Several kennels were able to be stocked with lovable Leos.
This cooperative also established the official Breed Registry, which has endured uninterrupted to this day.
Where Do Leonbergers Come From in the U.S.?
The Leonberger originally appeared in the U.S. and Canada in the early 1900s.
Remarkably agile and excellent swimmers, the Canadian government imported them to work as water rescue dogs.
Caesar and Sultan were two Leonbergers who belonged to a show-business couple.
They appeared in live theater productions in the U.S. around the beginning of the 20th century.
The breed also participated in Westminster shows. And in other dog shows throughout the eastern United States.
Sadly, during the Great Depression, the Leonberger disappeared from the U.S.
It wasn't until the decade between 1975 and 1985 that the Leo returned to America.
This is thanks to five different families. They brought the breed back from Germany to various parts of the country.
In 1987, the Leonberger Club of America formed.
The Leonberger Today
The breed's complicated history makes the modern Leonberger a unique mix.
He's both a resourceful working dog and a devoted family companion.
He's right at home working as a therapy dog or pulling a sled.
The Leonberger's imposing, lion-like appearance and booming bark make him a formidable watchdog.
He also loves to be a part of the family.
Does the Leonberger Make a Good Family Pet?
Extremely intelligent, friendly, affable, and eager to please. There's no question that this beautiful dog will make an excellent addition to the right family.
Leonbergers are exceptionally active and energetic for a dog of this size. Especially when they're young.
The Leo has a reputation as a gentle giant. But early socialization and positive reinforcement training are imperative for a dog this big and powerful.
His lush fur sheds a lot. It requires daily brushing to keep it from matting.
Children and other pets are usually not an issue.
Two Leonbergers of the same sex in the same home might not be the best idea, however.
Space is another requirement.
He's much better suited to a larger home with a good-sized property.
Anyone who is considering bringing a Leonberger into their family needs to be aware that this is a dog who needs lots of exercise, time, and attention.
You can find out more about the Leo in our complete guide to the Leonberger.
References and Further Reading
American Kennel Club
International Union for Leonberger Dogs
Sutter, NB, et al., "Dog Star Rising: The Canine Genetic System," 1492 Nature Reviews Genetics, Volume 5, 2004
Get Pippa's free dog training tips delivered to your inbox