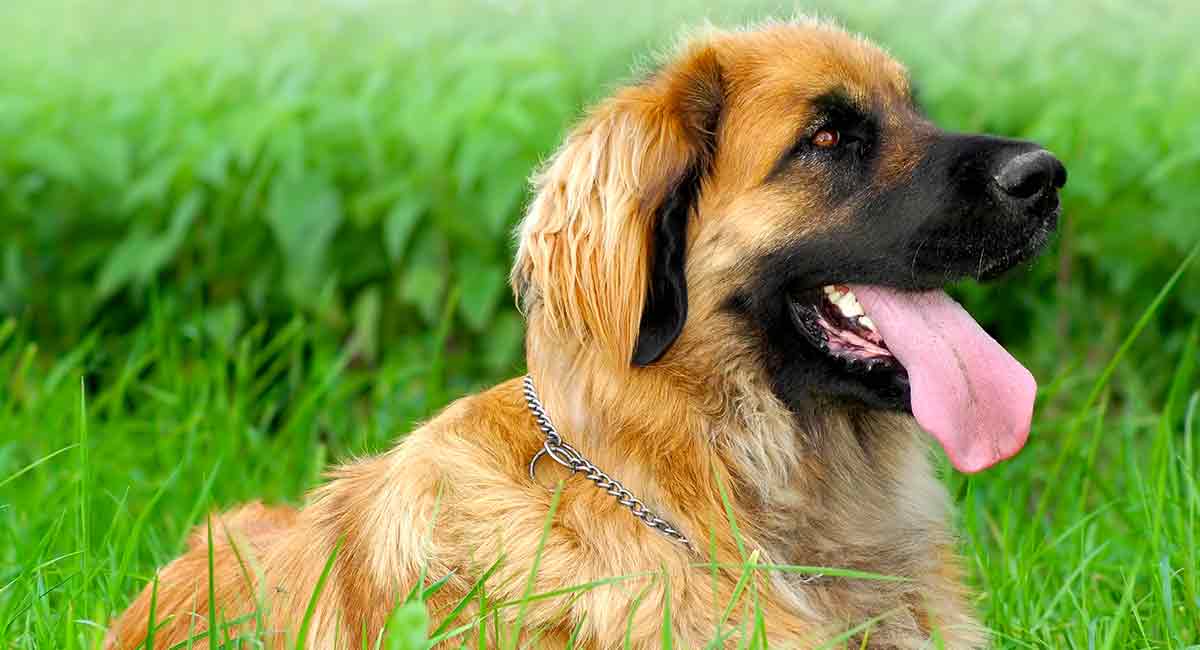 Welcome to our in depth guide to Leonberger health and life expectancy.
The Leonberger (affectionately known as the Leo) is a striking breed, sought after for its gentle temperament and massive yet cuddly proportions.
Like all pedigree dogs, Leonbergers are statistically more vulnerable to some specific health concerns.
This article covers what they are, how to find a healthy Leonberger puppy, and how to keep him healthy for the longest possible time.
We'll also find out what kind of lifespan Leonbergers can expect to enjoy.
The Leonberger
Named after the German city Leonberg where the breed originated, the Leo is unique because despite its size, it was bred first and foremost to be a companion dog.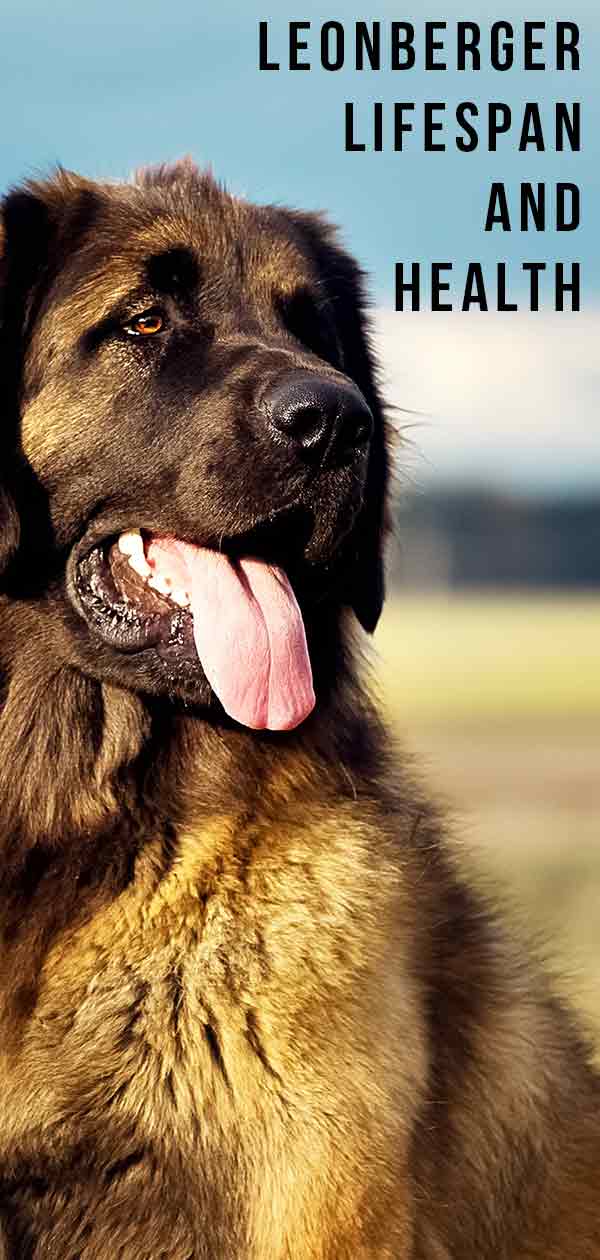 The result is a giant, gentle companion with a striking coat and a loving nature.
An overgrown teddy bear of a dog is an appealing pet, but Leonberger health problems due to their size can be considerable.
From the outset, potential owners should understand that Leonberger health issues may require close management throughout their lives.
Leonberger Health Problems
These are the most frequent health concerns of Leonberger dogs.
Some of them are the result of their size and some are genetic disorders which spread down breeding lines.
Leonberger Health – Bones and Joints
Hip and Elbow Dysplasia
Hip dysplasia and elbow dysplasia are genetically inherited conditions affecting the normal growth and mobility of the joints.
These conditions are very common among large dogs.
The Leonberger is no exception. Leonbergers experience a significantly higher-than-average incidence of both conditions.
There is some evidence that stairs in homes create extra risks of bone and joint problems.
A house without stairs (or a house where your Leonberger can be confined to the ground floor) is better suited for this breed.
Exercise on soft ground such as grass helps to prevent the onset of dysplasia.
Osteochondritis dissecans
Osteochondritis dissecans is another relatively common Leonberger health issue.
The condition causes cartilage in the joints to crack, which eventually leads to lameness in the joint.
This often makes it very difficult for a Leonberger to remain active.
While osteochondritis and joint dysplasia can be debilitating and affect Leonberger lifespan, they can also be avoided through health screening of breeding dogs.
We'll revisit that to find out more, later in the article.
Panosteitis
Panosteitis is another bone issue affecting Leonberger health.
Typically affecting younger dogs, this is a painful inflammation of the bones, causing sudden lameness that shifts across the legs.
Fortunately, this problem frequently resolves itself as the dog grows up and their skeleton matures.
Gastric Issues
Bloat (also known as gastric torsion) is another Leonberger health issue to look out for.
This is a potentially deadly condition in which the stomach dilates and then rotates within the body.
Symptoms include drooling, an enlarged abdomen and retching. When any of these incidents occur, it's important to get to your vet as soon as possible.
Bloat is often a result of gulping food too quickly, so using a slow feeder bowl can reduce the risk.
Studies also suggest that diarrhea and vomiting are quite common in Leonberger pups.
A healthy diet is your best bet to ensure gastric Leonberger health problems are minimal.
Eye Issues
Cataracts
A statistically high number of Leos suffer from cataracts.
Cataracts are a degenerative condition which causes progressive opacity in the lens of the eye.
Cataracts tend to worsen with age and are exacerbated with exposure to UV light.
While not a significant problem for Leonberger life expectancy, cataracts can significantly reduce quality of life if they drastically reduce a dog's vision.
Fortunately, it's a condition that can be screened and effectively treated.
Other ophthalmic Leonberger health issues
Leos are also prone to entropion (inward curling of the eyelids) and ectropion (outwardly droopy eyelids).
These conditions have a range of associated health challenges, including chronic eye irritation, infections and dry eye.
To protect future generations of Leonbergers, only dogs with great eye health should be used for breeding.
We'll find out more about this in moment.
Other Leonberger Health Issues
Polyneuropathy
Polyneuropathy is an inherited nerve condition in which Leonbergers are susceptible.
This condition affects gait; ability to exercise; muscle strength; and the proper function of sight, sound and smell.
Leukoencephalomyelopathy
Leukoencephalomyelopathy is another nerve condition related to polyneuropathy.
It affects the spinal cord and causes spinal reflex problems.
Severely affected dogs lose the ability to walk.
A DNA test can test for both these nerve conditions – more in a moment.
Thyroid disorders
Thyroid dysfunction is also another common factor in Leonberger health.
This frequently leads to Addison's disease, a condition that causes lethargy, appetite loss, shaking and a range of digestion and hydration issues.
Many thyroid disorders can be effectively managed with veterinary care, provided they are picked up by an early thyroid evaluation.
Cancer
Sadly Leonbergers are particularly prone to cancerous tumors.
Cancer causes the death of 28% of Leonbergers, compared with 18% of the dog population as a whole.
Is in humans, there is so much we don't know yet about what causes canine cancers, and how much of a part genetics play.
Leonberger Life Expectancy
The Leonberger is an extremely large dog – their impressive height is matched by considerable bulk.
A typical male Leonberger weighs 110 to 170 pounds, and females weigh up to 140 pounds.
Unfortunately, as with all large dogs, their size means a shorter lifespan.
The average lifespan of the Leonberger is only around seven years.
This is well below the doggy average of 10-13 years.
To make sure your Leonberger and you enjoy the most time together possible, you need to make health a priority when you look for a pup.
Finding a Leonberger Puppy
A reputable Leonberger breeder will give you a wealth of information about their puppies' parents.
For both parents, this should include:
a hip and elbow evaluation
an ophthalmic evaluation
a DNA test for polyneuropathy and leukoencephalomyelopathy
and information about the general condition of the parents.
You should meet the parents for yourself so that you can get a good sense of their general health and well-being.
If these tests haven't been performed, you can always request that they be completed before making a decision about whether the breeder's Leonberger pups are right for you.
Choosing a healthy Leonberger puppy is much easier if you go through a well-respected breeder who understands Leonberger health issues.
Leonberger Health and Life Expectancy
For the mighty Leonberger, being so big means a short life expectancy, and the possibility of several illnesses.
Leonbergers typically only live around seven years.
They are prone to hip and elbow dysplasia, eye conditions, neurological problems, thyroid disorders and cancer.
Many of these are hereditary illnesses, and future generations can be protected by careful breeding using only healthy dogs.
However since the Leonberger population is so small, it could be a long time before we can describe them as healthy, long-lived dogs.
Do you have a Leonberger?
How old are they now?
Are you worried about any health concerns in their family tree?
Share their story and find out the experiences of other Leonberger owners in the comments section.
Resources and Further Reading
Bente, K., et al., 2012, "A Longitudinal Study on Diarrhoea and Vomiting in Young Dogs of Four Large Breeds," ACTA Veterinaria Scandinavica
Christine, L., et al., 2006, "Cataract in the UK Leonberger Population," Veterinary Ophtalmology
Ekenstedt, K et al., 2014, "An ARHGEF10 Deletion Is Highly Associated with a Juvenile-Onset Inherited Polyneuropathy in Leonberger and Saint Bernard Dogs," PLOS Genetics
Hultin, J., et al., 2011, "Inherited Polyneuropathy in Leonberger Dogs," Journal of Veterinary Internal Medicine
Nečas, M., et al., 1999, "Incidence Of Osteochondrosis In Dogs and Its Late Diagnosis," Acta Veterinaria Brunensis
Oberbauer, A.M., et al., 2017, "Long-Term Genetic Selection Reduced Prevalence of Hip and Elbow Dysplasia in 60 Dog Breeds," PLoS ONE
Oevermann, A., et al., 2008, "A Novel Leukoencephalomyelopathy of Leonberger Dogs," Journal of Veterinary Internal Medicine
Further References
"Panosteitis," Leonberger Club of Great Britain
Randi, I., et al., 2012, "Housing- and Exercise-Related Risk Factors Associated with the Development of Hip Dysplasia as Determined by Radiographic Evaluation in a Prospective Cohort of Newfoundlands, Labrador Retrievers, Leonbergers, and Irish Wolfhounds in Norway," American Journal of Veterinary Research
Saevik, A., et al., 2017, "Clues for Early Detection of Autoimmune Addison's Disease–Myths and Realities," Journal of Internal Medicine
Slater, M.R., et al., 1992, "Diet and Exercise as Potential Risk Factors for Osteochondritis Dissecans in Dogs," American Journal of Veterinary Research
Bonnett et al, "Mortality in over 350,000 Insured Swedish dogs from 1995–2000: I. Breed-, Gender-, Age- and Cause-specific Rates", Acta Veterinaria Scandanavica
Get Pippa's free dog training tips delivered to your inbox