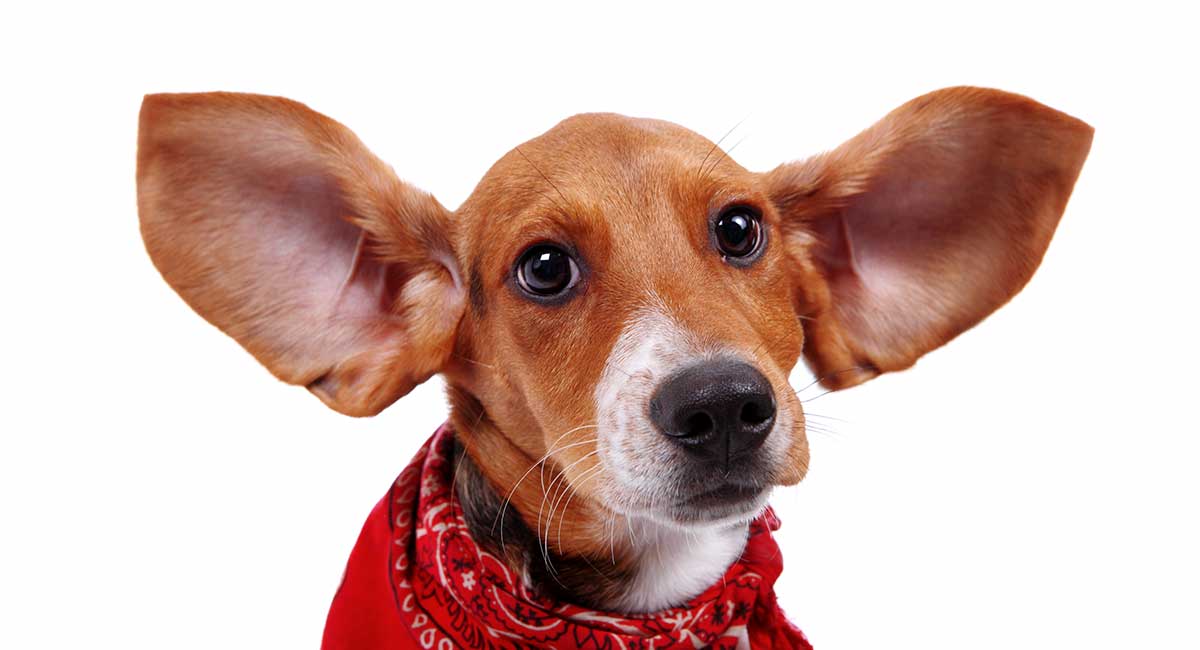 Vet Pippa Elliot show you how to care for Beagle ears and keep them healthy.
The Beagle dog personifies enthusiasm wrapped in a fur coat.
Once a hunting dog, their sociable natures now makes them popular as pets.
But the Beagle is not for people who prefer the couch to walks!
This is an energetic, full-on breed that needs plenty of exercise or they risk developing bad habits.
Beagles are sturdy, medium-sized dogs.
They are basically sniffing machines, with legs attached so they can follow a trail.
This focus on smell makes them strong-willed at times – and deaf to their owner's recall.
Indeed, Beagles are dogs of contrasts.
They are supremely friendly but can be naughty.
They are robust and yet prone to health problems, such as hip dysplasia and epilepsy.
To get the full low down visit the Beagle dog breed information center.
Beagle Puppy Ears
Unlike some other dog breeds, a Beagle puppy is instantly recognizable.
From the white-tipped tail to their drop ears, they are a miniature replica of the adult dog.
Indeed, their drop ears can sometimes seem too big for their head, and need growing into.
But be patient… it will happen!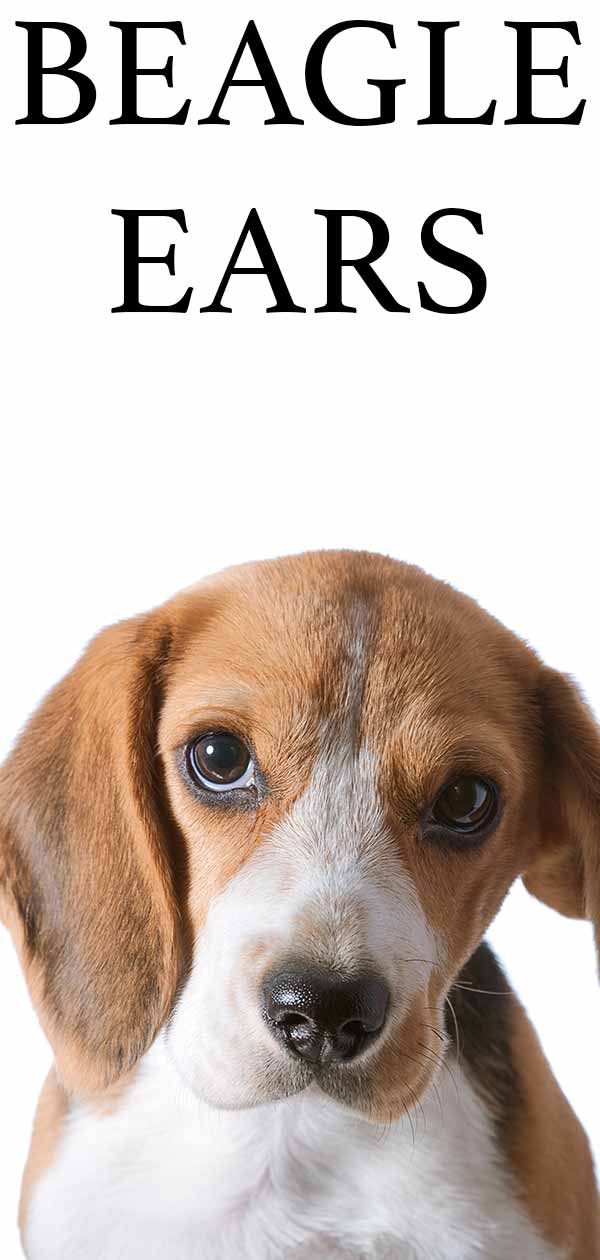 Beagle Ears
Beagle ears are mounted on the side of the head, roughly level with their eyes.
These are drop ears, with a flap that ends with a gently rounded edge.
Indeed, the breed standard states that the tip should curl in slightly, toward the cheek.
But this is a mere description of the wonderfully tactile objects that are Beagle ears.
Covered in smooth flat fur, they are like velvet and irresistible to touch.
Now here's an interesting Beagle ear fact:
When carefully drawn forward, a Beagle's ear tips should nearly reach their nose.
The above is no mean feat, especially when that long Beagle snout (perfect for sniffing) is taken into account.
But their length has another implication, which is that these relatively long ears often dip into water bowls and get wet.
Beagle ears are also weighty objects.
Their heft along with their drop nature means you'll never see a Beagle with their ears truly pricked up.
But Beagle ears are not just a thing of beauty.
Those drop flaps have a purpose.
As well as protecting the ear canal, their movement near the ground creates mini-eddies of air.
This helps the Beagle to follow scents, as the ears waft scent molecules up towards the nose.
Beagle Ear Cleaning
Keeping the ear canal clean has several benefits.
For starters, it reduces the amount of wax which ear mites like to feed on.
For another, it removes excessive numbers of bacteria, which may cause an infection.
Another advantage is cleaning helps an owner know what's normal for their dog.
Then if there's an unusual discharge, it's recognized sooner.
Done right, ear cleaning is beneficial.
But done wrong, it causes more problems than it cures.
Most important is what you use to clean the dog's ears.
Always use a good quality ear cleaner designed for dogs.
On the label, look for properties such as a pH that's suitable for dog skin.
It should also be ceruminolytic, meaning it dissolves wax, and readily evaporates so it doesn't leave the ear canal soaking wet inside.
A healthy ear only needs cleaning once a fortnight or so.
For problem-prone ears, take the advice of your veterinarian.
More frequent cleaning may be beneficial to keep infection at bay.
Ear Cleaning – tools and techniques!
Gather everything together.
You need:
an ear cleaner designed for dogs
cotton wool
treats
a helping hand
latex gloves
Sit your Beagle in the corner of the room.
This stops them backing away and running off.
Get the dog to sit, praise and reward them with a treat.
If necessary, have a friend hug the dog to stop them wriggling.
Put on a latex glove.
Lift the ear flap and locate the entrance to the ear canal, a dark hole.
Place the nozzle of the ear drops over this entrance and squeeze.
The ear canal is a long structure and can hold around 5 ml of fluid (about a teaspoon).
Be generous with the cleaner, until the entire canal is full.
Then plug the ear canal with a piece of cotton wool.
Massage below the cotton wool, which mixes the cleaner with wax and debris in the ear canal.
Now remove the plug.
Let the dog shake their head.
Wipe away any excess cleaner with more cotton wool.
Repeat with the other ear.
If the cotton wool is unusually dirty, this can be an early warning of an ear infection.
When in doubt, check in with a vet since infections treated early are easier to deal with.
Dog Ear Health
Pick up that glossy ear flap to look underneath, and there's the entrance to the ear canal.
It is vital that the ear canal is kept healthy.
Problems such as infection, foreign bodies, or allergies result in great distress and impaired hearing for the dog.
To understand how and why ears become unhealthy, it helps to know something of normal ear anatomy.
The part of the ear that concerns us is the external or outer ear.
This is made up of the ear flap and the ear canal.
In turn, the ear canal is divided into two parts: a vertical canal and a horizontal canal.
Why does this matter?
Each part of the external ear (ear flap, vertical canal, and horizontal canal) has a different microclimate.
These favor different types of pests to cause different sorts of infection.
One Beagle-related issue is how that heavy ear flap reduces the air circulation within the ear canal.
This creates a warm and humid place for pests to breed.
Thus, Beagles can suffer more than their fair share of ear infections.
Here are some of the common ear problems encountered by Beagles.
Foreign Bodies
Beagles love to sniff, which means their ears are close to the ground.
In woodlands, those long ears sweep up debris, which may enter the ear canal.
Grass awns pose a particular risk.
These dart-like seeds can travel forward but not back.
Once in the ear canal, they track deeper and deeper.
A foreign body, such as a grass awn, within the ear canal creates irritation and discomfort.
If it reaches the ear drum, it causes intense pain and can result in serious infection and deafness.
Foreign body problems develop suddenly.
If the dog shows excessive head shaking out of the blue, take them promptly to the vet.
An exam with an otoscope will quickly show the cause, which can be removed.
Ear Mites
Ear mites are tiny arachnids, from the same class as spiders and ticks.
They love ear canals and are experts at setting up home there.
Indeed, ear mites can change the nature of ear wax, creating thick, dry, black-brown waxy food for them.
As they scurry about inside the ear canal, this is irritating to the dog.
And the bad news is ear mites pass easily from dog to dog.
Happily, many of the modern spot-on flea preparations also work against ear mites.
Alternatively a course of medicated ear drops and washing the pet's bedding should do the trick.
Swimmer's Ear
A water-loving Beagle is liable to get moisture in their ear canal.
Water in prolonged contact with the skin causes it to swell and wrinkle.
This is known as maceration and predisposes the area to infection.
Water in the ear canal is a trigger factor for ear infections.
A Beagle that is a water-pup will benefit from cotton wool ear plugs ahead of a swim, plus cleaning their ears out afterwards.
Bacterial and Yeast Infections
Skin is host to a population of microbes.
These bacteria and yeast are quite normal and don't cause problems for healthy skin.
The ear canal is lined with skin, also with those same microbes.
But the ear canal is warmer and moister than the skin of the body.
This makes it easier for the scales to tip in favor of infection, with a waiting population of bacteria and yeast ready to oblige.
The trick is to check the dog's ears daily, both by eye and with a sniff test.
If you suspect infection, then prompt treatment should settle it quickly.
Allergic Skin Disease
Some Beagles seem martyrs to ear infections.
No sooner is one infection cleared up, than another develops.
These dogs are likely to have an underlying allergy, which weakens the immunity of the ear canal.
Work with your vet to find the trigger factor.
For some, this can be food, and a hypoallergenic diet makes all the difference.
For others, it's allergies to things such as pollens in the environment.
In which case, allergy medications such as cyclosporine or oclacitinib will help.
Grooming a Beagle's Ears
The short velveteen hair covering Beagle ears requires little by way of formal grooming.
To keep them looking their glossy best, hand-polishing (i.e., stroking) is all that's required.
This said, be alert for muddy ear tips, and wipe them clean as needed.
Beagle Ears
A Beagle's pendant ears are one of the breed's most distinctive features.
Their heavy ear flap reduces air circulation within the ear canal.
This predisposes them to ear infections.
Regular ear cleaning contributes towards healthy ears.
But when there is a problem, prompt veterinary attention can nip things in the bud, preventing unnecessary pain and discomfort.
For more interesting information about Beagles, take a look at the Pocket Beagle!
References and Resources
Living with a Beagle. What most people won't tell you. Beagle Savvy
Microbial flora of healthy Beagle ears. Experimental Animals
Overview of Canine Otitis, Merck Veterinary Manual
Etiology of Canine Otitis Externa. Veterinary Dermatology
Efficacy of Apoquel to Control Otitis Externa Secondary to Allergic Skin Disease. International Journal of Veterinary Health Science & Research
Get Pippa's free dog training tips delivered to your inbox