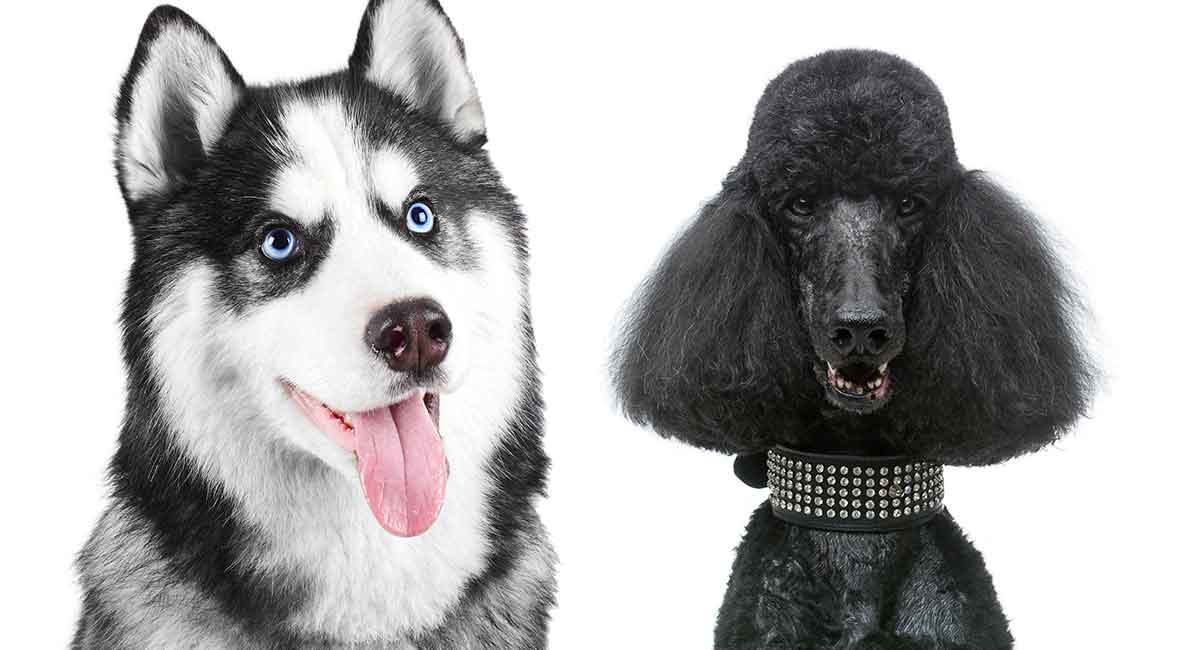 A Husky Poodle mix dog is a cross between Siberian Husky and a Standard Poodle. But a Miniature or Toy Poodle could also be used.
This mix is also known as the Huskydoodle or Siberpoo breed.
A Husky Poodle mix can weigh up to 70lbs. But it could be much smaller depending on the size of its Poodle parent.
It's impossible to predict what a hybrid puppy will be like before it arrives. But generally, this cross is intelligent, loyal, and playful. Plus they have a lot of energy.
Let's find out what a Huskydoodle might be like. And if this breed combo is right for you!
Where Does the Husky Poodle Mix Come From?
The Husky Poodle mix is quite a new mix. As most "designer" breeds are!
Popularity of mixes like Huskydoodles has risen in recent decades. But, it's hard to pinpoint the exact origin of this combo.
In contrast, the parent breeds have years of history behind them. Let's take a closer look.
Poodle History
The Poodle breed is closely associated to France. In fact, it's their national dog! But Poodles actually come from Germany. The breed began there around 400 years ago.
Germans used Poodles for duck hunting because they're skilled retrievers and swimmers. In fact, their unique fur cut was rumored to increase their swimming skills. All while keeping their joints warm.
"Poodle" comes from the German word for puddle— "pudelin."
European nobles favored Poodles for their elegant looks and obedience. Their history also includes circus performing and truffle hunting.
Siberian Husky Origins
Siberian Huskies' origins date back even farther. Nearly 2,000 years!
Today's Husky comes from Arctic Chukchi sled dogs.
The breed rose to fame in the early 1900s by winning prestigious sledding races.
Plus, a team of Huskies made national headlines in 1925. They delivered life-saving medication to a remote Alaskan community suffering from a diphtheria outbreak.
So what about the history of the Husky Poodle mix?
The Designer Dog Debate
The rise of mixing breeds for desirable traits has created a debate about the health of purebred versus mixed breed dogs. Many believe that a mixed breed dog will be less prone to inherited diseases associated with purebred dogs.
That is not always the case. A 2013 study from the University of California, Davis revealed that the occurrence of genetic disorders depends on the actual disorder rather than the purity of the breed.
The health of any dog, purebred or mixed, depends on many things. These include: genetics, breeder reputation, and environmental factors.
Research health risks associated with certain breeds. When choosing a breeder, ask questions about health histories as well as health screenings.
Husky Poodle Mix Appearance
Puppies can take on features of either parent. So, it's hard to predict the physical traits of a Huskydoodle.
In general, a Huskydoodle will have a large, athletic body with a lot of fur, and floppy ears!
Size, coloration, and eye color are some of the variable traits. Let's take a closer look at what they could be.
Huskydoodle Size
A Standard Poodle is over 15 inches tall and weighs between 40 and 70 pounds. Miniature Poodles are shorter than 15 inches. And Toy Poodles are no more than 10 inches tall.
A Siberian Husky is 20 to 23.5 inches tall and weighs 35 to 60 pounds.
Based on size, it's likely that a breeder will mix a Standard Poodle with a Husky. Rather than a Mini or Toy Poodle. But, those mixes are technically possible.
A Standard Poodle and Siberian Husky mix will be a large dog! It may be 15 to 23.5 inches tall and weigh up to 70 pounds.
But the best way to estimate is to look at the parents.
Huskydoodle Fur & Coloration
A Poodle's thick, curly fur may be one of several uniform or combination of colors. Let's take a look at some of the colors the parent breeds can offer.
Poodle Colors
apricot
sable
red
blue
silver
silver beige
cream
white
brown
black.
Husky Colors
A Siberian Husky's fluffy double coat can be one of 17 combinations of:
black
white
red
sable
brown
gray
copper
tan.
What to Expect
Most Huskydoodles are multicolored. Typically black, white, and gray, although variations are seen, with markings similar to a Husky.
A Huskydoodle's fur will be dense. It may have the texture of either parent breed. But it usually inherits the coarse curls of the Poodle parent.
Huskydoodle Eye Color
Siberian Huskies are famous for their blue eyes, brown eyes, or combination of each.
Poodles have dark eyes.
A Huskydoodle might inherit the Husky's signature eye colors. But there is no guarantee.
Husky Poodle Mix Temperament
Both parent breeds started as working dogs. But they had very different roles. The Poodle worked as a retriever and the Husky was a sled dog. So, a Huskydoodle will inherit each breed's desire to "work" or have something to do.
Simply stated, it will have a lot of energy! This is one reason why training is important with this mixed breed.
Huskies and Poodles are sometimes seen as "standoffish." But, this attitude is better seen as reserved and calm. A Huskydoodle may inherit this attitude.
Huskydoodle Personality Traits
Poodles are obedient and Huskies are known to be stubborn. You won't know what you'll get with a Huskydoodle puppy. But training and socialization will be a must either way.
Neither parent breed likes to be left alone for long periods of time. So its likely that a Huskydoodle will not either.
Separation anxiety or boredom can cause destructive or disobedient behavior and health issues.
Huskies and Poodles are vocal. So, a Huskydoodle probably will be, too!
Training Your Husky Poodle Mix
A Huskydoodle will be very intelligent, as both parents are. Smarts, combined with high energy levels, mean that a Huskydoodle will need obedience training.
Training a working dog or mix isn't just about teaching them good manners. Agility training and advanced obedience courses are a great way to make them feel like they're fulfilling a purpose.
High Maintenance Pooches
Huskies and Poodles are somewhat high maintenance when it comes to training. So, the process needs to be taken seriously with a Huskydoodle. Be prepared for some challenges!
Beyond obedience training, a Huskydoodle requires exercise and play every day. Multiple times a day if possible!
Walks, runs, or yard play benefit the mental and physical health of a Huskydoodle.
Husky Poodle Mix Health
The Siberian Husky and Poodle breeds are considered healthy. But, as with any breed there are some health risks.
Husky Poodle mix health issues are not well-documented yet.
But, health problems can be genetic. So, it is helpful to know the risks associated with the parent breeds.
A responsible breeder screens parent dogs for genetic disorders.
When selecting a breeder or a dog, ask to see test results as recommended by each breed's national club.
Poodle Health Issues
Although the Poodle breed is considered genetically healthy and diverse, they're still prone to a number of inherited disorders:
Addison's disease – insufficient adrenal hormone production.
Atrial Septal Defects – congenital heart malformation.
Chronic active hepatitis – live tissue inflammation and death, leads to liver failure.
Cushing's disease – overproduction of adrenal hormones.
Hip dysplasia – abnormal development of hip joints resulting in arthritis or lameness.
Legg-Calve-Perthes disease – this is a condition causing hip joint degeneration and arthritis.
Neonatal Encephalopathy – a fatal brain disease in newborn standard Poodles.
Patellar Luxation – dislocation of knee joints.
Progressive Retinal Atrophy – diseases which cause abnormalities and blindness.
Optic Nerve Hypoplasia – failed development of optic nerve.
Sebaceous Adenitis – inflammatory skin disorder. It may lead to hair loss.
von Willebrand's disease – internal bleeding disorder. It is caused by lack of von Willebrand factor protein.
More Poodle Health Information
Our Standard Poodle Guide covers many of these disorders in further detail.
The Poodle Club of America has an extensive list of testing recommendations. These include screening for most of the issues above.
Siberian Husky Health Issues
The main diseases that Huskies can inherit from their parents impact their eyes, such as:
More Siberian Husky Health Information
The Siberian Husky Club of America recommends a yearly eye examination. It suggests that you register your results with the Siberian Husky Ophthalmic Registry.
Although uncommon in Huskies, the Club also recommends screening for hip dysplasia.
Huskydoodle Lifespan
Siberian Huskies live 12 to 14 years. But Poodles live from 10 to 18 years.
You can expect a well-cared-for Huskydoodle to live for about 10 to 14 years.
Proper diet, exercise, and veterinary care are vital to a long, happy Huskydoodle life.
Huskydoodle Grooming
A Huskydoodle's fur will be mostly low maintenance!
Poodles are a non-shedding breed and Huskies are naturally clean.
Regularly brushing a Huskydoodle will prevent matting and keep its fur healthy!
Do Husky Poodle Mixes Make Good Family Dogs?
A Husky Poodle mix can be a great family pet. But there are some requirements for it to be so!
Training is a must with this mixed breed. It will aid in obedience and calming an energetic pup.
Socialization is vital to acclimating a Huskydoodle to a family environment with small children and other pets. You'll also need to commit to daily exercise and play for a Huskydoodle.
Do you spend long stretches at work away from home? A Huskydoodle might get anxious or bored which leads to destructive behavior and health issues.
Keep that in mind when considering if caring for a Huskydoodle fits in your daily routine!
Rescuing a Husky Poodle Mix
If you're not looking for a specific age of Huskydoodle, think about adopting one from a shelter.
Puppies may be hard to find at a shelter. But there are certain pros to adopting an adult dog. You'll have a better idea of its full-grown size and temperament.
Whether you're adopting a puppy or older dog, an animal in need is getting a loving home.
Specific Huskydoodle rescue homes are hard to find. So, start by searching at locations that specialize in the parent breeds.
Here are some places to consider:
USA
Canada
UK
Australia
If you know of any others, make sure to leave their names in the comments.
Finding a Husky Poodle Mix puppy
If you strongly prefer a puppy Huskydoodle, an internet search leads you to many breeder options.
Always avoid pet stores and puppy mills. They're more interested in profit than the health and care of their animals.
Selecting a responsible breeder is a very important step. Research as much as possible and don't be afraid to ask questions!
Husky Poodle Mix Products and Accessories
Our experts are always on the hunt for the best dog products! Here are some recommendations to provide optimal Huskydoodle care:
Pros and Cons of Getting A Husky Poodle Mix
Cons:
Their lively minds need lots of enriching activities to engage in
Don't like being alone for long periods of time
Require daily exercise
Pros:
Beautiful and unique appearance
Loyal and friendly
Active and adventurous companion
Similar Husky Poodle Mixes and Breeds
If you're not ready to commit to a Huskydoodle's needs, here are some other mixed breeds to consider:
Is A Husky Poodle Mix Right for Me?
Are you ready for an energetic, mid-to-large sized, fluffy friend?
Can you dedicate ample time to training and exercising a Huskydoodle?
If you answered yes to both questions, then a Husky Poodle mix is the right dog for you!
Read our guide to Doodle dogs for more interesting information!
References and Resources
Animal Health Diagnostic Center – Cornell University College of Veterinary Medicine. "Canine von Willebrand Disease."
Bellumori, Thomas P. Et al. "Prevalence of inherited disorders among mixed-breed and purebred dogs: 27,254 cases (1995-2010)." Journal of the American Veterinary Medical Association, 2013.
Canine Inherited Disorders Database. "Corneal Dystrophy."
Canine Inherited Disorders Database. "Progressive Renal Atrophy."
Haeussler, DJ DVM & Christina Korb, DVM. "Glaucoma." American College of Veterinary Ophthalmologists.
"Health Issues in Poodles." Poodle Club of America.
O'Brien, Jean DVM. Et al. "Your Siberian: Its Hips and Its Eyes." Siberian Husky Club of America, Inc. 2015.
Pedersen, Niels C. Et al. "The effect of genetic bottlenecks and inbreeding on the incidence of two major autoimmune diseases in standard poodles." Canine Genetics and Epidemiology, 2015.
Poodle Club of America
Orthopedic Foundation for Animals
Siberian Husky Club of America
Siberian Husky Club of Great Britain
Wan, Michele. Et al. 2013. "DRD4 and TH gene polymorphisms are associated with activity, impulsivity and inattention in Siberian Husky dogs." Animal Genetics.
Get Pippa's free dog training tips delivered to your inbox