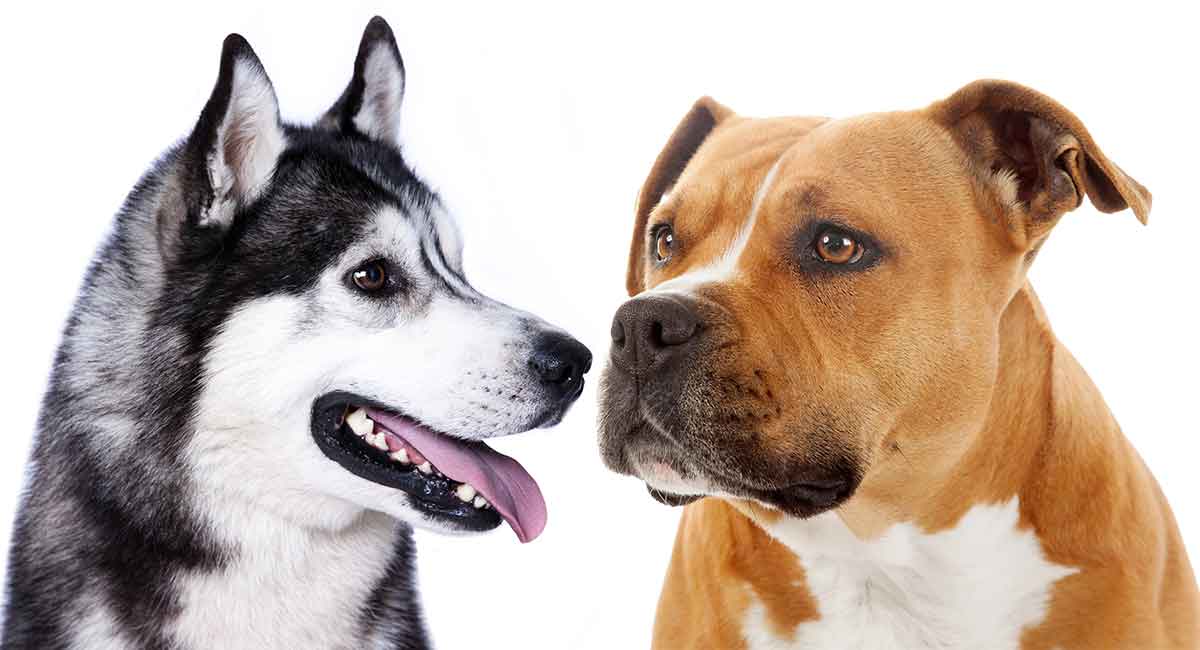 The Pitbull Husky mix, or Pitsky, is a crossbreed between the Siberian Husky and the American Pitbull Terrier.
This is a medium sized dog that is extremely energetic and very loyal to its owners.
They are perfect for very active families who have a lot of time to spend exercising their dog and keeping their mind occupied.
But, due to their energetic nature, these dogs aren't for everyone.
Let's break it down and see if there's a Pitbull Husky mix in your future!
Where Does the Pitbull Husky Mix Come From?
The Pitbull Husky mix is a crossbreed between an American Pitbull Terrier and a Siberian Husky.
Pitbulls have a history of being bred for fighting. However, it is a common myth that they are aggressive by nature. Properly raised, they are sweet, loving companions.
Huskies were bred to pull sleds. Even today, they are high-energy pets and do not enjoy a lot of idle time.
Pitskies were bred to be energetic companions. They are not considered purebred, as they are not registered with the American Kennel Club.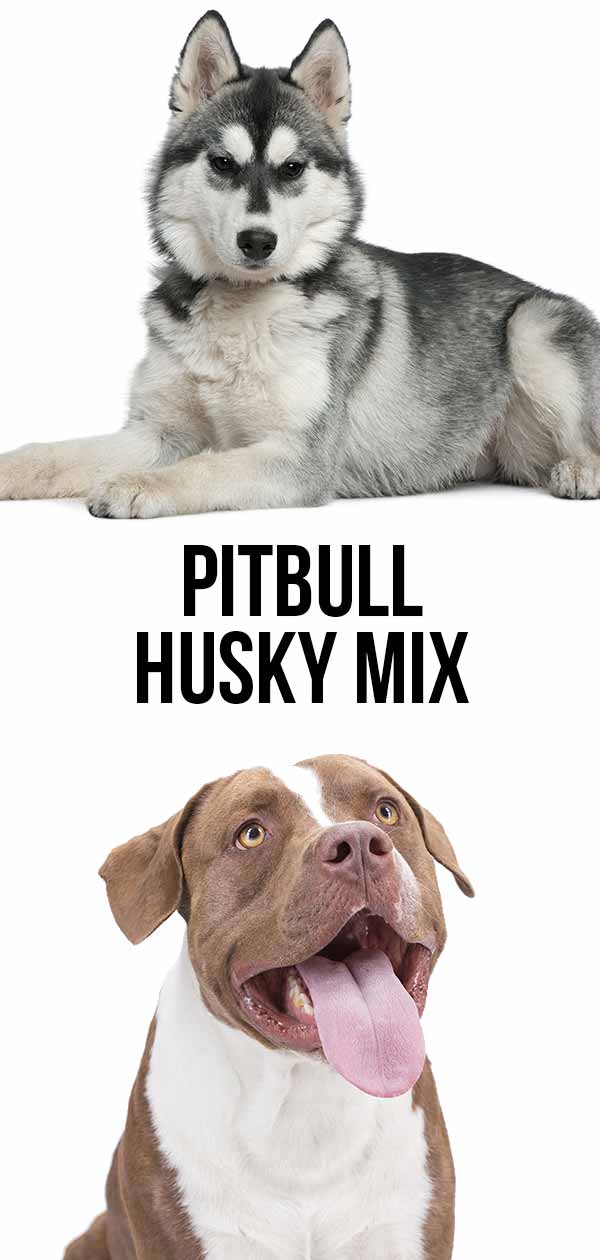 Fun Facts About the Pitbull Husky Mix
Huskies and their many crossbreeds are extremely popular!
Many celebrities own Huskies, including Taylor Lautner, Rita Ora, and Miley Cyrus!
Pitbulls can come in a variety of colors – you can even get Pitbulls with blue noses! 
Pitbull Husky Mix Appearance
Pitbull Husky mixes can vary greatly in appearance. This is due to their two very different-looking parent breeds.
They can range from 30-80 pounds, and be 19-24" tall. Pitskies could inherit their Pitbull parent's short coat or the thick, double coat of their Husky parent.
They can also have pointy or floppy ears.
Pitskies also come in many color variations. All possible Husky or Pitbull colorations are on the table!
Common Traits
Some common traits in Pitskies are blue eyes, a large head, sturdy muzzle, and sturdy body.
While each puppy in a litter will look unique, the best indicator of what a Pitsky puppy will look like is to look at the parents.
However, it's impossible to predict which they will take after most.
Pitbull Husky Mix Temperament
To get a good idea of what a Pitbull Husky mix will act like, we first need to take a look at its parent breeds.
American Pitbull Terriers are big dogs who think they're lap puppies. They are alert and confident, and very obedient.
Siberian Huskies are energetic dogs who must be kept busy to prevent boredom and destructive behavior.
They need a LOT of exercise—after all, they were bred to pull sleds!
Separation Anxiety and Energy
Both parent breeds are high energy, intelligent, and attached to their owners.
Pitskies are prone to separation anxiety. They need families who have a ton of time to spend with them, as they're extremely athletic dogs.
You won't find them chilling on the couch all day. They want to run and play!
Also, due to their friendly and trusting nature, Pitskies don't make great watchdogs. They also aren't prone to excessive barking.
Although, like their Husky ancestors, your Pitsky might love to howl!
Training Your Pitbull Husky Mix
The first thing to know about the Pitbull Husky mix is that they need a TON of exercise.
Left to their own devices, their boredom can lead to destruction and excessive howling. We recommend at least 1-2 hours of exercise daily.
The next things you'll want to consider for your new puppy are potty training and crate training.
Socialization
You'll also want to focus on socialization.
Pitbull Husky mixes tend to be naturally friendly and trusting. But they are also extremely excitable.
Training is especially important in large, excitable breeds. You don't want them to hurt anyone by accident.
Dogs don't always know their own strength. You'll want to teach your puppy early on not to jump on people. And to be gentle with smaller dogs and children.
Escape Artists
Huskies are also known for being escape artists. So be sure to dog-proof your yard in case your Pitsky has inherited this trait.
Make sure they can't slip through the fence, jump over it, or dig under it.
Also, keep your Pitsky on a leash when out and about.
For more training tips, see our training guides.
Pitbull Husky Mix Health
Pitbull Husky Mixes can inherit the common health issues of their parent breeds.
So, it is important to find a good breeder and know the parents' health histories before adopting.
Common Issues
Some common health problems to look out for are:
Ocular Disorders
Allergies and Skin Problems
Hip Dysplasia
Follicular Dysplasia
Hyperthyroidism
Heart Disease
Ear Infections.
Conformational Defects
Pitskies can also suffer from conformational defects. These are essentially health problems due to the size or shape of a dog's body, head, or muzzle.
With this large breed, hip dysplasia and joint issues can occur.
Lifespan and General Care
Most Pitbull Husky mixes live around 12-15 years.
If they inherit their Husky parent's double coat, Pitskies will need to be brushed daily. Here are some Husky grooming tips.
They can also be expected to shed a lot, though the daily brushing should help keep hair on your floor to a minimum!
But if your dog has inherited its Pitbull parent's shorter coat, it won't need to be groomed as often.
A brushing or two a week will suffice, and you can also expect less shedding.
Pitskies need 3-4 cups of food per day, depending on their size. This should be split into a couple of meals throughout the day.
Do Pitbull Husky Mixes Make Good Family Dogs?
Pitbull Husky mixes are ideal for active families. They love being in an energetic atmosphere, where there's always something new going on.
However, you will want to properly train this dog, and watch them around small children.
If your family is often gone to places a dog cannot accompany you to, or you prefer a chilled out dog who enjoys idle time, the Pitsky is not for you.
Rescuing a Pitbull Husky Mix
Rescuing an older dog is always a great way to welcome a new pet into the family!
With older dogs, you don't have to predict what their temperament or health will be like.
This is especially ideal when getting a mixed breed. As they could be more like either parent breed.
Finding a Pitbull Husky Mix Puppy
With mixed breeds growing in popularity, it's easier to find a breeder who breeds the mix you're searching for.
We don't recommend buying dogs from pet stores, as you don't know where those puppies have come from. You don't want to unwittingly support a puppy mill!
Instead, look for a reputable breeder.
They should allow you to see where the dogs are being raised, and you should see the parents.
Both parents should be healthy, and the environment should be clean. All dogs—parents and puppies alike—should be vetted and up to date on vaccines.
Don't be afraid to ask your breeder questions. They should be happy to answer them!
If you need help looking for your new puppy, you can find our puppy search guide here.
Raising A Pitbull Husky Mix Puppy
We have several puppy care guides, as well as training guides you may find useful in raising your Pitbull Husky mix.
Pitbull Husky Mix Products and Accessories
Here are some products you might consider for your new Pitbull Husky mix:
Pros and Cons of Getting A Pitbull Husky Mix
Pitbull Husky Mix Cons
The Pitbull Husky mix is a very active breed. So, they might not be best for people with little time on their hands, or ability to exercise their dog.
They aren't excessive barkers. But, they sometimes howl instead. This can annoy some families—or the neighbors!
Their trusting nature makes them less than ideal if you're looking for a guard dog.
Pitskies who inherit their Husky parent's double coat will need to be groomed often and will shed heavily.
Pitbull Husky Mix Pros
Active people will love having a Pitbull Husky mix as an energetic companion who can keep up with them easily on a run or a hike.
They are also social dogs who will make many friends wherever they go!
Similar Pitbull Husky Mixes and Breeds
Husky mixes are very popular as "designer dogs" these days. Here are some Husky mixes similar to the Pitsky:
Boxsky (Boxer + Husky)

Ausky Shepard (Australian Shepard + Husky)

Shepsky (German Shepard + Husky)
Gerberian (Golden Retriever + Husky)

Rottsky (Rottweiler + Husky)
Pitbull Husky Mix Rescues
You can sometimes find Pitskies at your local shelter. Or at breed specific rescues for their parent breeds. Here are some rescues you can check out:
Pitbull Husky Rescue USA
Pitbull Husky Rescue UK
Pitbull Husky Rescue Australia
Pitbull Husky Rescue Canada
If you know of any rescues not listed here, please comment below!
Is A Pitbull Husky Mix Right For Me?
Pitbull Husky mixes are sweet, affectionate dogs.
They are very sociable and need a lot of exercise in order to stay happy, healthy, and well-behaved.
If you cannot provide lots of exercise to your new dog, a Pitbull Husky mix is not for you.
Due to their size, you should never leave this dog unattended around small children. But with proper training and supervision, they can be great family dogs.
Pitbull Husky mixes are too friendly to make good guard dogs.
Did you we answer all your questions about the Pitsky? Let us know if you have more in the comments below!
References and Resources
Stanley, R. et. al. Eye diseases in Siberian husky dogs. Australian Veterinary Journal. 1991.
Martin, S. et al. Canine Hip Dysplasia: Breed Effects. Canadian Veterinary Journal. 1980.
Tobin, J. Hair Loss Disorders in Domestic Animals. Wiley-Blackwell. 2009.
Wucherer, K. Thyroid Cancer in Dogs: An Update Based on 638 Cases. The American Animal Hospital Association. 2010.
Oliveira, P. et al. Retrospective Review of Congenital Heart Disease in 976 Dogs. Journal of Veterinary Internal Medicine. 2011.
Get Pippa's free dog training tips delivered to your inbox