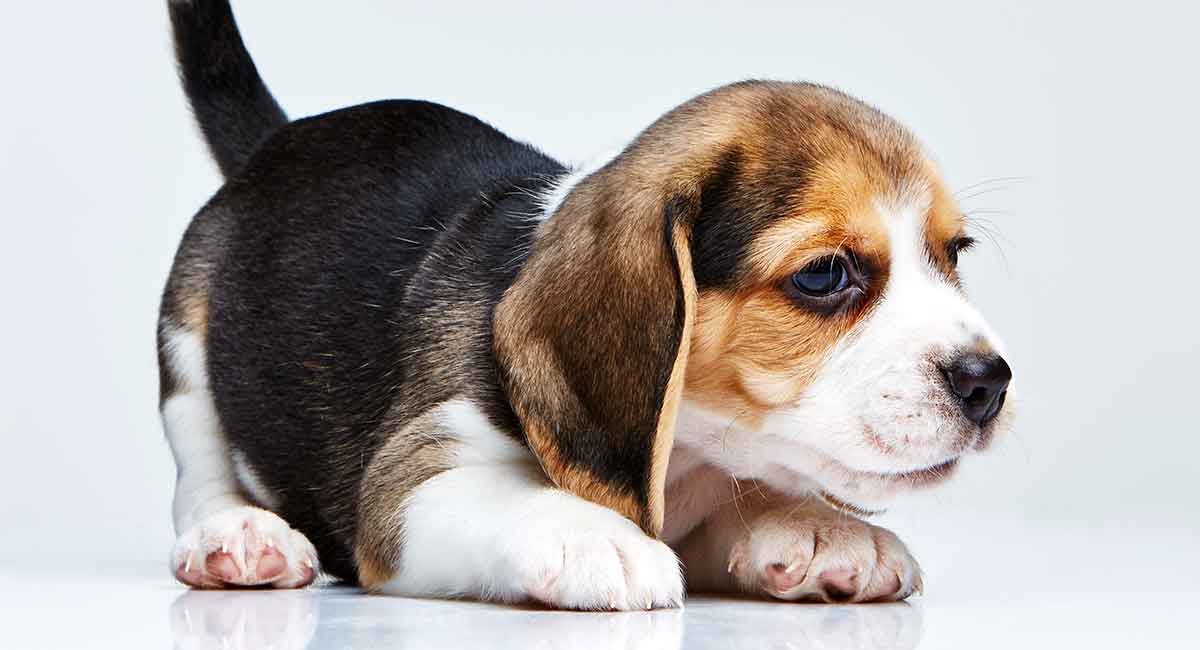 The Beagle temperament is as adorable as their looks, so it is not surprising that they are one of the most favored dogs breeds as a pet.
Their soulful eyes and sweet facial expression, along with a non-stop wagging tail, are impossible to resist.
However, despite their gentle and fun-loving demeanor, they were initially bred as scent hounds for tracking small game such as hare and rabbits.
Although Beagles make wonderful family pets, there are several important factors to consider before bringing one into your home.
So, if you are thinking of having a Beagle and are not sure what to expect, then this article is for you.
Origins of the Beagle
When looking at the temperament of any breed of dog, it is always a good idea to look back at their history to understand them better.
The origins of the Beagle are shrouded in mystery, but their ancestors may have hunted with ancient Greeks.
This breed of dog, as we know them today, first appeared during the 18th century in England.
They developed from several different types of hounds.
This medium-size, compact breed is an exceptional hunter with a powerful nose.
They were popular with British aristocracy who kept large numbers of these dogs for tracking small game in packs.
But just as no one is quite sure of the Beagle's exact origin, the same can be said for the name "beagle."
One theory is that the name was derived from old French words "be'geule" meaning "an open throat."
This refers to the Beagle's notorious baying sound made while hunting.
Others believe "beagle" comes from the Gaelic word "beag," which means "small."
As Beagles were bred to hunt all day in the field, potential owners should be aware that these are active dogs who require a substantial amount of daily exercise.
The Typical Beagle Temperament
Beagles are renowned for being loyal and gentle. Many people try to replicate this temperment in pocket Beagles!
They have a cheerful disposition and love everyone they meet, including children.
However, bringing a Beagle into your home is like having another child.
They possess a curious and mischievous nature, demanding plenty of attention.
As hunters, Beagles are notorious for their sense of smell with 220 million scent receptors in their noses, second only to the Bloodhound with 300 million.
Because of this impressive trait, Beagles make excellent detection dogs for sniffing out drugs and other illegal substances.
As Beagles were bred to explore and chase, they follow their noses and go wherever a scent takes them.
These intelligent dogs endured long hunts, possessing strong and stubborn minds of their own.
So how does this affect their ability to be trained?
Are Beagles Easy to Train?
Beagles were bred for hunting.
But unlike some other sporting breeds, they do not hunt by following commands from humans.
This independent breed goes out into the field and makes decisions for themselves.
They follow their noses rather than listening to instructions from handlers.
Unlike many dogs, such as the Labrador, Beagles are not interested in pleasing their owners, especially if it means doing something they don't want to do.
Many have a "what's in it for me?" type of attitude.
This intelligent breed can be trained to be obedient.
But it will take time, patience and effort on your part, using positive reinforcement methods.
Obedience training should start as early as possible.
Training is easier when the owner understands the traits of the Beagle and why they behave as they do.
When teaching your Beagle new skills, always let him think that anything you want him to do is his idea.
Food motivates a Beagle, so have plenty of treats available.
However, as these dogs are prone to weight gain, don't rely solely on treats. Use praise as well.
Be creative in your training sessions, and keep them short but fun.
Training should be constant so teach your Beagle to listen to you when doing normal activities (i.e., a walk, meeting new people, feeding time).
Make sure everyone in your home uses the same commands and rewards the same efforts.
As an active dog, your Beagle will respond better to training if he has plenty of exercise.
Many Beagles excel in dog agility competitions and fly ball.
Potty Training a Beagle
Potty training should start as soon as you bring your Beagle puppy home.
Beagles are not naturally clean dogs and are known for being difficult to potty train, with some taking up to a year.
Progress will be slow but steady.
It is essential to prevent mistakes so observe signs that your puppy needs to go to the bathroom.
Reward him enthusiastically for going in the correct spot.
Using a crate of the correct size is extremely useful when potty training your Beagle puppy, particularly during the first two years.
Are Beagles Friendly?
Beagles are extremely friendly and love being around people, enjoying nothing better than being with their owners.
They bond with everyone in their household rather than just one person, cementing themselves as part of the family.
But if you are looking for a guard dog, a Beagle probably isn't the best choice.
They will most likely lick burglars rather than attack them.
But the Beagle temperament makes them excellent therapy dogs.
Many potential owners want to know if Beagles are child-friendly and suitable for family life.
As Beagles are quite small with a calm and gentle temperament, they are an ideal choice for children.
As a fan of games, they are perfect playmates.
However, because the Beagle is a hound dog bred to chase small animals, it is not advisable to have other pets such as cats or rabbits with this breed.
Like all breeds, early socialization is essential if your Beagle puppy is to grow up into a happy, confident and well-adjusted dog.
Expose him to as many people, situations and places as possible.
Are Beagles Aggressive?
Beagles are even-tempered dogs and not known for being aggressive.
That said, any dog can be aggressive depending on the circumstances, such as pain from an illness, injury or because the animal is scared.
A Beagle that has been neutered or spayed often helps reduce any negative behaviors.
If your Beagle does display any signs of aggression, consult your veterinarian.
This health professional may determine an underlying medical condition or refer you to a good dog trainer.
Do Beagles Like Other Dogs?
As the Beagle is extremely friendly and bred as a pack animal, they generally get along well with any breed of dog.
However, it is essential that you socialize your Beagle puppy with other dogs as early as possible, so he learns to interact with them appropriately.
Introduce him to other puppies and a variety of adult dogs who are safe to be around, so he has good experiences.
Take your puppy to the dog park, as well as dog training classes with a reputable trainer and doggy day-care centers.
Separation Anxiety for Beagles
As a pack animal, Beagles love the company of both humans and other dogs.
They do not do well if left alone, suffering from separation anxiety issues.
Despite being an independent dog, the Beagle does not have the confidence or self-control to be on his own.
Being part of a pack, he worries as to how he will survive without his family there to protect him, which he finds frightening.
If you are not at home, you will be unaware that your pup is experiencing any stress; your neighbors will though.
The main symptom of separation anxiety in Beagles is baying, barking or howling excessively, almost to the point of exhaustion.
Obsessive pacing is another indicator of stress along with destructive behavior like chewing or digging.
The latter may result in injured paws and broken or damaged teeth and claws.
However, there will be times when you must leave your Beagle alone, so exercise him with a brisk walk before you go out.
He may be more likely to settle down.
Gradually build up the length of time you leave your pup alone and confine him to one part of the home rather than the whole house.
However, if your family is out most days for long periods, it is unfair to leave a Beagle on his own.
Consider having a neighbor or dog walker come in during the daytime or send him to a doggy day-care center.
Letting a Beagle Off the Leash
When considering a Beagle as a pet, potential owners must never lose sight of the fact that these dogs are scent hounds with inherited hunting instincts and traits.
Because of these instincts, there are certain behaviors to be aware of with Beagles.
Beagles have an incredible sense of smell, along with high amounts of energy.
They are likely to chase cats and other small animals.
They were bred to hunt independently from humans, single-mindedly following the scent of small game.
These traits makes it difficult to let your Beagle off the leash because they are unlikely to respond to your commands, having selective hearing.
Some Beagle trainers use a dog whistle as a recall signal. It is loud and provides a clear message, gaining the dog's attention.
For the safety of your pet though, it is advisable to only let a Beagle off a leash in a securely fenced-in area such as your backyard.
However, always supervise your Beagle.
They are renowned escape artists, finding areas to slip through and either dig under or climb over fences.
Are Beagles Good Family Pets?
Beagles are happy-go-lucky, friendly dogs who love everyone they meet. They are gentle and tolerant toward children.
But before you bring a Beagle into your home, it is vital that you are aware of their inherited hunting traits, which affect the way this breed behaves.
As pack animals, Beagles love the company of others.
If you are busy and out all the time, then a Beagle is not a suitable choice.
These dogs require vast amounts of exercise and suffer from separation anxiety.
If left alone for too long, this leads to excessive barking and behavioral issues.
Active families that have the time to spend training and being with this lovable and sweet-natured dog are perfect owners for Beagles.
References and Further Reading:
Beckham, J., 2018, "Why Are Beagles Used for Lab Experiments? A Look Back at the Nuclear History of This Dog Breed," One Green Planet
Coren, S., 2011, "Do Some Dog Breeds Have Better Noses and Scent Discrimination Than Others?" Psychology Today
Hetts, S., et al., 1992, "Influence of Housing Conditions on Beagle Behaviour," Applied Animal Behaviour Science
Koscinczuk, P., et al., 2015, "Social Play Traits and Environmental Exploration in Beagle and Fox Terriers' Puppies," SciELO Analytics
Lane, J., "The Forgotten Traits Of A Hunting Beagle," Water and Woods
Get Pippa's free dog training tips delivered to your inbox